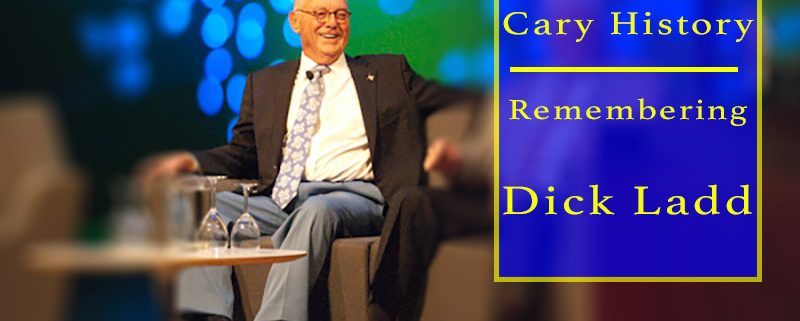 Cary, NC – Sadly, one of Cary's stalwarts and the founder of many important Cary institutions, G. Richard "Dick" Ladd, died on Monday, September 5, 2016. Ladd's impact on the town was extensive and goes back many years, shaping Cary into what it is today.
Cary's Modern History
One of Ladd's earliest contributions to Cary came when he sat on the Town Council. Among his work in the town was heading a study committee to find a solution to Cary's water problem. The State Board of Health described Cary's sewer system as "poorly constructed" in 1940 and Cary continued to search for solutions until 1965 when Ladd and his committee recommended a program where Cary bought water from Raleigh, which was later passed by a wide margin in a bond referendum.
After Ladd left the Town Council, he continued to work in Cary, eventually becoming president of the Cary Chamber of Commerce. As president, Ladd oversaw the creation of the Cary Economic Policy that both the chamber and town officials could agree on. At the time, both sides were at odds over what businesses to bring into Cary. In 1976, Ladd said the Town Council and the chamber "seemed to pull in opposite directions," so a policy that created cooperation laid a path for industry to come into Cary.
Within a few years after creating the Cary Economic Policy, the Town of Cary was allocating tens of thousands to the Chamber of Commerce to help attract companies. Some of those were IBM, the American Airlines Reservation Center, the Western Wake Medical Center, Oxford University Press and SAS Institute Inc., which is still Cary's largest employer.
Ladd continued to work to organize and promote local businesses after leaving his post at the Chamber of Commerce, founding the Heart of Cary Association where community members discuss the events in Downtown Cary and talk with town officials.
"While I didn't have the good fortunate of knowing Dick that well, I did have the opportunity to talk with him a few times. He was a great guy who loved Cary. He and his wife were very sweet people and seemed to make friends easily with everyone," said Cary Mayor Harold Weinbrecht. "As a longtime resident and business owner, he was involved a lot in helping guide Cary to the great community it is today. He was a great citizen and a great friend to many. He will be sorely missed. God bless him and may he rest in peace."
Cary's Cultural Character
In addition to his work in town government and the business community, Ladd worked to enrich the cultural climate in Cary, helping to shape its current form.
One of Ladd's earliest contributions to Cary was its first Rotary Club, back in 1964. Ladd had already been a young member of the Cary Jaycees and got the idea for a local Rotary Club from working with members of Raleigh's Rotary Clubs in District 7701. He became impressed with its philosophies and how it brought businesspeople together for a community good. Since then, as Cary has grown, four more Rotary Clubs have been added to the area.
Cary's YMCA had one of its first advocates in Ladd, who chaired the efforts by Cary's Rotary Clubs to put a Y in the town. Finally, the Cary Family YMCA was opened in 1992.
Ladd, together with his wife Jean who died in 2015, were the founders and ongoing sponsors of Cary Visual Art.  Both also supported the Cary Theater at large, where CVA is located.
Together with his wife, Ladd also founded Cary's landmark Greenwood Forest Baptist Church on SE Maynard Road, chartered in 1963 with construction starting the next year. Greenwood Forest was the first church in Cary to ordain a female deacon.
"Dick was a mover and shaker in our community who was also known for his philanthropy," said Rose Cornelious, president of the Heart of Cary Association. "As one of the founders of the Heart of Cary Association, he continues to make a mark through this organization that was formed to strenthen and promote Downtown Cary. He will be greatly missed."
Services
Visitation with Ladd's family will take place at MacGregor Country Club, Thursday, September 15, 2016 from 5 to 7 PM.
Funeral services will be at First United Methodist Church at 117 S. Academy St. on Friday, September 16, 2016 at 2 PM.
---
Story by staff reports. Sources: "Around and About Cary" by Thomas M. Byrd. Photo by Hal Goodtree.
https://carycitizenarchive.com/wp-content/uploads/2016/09/DickLadd.jpg
536
800
Staff
https://carycitizenarchive.com/wp-content/uploads/2020/03/cc-archive-logo-450-v3.png
Staff
2016-09-12 10:35:37
2018-01-22 10:34:26
Cary History: Remembering Dick Ladd