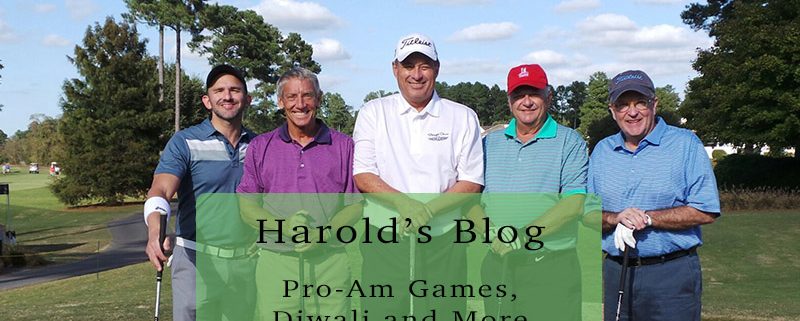 Cary, NC – This week was dominated by time spent at the SAS Championships golf tournament in Cary and Diwali.
Monday – Local Students
Monday I spoke at an assembly of the Cary Academy middle school. I was joined by former legislator Jennifer Weiss as we spoke about our roles in local government and politics. Then we fielded questions from the audience. It was great fun and I hope to be invited to a future event.
Monday afternoon I attempted to contact all council members about the agenda for Thursday's regularly scheduled meeting. I was able to contact all but one and there were very few concerns. Later in the day I met with key staff members and Mayor Pro-Tem Yerha to review the agenda. After the review I believed the meeting would last less than an hour.
Monday evening I met with the town manager to go over current events. Most of our time was spent going over the plans for next week's council-staff mini retreat.
Tuesday and Wednesday – SAS Pro-Am Games
Tuesday I joined council member Jack Smith, town manager Sean Stegall, and Chamber President Howard Johnson at the SAS Pro-Am Pairing party. At this event we participate in a trivia contest (like they have in some bars) to determine the order of picking the pros for Wednesday's and Thursday's Pro-Am golf rounds. Out of over 40 teams we finished 3rd. Last year I think we finished 41 out of 45 teams.
Wednesday I participated in the Pro-Am with my foursome from the trivia contest. Our pro for the day was Loren Roberts. He has won 8 events on the PGA tour and 13 events on the Champions tour. He was very kind and we had a great time although we were not competitive.
Thursday – Town Council Meeting
Thursday morning I participated in the second day of the Pro-Am with my foursome. Our pro for this day was Wayne Levi. Over his career he has won 12 events on the PGA tour and 2 events on the Champions tour. He was a bit more talkative and we talked about ways he could get back to his home in Florida (with all the interstate closures). As a team we played better the second day and were in first after one hole. We stayed in contention until our 14th hole.
Thursday afternoon I did a taping for the Golf Channel welcoming everyone to the SAS Championships and inviting them to visit Cary. We took two takes of me using the teleprompter and two takes of me memorizing the script. I hope the taping turned out well.
Thursday night the council held its first regularly scheduled meeting of the month. On the agenda were 11 consent items, 2 public hearings, and 8 discussion items. Decisions included a $30,000 grant for the recycling program, approval of a resolution to allow K-9 dogs to be given to their owners (no brainer), street improvements for the fiscal year, and direction to proceed with 3 council initiated items. Our meeting concluded after a little over an hour.
Saturday – Diwali
Saturday I had the pleasure of giving opening remarks at the 16th annual celebration of Diwali held at Koka Booth Amphitheater. Here is an excerpt from my remarks:
Good afternoon! On behalf of the entire Cary Town Council and the 157,000 people who call Cary home, I want to welcome everyone to our beautiful Koka Booth Amphitheater, which today is home to our annual Cary Diwali. This event is the largest open air festival of its kind in the southeastern United States. It's our largest fall cultural festival, and the second largest event we host at Koka Booth Amphitheater. We couldn't be prouder to have you all here. In the audience, I would like to recognize some of our special guests Mayor Pro-Tem Yerha from Cary, council member Bush from Cary, Mayor Stohlman from Morrisville, Mayor Pro-Tem Rao from Morrisville, and of course Congressman David Price. Thank you all for attending.

This year's theme is Yatra [pronounced yah-tra]: A Journey In Time. Today, we'll together celebrate a wondrous civilization that is as ancient as it is modern. I'm no history buff, but I do know that when we all pause to learn about our past, our future becomes brighter. It cultivates a sense of understanding, and provides opportunity for our community to unite and blossom together.

In fact, events like Diwali are critical to keeping Cary healthy and successful by getting to know the values, experiences, and talents that each of us offers, something so critical in today's world. Congratulations to our Indian/American residents for once again creating such a successful festival, and I thank each of you for providing the opportunity to experience the wonderful and diverse elements of your heritage. Yours is a strong and rich culture, and by choosing to call Cary home, you make our community stronger and richer, too. …
I departed after watching several acts and returned later in the day with my wife to enjoy the evening main event and the fireworks. This year's main acts were Ila Arun, Sonika Sharma, Vijaylakshmi, and Anupam Amod. It was an upbeat Bollywood style performance with lots of dancing. I actually got pulled on the stage twice to dance and closed on the catwalk with Ila Arun at the end. Normally I would have been extremely embarrassed since I can't dance, but I got over that last year when they pulled me on stage. Needless to say it was a lot of fun.
Sunday – SAS Championships
Sunday I had the pleasure to attend the final round of the SAS Championships. I had the pleasure of watching Doug Garwood shoot an amazing round of 64 to win the tournament. What a great tournament and a great event for Cary.
Emails From Citizens
There was a lot of media attention this week about a 7 year old boy who was allegedly beaten by first-graders on a bus because of his religion. Cary is a diverse, welcoming community made stronger through the unique talents, skills, and experiences of all our citizens. Nothing is more important than protecting public safety, and we've taken very seriously the disturbing media reports about the 7 year old boy with Pakistani heritage. Our police department has been coordinating with the school system to uncover details related to this matter. At this time, nothing has been found, and no police report has been filed.
Emails from citizens this week included:
A request for more parks and greenways in west Cary.
A concern about the brickwork at the intersection of Academy Street and Chatham Street.
A complaint about bike markings on major roads in Cary.
A question about Google fiber.
Several emails about Rachael Dolezal participating in Dreamfest 2017 (Jireh Management organized this and not the town).
Town Manager's Report
Here are some of the items from the town manager's report:
FirstNet: Radio Access Network

Existing public safety radio (in the Town and across the nation) supports voice but not data communications. The Middle Class Tax Relief and Job Creation Act of 2012 created an authority known as FirstNet. FirstNet has been charged to design, construct, deploy, and operate the first nationwide wireless public safety broadband radio access network ('RAN'). FirstNet must act in consultation with federal and local authorities and must present their plan for building the RAN to each state. States may opt in or opt out of the FirstNet plan, but if a state opts out the state must develop and implement an alternative approved plan. The Town is taking steps to be prepared to review and comment on the FirstNet plan for N.C.

Cary Fire Water Rescue Teams

At the request of NC Division of Emergency Management, we have deployed two water-rescue teams consisting of 10 personnel, two boats and several vehicles. The team has landed in Greenville, housed in Greenville fire stations and will be sent to retrieve/rescue citizens who are trapped in Tar River floodwaters. Thanks to the Fire Department, with assistance from Finance and Public Works, in coordinating the logistics to make this happen.

Downtown Clock Construction

The downtown clock fell over while the contractors were excavating around the base to install the new brick base. The contractor is working to move the clock to their yard, order parts and perform repairs.

New Open Data Story as Part of Fire Prevention Week

In support of Fire Prevention Week, we've gathered and made public multiple datasets related to our fire services. Along with the datasets, we've published a story that digests the data and showcase the Fire Department as it supports outreach, training and response, all of which contribute to a successful fire program.

December is Budget Input Month

For FY2018 budget, the public comment period will occur in December. Comments received in December will be summarized in a report for consideration. Moving this comment period from October to December will allow staff time to reflect on what was discussed at the mini-retreat.

Mayton Inn/HUD Update

Town staff and HUD staff completed negotiations this week that will allow for the closing of the $1.4 million Section 108 loan and reimbursement to the Town by the end of this month.

Recognitions

I'd like to thank all town staff involved in our Hurricane Matthew response efforts. Those efforts included responding to 60 downed trees, numerous street floods, 45 signal outages and hundreds of calls to the emergency 911. The Town experienced nearly double the amount of rainfall that was forecast (9.7 inches recorded at the South Cary Water Reclamation Facility). I'm very appreciative of everyone's efforts to keep all citizens safe during and after the storm.
Next week will continue to be busy for me. Activities will include a meeting of the Wake County Mayors Association, two big speaking engagements, a council-staff mini working retreat, and a meeting of the Capital Area Metropolitan Planning Organization's executive board.
Get In Touch
Well, that is all for this week. My next post will be on Sunday, October 23rd.  Although I have Facebook and Twitter accounts those are not the best means of communications with me. Please send all Town of Cary questions or comments to Harold.Weinbrecht@townofcary.org and email personal comments to augustanat@mindspring.com.
---
From the blog of Cary Mayor Harold Weinbrecht. Photos courtesy of Harold Weinbrecht.
https://carycitizenarchive.com/wp-content/uploads/2016/10/HaroldsBlog-Oct17-Featured-1.jpg
550
800
Harold Weinbrecht
https://carycitizenarchive.com/wp-content/uploads/2020/03/cc-archive-logo-450-v3.png
Harold Weinbrecht
2016-10-17 09:40:58
2019-12-08 10:31:10
Harold's Blog: Pro-Am Games, Diwali and More