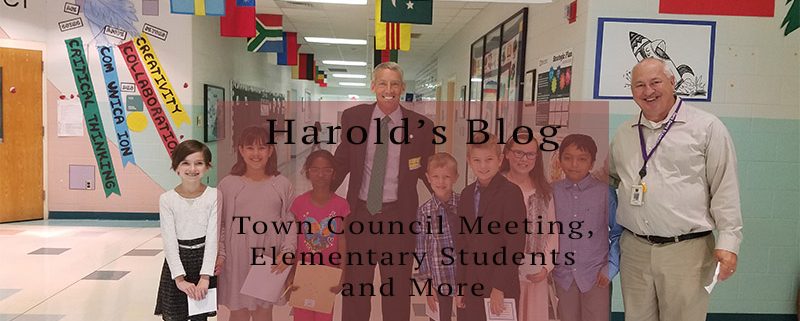 Cary, NC – This week was a little slower than usual for this time of year.
Monday – Planning for the Week
I started the week on Monday by contacting council members for questions and concerns about Thursday's agenda for our second regularly scheduled meeting of the month. Concerns were expressed about the Mills proposal, the Carpenter Village proposal, an LDO amendment allowing staff decisions for some downtown items, and the council's calendar.
Later Monday I met with staff to go over the items on the agenda. Based on our discussion we expected to hear from people against the Mills proposal during the Public Speaks Out portion of our meeting. I estimated the meeting would take about 3 hours.
Tuesday – Mall Proposal
Tuesday I talked with a developer representative that had two items on Thursday's agenda. He is also representing the Cary Town Mall. In our discussion about the mall he believes they will come forward with a proposal in the near future to redevelop part of the mall. That is exciting news.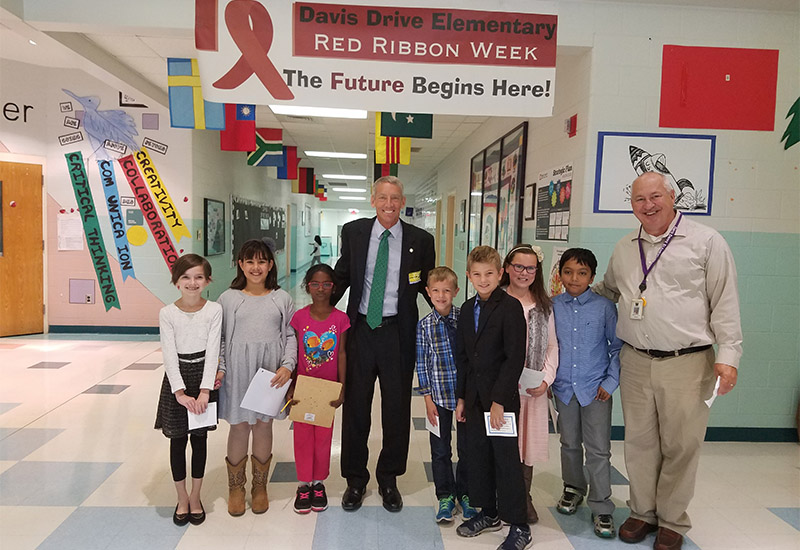 Wednesday – Elementary Students
Wednesday I visited Davis Drive Elementary's 3rd grade class which was a hoot! Each of the seven third grade classes elected a class Mayor. I met with each of the mayors for about 15 minutes talking about my duties as mayor and answered questions that they had. Then we took a few photos before going to an assembly of all the 3rd graders. I spoke to them about my duties and explained a little about different levels of government. Then I answered questions for about 20 minutes. Afterwards I took a picture with each class. I got a lot of hugs and high fives after each picture. What a treat!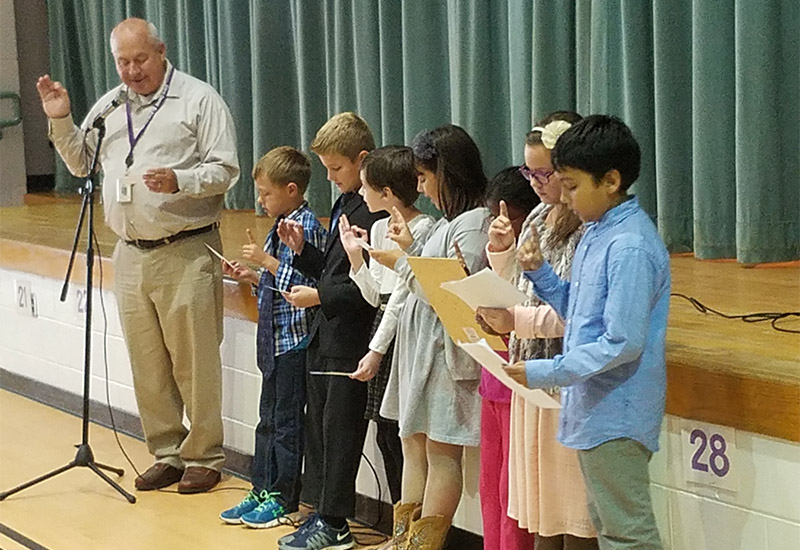 Thursday – Cary Town Council Meeting
Thursday the council's regularly scheduled council meeting lasted over four hours. There were eight items on the consent agenda, six public hearings, six discussion items, and a closed session. In the public hearing portion of the meeting the council praised the Arbors on Wrenn Drive for proposing to add amenities to an existing apartment community.
The council also closed a portion of Wilson Road after a public hearing. Residents wanted no construction traffic and a connection to Cary Parkway. The developer promised to use the remainder of Wilson Road for construction. The connection to Cary Parkway is in Morrisville's jurisdiction so that really can't be considered in a Cary decision.
Under the discussion items council approved a legacy program to allow people to purchase park benches in honor or memory of someone. The council also approved the Booth amphitheater budget and the Carpenter Village rezoning. The council tabled the Mills rezoning next to Green Hope High school to get more information about the density and the buildable acreage.
Saturday – Cary Band Day
Saturday I had the honor and privilege of welcoming guests to the 58th Cary Band Day competition at Cary High School. I returned later in the evening to thank everyone for attending and invited them back to next year's competition. All four Cary High School bands played during the day at this competition. Cary and Green Hope played in exhibition and did not compete. Middle Creek and Panther Creek both competed in their classes. All were outstanding and I am so proud that they are all in Cary.
This week council was notified that the Umstead Hotel in Cary is ranked as the #26 best hotels in the world by Conde Nast. Congratulations Umstead! Thanks for being in Cary.
Town Manager's Report
The town manager's report for the week included the following:
A-Team Prepares with Annual Winter Weather Drill

On Wednesday the A-Team assembled for a five-hour refresher on what to do during inclement winter weather. Staff conducted a full "mock" three-inch snow storm, beginning with advanced planning meetings, "brining" operations using water, mounting all spreaders and plows, and driving snow routes to include main thoroughfares and primaries within subdivisions. Additionally, several training stations were set up to include chainsaw safety, vehicle safety, plowing techniques and safe driving tips. The event ended at noon with an Italian feast for lunch. This year's winter storm inventory includes 76 pieces of equipment – 55 plows and 21 spreaders – along with 900 tons of salt and 2,500 tons of salt/sand mix.

Federal Disaster Declaration

On Tuesday Wake County received a Federal Disaster Declaration, allowing 100-percent of storm related costs to be reimbursed (75% by the federal government/ 25% by the state.)

We have calculated a rough estimation of the costs directly related to storm, storm damage or storm response. All costs will be reimbursed by the 75%/25% split, except for Swiftwater Mutual Aid costs which will be reimbursed 100-percent by the state. Keep in mind, all of these numbers are subject to further investigation and validation by FEMA.

Reimbursable damages minus deductible – $26,000
Salaries for working the storm – $142,556.59
Apparatus and equipment used – $49,972.03
Reimbursable supplies and materials – $11,250.02
Swiftwater Mutual Aid cost – $29,070.72

Google Fiber Continues Work in Cary

Google announced plans this week to pause operations and exploratory discussions on any "potential Fiber cities." This announcement does not include the Raleigh-Durham area. Google released a statement saying, "Google Fiber will continue in Morrisville and in fact, we're still on track to start accepting signups in six other cities throughout the Triangle aligned with our plan. We can't wait to offer superfast Internet to more residents in the Raleigh-Durham area."

New Pay by Phone Service

Utility customers now have the option to pay their bills by phone any day, any time using an interactive voice response system. Customers may always opt out of the automated payment system to speak with staff during business hours. This feature launched on Wednesday, and within the first five hours, 21 customers chose the automated payment methods. While this phone option appears counter-intuitive in the age of online services, our early experience is consistent with other utilities. Beyond fees that we incur to accept credit card payments already, the service is a feature provided at no additional cost through our DigiPay vendor. Because automated phone payments reduce the calls handled by staff, this new service allows us to stretch our staff resources to support our growing customer base.

Also, we've updated our utility bills to match the Town's new color palette, and the back of our bills were reformatted for easier reading.

Recognitions

Today marks School Resource Team Commander Tracey Barker's retirement. Working his way from patrol officer, Lt. Barker served as Community Services Officer, Watch Commander, Traffic Safety Team Commander, detective, and Emergency Response team member. He retires with 24 years and 9 months of service with the Town.
 Emails from Citizens
Emails from citizens this week included:
Opposition to closing a portion of Wilson Road.
Opposition to the Mills rezoning.
A request to spruce up Cary memorial park before Veterans Day
Next week's activities will include staff meetings, a visit with Weblos Pack 120, Eagle Scout ceremony for six young men, and a taping of Cary Matters.
Get In Touch
Well, that is all for this week. My next post will be on Sunday, November 6th.  Although I have Facebook and Twitter accounts those are not the best means of communications with me. Please send all Town of Cary questions or comments to Harold.Weinbrecht@townofcary.org and email personal comments to augustanat@mindspring.com.
---
From the blog of Cary Mayor Harold Weinbrecht. Photos courtesy of Harold Weinbrecht.
https://carycitizenarchive.com/wp-content/uploads/2016/10/HaroldsBlog-Oct31-Featured.jpg
550
800
Harold Weinbrecht
https://carycitizenarchive.com/wp-content/uploads/2020/03/cc-archive-logo-450-v3.png
Harold Weinbrecht
2016-10-31 13:42:59
2016-10-31 13:43:24
Harold's Blog: Town Council Meeting, Elementary Students and More