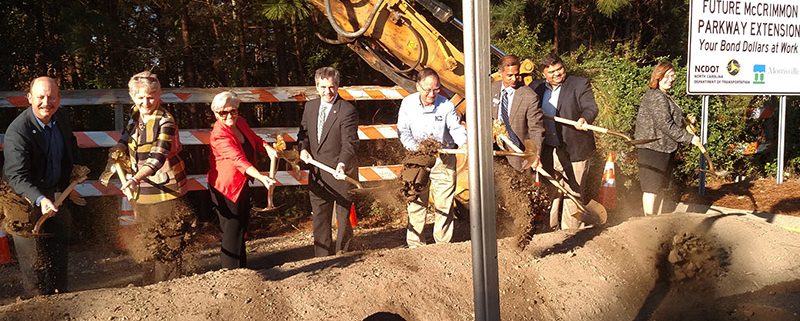 Morrisville, NC – A plan that has been talked about for more than a decade, the Town of Morrisville held its groundbreaking ceremony to talk about extending McCrimmon Parkway.
McCrimmon Parkway
Everyone, from the Morrisville Town Council to members of the General Assembly to North Carolina staff, gathered on Perimeter Park Drive, near the land McCrimmon Parkway would expand through.
Speaking at the Friday, November 4, 2016 groundbreaking was Morrisville's Mayor Mark Stohlman who introduced the Department of Transportation's (DOT) Secretary Nick Tennyson and Morrisville's Public Works Director Blake Mills.
While also thanking all of the state and town staff who worked on the project, Mills reminded the crowd this was Morrisville's biggest road project yet and has been a long time coming.
"We have been working diligently on this project since the bond initiative November 2012," Mills said. "And we've talked about it since about 2002."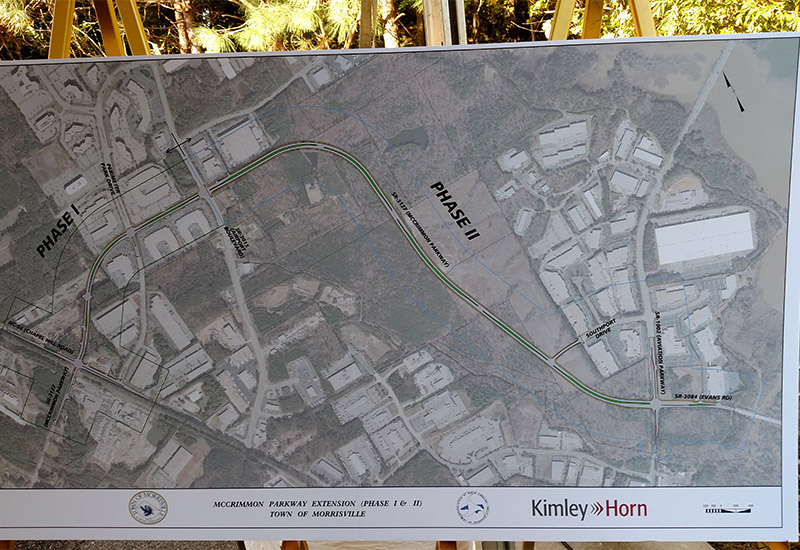 The expansion plan comes in two steps: the first step or "Phase One" will extend McCrimmon Parkway from NC-54 to the piece at Perimeter Park Drive, extending it as a four lane road with sidewalks and bike lanes. McCrimmon would also be widened near NC-54, adding a left and right turn lane. Phase One is expected to finish in early 2018.
Phase Two would install a traffic signal on McCrimmon but more than that would build a new four-lane road from Airport Boulevard to Aviation Parkway. Mills said the initial plan for Phase Two was only some improvements to McCrimmon.
"With CAMPO (Capital Area Metropolitan Planning Organization) and the NC DOT, they partnered with the town in a joint project for a new road," Mills said.
Unique Opportunities and Challenges
Tennyson spoke on some of the unique features of North Carolina's road system. For one, North Carolina has the second largest number of state-maintained roads and is one of only five states without any county roads.
"We have an 80,000 mile road network," Tennyson said.
As Secretary of Transportation, Tennyson said part of the job is finding the proper fits for different communities.
"Not all parts of the state need the same service but they all deserve the same level of consideration," Tennyson said.
But as transportation needs grow in the state, Tennyson said this creates a conflict between access and mobility, with mobility often being the DOT's main concern.
"Almost every time, expanding access runs counter to mobility," he said.
And as Tennyson said, Morrisville has issues with mobility and traffic.
"Traffic at rush hour is hampered by the success of Morrisville and surrounding areas have had," he said. "But we'd prefer that to a shrinking population."
Tennyson said the McCrimmon expansion and other improvements should help balance access and mobility and said the bond to fund the expansion was adopted by a bipartisan vote and wants to make the process going forward transparent.
Also, with the expansion near NC-54 happening near the railroad tracks, he reminded drivers and residents that if they see an obstruction or other problem with the tracks to call the 800 number posted near them, not 911, because that will get the message directly to the people who can control the trains.
"We are the Department of Transportation, not the Department of Highways," he said. "We are involved in rail and air travel as well."
Construction on McCrimmon Parkway starts Monday, November 7, 2016.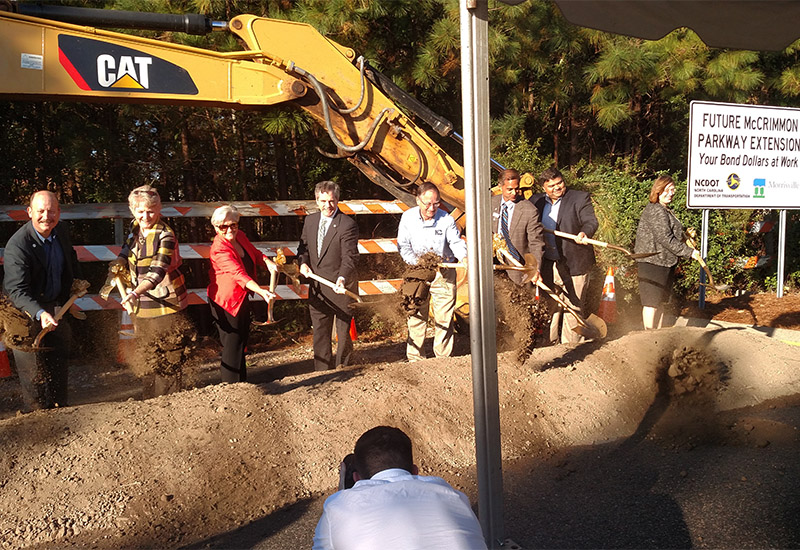 ---
Story and photos by Michael Papich.
https://carycitizenarchive.com/wp-content/uploads/2016/11/McCrimmonFeatured.jpg
550
800
Michael Papich
https://carycitizenarchive.com/wp-content/uploads/2020/03/cc-archive-logo-450-v3.png
Michael Papich
2016-11-04 13:27:46
2017-09-13 15:11:16
Morrisville Breaks Ground on McCrimmon Expansion