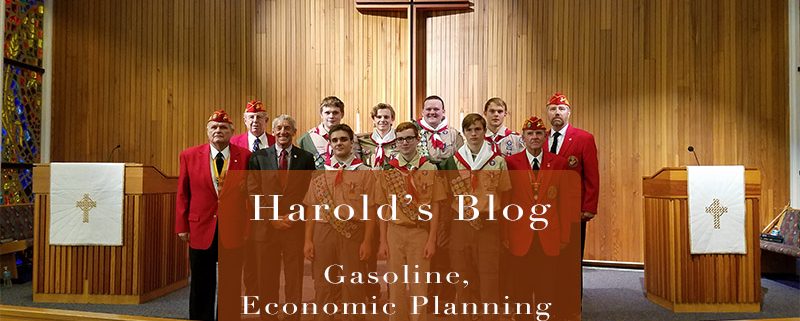 Cary, NC – This week was dominated by small meetings and events.
Monday – Planning for the Week
Monday I had my weekly meeting with the town manager to discuss several items. Some of the topics included Cary Parkway, the importance of medians on major roads, small cell technology that is coming to communities via light poles, and the future of the Carolina Railhawks. Our meeting lasted about an hour.
Tuesday – Gasoline
Late Tuesday I received the following notification from staff about gasoline supply in our area:
"You may have heard by now, that yesterday, a contract crew working on Colonial gasoline pipeline in Shelby County, Alabama hit the line during excavation, igniting the gasoline and causing a fire. Local emergency responders have contained the fire, which is being managed as a controlled burn at this time. Colonial is working on plans to repair the pipeline and restore service as quickly as possible. At this time, they anticipate that their gasoline line will remain down for the remainder of this week, creating a potential for supply disruptions in certain areas. It appears that the terminal suppliers are a little gun shy already, but it's very early and the total assessment has not been completed, which will tell us how long the pipeline will be delayed. Our fuel supplier is doing everything in their power to find product where we can continued to be serviced, similar to a few months ago. We are hopeful that we will not see a shortage in supply as we did before."
It is my hope that if we have a shortage it will be short lived.
Tuesday evening I had the pleasure of meeting with Webelos and Den Cub Scouts from Cary Pack 120 at White Plains Methodist Church. I took a few minutes to explain to them the levels of government in North Carolina and my duties as mayor. Afterwards I answered questions for about 15 minutes. Then we took a few photos before I departed. I thoroughly enjoyed my time with them and am so grateful of their interest in local government.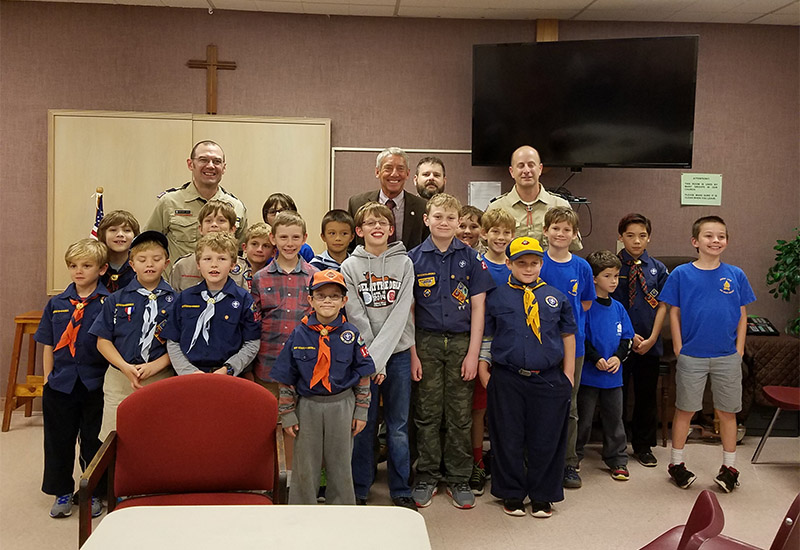 Wednesday – Economic Strategies
Wednesday morning I met with a delegation from China that is opening a school in Cary. They were joined by a member from the North Carolina Commerce department and a professor from NC State. We talked very briefly and I welcomed them to Cary and thanked them for having their business here.
Afterwards I heard a presentation from Ted Abernathy and the Chamber's Eye Opening Breakfast. Mr. Abernathy is the Managing Partner of Economic Leadership LLC, a consultancy that is currently working in more than a dozen states to develop economic strategies. He presented us with data and trends about the nation, state, and local economies. As one might suspect Cary is doing very well. One interesting prediction is that we might be headed for a mild recession in about two years. That is already occurring in other parts of the world.
Thursday – Town Council
Thursday the council was scheduled to meet for quasi-judicial hearings. Since there were none on the schedule the meeting was cancelled.
Sunday – Eagle Scouts
Sunday I had the rare honor of participating in the Eagle Scout ceremonies for 7 scouts at White Plains Methodist Church. It is rare to have one Eagle Scout so 7 was a real treat. Only two percent of all scouts achieve the rank of Eagle. Congratulations to John Eyerman, Colin Foley, Gabriel Henderson, Peter Kosnick, Alex O'Neill, Connor Rice, and Andrew Thornton.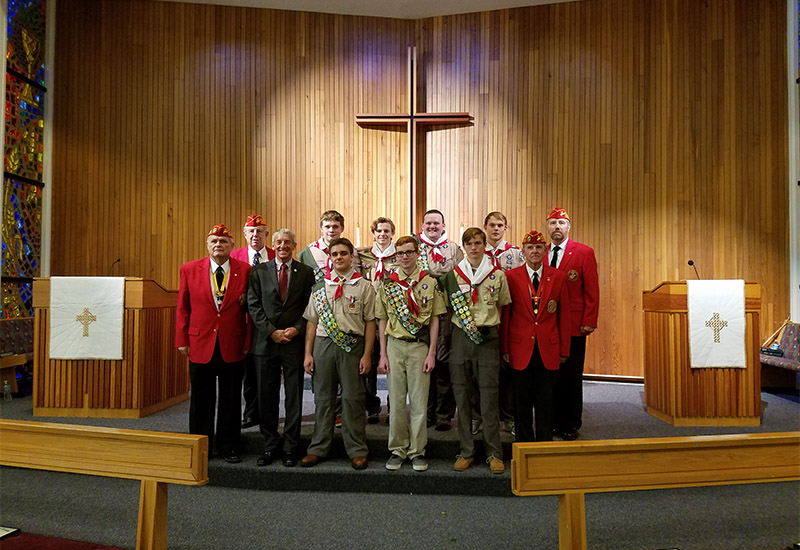 Later Sunday I hosted the town manager and his family at the Mayors Association outing at the Carolina Hurricanes game. I was proud to introduce our town manager to neighboring mayors and their council colleagues and staff. Although the Canes didn't have a good game we had a great time.
Emails From Staff
Emails from staff this week included the 3rd quarter report. Here are some notable items from that report:
Population estimated to be 158,434 which is an increase of 2.4% over the last 12 months.
As of October 1st the town included 59.16 square miles.
There were 31 development projects in the quarter that included 349 residential homes or lots, 59 townhomes, an elementary school, and a hotel.
The average single family dwelling was 3752 square feet as compared to 3637 square feet in 2011.
Cary had 17.2% of the county permits which was second to Raleigh.
Water demand average was down .4 million gallons a day compared to last year.
Cary was ranked safest city in America based on FBI statistics.
Town staff partnered with Wake County Emergency Management to test
3rd quarter fire frequency increased 43.4% compared to the same time last year.
USA Olympic baseball team will train at the USA training center in Cary.
Youth sports increased 5% over the last year.
Cary teen council set a record with 1086 members.
Three new Adopt a Spots were added bringing the total to 60 in town.
The Academy Streetscape project should be finished soon.
Walnut Street improvements should be finished soon.
The Downtown Park Phase 1 should be finished by the end of the year.
The Morrisville Parkway and I540 interchange is in design and is scheduled to be completed in 2019.
Improvements for the Cary Parkway and High House Road intersection is finishing design and should be completed by the end of next year.
The MacDonald Woods restroom replacement is just beginning design and should be completed by the end of 2018.
Mills Park Phase II is in design and is scheduled for completion in 2018.
The Cary Tennis Park expansion is scheduled for completion by summer of next year.
The town's public Wi-Fi began operating on campus in August.
Cary's unemployment rate was 3.6% in August.
See the entire report at http://townofcary.uberflip.com/i/745305-3q-2016-report-to-council.
Town Manager's Report
The town manager's weekly report to council included the following:
Update on Mini-Retreat
We are looking for calendar options to reschedule the tour previously scheduled as part of the October mini-retreat. You will be hearing from Ginny shortly about possible dates.
Remember that the public comment period for the FY2018 budget will occur in December. Comments received in December will be summarized in a report for consideration.
Preparing for Possible Fuel Disruption
You may have heard by now of another incident of damage to Colonial Pipeline, creating the potential to disruption services. The Town has proactively topped off our fuel tanks at the Operations Center and activated GoGas fuel cards to allow staff to fuel Town vehicles off-site until we hear further news about the pipeline.
PD Joint Study with NC State
Our Police Department recently played a role in a study conducted by NC State's Industrial and Systems Engineering Department. The goal of this study was to determine how to enhance officer safety when responding to a call for service, including making design recommendations for future onboard computer terminal design and operation. It's the first study of its kind, and we hope to share these learnings with other law enforcement agencies across the nation to improve the safety for all. The study was funded through a grant by the NC Occupational Safety and Health Education and Research Center. Chief Godwin was featured in the media on this topic earlier this week.
Park Furniture Arrives on Academy Street
Tables and chairs are arriving on Academy Street. The furniture invites people to make their own seating arrangements to personalize each space. Business people, parents with strollers, shoppers, people watchers, remote workers, coffee drinkers and diners are all encouraged to take a seat and enjoy!
Town Exhibitors at Cary Chamber Business Expo
Staff members from Planning and Development Services departments were exhibitors at the 2016 Cary Chamber of Commerce Business Expo. The event was November 2 at Prestonwood Country Club. Staff was able to interact with Cary's business community during this event. Topics included the development liaison service, as well as the new Cary Community Plan.
Development Services Space Reconfiguration
With the creation of the Development Services Department in 2015 came the need for a space reconfiguration. The Development Contact Center and development liaisons will be switching spaces, resulting in a more spacious area for the contact center and an office for the Department Director, Scot Berry. Space has also been converted into an office in anticipation of a third development liaison.
Recognitions
Last week, Virginia Johnson completed the fourth and final week at the Clerks' Certification Institute hosted by the UNC School of Government. The courses provide an in-depth look at responsibilities of municipal and county clerks, including topics such as open meetings law, public records law, and oaths of office.
We received the North Carolina Recreation & Park Association's (NCRPA) Arts& Humanities Award for the program Artify: Celebrating National Trails Day.
Dave Hallgren has been named the Town's Infrastructure Asset Management engineer, a new position in the Water Resources Department. He'll work with operations and engineering staff across departments to develop asset management and condition assessment programs for the Town's potable water, wastewater, stormwater and reclaimed water systems.
Emails From Citizens
Emails from citizens this week included:
Concerns about the Carpenter Village Core development
A request for help from a child to help share his Halloween candy with flood victims
A complaint about more proposed townhouses (Please understand that council doesn't propose anything)
A complaint about Apex Community Park (Apex jurisidiction)
A complaint about a neighbor's outdoor fire pit causing problems with an asthmatic child
A request to participate in the "Share the pie" challenge which means a pie in the face for a celebrity. Unfortunately (or fortunately depending on how you look at it) I am not available during that time. To find out more about this ministry see http://www.stepupministry.org/share-the-pie.
Next week's activities include staff meetings, the Citizen Police Academy graduation, the only regularly scheduled council meeting of the month, the tree lighting at Parkside Commons, the Beaujolais Gala, and Election Day. PLEASE VOTE!
Get In Touch
Well, that is all for this week. My next post will be on Sunday, November 13th.  Although I have Facebook and Twitter accounts those are not the best means of communications with me. Please send all Town of Cary questions or comments to Harold.Weinbrecht@townofcary.org and email personal comments to augustanat@mindspring.com.
---
From the blog of Cary Mayor Harold Weinbrecht. Photos courtesy of Harold Weinbrecht.
https://carycitizenarchive.com/wp-content/uploads/2016/11/HaroldsBlog-Nov7-Featured.jpg
550
800
Harold Weinbrecht
https://carycitizenarchive.com/wp-content/uploads/2020/03/cc-archive-logo-450-v3.png
Harold Weinbrecht
2016-11-07 10:02:53
2019-12-08 10:31:14
Harold's Blog: Gasoline, Economic Planning and Scout Troops