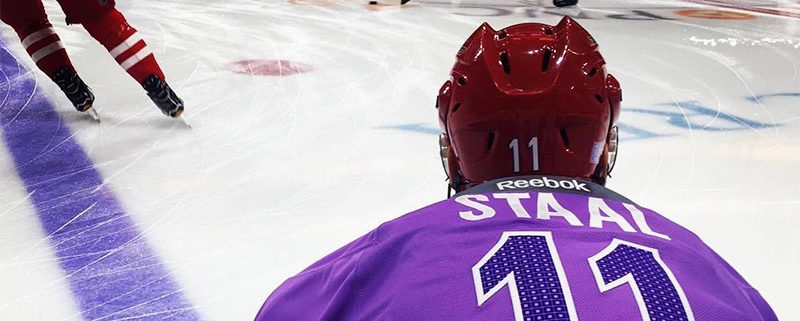 Cary, NC – Whether it was a hangover effect from their first shootout win in forever with a 3-2 victory in Nashville less than 24 hours earlier or sluggish for a late Sunday afternoon game, the Carolina Hurricanes put in a weak performance in a 4-1 loss against the New Jersey Devils.
Canes Successful on Man Down Situations
Both teams started the game as if both were afraid of making a mistake. Even at this early part of the season, both teams need points so tip toeing around wasn't going to get the puck in a net any time soon.
Fortunately, the Canes woke up and started attacking. Not sure if their awakening had anything to do with Rod Brind'Amour getting a little animated behind the bench or The Stare from Bill Peters, but the Canes were first to be aggressive on the puck.
It's not as if they had many shots – only five for the period – but were in control from a possession game point. They were excellent on defense as they again successfully killed two power plays but really couldn't muster any serious offense.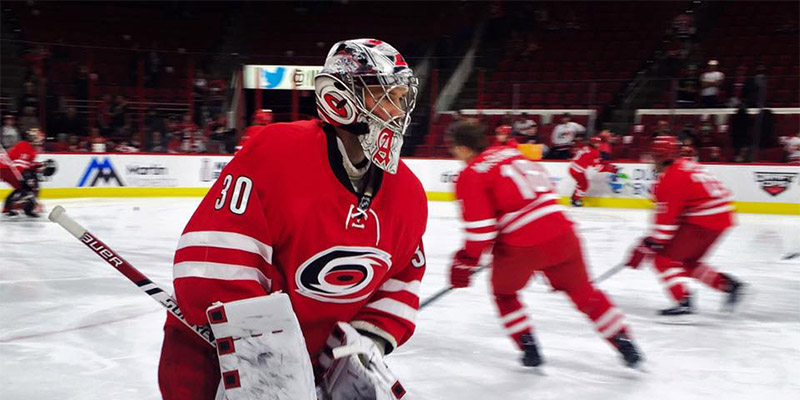 Will Somebody Please Cover Cammalleri
The Canes had plenty of opportunities to open the scoring in the second as Elias Lindholm was hit with a high stick with just 46 seconds gone giving the Canes a power play on fresh ice. That was a powerplay to forget as not only could the Canes hardly get it in the offensive zone, when they did, it was quickly sent back 200 feet to Eddie Lack.
Shortly after the man advantage ended, the Mike Cammalleri show stared. With Travis Zajac coming down the left side, Noah Hanifin sped over to Zajac who quickly sent a nice, easy saucer pass to Cammalleri waiting for the pass, settled the puck then took his sweet time to pick which side to put the puck past Lack despite a defender standing nearby.
Cammalleri notched his second of the night just three and a half minutes later, this time on a quick shot that beat Lack for a 2-0 Devils lead. Did I mention the Canes had 15 shots in the second with powerplays and the Devils had no powerplays and just two shots? Yes, two shots, both went in.

Nestrasil Cancels Shutout
Cammalleri got the hat trick with 8:30 gone in the third and showing our Southern Hospitality, some hats hit the ice.  The Canes started showing life again in the third despite being down 3-0. They know from the wrong side of experience, being down 3-0 doesn't necessarily mean you can't win the game.
At the 13 minute mark Andrej Nestrasil, à la Chad LaRose style, stuffed in a rebound off a Hanifin shot closing the gap to 3-1 and awakening the too few Caniacs in attendance on the NHL Fights Cancer Night. I made a point to stop by the Pancreatic Cancer booth as a fellow Cary citizen and great hockey fan is battling that dreaded illness. I can tell you pancreatic cancer picked on the wrong person as he's going to beat this thing.
Peters pulled a desperation move and pulled Lack with 4:15 left. Good idea but did backfire as with the Canes on a powerplay giving a six-on-four skating advantage had a shorthanded 185 foot shot seal the win. Peters cancelled practice for Monday which is a shocker.  That has to be the smoke before some type of fire starts burning. Stay tuned.
Next home game is Thursday, Nov. 10, 2016 against the Anaheim Ducks. Be there!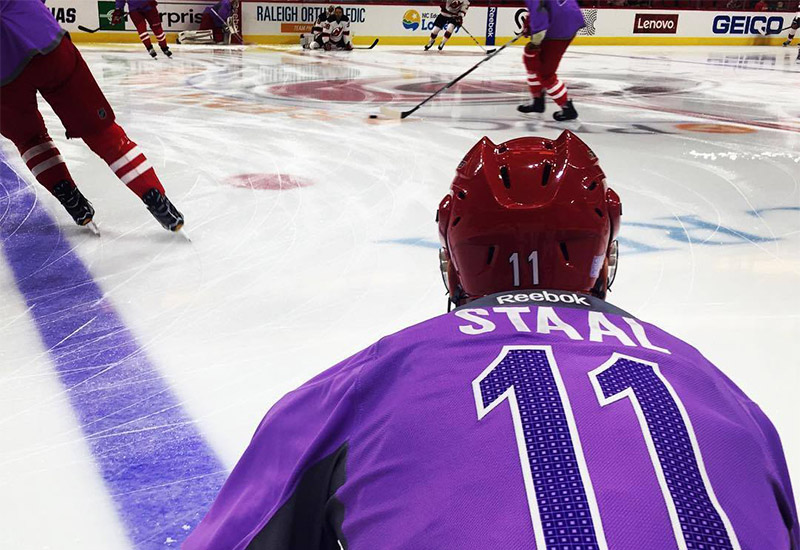 ---
Canes coverage by Bob Fennel. Photos from Facebook. Read more Hurricanes coverage.
https://carycitizenarchive.com/wp-content/uploads/2016/11/Hurricanes-Nov7-2.jpg
550
800
Bob Fennel
https://carycitizenarchive.com/wp-content/uploads/2020/03/cc-archive-logo-450-v3.png
Bob Fennel
2016-11-07 13:57:59
2016-11-16 09:14:51
Canes Fall Flat Against Devils in 4-1 Loss