Cary, NC – This week was an important week locally, state wide, and nationally as we held elections. 
Monday – Parks Award
On Monday I attempted to contact all council members about concerns or questions they may have had with Thursday's agenda for November's regularly scheduled council meeting. Questions from council included the need for more information in the CoFounders Capital lease renewal and the Mills rezoning proposal. Later in the day I joined Mayor Pro-Tem Yerha and staff to go over the agenda.
Monday evening I attended a special presentation and the Parks Advisory Board meeting. In honor of the parks department's Gold Medal award the following was written by advisory board member John Buben:
Twas the night before Christmas, At the Town Hall of Cary, All the staffies had gone home, Or were out "making merry."

Council members were snuggled, Away in their beds, While visions of "Lazy Daze", Danced in their Heads!

Their stockings were hung, By the chimneys with care, In hopes, that by morning, "Greenway Grants" would be there!

But back in the chambers, The "Boss" was still there, Our esteemed Harold Weinbrecht, Cary's hard working Mayor!

Although his Town Staff, Was in Holiday mood, Poor Harold was feeling, Forlorn and subdued.

Our mayor held in his hand, A report very much chilling, After years as "Top Dog", Cary no longer "Top Billing"!

While still ranked "Number One", In several criteria, Bottom Line, it concluded — "You are somewhat inferia"!

"You're behind Apex and Fuquay!", The report pointed out. And then… come the reason, For this sad turnabout!

It wasn't in Police work… Or safety… or tech… The finger was pointed at… "ohhh Nooo"! Parks & Rec.!!

"Your Greenways are littered, With branches and stones, Joggers are falling and, Breaking their bones"!

"Don't have enough parks, Sports venues… outdated! You have no public gardens, To be cultivated"!

"Your Plan is a bummer!", The report further chided, "The budget's outrageous, And your goals are mis-guided!"

In spite of these problems, Don Frantz, had been told— To "sign Cary up", To vie for NRPA "Gold"!!

Weinbrecht needed a miracle, To save him some face, And get Yerha and Robinson, Off of his case"!

To replenish our luster, To get us back above zero, Was the answer he needed— But who'd be the "Hero!??

Then out on the lawn, There arose such a clatter, Harold leaped to the window, To see what was the matter!

Although it was dark, And he could not see ideally, There was a Toyota Tacoma! And it was "Poppin' a Wheelie"!

Harold stared in amazement, At this scene so unreal— It was Douglas McRainey, Sitting tall at the wheel!

"Lay your fears down!" Doug Cried! "I've come to advise!" We will be going to St. Louis, And bring back that prize!"

"I've assembled a team , A magnificent crowd! With talent so great— They'd make Sean Stegall proud!"

Doug jumped from his pick-up, And confronted his troops, Who had started to gather, Into functional groups!

Rubbing sleep from their eyes, They snapped to attention, And saluted their leader, When their names, he did mention!

"Dwayne Jones… Jody Jameson… Sam Trogdon… Cindi King… I Use your creative powers, To make our Rec Centers sing!"

"Lyman Collins, Joy Ennis, Robbie Stone, and Kris C., Instill culture and public art, For all of Cary to see!"

"Paul Kuhn, you're the man— We're depending on you, To create super Greenways, Out of… 'Payments in Lieu' !!"

"William Davis, our venues, Deserve your attention, To bring sports fans to Cary, And re-gain statewide mention!"

"So this town needs a winner, To inspire and enthrall, How about an arena— For Pro Pickleball?"

"Our objective is GOLD, In St. Louis, next Fall!"

"So Dash Away! Dash Away Dash Away, All!!"

They went right to the challenge, And with timing terrific, Accomplished marvelous things, That were quite Beatific!

They built parks… miles of greenways, A downtown theater… quite neat, Then they blew up… and rebuilt, All of Academy Street!"

By end of this Summer, When they finally were done, They had a Project Portfolio, Which was… "Second to None."

Doug faced one crucial hurdle, His ADVISORY BOARD! Would they like it, or hate it? "WE LOVE IT!" they roared!

Doug reviewed it with Council, And was urged to proceed. Declared Bush, Smith, & George— "This is just what we need!"

So Doug hopped on a plane, Along with Dwayne, and LeeAnn, To the NRPA contest, To see "Who had the Best Plan."

Two cities from Texas, One from Oregon, out west, Were the towns that they battled, In the Parks and Rec test.

"I've reached a decision" The judge cried with a smile— "Frankly, it's a NO-BRAINER! CARY WINS! BY A MILE!!!"

With Cary's reputation, Restored to great heights, Harold thanked Doug McRainey, For those long days… and nights!

To rest on his laurels, Our Doug would be justified, But significant projects, Remain to be questified!

No, he won't take it easy, He has firmly decided, Howard Farm and Downtown Park, Is where Douglas is guided!

So he bid us farewell, To his staff gave a whistle, And left the third floor, Like the down on a thistle!

And we heard him exclaim, As he faded from sight— "GAIL TAYLOR, GET IN HERE! I NEED THIS… TONIGHT!"
What a great talent we have on our advisory board. Thanks John Buben! And congratulations to Cary Parks and Rec once again for getting the Gold Medal award.
Tuesday – Election Day
Tuesday was Election Day and there was a tremendous turnout in Cary. I was there when my precinct opened and it took about 50 minutes to get to vote. We elected a new president, new governor, two new house members in Wake County and some new county commissioners. I joined almost all council members at Gale Adcock's victory celebration. Gale was the former Mayor Pro-Tem in Cary. She was overwhelmingly elected to a second term. I am so proud of her and honored to know her. Congratulations Gale!
This election was the most divisive and partisan (from the top of the ballot to the bottom of the ballot) I have seen in my life. Regardless of whether you think the President elect is a narcissist sociopath or the great savior of all time, we HAVE to come together. Our country, state, and local governments depend on it!
Wednesday – Startup Business
Wednesday I met with a startup business owner who is into marketing music. He talked about being in this area and his interactions with CoFounders Capital on Chatham Street in downtown. Cary is making a name for itself and is gaining a reputation not only for major corporations but for startup businesses.
Thursday – Town Council Meeting
Thursday the council held the only regularly scheduled council meeting of the month. On the agenda were 10 consent items, 5 public hearings, 8 discussion items, and 2 closed hearing items.
The meeting began by announcing the Hometown Spirit Award winner for 2016.  Each year the Hometown Spirit Award is given to a Cary resident who enhances the quality of life in Cary by preserving, promoting and carrying out positive and quantifiable traditional small-town community values and traits that include helping neighbors and fellow Cary residents, demonstrating hospitality, promoting and preserving traditional American past times, showing a concern for preservation and working to preserve traditions and the small town atmosphere, promoting entrepreneurship through supporting locally owned businesses, promoting a sense of community in their neighborhood and all of Cary, demonstrating patriotism through promotion and preservation of the country's symbols and dedication to the US military past and present, and serving the community through business. This year I had the honor and privilege to present this award to Sheila Ogle. The press release about her says it all:
"One of Cary's citizens who is committed to the success of our Town, Sheila Ogle, is the recipient of the Town of Cary's annual Hometown Spirit Award; the award recognizes community-minded citizens who enhance the quality of life in Cary by preserving, promoting and carrying out positive small town community values and traits. The Town Council honored the nominees at a reception before tonight's regular Cary Town Council meeting for their unique contributions to the community. Ogle received an award, and the Town will recognize her on a plaque inside Town Hall.

Nominated by peers, they shared, "Sheila Ogle has been, and continues to be, one of the most prominent business leaders, philanthropists, and supporters of the Town in Cary. She has dedicated her life to helping this Town bloom into one of the best places to live in the country. Sheila wants everyone in Cary to succeed.

Ogle has committed her life to Cary through job creation, charitable work, and leadership mentoring. She is quoted in her nomination as describing her dedication to our Town's citizens. Says Ogle, "I love watching them become successful, strong leaders, and upstanding citizens." A few examples of her community involvement and contributions résumé include founding member of several organizations, including Cary Community Foundation and Women's Giving Networks, operator of the historic Cary landmark Matthew's House and first women to be inducted into the UNC Advertising Hall of Fame.

Inspired by a suggestion from a Cary resident, the Hometown Spirit Award is bestowed upon citizens with demonstrated leadership and integrity. In addition, the recipient must exemplify at least one of the following criteria: help out neighbors and fellow Cary residents; demonstration hospitality; promote and preserve traditional American pastimes; show a concern for preservation and work to preserve traditions and the small-town atmosphere in the community; promote entrepreneurship through supporting locally owned businesses; promote a sense of community in their neighborhood and all of Cary; demonstrate patriotism through promotion and preservation of the country's symbols and dedication to the U.S. military, past and present; and serve the community through business."
Congratulations Sheila!
Of the 5 public hearings the one for the Cary Community Plan drew the most speakers. Most speakers praised the plan. However, several speakers from the SV temple were concerned about the long range plan to widen Chapel Hill Road to six lanes. This was in the Cary Community plan because the NCDOT study recommended it. In the council discussion after the public hearing we asked that staff allow us to review all major changes to thoroughfares. In the past council has said it would like to avoid 6 lane roads if at all possible. It is my belief that we will change the plan for Chapel Hill Road to be four lanes.
Our first two discussion items were for a high density development on Chapel Hill Road. This proposal matched our current and future Cary Community Plan. The only criticism was that it was not dense enough. The council approved these unanimously. Council then approved the Eastern Gateway Plan with one minor adjustment to allow flexibility in height for non-office buildings. The Eastern Gateway is bordered by Chapel Hill Road to the North, Walnut Street to the South, I40 to the East, and Maynard Road to the West. The Mills rezoning for townhomes next to Green Hope High School was tabled once again so that the developer could add conditions. The council also approved intersection improvements at Davis Drive and Waldo Rood. Our meeting concluded after over 4 hours.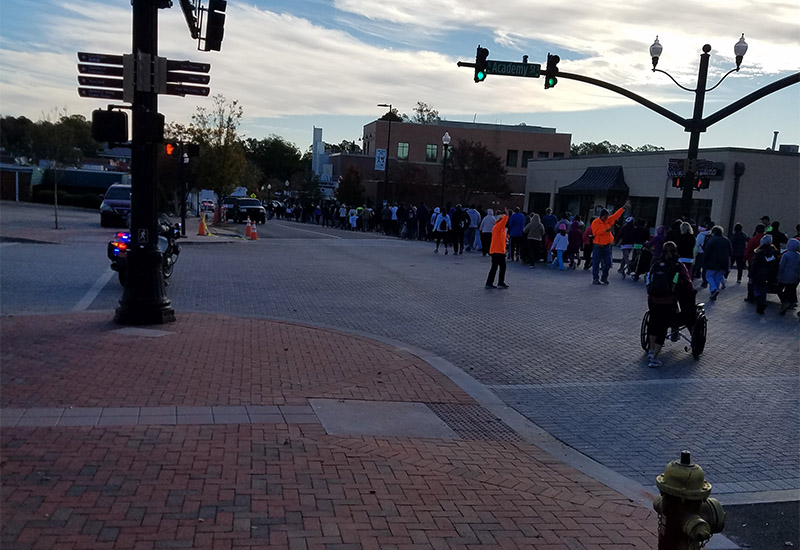 Saturday – Cary Unity Walk
Saturday morning I had the honor of giving a few remarks at the Cary Unity Walk. The purpose of this event was to bring our community together to support our first responders and to bring together all race, religions, and backgrounds. Here is an excerpt from those comments:
As some of you know, I'm fortunate to have been serving Cary as mayor for about nine years. I'm also fortunate to be employed full-time by one of the nation's top employers—SAS. But without a doubt, my most rewarding role is being father to my beautiful daughters. They're grown now, and as I watch them find their way as adults, I couldn't be prouder. I know that the decisions they make today are because of what my wife and I, our church —and especially our community—did to influence them over the years. Nurturing our youth is more important today than perhaps ever before. By being here, you show that you understand that, and I'm proud of each and every one of you for making this a priority.

When your walk comes to an end this morning, please continue to look for ways to lead with love. Share your talents with a non-profit like Read & Feed. Volunteer to beautify an outdoor space in your neighborhood with our Spruce program. In lieu of holiday gifts, make a donation to the 200 Club of Wake County. Take a look around your house as you make room for new gifts and see if you have something to donate to Dorcas Ministries. A stronger community starts with each one of us, coming together for the betterment of all.

We just graduated our 39th Citizens Police Academy. It's a 12-week program where residents get a "behind the scenes" look at what all our police do to keep our community safe. Registration for the next academy will open after the holidays. More than educational, the program is a wonderful way to better understand not just what all officers to but to see how you as a Cary resident play such a vital role in keeping our community the safest in the country.

I want to close with just a word of thanks to our police officers. Without hesitation, every day you put your lives on the line for me, my family, my neighbors, for all of us here—well, that's just humbling. There are no words to capture my gratitude and appreciation toward every single one of you. You are a remarkable group, and I speak on behalf of the Council when I say we hope you continue to share your talents with Cary. Be safe, be professional and continue to serve with empathy, dignity and respect.
There were over 200 participants in the walk which went from downtown Cary to the Wake Med soccer park.
Saturday evening my wife and I participated in the tree lighting and Parkside Commons Shopping Center in Cary. There were about 200 people in attendance with most of them being children. There were lots of activities for the kids with Santa, face painting, bouncy houses, etc. When it was time to throw the switch I invited kids to join me. It was fun being rushed by about a dozen of excited kids. We counted down from 10 and threw the switch to light the tree and a menorah. Everyone seemed to have a great time. I hope I get invited back next year.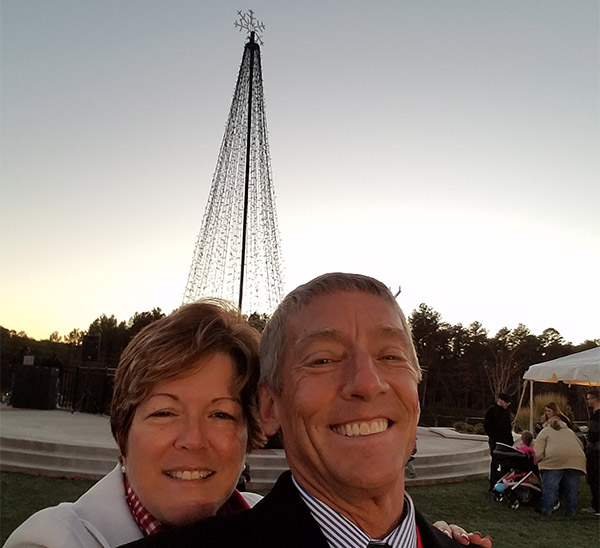 Sunday – Beaujolais Gala
Sunday my wife and I attended the Beaujolais Gala. The purpose of the event was to recognize and celebrate the history of collaboration between The Sister Cities Association of Cary, Cary's government officials and its business leaders to mutually establish, and nurture and grow cultural, economic and educational relationships with like-minded cities throughout the world.
Emails From Staff and Citizens
Emails from staff this week included a notification that Cary once again received the highest bond rating from Fitch which is one of the 3 major bond rating agencies. This allows us to get the lowest possible interest on our capital expenditure loans.
Emails from citizens this week included several complaints (tis the season):
A concern about the Wilson Road closing.
A complaint about the proposed town homes on Carpenter Upchurch Road.
Criticism about our decision to approve a rezoning on Morrisville Carpenter Road.
A question about potential town regulations on solar panels (the town does not have regulations. Usually regulations come from HOAs).
A complaint about the angle of bricks in the intersection of Academy and Chatham.
A complaint about the Imagine Cary proposal to have 6 lanes on Chapel Hill road.
A complaint about an approved rezoning from several months ago in Regency.
Town Manager's Report
The town manager's report for the week included the following:
Benches on Academy Street

Several benches arrived this week on Academy Street as part of the public art component for the streetscape project. These benches are designed by artist Jack Mackie of Seattle and were manufactured in Mt. Airy, NC. You'll also now notice permanent platforms along the sidewalk; these are spaces dedicated for rotating sculpture exhibits, typically orchestrated by Cary Visual Art.

HYCC Early Voter Activity High

From October 20-November 5, Herb Young Community Center served as an early voting location for Wake County voters. Vote totals show that 32,249 votes were cast at Herb Young, making it the most popular early voting location in the County.

McDonald's Coffee with a Cop

Earlier this week, Cary Police attended a Coffee with a Cop event hosted and organized by the McDonald's on Walnut Street. We were approached by the franchise owner, and believe it will be the first of more to come. Several dozen people came during the two-hour session. It's just one of the hundreds of community meetings police hold annually as we work together with the community to strengthen neighborhood spirit and foster partnerships for a safer community.

Recognitions

Lori Cove was awarded the Robert J Donge Image Award from the NC Institute of Transportation Engineers on Wednesday. This award recognizes someone who possesses "demonstrated technical competence and excellent people skills, has demonstrated record of service to the profession, the organization, and his/her community and, by personal demeanor and example, projects the best image of what a transportation professional should be." Staff from her department accepted the award on her behalf – wearing pink!

Bryan Webb has been named Chief Residential Multi-Trade Code Official in the Inspections & Permits Department. Bryan joined the Town in 2016 as a Multi-Trade Code Official after working several years in the construction industry, specializing in the construction of residential apartment complexes throughout the southeast. In 2014, the Residential Multi-Trade Division was created within the Inspections & Permits Department in an effort to provide an increased level of customer service for existing residential customers.
Next week's activities include a taping of Cary Matters, a meeting of the Capital Area Metropolitan Planning Organization's executive committee, and the Christmas tree lighting at Waverly Place.
Get In Touch
Well, that is all for this week. My next post will be on Sunday, November 20th.  Although I have Facebook and Twitter accounts those are not the best means of communications with me. Please send all Town of Cary questions or comments to Harold.Weinbrecht@townofcary.org and email personal comments to augustanat@mindspring.com.
---
From the blog of Cary Mayor Harold Weinbrecht. Photos courtesy of Harold Weinbrecht.
https://carycitizenarchive.com/wp-content/uploads/2016/11/HaroldsBlog-Nov14-Featured.jpg
550
800
Harold Weinbrecht
https://carycitizenarchive.com/wp-content/uploads/2020/03/cc-archive-logo-450-v3.png
Harold Weinbrecht
2016-11-14 10:30:36
2016-11-14 09:36:20
Harold's Blog: Elections, Cary Unity Walk and More