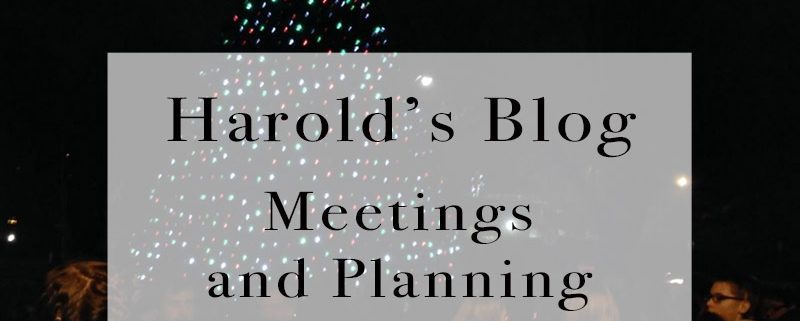 Cary, NC – This week was a little slower which was nice for a change.
Monday – Planning for the Week
Monday I met with the town manager to go over several topics. We discussed the managers first 100 days, the announcement of a new assistant town manager, the on time schedule of the downtown park, the Mills Townhome proposal, Dreamfest, the General Fund, and the future mall expansion. Our meeting lasted about an hour.
Tuesday – Cary Matters Taping
Tuesday I joined council member Robinson in a taping of Cary Matters. I topic for this episode was the Koka Booth amphitheater and how it had the most successful year ever.
Later Tuesday the council held a closed session with the town manager. Since I am not allowed to discuss closed session items I can only say we are very pleased with his performance for his first 100 days. Our closed session lasted about two hours.
Wednesday – CAMPO Meeting
Wednesday I attended the Executive Board meeting of the Capital Area Metropolitan Planning Organization (CAMPO). Approved items included:
Title VI, Minority, Limited English Proficiency (LEP) and Low Income Public Outreach Plan
FY2017 NCDOT Bike and Pedestrian Planning Grant Applications
Wake County Transit Plan Implementation Update and Presentation of the FY2017 Wake County Transit Work Plan
I questioned what entity would be responsible for large capital debt and we were told Triangle Transit. Then I asked what their bond rating was and they have none but are applying for it. This is significant because the bond rating greatly impacts the interest rate which in turn could cost millions more. The highest is AAA which Raleigh, Cary and a few other municipalities have with all three major bond rating agencies.
Friday – Mayors Meeting
Friday I participated in a meeting of the Metro mayors. Analysis of all races was presented in detail. In addition, we were informed about a legislative special session in mid to late December. That session will discuss providing relief to those hurt by Hurricane Matthew which caused an estimated $2 billion in damages. It is reported that the wildfires in western North Carolina may also be discussed. One controversial item that might come up would be the North Carolina Supreme court which now, for the first time in many years, is controlled by Democrats. It is reported that the legislature may expand the court by two seats and those two seats would be appointed by Governor McCrory before he leaves office. If that happens the North Carolina Supreme Court will go back to a Republican majority. This is significant since they will be reviewing district lines. The meeting ended after about 45 minutes.
Town Manager's Report
Email from the town manager this week included:
Wake Transit Next Steps

With the passing of the sales tax referendum, you can expect to be involved in various actions over the next several months. This winter, an Interlocal agreement to direct funds from the new $7 vehicle registration tax to the tax district will need to be signed. Additionally, in the spring a Joint Agency Agreement for Implementation of the Wake County Transit Plan will need to be adopted. The tax levies are expected to begin in April 2017 with funds available for distribution to various projects beginning in July.

Imagine Cary Next Steps

After looking at the issue and to meet your request for an additional Imagine Cary work session, we are working to tentatively schedule a work session after the QJ meeting on January 3. We will keep you updated with additional scheduling details.

Town Operations Next Week

To accommodate the Thanksgiving holiday, the Town will college garbage, yard waste and recycling one day early for customers with Tuesday-Thursday collection days. Town offices and most staffed facilities will be closed November 24-25 and reopen for business on Monday, November 28. GoCary, along with the Citizens Convenience Center, SK8-Cary, The Cary Theater and the Cary Tennis Park will resume operations on Friday, November 25. Additionally, there will be no weekly report from me next week. I hope you're able to mark the holiday with loved ones in gratitude and thanks.

Cary Fire Helping Western NC

On Sunday we received a request by the State Emergency Operations Center via Wake County to support firefighters engaged in the woodland fires in western NC. We promptly assembled six firefighters to make up one Engine Company and one brush crew. These firefighters were deployed to Rutherford County and worked 12-hour shifts on the 5,900-acre Table Rock fire at Lake Lure. Their goals included protecting structures from direct fire contact and maintaining fire breaks to control/contain burning areas. Another crew of six firefighters from Cary and two each from Garner, Fuquay-Varina and Apex fire departments left Thursday to relieve them.

The National Forestry Service considers the Table Rock fire as the second most problematic woodland fire occurring in the U.S. today. I'm proud of their hard work and service to our neighbors out west.

DigiPay Gets a New Look

DigiPay, our online utility payment portal, will have a new look and feel starting this Sunday. Our third party vendor, Paymentus, retained the underlying payment platform but improved the customer interface. The streamlined site provides improved guidance for customer payments or inquiring online, and offers additional scheduled payment options. DigiPay continues to be the single sign-on access point for Aquastar.

Cary Earns Bicycle Friendly Community Award

The League of American Bicyclists has designated the Town of Cary as a Bicycle Friendly Community at the Bronze Level based on our fall 2016 application.

Unity Walk

On Saturday, November 12 we welcomed roughly 300 people to downtown Cary for the first Cary Unity Walk. The group continued to WakeMed Soccer Park in a show of support for local law enforcement and an expression of unity and inclusion for all in Cary. Following a 5k at the Soccer Park, fire, police and other Wake County law enforcement agencies showed off their vehicles and tools of the trade, along with other vendor activities, games and food trucks.

Recognitions

Jimmy Simpson, a Public Works supervisor and a Certified Turf Manager, has been requested by Paul Seiler of USA Baseball to serve on the Commission on Venues and Standards Committee of the World Baseball/Softball Confederation. This commission will have oversight on venues used to host continental and world championships, including 12U, 15U, 18U, college-level and professional teams.

Nicole Raimundo has been invited to serve on the Advisory Committee for the Business Analytics Department at Wake Technical Community College. This department is committed to providing its students opportunities and experiences through which to become qualified for a career in the fields of business intelligence and business analytics.
Emails From Staff
Emails from staff this week included a notice that two trees on the 100 block of Walnut Street (future location of the new library and parking deck) are in bad shape and require removal for safety reasons.  Public Works has received an evaluation from a certified arborist indicating the trees are in a state of decline and present a safety hazard.  A contractor will be removing these trees prior to Thanksgiving.
In another email from staff we were notified that Cary was named one of the 103 Bicycle friendly communities awarded by Bicycle Friendly Community. To learn more about building a Bicycle Friendly America, visit http://www.bikeleague.org/BFA.  "The size, regional diversity and high quality bicycle friendly actions being taken within this group shows that building communities where bicycling is safe, comfortable, and convenient isn't confined to a particular type of city or region, rather a broad movement  nationwide," said Bill Nesper, Vice President, Programs of the League of American Bicyclists. "It is clear that communities of all kinds in every corner of the country know that making bicycling a real option for transportation and recreation is vital in building vibrant, connected communities." We are proud to be only 1 of 2 municipalities in North Carolina to receive this award.
Emails From Citizens
Emails from citizens this week included:
A complaint about not being able to email town council.
A complaint about proposed roads in Green Level.
A complaint about an approval in Regency that allowed the parking lot to be built before the building.
A request for the town (and all its citizens) to take over financial responsibility of a median contractually agreed to be maintained by a homeowner's association.
A question as to whether Cary will get into the broadband business.
A question about crosswalks on Academy Street.
A concern about repairing a sidewalk on Dynasty Drive.
A complaint about erosion and grading in Fryars Gate.
Next week is a holiday week so my schedule is light with four meetings including a meeting of the Wake County Mayors Association.
Get In Touch
Well, that is all for this week. My next post will be on Sunday, November 27th.  Although I have Facebook and Twitter accounts those are not the best means of communications with me. Please send all Town of Cary questions or comments to Harold.Weinbrecht@townofcary.org and email personal comments to augustanat@mindspring.com.
---
From the blog of Cary Mayor Harold Weinbrecht. Photos by Harold Weinbrecht and Lindsey Chester.
https://carycitizenarchive.com/wp-content/uploads/2016/11/HaroldsBlog-Nov21-Featured.jpg
550
800
Harold Weinbrecht
https://carycitizenarchive.com/wp-content/uploads/2020/03/cc-archive-logo-450-v3.png
Harold Weinbrecht
2016-11-21 10:31:16
2016-11-22 11:59:42
Harold's Blog: Meetings and Planning