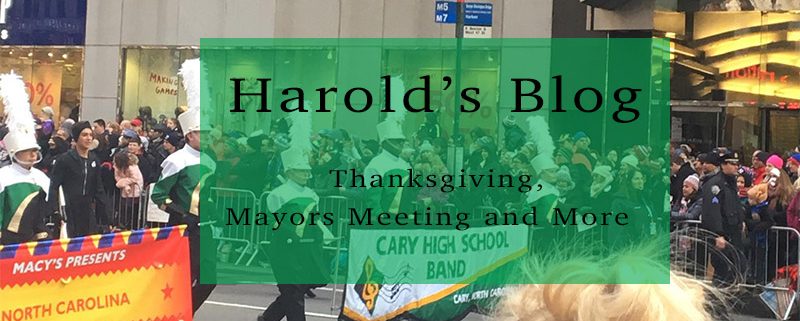 Cary, NC – Since this was a holiday week there was very little activity in the mayor's office. 
Monday – Wake County Mayors
Monday I was scheduled to meet with the town manager but we decided to postpone our meeting.
Monday night I met with the Wake County Mayors Association. All mayors were in attendance except the Raleigh and Fuquay-Varina mayors. Two presentations were given to the mayors.
The first presentation was from the Capital Area Food Network and Community Food Lab. Their goal is to create a comprehensive plan to build a hunger free food secure Wake County.
Our second presentation was from Wake Technical Community College. They have nine campuses and centers in the area. There were a lot of interesting facts presented about Wake Tech graduates including: Wake Tech graduates had a 3.12 GPA at a UNC system institution compared to UNC native juniors overall GPA of 3.06. Eighty-eight percent of Wake Tech graduates are employed after graduation.
The remainder of the meeting was spent going around the table and getting updates from the mayors about what was going on in their municipalities.
Tuesday – Meeting with Students
Tuesday I met with the town manager briefly to get an update on operational matters including a water main break. The good news was that the water main break was repaired within the day. Another example of the excellent staff we have in Cary.
Later Tuesday I met with a scout working on his first class rank. His main interest was to talk about constitutional rights. In addition to that topic we discussed government authority at the local level and certain examples influenced by property rights.
My last meeting Tuesday was with a high school student interested in opportunities available in our local government. We talked about several issues including what to major in at college to pursue a political career. We had a great conversation that lasted about 45 minutes.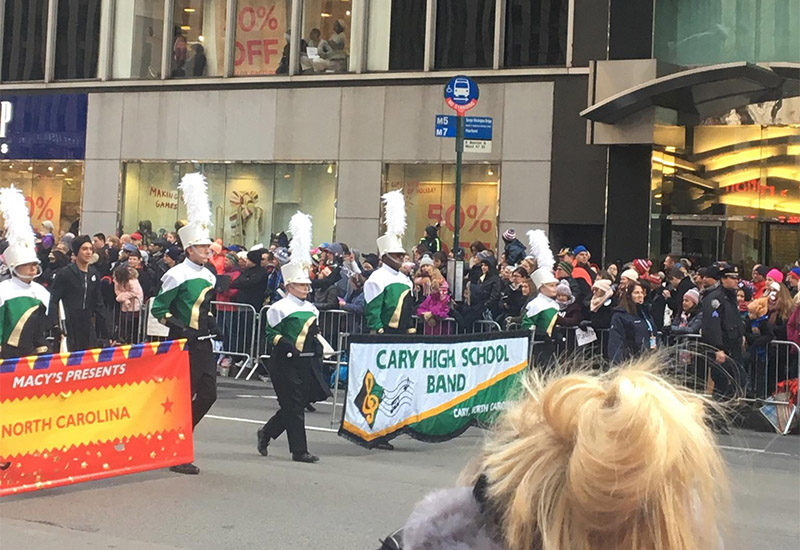 Thursday – Thanksgiving
Thursday I was proud to watch The Cary High School Band represent Cary and North Carolina in the Macy's Thanksgiving parade. What great ambassadors for Cary!
Like most Americans I enjoyed Thanksgiving with my family. I have many things that I am grateful for this year. I am blessed. I hope your Thanksgiving was also a blessed one.
Emails From Citizens
Emails from citizens this week included a request for information about how to get involved in Cary. If you are looking for ways to get involved check out the following links:
Volunteer Opportunities: Link to our Involvement Opportunities Page: http://www.townofcary.org/newtocary/Volunteer_Opportunities.htm
Newsletters: Use this link to sign up for new releases from the Town: https://public.govdelivery.com/accounts/NCCARY/subscriber/new? .You can choose what type of releases you would like to receive.
Parks, Recreation, and Cultural Arts Program Guide: Our PRCR department releases a program and classes guide quarterly. It also includes special events and other activities that are going on in the Town. Link: http://www.townofcary.org/Departments/Parks__Recreation___Cultural_Resources/Programs_and_Classes.htm
School of Government: Town of Cary School of Government is an eight week course that provides the community with an opportunity to learn: how municipal government functions, what services are provided, how citizens can become involved. Applications are accepted in early 2017. Link: http://www.townofcary.org/Departments/townmanagersoffice/School_of_Government.htm
Citizens Police Academy: The Citizens Police Academy offers members of the community a unique opportunity to become familiar with the operations of the Police Department. http://www.townofcary.org/Departments/police/Community_Services.htm
Our council, boards, and commissions meeting are open to the public. You can find the list of the upcoming meetings, and also videos of past meetings at our Agenda and Minutes Portal: http://carync.iqm2.com/Citizens/Default.aspx. Most of our meetings, depending on the type of meeting, have a Public Speaks Out item, where any visitor can address council or the board on any topic for a time amount. If you plan to address council or a board, check out the agenda to check for the public comment period.
Videos: Our Town has a YouTube Page and can watch our monthly update videos and also Cary Matters, a short video where two council members talk about an event or current Town topic.
Link: http://www.townofcary.org/Departments/townmanagersoffice/pio/Video_Files.htm
Sign up for the Town's RSS feed: http://www.townofcary.org/Departments/townmanagersoffice/pio/rssfeeds.htm
Follow the Town's Social Media Accounts: http://www.townofcary.org/Departments/townmanagersoffice/pio/socialmedia.htm
Other emails received this week included the following:
A complaint about a plan for a road in Green Level.
A thank you for the hard work and for the transparency. (Thank you!)
A thank you for landscaped medians on Carpenter Fire Station Road.
A request to change dangerous road conditions for bikers in Cary.
Usually holiday weeks invite very negative emails from citizens. This week was a rare exception with not only one very nice email but two. Keep them coming!
Next week's activities include dinner at the North Carolina Metro Mayors meeting in Durham, a Chinese Arts Exhibition, the Official Cary Tree Lighting, and other meetings.
Get In Touch
Well, that is all for this week. My next post will be on Sunday, December 4th.  Although I have Facebook and Twitter accounts those are not the best means of communications with me. Please send all Town of Cary questions or comments to Harold.Weinbrecht@townofcary.org and email personal comments to augustanat@mindspring.com.
---
From the blog of Cary Mayor Harold Weinbrecht. Photos courtesy of Harold Weinbrecht.
https://carycitizenarchive.com/wp-content/uploads/2016/11/HaroldsBlog-Nov28-Featured.jpg
550
800
Harold Weinbrecht
https://carycitizenarchive.com/wp-content/uploads/2020/03/cc-archive-logo-450-v3.png
Harold Weinbrecht
2016-11-28 10:11:35
2019-12-08 10:31:25
Harold's Blog: Thanksgiving, Mayors Meeting and More