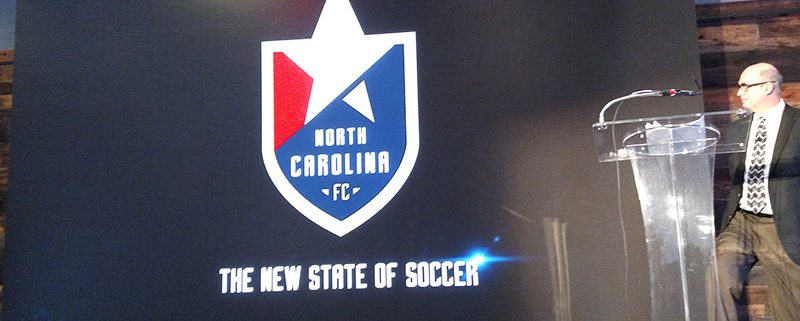 Cary, NC – As the Triangle has grown over the past 20 years, the appetite for entertainment has grown with it. And as a part of that, the Carolina RailHawks announced their intention to become a major league team, complete with new branding and a new stadium.

New Name, New League, New Stadium
Press and sports fans packed into the meeting space in Downtown Raleigh to hear the announcement that the Carolina RailHawks will be changing their name to North Carolina FC and are bidding for a franchise with Major League Soccer (MLS), the largest soccer league in the United States and Canada.
"Top-tier markets deserve pro sports," said Steve Malik, owner of the RailHawks, now North Carolina FC. "We have a perfect set of demographics to make this happen. We sit in a competitive position relative to other people looking for a franchise but our growth makes us look better and better."
Since Malik bought the RailHawks a year and a half ago, he said attendance has risen 25 percent and he has seen increased interest in local, high-level soccer. But with the increased attention, Malik said there will need to be a new stadium built, one with a 24,000-26,000 seat capacity, including several suites and a club section.
"We addressed our concerns with the Town of Cary at the beginning of our partnership and WakeMed Soccer Park has its limitations," Malik said. "And WakeMed is a great facility and we intend on using the facility throughout this experience."
Malik said he does not think the team will need public funding for the stadium, with construction likely taking 12-18 months.
William Davis, sports venues manager for the Town of Cary, said Cary has a three-year lease with the RailHawks/North Carolina FC that goes until 2018.
"They did a study for new locations and narrowed it down to five," Davis said. "We're in contention as a spot."
Davis also said the team would continue to use WakeMed Soccer Park for training, which Malik agreed with.
"We have a great training facility in Cary. There's a little more we'd need – a weight room would be nice – but if you look around at top-level facilities like the one in Atlanta, it looks a lot like what we've got here," Malik said.
Malik did add that operations would work out of his MedFusion building to give a more professional setting.
Davis said when the team stops playing at WakeMed Soccer Park, there will still be opportunities for the facility.
"We're constantly looking for new events, especially with the ACC and NCAA pulling out. And we're looking into other events, not just soccer," Davis said. "We're not expecting a big change."
The location for the new stadium is expected to be announced in early 2017.
The other big news from the press conference was Malik announcing they would be bringing in a professional women's soccer team within the next six months.
"We feel we would be one of the best women's markets in the world," Malik said. "We've got everything we need."
He referenced the Carolina Courage, a popular women's soccer team that used to be in the area, but said its dissolution was not due to the team itself but problems in its league.
Pro Sports in the Triangle
Along with the rebranding and MLS bid comes a new logo for the team, which is meant to reflect the colors of the state flag while including a golden triangle, modeled after the region.
Fernando Fiore, a famous soccer broadcaster and current commentator with Fox Sports, emceed the event and said the Triangle would be a good spot for an MLS team, not only because of the market and demographics but also because big names such as Mia Hamm and Eddie Pope came from the area.
"It's good for the community to have something that can bring everyone together," Fiore said.
If accepted, and many cities and regions are competing for a franchise including Charlotte, North Carolina FC would be one of the few MLS teams in the Southeast. With a large change such as this, Fiore harkened back to the formation of MLS in 1996 and how many people were pessimistic.
"But move forward 20 years and MLS is popular and growing all the time," Fiore said.
To ensure North Carolina FC's franchise position, Malik and other speakers urged support from the community and encouraged people to join their new membership program to illustrate the community interest to the MLS.
"This isn't going to happen because I stand up here with a podium and an inspiring video," Malik said. "It's going to happen because the community gets behind us."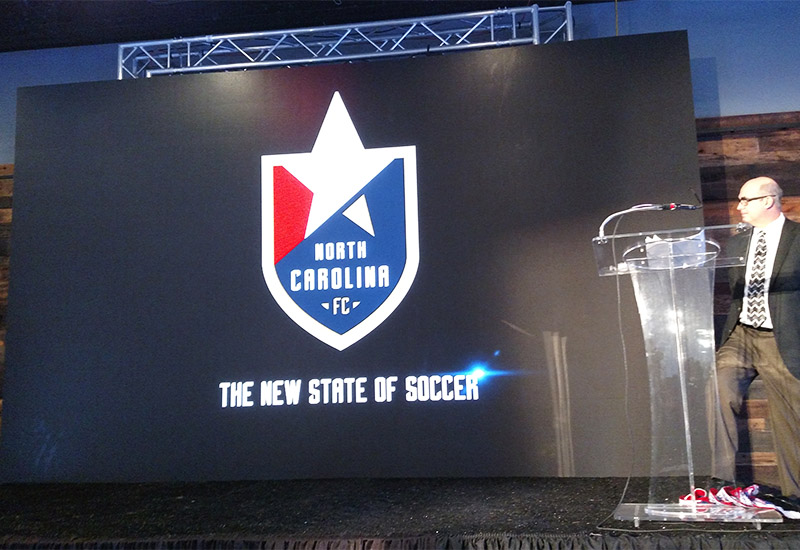 ---
Story and photos by Michael Papich.
https://carycitizenarchive.com/wp-content/uploads/2016/12/NCFC3.jpg
550
800
Michael Papich
https://carycitizenarchive.com/wp-content/uploads/2020/03/cc-archive-logo-450-v3.png
Michael Papich
2016-12-06 14:59:33
2016-12-06 14:59:33
RailHawks Announce Rebranding, Move From WakeMed