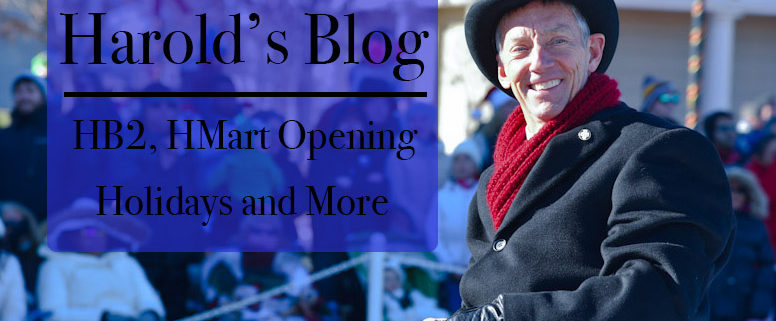 Cary, NC – This was the last week before the holiday week so things slowed down quite a bit but it was an important week none the less. 
Monday – Mayors Association
Monday the Charlotte City Council voted to repeal their ordinance which resulted in the legislature passing HB2 (the bathroom law). This was followed by an announcement that the legislature would call a special session on Wednesday to vote whether or not to repeal HB2.
Monday evening I attended the Mayors Association Dinner in Raleigh. Besides me, the delegation from Cary included the Mayor Pro-Tem, the town manager, town clerk, public information officer, finance director, staff liaison to the legislature and spouses. We all had a great time and spent time talking with other elected officials and mayors.
Tuesday – Cary Police
Tuesday started with an interview from WUNC about the potential repeal of HB2. I answered several questions and stated that I hoped the legislature would come together and do the right thing.
Tuesday afternoon I met with key staff members to brainstorm about an idea which we will go public with at the beginning of next year.
Tuesday night I had the honor and pleasure of making remarks at the Cary Police Department's Promotion, Oath, and Pinning ceremony. I was asked to make comments about the retiring K-9 dog and the induction of a new K-9 dog. It should be noted that last year before NC legislator and former Cary Mayor Pro-Tem Gale Adcock pushed through legislation to allow service dogs to be sold to their owners, service dogs had to be treated as property and auctioned off. Because of that legislation I was proud to retire K-9 Robbie after 7 years of service to his handler for $1. Then we inducted into service K-9 Lemm who was from oversees. K-9 Lemm was paid for by a gracious gift from Mr. and Mrs. Hendrickson. God Bless them! He was named after a fallen serviceman SGT Joseph Lemm. To find out more about SGT Lemm go to http://thefallen.militarytimes.com/air-force-technical-sgt-joseph-g-lemm/6568662.  Both K-9 Robbie and K-9 Lemm made appearances (but not at the same time). After the K-9 portion of the program several officers were promoted and several new officers were pinned. Chief Godwin pointed out that over a dozen officers retired this year. I am so very proud of all of our officers who put their lives on the line every day so that we may be safe. God bless them!
My last meeting Tuesday was with the Senior Marketing Director and General Manager of the new HMart store in Cary. This store has about everything in food for different ethnicities, backgrounds, and ages which makes it a perfect fit in Cary. It will be the first location in North Carolina for this Korean grocery chain. It is located near the Davis Drive and High House intersection in the old Lowes Food and opened Thursday. In my conversations the marketing director he made it clear that he is looking to expand in North Carolina and possibly Cary. They assured me that they wanted to be involved and good corporate citizens. I welcome them and wish them great success.
Wednesday – HB2 Special Session
Wednesday I participated in a meeting of the Cary-Morrisville Joint Issues Committee. First we talked about the future of schools in western Wake County, specifically M-16 and E-50. The middle school, M-16, will be located on Winding Pine Trail and was recently approved in a quasi-judicial meeting of the Cary council. It will be on 41 acres with a building of over 210,000 square feet. It is currently under design and won't be completed and ready for occupancy until August of 2019. It is budgeted to cost $62,558,253. The elementary school, E-50, will be located on Little Drive in Cary. It will be on 32 acres with a building of over 115,000 square feet. It is currently under design and won't be completed and ready for occupancy until August of 2019. It is budgeted to cost $38,359,093.
Next we talked about the future widening of highway 54. Cary will be deciding if the section from near the intersection of Cary Parkway to the Maynard intersection will be ultimately six or four lanes. This will happen at a January 3rd work session. It is important to point out that there is no funding or plans for funding for this section of state road. That means any change is likely to be at least ten years away.
We also shared information about Morrisville Carpenter Road and Louis Stephens Road. Our meeting concluded after an hour. Our next meeting will be in the first quarter of 2017.
Wednesday night I heard the NC legislators left the special session without repealing HB2.
[Begin Editorial]
There aren't enough words to express my deep disappointment in our legislative majority to perform a simple task. The deal was that Charlotte would repeal their ordinance and then the legislators would repeal HB2. Charlotte did their part and the legislative majority did not. Instead they tried to inject more politics into a problem that was created by politics. As a result this political posturing is crippling our economy costing us millions in lost revenue. This law not only has a direct economic impact to citizens of Cary, Charlotte, and other municipalities but an indirect economic impact to every citizen in North Carolina. In addition, this law does absolutely nothing to protect anyone from anything. If the legislators in the majority tell you otherwise they are lying. Why? Because the law they created is unenforceable unless there is someone stationed at every bathroom in North Carolina checking body parts. Instead of pointing fingers and blaming each other for all of their failures they need to think about the citizens they serve for a change. Shame, Shame, Shame for putting power grabs above the needs of the citizens they are sworn to serve.
[End Editorial]
Weekend – Holiday Celebrations
Friday evening my family celebrated Hanukah with council member Bush's family. While we are not Jewish we enjoyed celebrating with them.
The rest of the week was spent celebrating the Christmas holidays. My family always ushers the 9 PM church service on Christmas Eve. It was great seeing old friends that have come back to town to visit friends and relatives.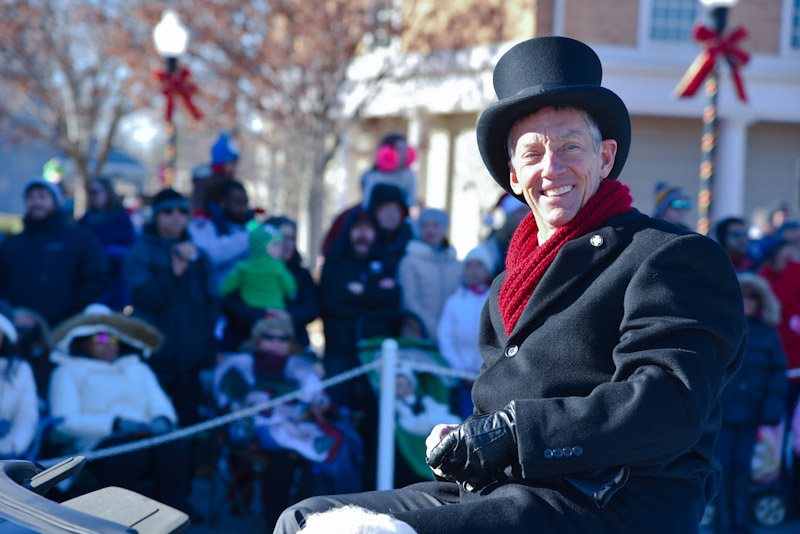 Emails from Staff
Emails this week notified us that Cary was on SmartAsset's list of the "Top 10 Boomtowns of 2016," Cary scored a 100 percent based on several factors, including net migration rate, housing growth, unemployment, 2015-16 change in unemployment and GDP growth. Raleigh, ranked 10th, scored an 87.05.
Town Manager's Report
The town manager's report included the following for this week:
Imagine Cary Notes

Based on our collaborative work, I believe we have a clear path for moving the plan to adoption on January 24.

Post-holiday Preview

We will hit the ground running in the New Year, with a QJ meeting, work session and regular Council meeting all during the first week of January. Details on each of the meetings are below:

January 3 QJ meeting – one case will be discussed
January 3 work session – topic is the Imagine Cary transportation plan
January 5 regular meeting – the agenda for this meeting will be posted to the Town's website next week.

Dreamfest / Diversity Summit Agenda 

On Wednesday, Al Cohen gave us the final agenda for the Diversity Summit. The agenda is available; please note it does not include any participation by Rachel Dolezal.

UNC-TV Spotlights Cary's Citizens Police Academy

Last week, UNC-TV aired a great piece on our Citizens Police Academy. This five-minute segment is the result of a multi-month effort where staff worked with a reporter and photographer to capture the great job our officers do when it comes to educating the public on their roles and responsibilities in keeping the community safe. It also highlights how our CPA program offers citizens a better understanding what it's like to be a law enforcement officer.

Recognitions

Ginny Johnson was recognized this month by the North Carolina Association of Municipal Clerks. This spotlight is well-deserved as Ginny is an invaluable part of the team.
Next week will be very slow for me with only a couple of meetings.
Get In Touch
Well, that is all for this week. My next post will be on Sunday, January 1st.  Although I have Facebook and Twitter accounts those are not the best means of communications with me. Please send all Town of Cary questions or comments to Harold.Weinbrecht@townofcary.org and email personal comments to augustanat@mindspring.com.
---
From the blog of Cary Mayor Harold Weinbrecht. Photo by Hal Goodtree.
https://carycitizenarchive.com/wp-content/uploads/2016/12/HaroldsBlog-Dec27-Featured.jpg
534
776
Harold Weinbrecht
https://carycitizenarchive.com/wp-content/uploads/2020/03/cc-archive-logo-450-v3.png
Harold Weinbrecht
2016-12-27 10:19:31
2016-12-27 10:22:32
Harold's Blog: HB2, HMart Opening, Holidays and More