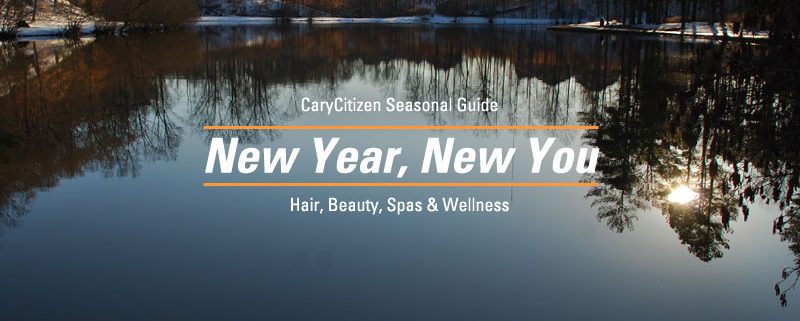 Cary, NC – Don't let January get you down! There are ways to perk yourself up and treat yourself right so that you can face the new year as the best YOU ever. Forget new year's resolutions, these are new year's solutions!
We chatted with owners of local Cary salons and spas to hear their take on some simple steps we can take to freshen up our look as we welcome 2017.
A New Hairstyle
Have you worn the same hairstyle for more than two years? Anna Smith of Studio 180 Salon in Downtown Cary says "People get stuck in a routine with their hair. Like putting on their shoes. Hair can be a great catalyst for change."
An easy updated style is the long bob. Anna works with clients to give them some height at the crown of the head and then works the layers of the bob so that the weight is away from the jawline. By adding in placed highlights the style has dimension further updating the style.
Maybe your hair color is looking a little drab, or worse, unnatural? As we age, our skin tone changes, along with our hair. A professional hairstylist can suggest an update to your color that will warm up your skin tone, making you look more youthful. An updated cut such as a long bob can give your face a lift, no cosmetic surgery needed.
Lose Inches
Raise your hand if you are feeling a little bloated after all the holiday feasting? The number one new year's resolution is to lose weight. There are plenty of diets out there and crazy ideas on how to drop pounds quickly. At ThinSculpt in Cary's Bradford Shopping Plaza they believe that when you remove the fat cells, you stay slimmer longer.
Their "cool sculpting" technique involves freezing the fat cells and removing them without the use of dangerous surgery. They can target specific areas such as abdomen, upper arms and thighs. You won't lose thirty pounds overnight, but you will gain a slimmer silhouette. Who doesn't want that?
The Perfect Arched Brow
Eyebrows shape the face and open up the eyes. Many women (and men) can update their look quickly with a re-shaped brow. Whether its waxing, or using a pencil to draw the brow-line better, getting that perfect arch will work wonders for your look.
At The Green Room in the Shoppes of Kildaire, owner Leslie Ferrell says they are offering a new semi-permanent solution for eyebrows. If you struggle with sparse brows or a funny shape, Microblading may be the answer for you.
A new twist on the "eyebrow tattoo," Microblading is a form of semi-permanent makeup used to give fullness to sparse brows. It's performed using a small pen with tiny needles and hair-like strokes are drawn in between already present brow hairs for a natural look. The ink used is custom blended for each client; to match his or her natural brow color, and deposited just below the Epidermis, rather than into the Dermis like a traditional tattoo. This is what allows the ink to fade overtime. The finished result lasts for one to two years.
Remove Unwanted Hair
Both men and women spend a great deal of time shaving, plucking and waxing unwanted hair. Maybe it's time for a permanent solution. The specialists at BodyLase Spa on Keisler Drive in Cary have been permanently removing hair using laser technology for 12 years in Cary. The most commonly requested areas are the face, upper lip, neck, chest, underarms, back, abdomen, bikini line and legs, where unwanted hair can be not only unsightly and embarrassing, but irritating, difficult and time consuming to remove with shaving.
Laser Hair Removal destroys the hair follicle using controlled pulses of light. The light used is very powerful. The pigment in the hair follicle absorbs the light projected by the laser and the intense heat destroys it. This heating is virtually painless. Because body hair grows at different rates, six-to-eight treatments are necessary to complete the full removal in any given area.
Never shave or pluck again! They even guarantee their results!
Glowing Skin- Get a Facial
Amanda Grace, owner and esthetician of Natural Esthetics in Downtown Cary's Olde Cary Commons asks, "What better way to begin the New Year then to present your best face with a skin renewing Natural Results Facial? Restore suppleness by allowing those damaged skin cells to fall away as your skin's natural beauty is restored and infused with stem cells to combat premature aging."
Be aware that all facials are not the same! A great esthetician understands proper application and manipulation of active product to create a harmonious synergy of mental and physical relaxation, which restores the skin's health to maintain the natural beauty. Immediately after a facial treatment your skin should feel fresh and radiate a healthy glow, much like a great workout or yoga session.
Over the next two to three days your skin will look and feel more hydrated and refreshed as the increase in blood flow and muscle stimulation from the esthetician's tissue manipulations has oxygenated and nourished the skin cells. The exfoliation and hydration of the skin from the product selection have triggered a cellular regeneration process to restore a more youthful glow and texture.
While having one facial will feel great, for continued results, spas suggest a regular schedule of facials to continue the renewal process all year.
Safe Winter Tan
Do you hate the pasty color your skin acquires during the winter? But you don't want to risk a tanning bed and can't afford a winter island vacation? Many Cary spas have begun offering various types of spray tanning. Natural Esthetics uses an organic solution for their spray tanning. Their salon esthetician can help you select a bronze that will agree with your skin tone, and offer pre- and post-treatment instructions to receive the best natural-looking results. No SPF needed!
At The Green Room, get glowing skin with their all-natural airbrush tan. Each airbrush spray tan is done completely by hand, customizing both color and intensity. Their solutions are oil-free, alcohol-free and fragrance-free, ensuring the best result with no skin irritation or dryness.
De-Stress
According to Nirvelli Day Spa, "Dealing with every day deadlines, traffic and family stress can result in an accumulation of harmful amounts of stress hormones." Maybe you suffer from stress headaches and digestion problems. You are in need of some quality relaxation treatments, such as massage. Nirvelli Day Spa in the Cornerstone shopping area offers several types of massage treatments: traditional Swedish, Deep Tissue, Shiatsu, Aromatherapy and Hot Stone therapy.
Aromatherapy massage uses the natural therapeutic properties of essential oils combined with healing power of massage techniques such as Shiatsu, reflexology and Swedish massage techniques.
The Spa at Stone Creek offers Ayurvedic massage which incorporates long massage strokes with warm mustard oil to help remove toxins from the body. Coupled with an herbal wrap which provides a deeper relaxation.
Improved Posture
Hunching over a mobile device or spending long hours in a car can wreak havoc on your back. Get your back healthy in 2017 and everything else will feel better too.
Chiropractic focuses on conditions stemming from restricted joint motion, mainly of the spine and related nervous system, and the effects of these disorders on general health. Licensed chiropractors use manual adjustment techniques delivered through the gentle application of a targeted motion where and when indicated to achieve improved alignment and motion of the body's spinal column and extremities.
At The Joint Chiropractic in both Waverly Place and Park West Village, no insurance is necessary and you can even walk in without an appointment. The convenience of having a professional chiropractor look at your posture and assess your problem on your time table is great. First visit is only $29, so what are you waiting for?
Face 2017 with Confidence
Face 2017 with renewed confidence: whether from a new hairstyle, better posture or glowing skin, it will help make January a little less dreary, and the new year ahead a positive one!
---
Story by Lindsey Chester. Photos courtesy of Studio 180 Salon, The Green Room, Natural Esthetics and Nirvelli Day Spa. Seasonal content sponsored by Natural Esthetics, The Green Room and Studio 180 Salon.
https://carycitizenarchive.com/wp-content/uploads/2016/12/new-year-new-you.jpg
550
800
Lindsey Chester
https://carycitizenarchive.com/wp-content/uploads/2020/03/cc-archive-logo-450-v3.png
Lindsey Chester
2017-01-05 11:40:53
2019-12-08 10:31:34
Seasonal Guide: New Year, New You