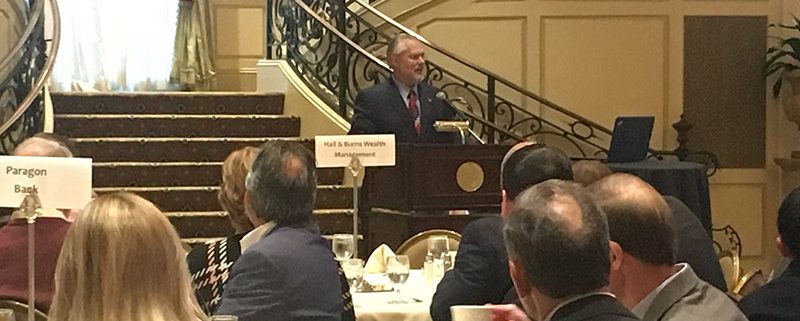 Cary, NC – Every year is a chance to evaluate the local economy but when a new president comes to power, it is particularly important to look at what changes may come and what impact they will have. That's what hundreds of business leaders in Cary did as economist Michael Walden tried to chart out 2017.

The Economic Plan
Michael Walden, a William Neal Reynolds distinguished professor of economics at NC State, gave a talk at the Cary Chamber of Commerce on Wednesday, January 4, 2017 to offer an economic forecast for 2017. Much of his discussion circled around the proposed changes and actions of President-Elect Donald Trump because, as Walden put it, national economic news has a big impact on the local area.
"Except in a few isolated cases, the national economy drives the local economy," Walden said. "Cary did not create the Great Recession."
Walden broke the incoming economic proposals of the Trump administration into a few specific categories such as trade, tax policy, regulations and infrastructure. The goal of these policies, Walden said, is to increase, if not double, the GDP growth rate. Infrastructure is one area Walden said is connected to economic development and an emphasis on improved infrastructure is one area Walden said Trump and Democratic nominee Hillary Clinton agreed, although the approach signaled by the Trump administration is to fund it through private investment and tax credits.
"This would be something we've never done before," Walden said.
Walden added that infrastructure is capital intensive, not labor intensive, so we would not see "a lot of bang for our buck" in terms of job growth.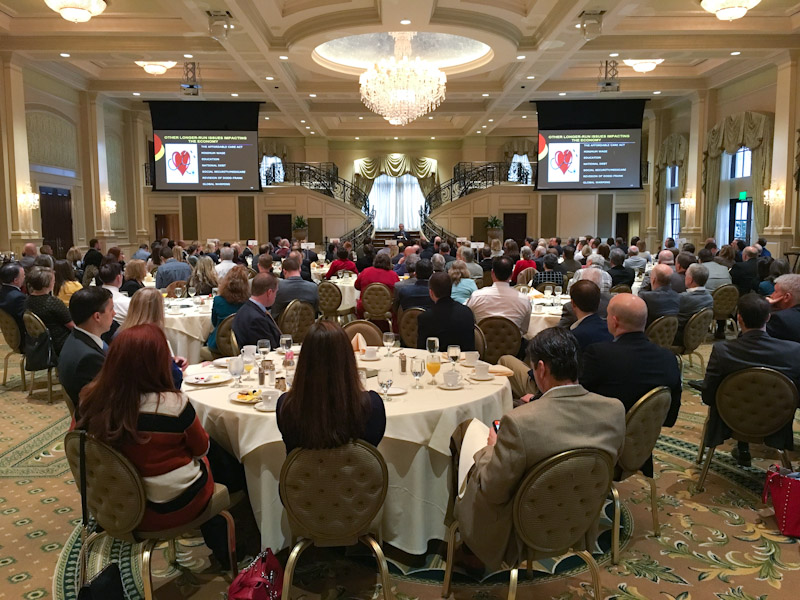 On top of infrastructure proposals, Walden said the Trump administration is proposing a tax cut – $6 trillion over the next ten years – while increasing borrowing,  and reducing deductions and exemptions. Rising interest rates would make questions of rising debt more common, Walden said, and added that the Trump tax plan could include reduction in the standard mortgage interest tax deduction, which he said would spark a battle in Congress.
"While a lot of people think a Trump tax plan would fly through a Republican Congress, it might not be that easy if this is a part of it," Walden said.
The other key part of the Trump economic policy is trade and Walden said Trump has made using tariffs and lawsuits to reduce the United States trade deficit an important part of his administration. With the Triangle trading so much internationally, Walden said this is all very important for Cary.
"But the response from other countries could be, 'If you put a tariff on our products, we'll put a tariff on your products' and you'd see what economists call a trade war," he said.
Walden also said changing trade policy to bring more manufacturing to the United States would not necessarily increase the number of jobs, with so much automation now.
"Manufacturing now is not like it was even 10 years ago," he said.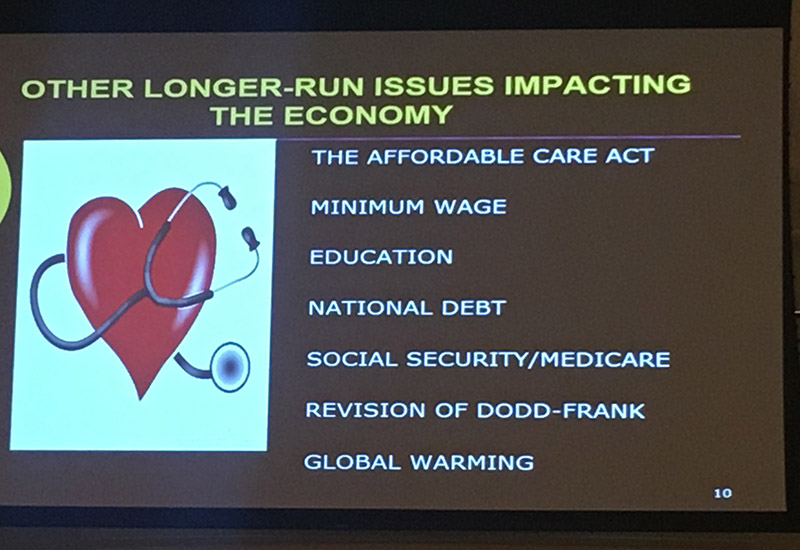 Looking at Cary's Demographics
On top of these stated economic goals, Walden said the Trump administration has also signaled a number of changes that would affect things such as health care, the environment, education, the minimum wage, social security and Medicare and more.
"I think we will see a flurry of activity at the national level that we have not seen since the Johnson administration," he said. "As others have said, 'Fasten your seat belts.'"
Meanwhile, in Cary, the GDP growth, payroll job and wage growth rate have been much better than in the country at large. Also, in Cary, Walden said the building permit rate growth for 2016  wass 68 percent, compared to 12.3 percent in the Raleigh metro area and 7.1 percent in North Carolina. Nationwide, it is fewer than 2 percent.
"For the first four to five years, North Carolina was not growing as fast as the country, likely due to our emphasis on manufacturing," he said.
Walden also said statewide, about 230,000 people are unemployed, plus 200,000 who are unofficially unemployed or under-employed. He does not predict a big change in North Carolina's unemployment rate.
Some actions by the Trump administration could impact North Carolina more directly, Walden said, such as more military spending, provided it affects personnel and not just equipment and facilities. De-regulations, provided they deal with North Carolina's energy production can help the economy. Walden said there were not any details from the Trump administration on what regulations it would reduce but speculated they would deal more with off-shore drilling than natural gas production.
But with all of these changes, Walden said there are some factors that impeded the economy that could not be easily changed. Namely, more work is being automated and the population is aging. Walden said about half of manufacturing jobs now could be replaced by computers and robots and the state population was on track to be more than 20 percent elderly, coupled with a low birth rate.
"We may be talking around the edges of a larger problem," he said.
However, growth in the Triangle remains high and Walden predicted that, by 2050, Cary's population will double and that will present its own challenges and opportunities.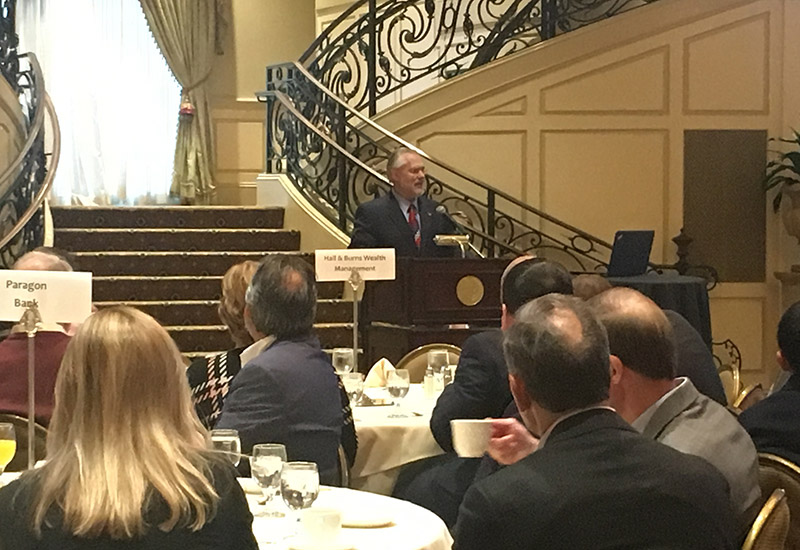 ---
Story by Michael Papich. Photos by Lindsey Chester and Hal Goodtree.
https://carycitizenarchive.com/wp-content/uploads/2017/01/WaldenTalk2.jpg
550
800
Michael Papich
https://carycitizenarchive.com/wp-content/uploads/2020/03/cc-archive-logo-450-v3.png
Michael Papich
2017-01-06 15:06:05
2017-01-09 10:52:52
Economist Talks Trump's Impact on Cary, North Carolina