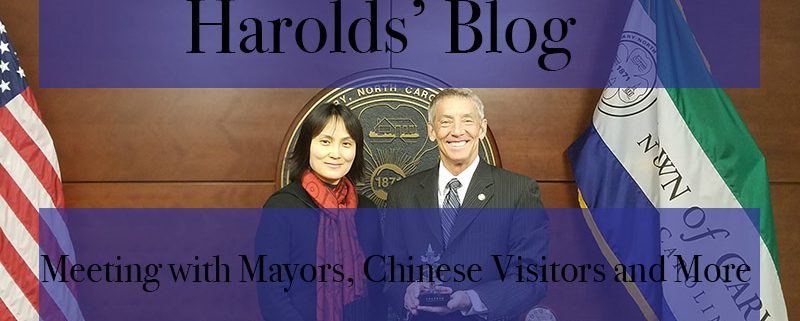 Cary, NC – This was another busy week for me. 
Monday – Chinese American Friendship Association
Monday started with calls to council members to hear of any questions or concerns they may have about the agenda for the 1st regularly scheduled meeting of the month. Since the agenda was very short and only had two non-controversial discussion items, there were no questions or concerns. Later in the day I met with the staff to go over the agenda. The meeting was very short. After the meeting I met with one of the Assistant town managers along with Mayor Pro-Tem Yerha to get an update on items.
Monday evening I met with two individuals from the Chinese American Friendship Association. They presented a beautiful gift from the China national film museum. We also took pictures with the gift. It will be on display in the mayor/council office.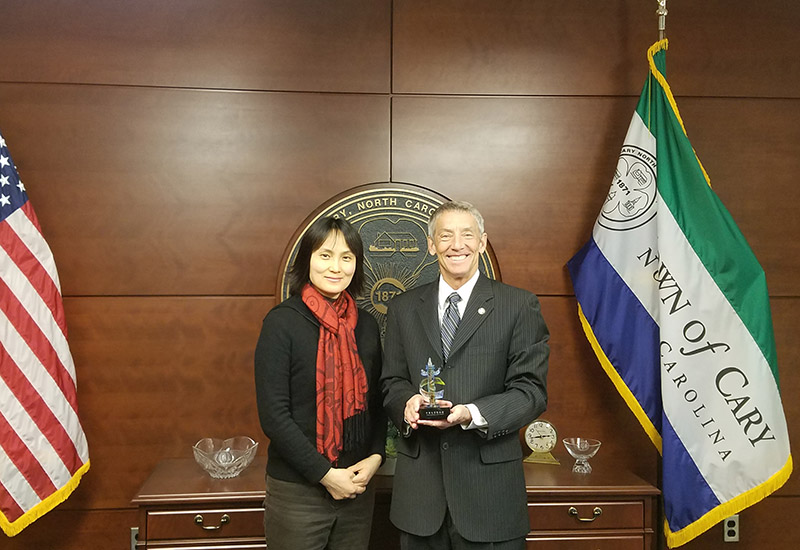 Tuesday – Turnpike
Tuesday I met with the Director of Community Affairs for the North Carolina Turnpike Authority. I was joined by two key staff members with knowledge about town road projects. We spent time getting to know each other and briefly talking about the future interchange of the turnpike and Morrisville Parkway. We both agreed that as time progresses and this region grows that the turnpike would be a key route for vehicles. Our meeting concluded in just under an hour.
Wednesday – Talking with Citizens
Wednesday I had an impromptu interview with a scout just as I finished a workout. He asked several questions about governance and working with people and groups. We talked for about 15 minutes.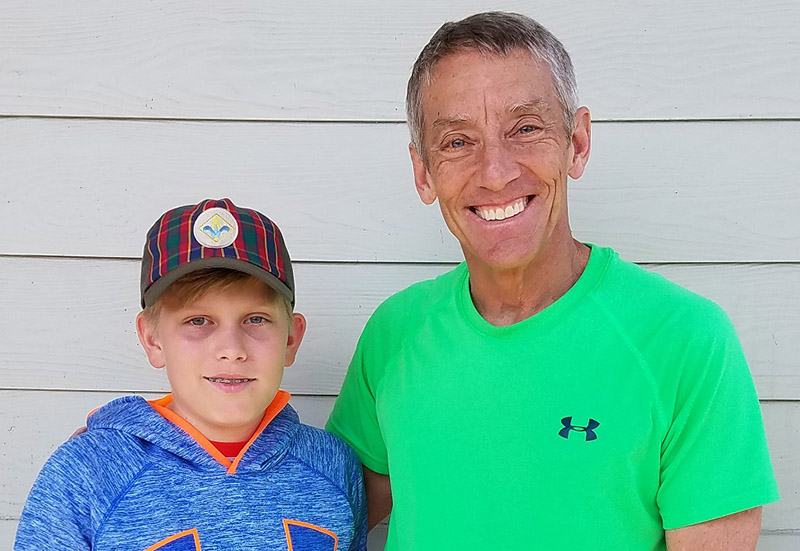 Wednesday I met with an involved citizen that lives west of highway 55. They spoke of disappointment with the lack of events and infrastructure in the area. It was mentioned that a group, and possibly a PAC, has been formed to run candidates for Cary Town Council. We talked about ways to improve the perception in this area of town. Our meeting lasted a little over an hour.
Thursday – Town Council Meeting
Thursday the council held the first regularly scheduled meeting of the month. It was a very short meeting and lasted only 16 minutes. There were no public hearings, no one spoke at Public Speaks Out, and there were only 2 discussion items.
The first discussion item was a resolution authorizing the issuance of Revenue Bonds. The $37.5 million bond package included $14.6 million in the water plant expansion, $3.5 million for the Kilmayne water tank, $10 million in upgrading water lines, and several other projects. Since Cary has the highest bond rating of all the major bond rating agencies we get the lowest possible interest rates. The debt service for this issuance will be approximately $2.3 million per year over the life of the bonds which should end in 2042. These bonds may be refinanced if better terms are available.
The second discussion item was the bid award for the Green Level West Road Widening Project. Council awarded the contract to the lowest bid of $3,661,500. Construction of the project is scheduled to start in the spring of 2017 with completion in summer 2018. The project is funded in part by Federal grants administered by the North Carolina Department of Transportation and the 2012 Community Investment Bond Referendum.
Friday – Mayors Meeting
Friday I participated in a meeting with the metro mayors on legislative actions. Here are some notes from the lobbyist's summary of that meeting:
2017 Biennial Budget Process Begins

The most important reason the General Assembly is in town is to pass the state budget. The House and Senate have scheduled a joint appropriations committee meeting for Tuesday at 8:30am to review the consensus revenue forecast for 2017-2019. The Senate is scheduled to work on the budget first this year. Yesterday the General Assembly's Fiscal Research Division and the Office of State Budget and Management released their consensus revenue forecast predicting 2016-17 State tax collections would exceed the forecast by $552.2m.

Carthage Water Case

There are legislators working on the impacts of the Carthage Water Case on impact fees but they have told some of our Mayors that most are not hearing from their municipality about the issue. Mayors on the conference call today requested that everyone please talk to their legislators about the need for a solution going forward.

Municipal Election Bill

I would highlight H64 which will move all municipal elections to even numbered years starting in 2022.

House Finance Hears Briefing on Local Option Sales Taxes

The House Finance Committee began the new session hearing an educational briefing from the nonpartisan staff on revenue sources, tax reform highlights, local option sales taxes, and other tax issues that are likely topics of legislation. During the presentation staff said they included local option sales tax as a topic as any changes in the sales tax base impacts local revenues and they said interest remained in giving counties flexibility within the current caps and referenced HB1224 from the 2014 session.

Meeting with Senate Commerce Chairs

The NC Chamber organized a meeting of rural advocates to meet with Senate Commerce Chairs Sen. Gunn and Sen. Wade to share ideas on addressing rural economic development. We were pleased to be included in this meeting which gave us the chance to share our regionalism concept with others which was well received.

NCDOT Sec. Trogdon Speaks with NCBOT

Sec. Trogdon highlighted his priorities for the Department before the Board of Transportation last week which included producing a plan by March 1st to accelerate project delivery in the TIP and reduce the Department's fund balance, increasing mobility and reducing congestion, increasing the capabilities of the divisions and MPOs, improving connectivity, enhancing economic competitiveness, and preparing for autonomous vehicles among other items. He said he plans to visit each NCDOT division and MPO and many of the local chambers of commerce in the next months.

Rep. Torbett on Transportation This Session

I participated in a meeting convened by the NC Chamber of transportation advocates with Rep. Torbett to hear his thoughts on transportation this session. Rep. Torbett talked about the draft bills his House Select Committee recommended on the creation of a mega project fund, a retooled infrastructure bank, a study of transportation funding, and increasing the voice of local elected officials in the STI. He talked about the need to index Powell Bill funding to ensure it grows as municipal needs expand, looking at various bonding options such as GARVEE, revenue bonds, or general obligation bonds to accelerate projects and allowing counties to participate in funding transportation projects should they so desire.

Bridging our Urban and Rural Regions Op-Ed

If you haven't read the op-ed we co-wrote with The Rural Center take a moment to do so. We continue to hear positive feedback on changing the dialogue to one of bridges and encourage you to promote the positive benefits of regionalism and cooperation between the urban, suburban and rural parts of our State.
The meeting concluded after about 45 minutes.
Town Manager's Report
The report from the town manager this week included the following:
Local Cary Bill Introduced at the General Assembly

Representative Gail Adcock, along with Representatives Linda Hunt Williams, Nelson Dollar and Duane Hall, are the primary sponsors of H55 Apex/Cary/Police Assistance on School Grounds. This local bill was requested as part of Cary's 2017 NC Legislative Agenda, which we presented to our delegation on January 31. If passed, it will provide authority for Apex Police to continue working at Apex High School while it is temporarily located at a new school in Cary while the older school is being rebuilt. The bill has been referred to the House Committee on State and Local Government II.

District 3 Police Substation Underway

Work is underway on the Council approved District 3 police substation in Wellington Shopping Center at Tryon Road and Cary Parkway. This will replace our substation that closed in Crossroads Plaza. The space should be operational in April. All District 3 officers will work out of this substation, which includes five patrol teams consisting of a sergeant, a corporal and four-six officers.

Pirates Cove Greenway Boardwalk: Renovations Complete

Contractors working on behalf of the Town recently completed renovations to the Pirates Cove Greenway Boardwalk. The existing 80′ wood boardwalk footings were undermined by the adjacent stream. To fix the situation, a 114′ long concrete boardwalk replaced the existing structure and was recently reopened to the public.

2016 Water Supply & Usage Report

The 2016 report provides some key takeaways about our water supply and usage. Notably, we are very efficient in our use of water, particular with newer development. We have a higher degree of certainty where our water is going benchmarked against other communities. As always, weather is a significant predictor of our overall water usage. The Town has been conservative in our long term projections, but will certainly grow into those projections over time.

Neighborhood Meeting for Rezoning Request

The required neighborhood meeting for the rezoning request for a portion of the mall is set for March 1, and nearby property owners are receiving notification letters this week.

Share & Care Event

Town staff organized a free event for persons with disabilities, parents and caregivers and encouraged them to stop by Herb Young Community Center for a free event intended for resource sharing and networking. Community organizations and agencies that offer services for persons with disabilities were on hand to share information about what they have to offer the community. A small sample of attending agencies included: Abilities Tennis NC, Duke Adaptive Climbing, Gateway Clubhouse, Horse and Buddy Therapeutic Riding Program among many others.

Academy Streetscape Nominated for "Champion Award"

As part of the annual Triangle Commercial Real Estate Women (TCREW) luncheon, the Town of Cary is being recognized for the Community Enhanced Award for the Academy Streetscape Project. This award is given to a public or private project that enhances its community through improved quality of life, aesthetic appeal and/or other positive aspects. The winning project will be announced at the annual luncheon on April 25 at the Embassy Suites in Cary.

Recognitions

A special thanks to Chief Cain, Loren Cone and Mike Cooper for organizing a cross-departmental waterline break tabletop exercise. The exercise tested our procedures for a water main break response, communicating with internal and external stakeholders, and generated rich discussion on our overall emergency response.
Emails From Staff
Emails from staff this week included attendance information from the Chinese Lantern festival. After a seven-week residency complete with Chinese culture and spectacular lantern displays, total attendance for the recent N.C. Chinese Lantern Festival in Cary reached 90,501 visitors. Attendance increased 58 percent from last year, by more than 30,000 visitors to Koka Booth Amphitheatre. This tally includes a January weekend in which the festival was closed due to inclement weather. This year's festival added many new lantern displays as well as cultural performances that included traditional dance, martial arts and acrobatics.Festival organizers and the Town of Cary also announced today the popular attraction will return. The 3rd annual N.C. Chinese Lantern Festival will run November 24, 2017 through January 14, 2018.
Emails From Citizens
Emails from citizens this week include:
A complaint about traffic on Waldo Rood.
Several thank you emails for agreeing to attend events.
A comment about the future of Green Level Church Road.
Next week will ease up a bit for me. On the calendar is a meeting with the town manager, an interview with WUNC about HB2 for their documentary, an interview with 96.1 on "what is right about our city", a meeting with CAMPO leaders (I am the vice chair) and NCDOT to discuss STIP and TIP regional priorities, a CAMPO regular meeting, and a meeting of the metro mayors.
Get In Touch
Well, that is all for this week. My next post will be on Sunday, February 19th.  Although I have Facebook and Twitter accounts those are not the best means of communications with me. Please send all Town of Cary questions or comments to Harold.Weinbrecht@townofcary.org and email personal comments to augustanat@mindspring.com.
---
From the blog of Cary Mayor Harold Weinbrecht. Photos courtesy of Harold Weinbrecht.
https://carycitizenarchive.com/wp-content/uploads/2017/02/HaroldsBlog-Feb13-Featured.jpg
550
800
Harold Weinbrecht
https://carycitizenarchive.com/wp-content/uploads/2020/03/cc-archive-logo-450-v3.png
Harold Weinbrecht
2017-02-13 09:31:39
2019-12-11 19:13:46
Harold's Blog: Meeting with Mayors, Chinese Visitors and More