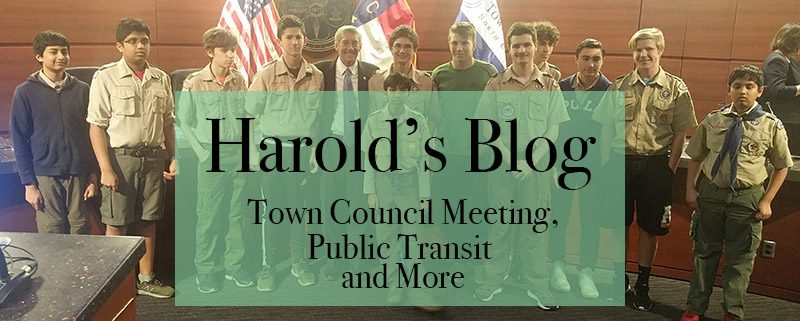 Cary, NC – This week was a typical busy February week for me.
Monday – Communications Gear
Monday started with attempts to contact all council members about questions or concerns they may have for staff about the upcoming regularly scheduled meeting on Thursday. I was able to contact all council members but one. The only concern expressed was from a council member who was concerned about a transportation item on the consent agenda that prohibited guns. Later in the day I met with key staff to go over all the items on the agenda. I estimated the meeting would last about two and a half hours.
Later Monday I met with several staff members about communications equipment being allowed on street poles. Cary staff is working with the providers to allow their communications equipment with our guidelines to avoid unpleasant aesthetics. These providers are in a hurry to install hardware to allow 5G which is almost here. It is important to note that the courts, legislature, etc. will undoubtedly allow communications equipment. Trying to oppose it would certainly invite legal challenges which could result in no guidelines at all which we must avoid to maintain the beauty that Cary is known for. Hopefully, technology will advance enough where the equipment will become less and less noticeable in the future. In addition, it is thought that this type of equipment will eventually make the cell towers and poles obsolete. Wouldn't that be nice?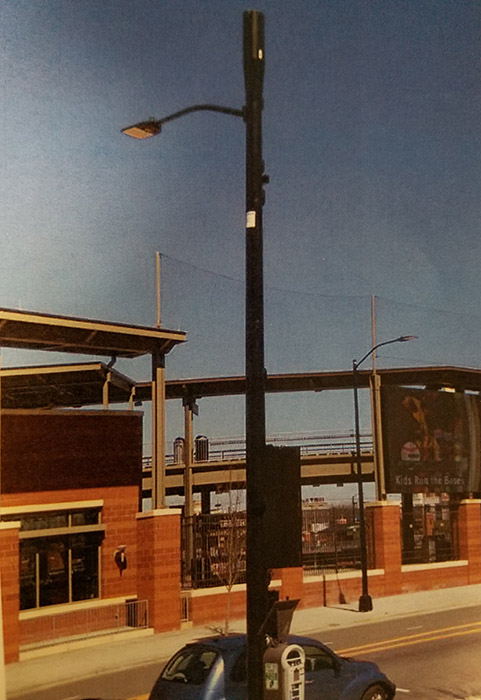 Tuesday – Transit in Cary
Tuesday I joined the council in a work session to hear and comment on the Wake County Transit Plan Fiscal Year 2018 Work Plan. The work plan proposes the following funding requests:
New Fixed Route Sunday Service with hourly frequency
Federally-required complementary paratransit service on Sunday
Increased Frequency for Fixed Route Midday Service
A Bus Operations and Maintenance Facility (Design)
Bus Stop Improvements including sign replacement
A feasibility study to create a downtown multimodal facility
A Transit Capital projects coordinator (new position and startup office costs)
Two new fixed route vehicles capital leases for future service expansion
Marketing program
Total requested by Cary is $2,958,935. The decision on whether to fund all or part of those requests fall on the Transit Planning Advisory Committee which has 22 members two of which are representing Cary. The committee does have a weighted vote option which means municipalities with the largest populations get more weight in their votes. Some interesting points were made during the presentation and discussion. Cary's ridership was grown from 100 trips a day in 2001 to 1,000 trips a day in 2016. There have been over 2.5 million trips by Cary's transit since its inception. The plan will be available for public comment later this year.
Wednesday – Cary Police Department Awards
Wednesday I had the honor or participating in the inaugural Cary Police Department Award ceremony. I was joined by Mayor Pro-Tem Yerha and council member George. Here is an excerpt of remarks I made:
… A few years ago, the FBI shared its perspective on the characteristics of an ideal police officer. The top ten list included obvious traits: knowledge of laws, sense of ethics, initiative, and controlled temper. But one that stuck out for me was a sense of humility. That is having the ability to respect each other along with a lack of arrogance, being confident in your skills without the need to boast, being in a role with such assumed authority, a police officer with the right degree of humility can create respect and trust with our citizens, something we know is so critical in today's world of policing.

I have seen firsthand the humility of our Police Department. It's in the way we empower neighbors in our Citizens Police Academy. It's in the way we listen to citizens at community meetings, whether it's with an HOA or as part of nurturing our Building Bridges program. It's in our friendly approach to the driver's side window during a traffic stop. Mr. Stegall, Chief Godwin, Assistant Chief Dezomits, and Sergeant Carey, you have assembled quite a team and I want to personally thank you and all others involved in our recruitment process. We would not be the safest community in the nation without you all at the helm.

Every day you put your lives on the line for me, my family, my neighbors, for all of us here. There are no words to capture my gratitude and appreciation toward every single one of you. You are a remarkable group, and I speak on behalf of the Council when I say we hope you continue to share your talents with Cary. Enjoy this evening of camaraderie. And when you return to the streets, be safe, be professional and continue to serve with empathy, dignity and respect. …
The ceremony concluded after about an hour.
Thursday – Cary Town Council Meeting
Thursday before the regularly scheduled council meeting I met with scouts from troop 152 from Genesis United Methodist Church. I talked about what they could expect to see during the council meeting and my role as mayor. Then we took a photo of all of us gathered in front of the council table.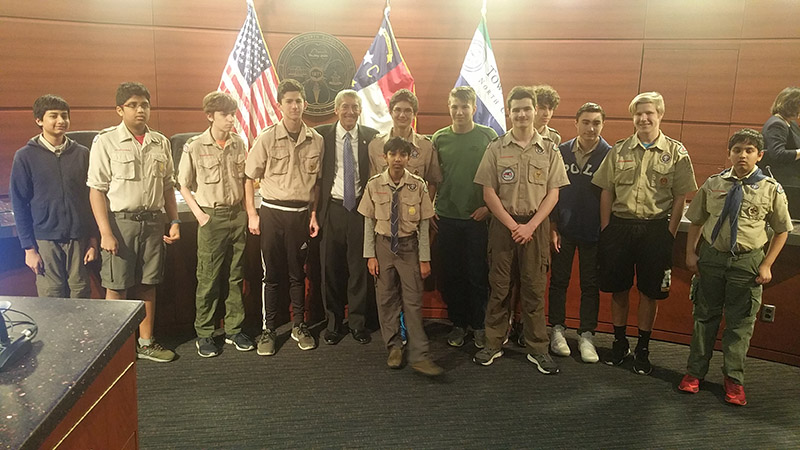 The second regularly scheduled council meeting of the month lasted over 3 hours and included 8 consent agenda items, 2 public hearings, and 5 discussion items. There was standing room only because of the public hearing for the Trimble Avenue rezoning proposal. At the beginning of the public hearing the representative for the applicant changed the proposal from 15 multi-family and single family units to 9 single family units. The public hearing had dozens of speakers and lasted about two hours. Because of the change there will be a public hearing on the change at the Planning and Zoning Board review on April 17th. While this proposal has come a long way from where it started I am not sure if they will satisfy the concerns of the neighbors and council members with their latest proposal. The council also took action to create a towing ordinance to help with towing issues around town. This will take effect on June 1st. The council unanimously agreed award a bid for a new water storage tank on Kilmayne Drive and to rebid a water main replacement project. After a closed session the council adjourned.
Friday – Mayors Meeting and HB2
Friday I participated in a meeting of the metro mayors. Topics of discussion included budgets, the HB2 repeal bill, tax redistribution, billboards, open meeting violations becoming misdemeanors, and impact fees. The Governor will present a budget sometime in March with a significant teacher pay increase. The House and Senate plan to have their budgets done in May. The HB2 repeal bill introduced NC Representative McGrady is believed to be headed for failure due to the referendum piece. In addition, there are several Democratic legislators that will vote no unless there is total repeal. The meeting concluded after 30 minutes. It looks like we will be stuck with the discriminatory and harmful HB2 for a while until our legislators decide to represent their constituents instead of their parties. Shame on them!
The Construction and Activity report for the month of January included the following notable items:
83 single family permits were issued which was the most since July of 2016.
Cary had 6.9% of the county's single family permits which was 7th out of the 12 municipalities.
The average single family dwelling was 3665 square feet compared to 4101 square feet in January of 2013.
Town Manager's Report
The town manager's weekly report included the following:
Coffee With A Cop

Thursday, Cary PD participated in our second Coffee with a Cop at the McDonald's on SE Maynard near Fire Station 9 and the mall. Mr. Richards, McDonald's franchise owner, graciously partnered with us to provide a casual atmosphere where police and citizens can interact, ask questions, and have open dialogue over a cup of coffee. We intend to spread this event to other restaurants in the future. This is yet another way the Cary Police partners with the community to break down barriers and create stronger ties with those we serve.

Greenway Counters

Due to record-breaking temperatures on February 12, the greenway counter permanently installed near Lake Crabtree on the Black Creek Greenway counted a record 1,207 citizens using this portion of the greenway. As a comparison, this same section averages 495 users on a typical weekend in the winter. Black Creek Greenway is one of the Town's longest and most popular greenways due to its length and connection to other recreational and open space areas. The greenway counter is part of a network of portable counters that are used to supplement the manual counts completed by the Greenway Committee. Each segment of greenway is divided among the devices, which are rotated every 30 days. These devices assist staff with estimating citizen use of our greenway network.

Jordan Lake Brewing Company Open for Business

The brewery, located behind Town Hall on Wilkinson Avenue, which is part of the Downtown Business Improvement District, is now open with limited hours. The owners posted on Facebook to announce the opening and welcome families (including pets!) to check them out.

Stormwater Permit Renewed

We received our NPDES Phase II Stormwater Permit renewal last week. NPDES is the federal National Pollution Discharge Elimination System program under the Clean Water Act that protects waterways from pollution, whether from uncontrolled wastewater or stormwater runoff. This permit renews the state's delegated approval of our stormwater program for the next five years. You will recall that the EMC and DEQ upheld our 100-foot riparian buffers in November 2016. Receipt of this permit renewal is especially notable in that it incorporates our proven approach to preserving riparian buffers, which has been instrumental in protecting properties from flooding and preserving the environment in Cary.

Gold Medal Makes The Rounds

The Gold Medal Award has been mounted on a lighted podium so it can travel easily to all areas of Town Hall as a way of recognizing the hard work of all Town staff that contributed to the effort and ultimately the award. Staff in Planning and Inspections & Permits has been enjoying the medal this week.

Annual Water Disinfection

The Cary/Apex Water Treatment Facility, which provides treated water to Cary, Apex, Morrisville, RDU Airport and the Wake County portion of RTP, will temporarily switch to free chlorine as its primary water treatment disinfection process during the month of March. This annual disinfection switchover, which also includes flushing the Town's 1,035 miles of water lines, is a recommended maintenance practice by state and federal agencies and an integral part of Cary's approach to maintaining high quality water throughout the entire year. Citizens may experience a slight chlorine odor during the month of March and observe Town staff flushing the water system. This is all a normal part of the annual disinfection process, which will conclude by the end of March.

Legislative Update

Council member Ken George and Lana Hygh joined other League members from across the state at the General Assembly on Wednesday. The group's message focused on the importance of stable revenues, infrastructure needs and support for high-speed broadband across the state, not just in the large cities. They met with Senators Tillman and Davis and with Lewis King, Speaker Moore's policy adviser.

Recognitions

Congratulations to Ken Quinlan on his promotion to the position of Assistant Police Chief! Ken began his career with the Town as a police officer in 1996. Throughout his time with the town, Ken has served as the Assistant District 2 Commander, Project Phoenix Lieutenant and the Criminal Intelligence Unit Lieutenant and Support Services Captain. And thanks to the good work of Police and Fire officers who responded to a crash at Maynard and Chapel Hill Road on Tuesday morning. They were able to successfully remove a mother and two children trapped in vehicle.
Emails From Citizens
Emails from citizens included:
A request to not use taxpayer dollars to deport undocumented people (deportation is not a town function).
A request for Cary to sign a petition against Gerrymandering.
Several request to support and deny the Trimble rezoning.
A request to be more vigilant for Muslim terrorists. (Cary is vigilant against any kind of terrorist and we don't profile race or religion).
A request to support kids with Autism.
A complaint about someone using his residence for coaching.
A request for a sidewalk on Carpenter Upchurch and Louis Stephens Road.
A concern about homes in floodplains.
Next week's activities include a meeting with the town manager, a meeting with the New South Voices PAC, a visit to Carpenter Elementary, an Economic Development meeting, and a town council quasi-judicial meeting.
Get In Touch
Well, that is all for this week. My next post will be on Sunday, March 5th.  Although I have Facebook and Twitter accounts those are not the best means of communications with me. Please send all Town of Cary questions or comments to Harold.Weinbrecht@townofcary.org and email personal comments to augustanat@mindspring.com.
---
From the blog of Cary Mayor Harold Weinbrecht. Photos courtesy of Harold Weinbrecht.
https://carycitizenarchive.com/wp-content/uploads/2017/02/HaroldsBlog-Feb27-Featured.jpg
450
800
Harold Weinbrecht
https://carycitizenarchive.com/wp-content/uploads/2020/03/cc-archive-logo-450-v3.png
Harold Weinbrecht
2017-02-27 10:30:10
2017-02-27 10:04:22
Harold's Blog: Town Council Meeting, Public Transit and More