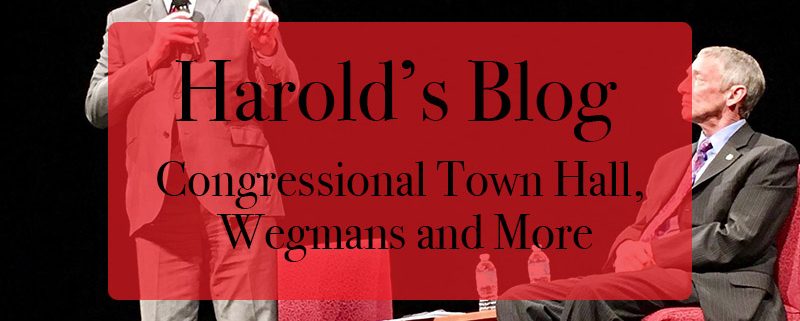 Cary, NC – This was a busy week for me.
Monday – Opioid Addiction and Town Hall Meeting
Monday started with calls to council members to hear of any concerns or questions about Thursday's regularly scheduled council meeting. Since the agenda was short and non-controversial there were not any questions.
My first meeting on Monday was with several dozen town employees interested in working together on the opioid addiction problem that is rapidly growing in this region. I kicked off the meeting with a few remarks on how people in my life with addictions have impacted me. The point was that you don't have to be an addict to be impacted by addiction. The group will meet again in the near future and begin their work to focus their efforts.
Afterwards I met with staff and went over the agenda for Thursday's meeting. Since the agenda was short the meeting was brief.
My next meeting was to sign Cary's municipal bonds. I was joined by the town manager, town clerk, town attorney, finance director, and an attorney representing the bank. I signed about 20 actual bonds and several legal documents. All documents had several signatures, were notarized and witnessed. The session lasted about 20 minutes.
After signing bonds I met with the town manager and the Mayor Pro-Tem to discuss an upcoming proposal by Columbia development. They are the ones currently contracting with the state on the property across from the mall. Their primary interest is a Wegmans which will be integrated with a horizontally and vertically mixed use. They should be coming to council soon with their proposal.
Monday night I was the moderator at a town hall by Congressman David Price. Before we took the stage we had a few moments to talk about several things. I love talking with him because of all his experience and knowledge he has about what is going on in Washington. And then add on top of that, he is a really good guy. Once we took the stage I gave a few welcoming remarks and then introduced Congressman Price who answered questions for close to two and a half hours. Most of the people vented for several minutes before asking their questions. The audience was almost all left of center on political policies with the majority of the questions focusing on health care and budget cuts. Congressman Price has been in Congress for almost three decades and has represented Cary very well. I am proud to have him as one of our representatives.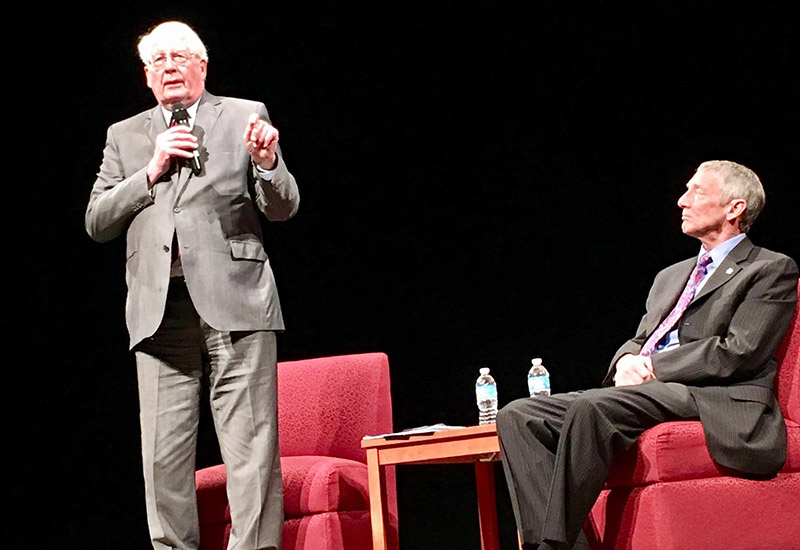 Tuesday – Wegmans Proposal
Tuesday started with an unplanned meeting with Columbia development representatives. These are the developers that are planning to present a proposal across from the mall that will include a Wegmans. They showed me sketches and 3-D video of what they plan to propose. If what was shown to me is proposed it will be a horizontal and vertical mix of uses which is what the Eastern Gateway calls for.
Later Tuesday I met with a local pastor. He and I have been meeting at least once a year to talk about the town and me. He and his congregation are always praying for me which I greatly appreciate. We talked about how he and his congregation can get more involved in the community.
Wednesday – Touring Hospice of Wake County
Wednesday I joined council member Smith in a tour of Transitions LifeCare founded as the Hospice of Wake County. They are currently expanding and expect to complete the construction of the hospice facility in October. After the tour, former Raleigh mayor Smedes York along with John Thoma and Transitions LifeCare Board of Directors talked with us about a future expansion project called Transition Kids that will serve children and their families. This is much needed and is going to have a significant positive impact on the Cary Community. Transitions LifeCare has served over 6,546 families and we are blessed to have them in our region.
Thursday – Town Council Meeting
Thursday the council held its first regularly scheduled meeting of the month. On the agenda were five consent items, one public hearing, and three discussion items. Council approved MetLife's Development Incentive grant. They have 1,474 new full-time employees with an average annual compensation of $104,556 which is well above what was initially proposed. They have built two office buildings with a combined square footage of 445,000 square feet and two parking decks with nearly 2,000 spaces. This incentive was to approve the town's contractual obligation. Council also approved the repaving of Cary Parkway from Evans Road to Harrison Avenue. After the repaving has been completed NCDOT will take over maintenance of the road. It should be pointed out that NCDOT is responsible for all major roads in the town.
Council approved the design and construction of a 48-inch parallel culvert across Bayoak Drive at Joel Court to address flooding of the home at 100 Joel Court. The presentation from staff on the flooding areas around town was phenomenal. We have asked that this presentation be videotaped so that the public will have access. After returning from closed session the council meeting concluded. The meeting lasted about 90 minutes.
Friday – Cary Choir
Friday I had the pleasure of giving welcoming remarks at the silver anniversary show of VocalMotion who was raising money for the Center for Volunteer Caregiving who was also celebrating their silver anniversary. VocalMotion is an all-volunteer, adult show choir that is sponsored by SAS. The Center for Volunteer Caregiving is a private, nonprofit, faith based organization with a mission to engage the community in providing volunteer services to improve the lives of seniors, caregivers, and adults with disabilities. I was thoroughly entertained by the talent and judging from the audience they were too. God bless both of these great organizations.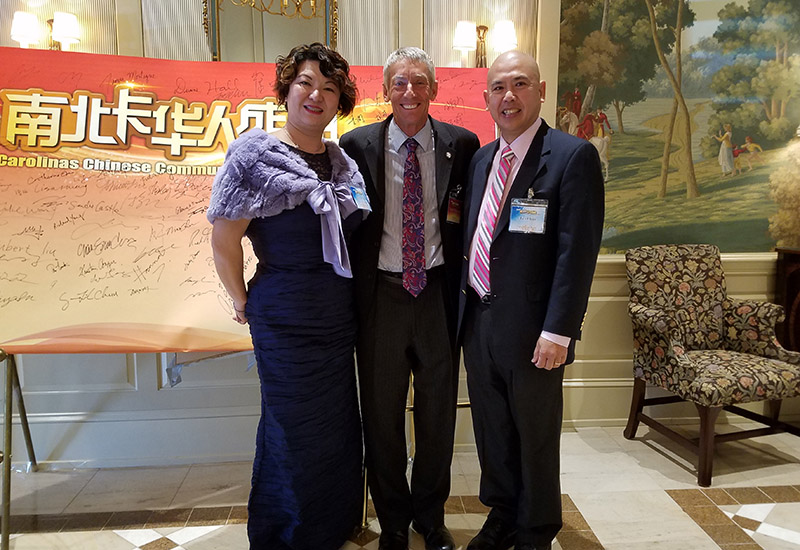 Sunday – Chinese Communities and Basant Bahar
Sunday I had the joy of attending two events. My first event was the Chinese Communities Grand Gala at Prestonwood in Cary. Also joining me were Governor Cooper's wife, Secretary of State Marshall, a few state senators, a few state representatives, Mayor Bell from Durham, and Mayor Stohlman from Morrisville. Several gave remarks about the importance of cooperation with China. My comments, and the comments of the mayors, focused on the importance of diversity.
My second event on Sunday was the Basant Bahar celebration at the Cary Arts Center. It has become a tradition for me to join my Indian American friends in celebrating their culture with music and dance. This year's theme was Mudra from Indian mythology meaning love and life. We were all treated with great performances showcasing classic Indian dance.
Town Manager's Report
The town manager's report for this week included the following:
Water Allocation Approval

On Thursday, the North Carolina Environmental Management Commission unanimously approved the Round 4 Jordan Lake Water Supply Allocation. This was a coordinated effort led by the Jordan Lake Partners, made up of water utilities surrounding the lake, including Cary/Apex, Durham, Orange Water and Sewer Authority and Pittsboro. This group has been working since 2009 to plan for our water supply to meet the needs of a growing population for at least the next 50 years. This new allocation secures sufficient Jordan Lake water supply for all of us to meet our anticipated needs until at least 2045. Future allocations of water supply from the lake will occur as needed.

Hazardous Tree Removal

Based on recommendations by an independent certified arborist, we will take time next week to remove hazardous trees on the 100 block of Walnut Street. The trees are near the future location of the new library and parking deck and are in a state of serious decline.

Improving Building Inspection Scheduling

With the help from Inspections & Permits, Technology Services and Development Services, staff implemented changes to the building inspection scheduling process which will make it easier and more efficient for citizens to schedule inspections. Effective this coming Monday, all new permits will be pre-loaded in our system with project specific, customized inspections, prior to the issuance of the permit. Citizens will no longer be required to select inspections from an extensive inspection list which is often confusing. These pre-loaded, customized inspections can easily be modified by a staff member if necessary.

Legislative Update

Lana Hygh, joined by our Assistant Police Chief Ken Quinlan and Capt. Ann Stephens of the Apex Police Department attended the NC House Committee on State and Local Government. H55 Apex/Cary/Police Assistance on School Grounds was heard and received a favorable report. It quickly progressed to the House floor, passed 118-0, and is now headed to the Senate for consideration.

Smart Communities Siting Coalition

The Town, separately and as part of the Smart Communities Siting Coalition (representing over 1800 communities in 10 states), filed comments with the Federal Communications Commission this week regarding deployment of small cell infrastructure. The Town and Smart Communities urged the FCC to avoid placing any further restrictions on local governments as they collaborate with their local wireless carriers and infrastructure providers to integrate this very new technology, and very new approach to infrastructure development, into their planning and zoning processes in a way that preserves, enhances, and protects the finite rights-of-way belonging to their residents.

Holly Springs Water Transfer Testing

We completed testing this week with the Towns of Holly Springs and Apex in advance of a planned maintenance operation by Holly Springs later this month that will require a water transfer. The transfer test ran from Tuesday through Thursday and successfully transferred approximately 4.5 million gallons from Cary to Holly Springs. This is the first sustained, multi-day water transfer conducted jointly by Cary and Holly Springs. This testing was very valuable to staff who were able to test the pump station, valve operations, and refine standard operating procedures for the water transfer operation.

Municipal Managers Meeting

On Wednesday, the Town hosted a meeting of the Wake County municipal managers facilitated by Wake County Manager Jim Hartmann. At the meeting, Ted Boyd presented information on Cary's downtown development efforts. And update was also provided to the group on the FY 2018 draft Wake Transit Plan.

Occupancy/Food & Beverage Tax Review

The first of several stakeholder meetings related to the Wake County Occupancy and Food & Beverage Taxes was held at the Herb Young Community Center on Thursday morning. Nearly 60 people attended. Council members Jack Smith and Ken George and staff members Lana Hygh and Amina Shah and I represented Cary. Wake County and City of Raleigh presented information about the history and scope of the Occupancy and Food & Beverage Tax before turning to draft principles for the group to discuss in small groups. The purpose of the principles, when adopted, will be to provide a framework for making future funding decisions. Each group had an opportunity to suggest revisions or additions to the principles. Afterward, each individual was asked to rank all of the principles in order of importance.

The results of the meeting will be compiled in advance of the next meeting which is scheduled for 3 p.m. on March 27. We appreciate Raleigh and Wake County including all stakeholders as this process moves forward.

Recognitions

For the 30th consecutive year, the Town received the Distinguished Budget Presentation Award from the Government Finance Officers Association for the FY 2017 adopted budget. The award is the highest form of recognition in governmental budgeting and is presented to less than two percent of state and local government units nationwide each year.

On Saturday, March 4, Sarah Justice presented at the Advocates for Health in Action "8th Annual Dig-In." Sarah partnered with Piedmont Conservation Council (PCC) at a session on urban agriculture and used the Good Hope Farm project as an example of what can be achieved through partnerships and innovative thinking.
Emails From Citizens
Emails from citizens this week included:
A suggestion on how to improve traffic in Cary.
A complaint that Cary is overbuilding (Cary doesn't usually build and never builds on private property. Property owners build. We have no authority to stop development or control the rate of development).
A request to use the town logo in a private video of recycling.
Next week I will continue my busy schedule. Activities include private meetings, a taping of Cary Matters, a meeting of the Capital Area Metropolitan Planning Organization's executive board, PRCR volunteer banquet, Cary-Apex Water Treatment advisory committee meeting, Western Wake Partners Policy Advisory committee meeting, a metro mayors meeting, an Arbor Day event, and the Tobacco Road Marathon.
Well, that is all for this week. My next post will be on Sunday, March 19th.  Although I have Facebook and Twitter accounts those are not the best means of communications with me. Please send all Town of Cary questions or comments to Harold.Weinbrecht@townofcary.org and email personal comments to augustanat@mindspring.com.
---
From the blog of Cary Mayor Harold Weinbrecht. Photos courtesy of Harold Weinbrecht.
https://carycitizenarchive.com/wp-content/uploads/2017/03/HaroldsBlog-Mar13-Featured.jpg
550
800
Harold Weinbrecht
https://carycitizenarchive.com/wp-content/uploads/2020/03/cc-archive-logo-450-v3.png
Harold Weinbrecht
2017-03-13 13:12:30
2017-03-13 13:13:05
Harold's Blog: Congressional Town Hall, Wegmans and More