Story originally appeared on FoodCary.
Cary, NC – Tuesday night, March 7, CaryCitizen was invited for a sneak preview of G.58, a gourmet Chinese restaurant featuring authentic dishes not seen here in the Triangle. The restaurant, located at 10958 Chapel Hill Road in Morrisville, will be opening to the public later this month.
Entering a New Restaurant
From the moment we walked in the door, we could see this was going to be a unique experience. The interior features soaring ceilings and custom designed artwork on every wall. The seating is sumptuous with banquets lining one wall and high-backed upholstered chairs at every table. A bartender greeted us with wine and led us into the main dining area to greet the other guests for the evening.
We were invited by Morrisville mayor Mark Stohlman and attended the event along with he and his wife, Kelly, several folks from the Chef's Academy, Richard Yang, president of the Carolinas Chinese Chamber of Commerce, Mayor Pro-Tem Steve Rao and his wife as well as several of the backers of the establishment.
G.58 is the brainchild of Julia Li and her exacting tastes were evident everywhere, from the monogrammed napkins to the custom-designed wall panels and murals in the open dining room. We were led into one of two private VIP dining rooms for what would turn out to be a three-hour feast.
Three Hour Feast for the Senses
The discreet sommelier filled everyone's glasses with champagne for a toast. Then the food began to arrive including an assortment of six artfully prepared appetizers that included: Soybean rolls with pine nuts and garland chrysanthemum, Shanghai-style smoked fish, crispy veal, white turnips with Hang pepper, flat-tip bamboo shoots with shredded kelp and Jiangnan-style lotus root stuffed with sticky rice.
I have had my fair share of quality Chinese food having lived near New York's Chinatown but I had never experienced anything like this! Elegantly prepared, and so different. The crispy veal was stacked on the plate and each diner picked a piece with their chopsticks then spun the lazy susan in the middle of the table to the right for the next diner to sample.
We were told to pace ourselves as their were several courses to follow!
The appetizers were followed by a soup that arrived in a beautiful clay pot that even had a Pekinese dog on the lid. The soup had a complex beef broth with a meatball which reminded me of a matzo ball from its delicacy.
What followed was an astounding compliment of dishes fit for an emperor!
From crispy Bifentang-style lobster tail to roast Peking duck, we sampled it all. Crabmeat served in an orange, sea bass served with asparagus in truffle sauce and beef sauteed with king oyster mushroom and braised pork with kumquat. Not what you typically think of when you envision Chinese food. No General Tsao's chicken or lo mein on this menu!
Julia explained that each dish is like a work of art, carefully prepared and arranged on the plate with consideration given to the dinner ware and presentation. The training required to cook and serve this food is why the restaurant has not opened yet. Julia said that just to be able to carve a Peking Duck properly take two months of training to get the required thinness of the slices correct – yielding as many as 108 pieces!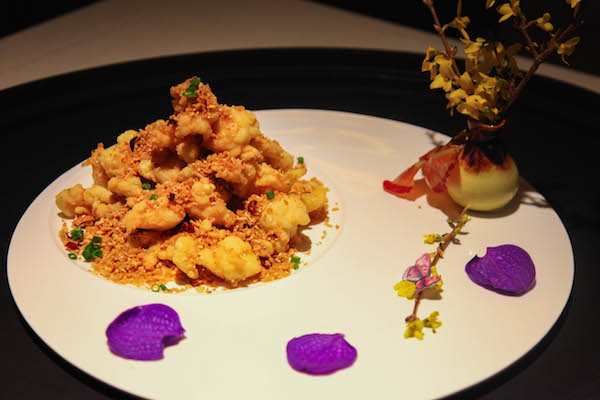 This restaurant is opening to serve the clientele who needs a special dinner out or will be entertaining out-of-town clients and heads of companies. But looking at the menu prices, we did not feel it was out of range for anyone to visit for a special place to have a wonderful meal.
We finished up (those who had room!) with G.58 dumplings that were a pale green and lightly steamed, as opposed to the thick flabby ones I frequently end up with from local take-out joints.
Lastly there was a dessert plate that had an Asian version of Red Velvet cake that I simply had to eat, despite being quite full. The mango mochi was an Asian delicacy made from sticky rice filled with a mango filling and was light and delicious.
What's in a Name?
We asked Julia where the restaurant's name came from. The story goes that the last two numbers of their address, "58" are auspicious lucky numbers in Chinese culture, with eight being "prosper, wealth, success" and five being "me." They chose to use that along with the "G" for "great." Hence G.58 is the name and wishes the business to be successful.
When the restaurant opens, these items will all be on the menu as well as many others. For diners unfamiliar with their more exotic dishes, all menu items are beautifully photographed.
We eagerly await this new addition to the culinary scene of the Triangle.
---
Story and photos by Lindsey Chester.
https://carycitizenarchive.com/wp-content/uploads/2017/03/interior-e1489093062484.jpg
513
800
Lindsey Chester
https://carycitizenarchive.com/wp-content/uploads/2020/03/cc-archive-logo-450-v3.png
Lindsey Chester
2017-03-14 13:01:05
2017-03-14 09:21:18
G.58 Gourmet Chinese Restaurant Set to Open in Morrisville