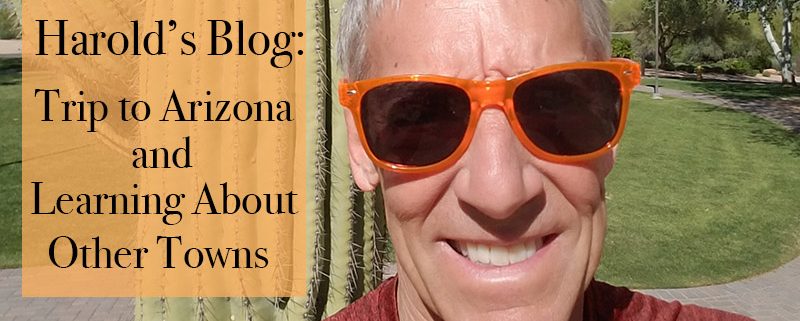 Cary, NC – This week was spent taking care of my wife after minor surgery and an intercity visit to Scottsdale, Arizona.
Monday – Surgery
On Monday my wife had minor surgery that went well and I spent the time until Wednesday being with her.
Wednesday – Going to Arizona
Wednesday I joined the entire council and 50 others in a trip to Scottsdale, Arizona. Topics included rebranding, education, transit oriented development, and redevelopment. Scottsdale has significant similarities with Cary such as branding their high quality of life, distinguishing themselves from a major city (Phoenix), and redeveloping old areas of town. They also have many differences such as an unstable council which is divided, 8 city managers in 6 years, and being known as a tourist destination.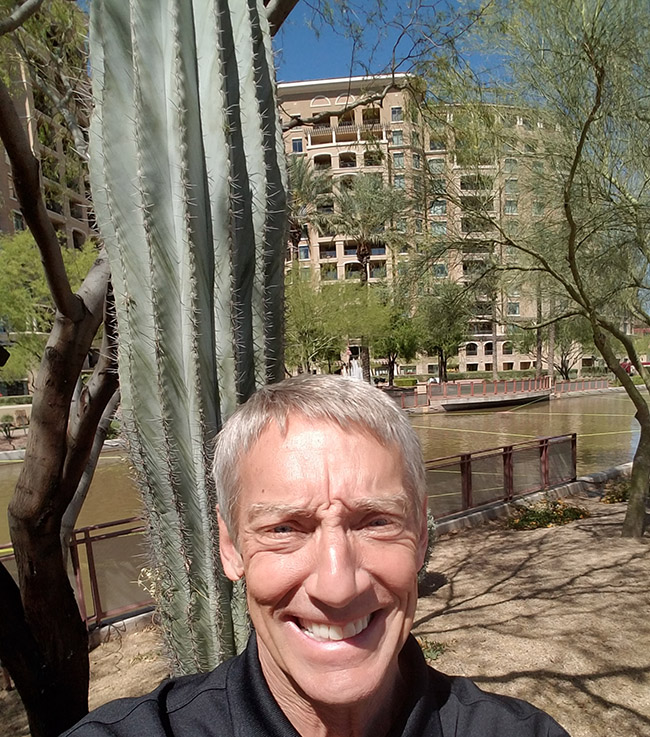 Thursday – Delegation Visit
Thursday morning the delegation toured SkySong in Scottsdale. This was a mixed use redevelopment project of an old mall. The mix of uses was nice but what made the redevelopment stand out was the architectural structure (similar to the Denver Airport). One of the points taken from this visit was that redevelopment can integrate architectural structures to make a typical redevelopment very special. I was honored to meet and talk with Mayor Jim Lane of Scottsdale. I presented him a small gift from the town. Most of our time was spent talking about branding.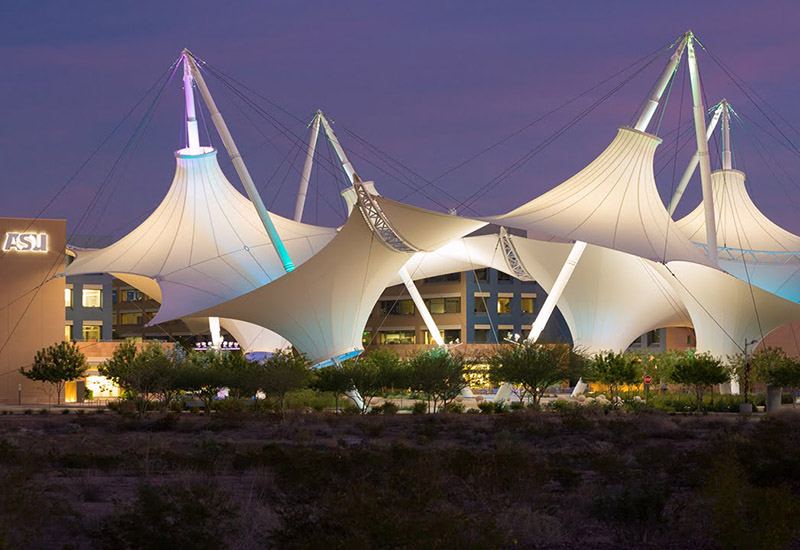 Later Thursday the delegation visited Arizona State University in Tempe, Arizona. There I met Mayor Mark Mitchell. He was a very high energy, intense individual with a lot of passion for his city. He mentioned that while some university cities battle with universities, they embrace theirs and partner with Arizona State. The visit emphasized the point that partnerships are almost always beneficial.
After lunch the delegation heard from several speakers including the president of Arizona State, Michael Crow. He is probably one of the most amazing speakers I have ever heard. Some of the statistics he quoted were fascinating. For example, there was a direct correlation between high school dropouts and government assistance. As a result of that fact he embarked on a campaign to help 100% of students graduate from high school. In addition, if an Arizona resident has a B average or better they are guaranteed admission to Arizona State. As a result Arizona State has the largest student enrollment in the country which would make you think it would hurt their 4 year graduation rate. Instead the opposite occurred and the university is now ranked among the university leaders in various fields. Their charter states:
"ASU is a comprehensive public research university, measured not by whom it excludes, but by whom it includes and how they succeed; advancing research and discovery of public value; and assuming fundamental responsibility for the economic, social, cultural and overall health of the communities it serves."
Simply amazing. One of the points I took away is to always consider non-conventional ideas. You never know how successful it might be.
Next we visited light rail in Tempe to look at transit oriented development. Compared to Charlotte they are in the very beginning stages.
Our final destination of the day was at Scottsdale Stadium to watch a spring training game between the Scottsdale home team San Francisco Giants and the Seattle Mariners. Seattle won 9 to 2. Our first full day was informational, long, but fun. Needless to say we all slept well.
Friday – Redevelopment in Arizona
Friday we visited the Scottsdale Museum and listened how a public-private partnership made that happen in just a few short years. I was glad that we had major Cary stakeholders on this trip. It was a great example of what can be done when everyone works together. After our talk I even had a few minutes to tour and did a stare down with a stuffed bison.
Next we visited a redevelopment project on the canal that goes through Phoenix, Scottsdale and the valley region. It was similar to a river walk and included shops, restaurants, and residential. Some of the high in residential went for over $3 million. The two main developers spoke to us and I then invited them to sit and talk with me for lunch. Over lunch I heard about their trials and tribulations getting things passed. According to them the main hurdle was having a council that was willing to face a public outcry from something drastically different than anyone had seen in the area before.
After the redevelopment project the delegation members had about 4 hours to explore on their own. I was fascinated with the desert landscape and how shade and water was a precious resource. All development seemed to incorporate something that addressed these two issues. Interestingly in Cary we face the opposite. That is, we always have to consider heavy rain storms and runoff.
In the evening we had the joy of enjoying Western BBQ sponsored by several Cary business leaders. It was a BBQ with sauce that was slightly sweet. I loved it.
The trip was a great success. In between destinations I had a lot of time to talk with developers and business leaders. I am excited about the ideas and energy gained from this trip and can't wait to see what we can do in Cary.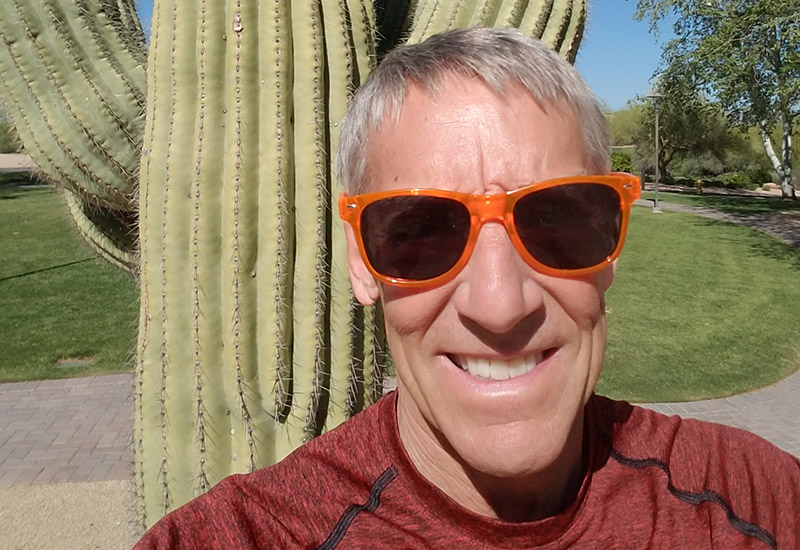 Emails From Citizens
Emails from citizens this week included:
A request for lighted pickle ball courts
A request for an interview
A request for a proclamation
A complaint about Middle Creek students parking in neighborhoods
A question about stormwater management
A question about our future Jordan Lake aeration system
Questions about the Alston Town Center
A request to take action against a legislative bill to reduce class size
A complaint about dangerous traffic at Yates Store Road and Carpenter Fire Station Road (state roads)
An FYI from a resident that is moving because of noise made at the Wake Med Soccer park
Next week will also be busy for me. It will include a meeting with Steve Malik of North Carolina FC, an Economic Development meeting, a work session on the Chatham County plan, Cary School of Government kickoff, the retirement of our Planning Director and our Transit Manager, our second council meeting of the month, the Spring Litter Sweep, and the ribbon cutting for Mid-Town Square.
Get In Touch
Well, that is all for this week. My next post will be on Sunday, April 2nd.  Although I have Facebook and Twitter accounts those are not the best means of communications with me. Please send all Town of Cary questions or comments to Harold.Weinbrecht@townofcary.org and email personal comments to augustanat@mindspring.com.
---
From the blog of Cary Mayor Harold Weinbrecht. Photos courtesy of Harold Weinbrecht and VideoArchitecture.
https://carycitizenarchive.com/wp-content/uploads/2017/03/HaroldsBlog-Mar27-Featured.jpg
550
800
Harold Weinbrecht
https://carycitizenarchive.com/wp-content/uploads/2020/03/cc-archive-logo-450-v3.png
Harold Weinbrecht
2017-03-27 10:46:57
2017-03-27 10:46:57
Harold's Blog: Trip to Arizona, Learning About Other Towns