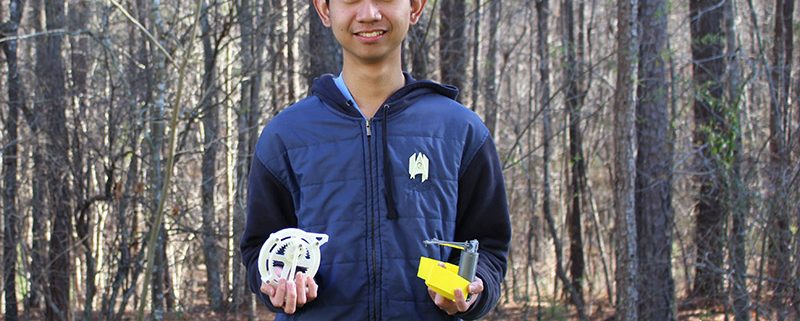 Cary, NC – The vacuum of space presents new challenges for astronauts and that requires new technology. And one Cary student has helped this effort by designing a surgical tray for use on the International Space Station.
A New Challenge
Vitus Putra, a 16-year-old student at Panther Creek High School, was named as a finalist in the Mars Medical Challenge, a Future Engineers competition sponsored by the ASME Foundation with technical support from NASA. The goal of the competition was to use innovative ideas from students for medical equipment.
The requirements of the competition were two-fold: firstly, the equipment had to be useful in a space voyage, taking into account factors such as zero-gravity. And secondly, the students were specifically creating devices that could be made with a 3D printer on board the International Space Station.
Putra came upon the Mars Medical Challenge as a way to explore and grow his own engineering and programming abilities.
"Every day I practice how to use new software so I searched for a challenging competition and found the Mars challenge," Putra said. "I decided it would be good experience."
As a finalist in the challenge, Putra had eight Replicator Mini+ 3D printers from MakerBot donated to the organization of his choice. Very impressive, considering Putra said he had not used a 3D printer before entering the competition.
"I hope my accomplishment can inspire other students to pursue their goals," Putra said. "That is what I hope people can take away from this. You can achieve your dreams if you are ready to learn and try."
Surgeries in Space
As his project, Putra designed what he called a space surgery tray. It looks like a small box with claws on top and slots on its side.
"The purpose is to make the storage of tools easier," Putra said. "This way, they will not leave and contaminate the vessel after surgery."
The two claws on the tray, Putra said, will automatically close and secure any medical tool pushed into it. And when an astronaut needs it back, it easily opens once pulled on. The slots on the surgery tray are also used to keep sterile materials such as bandages, sutures or needles.
"I also designed it so you can print another and easily add them onto each other, increasing its size," he said.
This project blends both medical and engineering know-how and Putra said that while he is more focused on engineering, he feels the two are related.
"I want to use engineering to solve real world problems," he said. "That means medical, social, everything."
The winning design in the teen category of the Mars Medical Challenge is a dual IV and syringe pump, designed by a student from Seattle.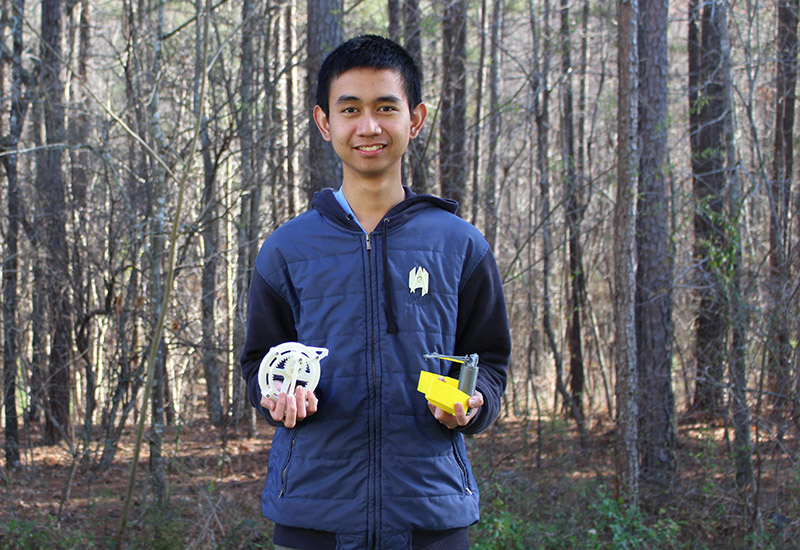 ---
Story by Michael Papich. Photos courtesy of Vitus Putra and Future Engineers.
https://carycitizenarchive.com/wp-content/uploads/2017/03/NASA1.jpg
550
800
Michael Papich
https://carycitizenarchive.com/wp-content/uploads/2020/03/cc-archive-logo-450-v3.png
Michael Papich
2017-03-30 09:29:05
2017-03-30 14:17:28
Cary Student Designs Medical Tray for Space Surgeries