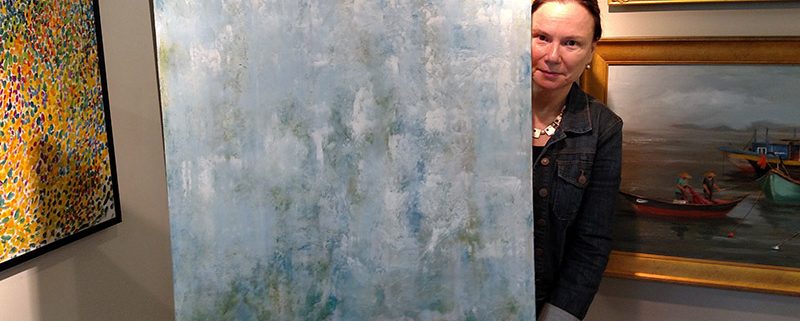 Cary, NC – One of the great things about art is how tweaking your thinking a little bit can result in new, imaginative works. And a Cary artist is mixing her passion for painting and photography with her interest in bees, as well as educating visitors on how to take care of local bees.
Wax On, Wax Off
Artist Jayne Walther is showing her work at Village Art Circle as part of their Final Friday Art Loop show on Friday, April 28, 2017 at 6 PM. And in her paintings and photographs, Walther is using both hot and cold beeswax to add texture.
"I've always liked textures and layers. As human beings, we have so many layers to us," Walther said. "In paintings like this, I can have up to 50 layers."
The process for using cold beeswax in Walther's paintings involved mixing the wax with a solvent to make it plyable, then mixing oil paint in.
"Then it dries and you keep layering it on," Walther said.
To learn this process, Walther studied at Western Carolina University for a week, joining three other people to learn directly from the woman who literally wrote the book on the subject.
"I felt like a college student again," Walther said.
But "Inter-Depend-Dance" does not only have cold wax. Walter has also used hot wax on photographs printed onto delicate Japanese paper, with different kinds of wax used in different photos for a variety of looks and effects.
Importance of Bees
Walther's photography has included gardens and farms in the past, with a previous series of photographs urging people to use local farms more. And with this "Inter-Depend-Dance" show on April 28, Walther will bring in gardeners to talk about how to make backyards and gardens more bee-friendly.
"A year ago, Alice Hinman, a beekeeper, came to my studios and talked about how she was starting a bee sanctuary. I wanted to find a way to help," Walther said. "And now, a year later, I have this show."
The show will include a raffle to support bee sanctuaries and information on workshops about using native plants, which Walther said require less water and pesticides.
Walther said she has always had a fascination with bees, particularly in the way they communicate.
"It's amazing how they dance to talk with other bees," she said. "We know bees are in trouble and that's why inviting natural gardeners with advice on how to protect and support bee populations is so important."
Walther said bees' dancing is also part of the "Inter-Depend-Dance" theme of the show, with a focus on dance also included in the gallery.
"I have always loved dance as a form of exercise and we will have people giving advice on ballroom and other modern forms of dance at the gallery," she said.
But between the importance of bees and how dancing can connect multiple partners, Walther said she hopes a larger theme comes across to visitors.
"I want people to walk away with an idea of how we are all connected," she said.
Village Art Circle is located at 200 S Academy St. in Suite 130.
---
Story and photos by Michael Papich.
https://carycitizenarchive.com/wp-content/uploads/2017/04/BeeswaxPainting3.jpg
550
800
Michael Papich
https://carycitizenarchive.com/wp-content/uploads/2020/03/cc-archive-logo-450-v3.png
Michael Papich
2017-04-10 13:10:28
2017-04-10 13:10:28
Cary Artist Combining Bees With Paintings