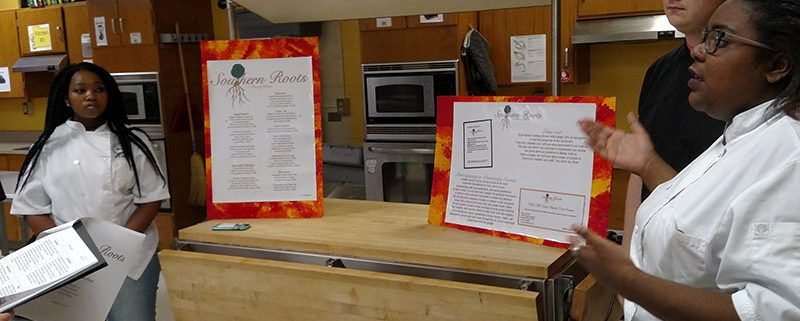 Cary, NC – While customers enjoy the ease of eating at a restaurant, few think about the difficulty of running the business behind the scenes. For four Cary High School students, they have thought about this intensely, earning themselves a position in a nationwide competition.
Southern Roots Restaurant
Four Cary High School students are participating in the National ProStart Invitational, representing North Carolina as they compete against teams comprised of almost 400 students from schools around the United States. Specifically, these four students will be competing in the management division, which sees teams create a restaurant concept and plan it out, down to the finest details.
Some of this team's members went to the National ProStart Invitational last year in the culinary arts division, and as Demuzla Bryant, Jr. said, it introduced new challenges.
"SWOT charts, floor plans, all of this business stuff behind the project that we're doing is new to us," Bryant said. "With the culinary side, we have to learn dishes and prices but you're doing the same actions over and over. This is very different."
Bryant, along with his three teammates Tavonna Dorsett, Faith Nicholson-Garcia and Lucas Welch, are part of Cary High's ProStart program, which is created by the National Restaurant Association Education Foundation to set up classes in schools around the country teaching culinary and restaurant management skills.
In the national competition, which takes place Friday, April 28 to Sunday, April 30, 2017 in Charleston, South Carolina, these students will be presenting their restaurant concept to judges comprised of restaurant industry leaders, executives in the National Restaurant Association and others. The presentation takes the form of a pitch to potential investors, with posters displaying their menu and specific ideas for their restaurant included.
The Cary High team's restaurant, "Southern Roots," was born out of Bryant, Dorsett and Nicholson-Garcia all being seniors.
"We're going to college this year so we won't have home-cooked meals," Nicholson-Garcia said. "The idea is to bring home-cooked meals to the students. This is a family-oriented restaurant, with a focus on Southern hospitality."
The menu reflects this Southern idea, with fish cakes, pulled pork and sweet tea among other items.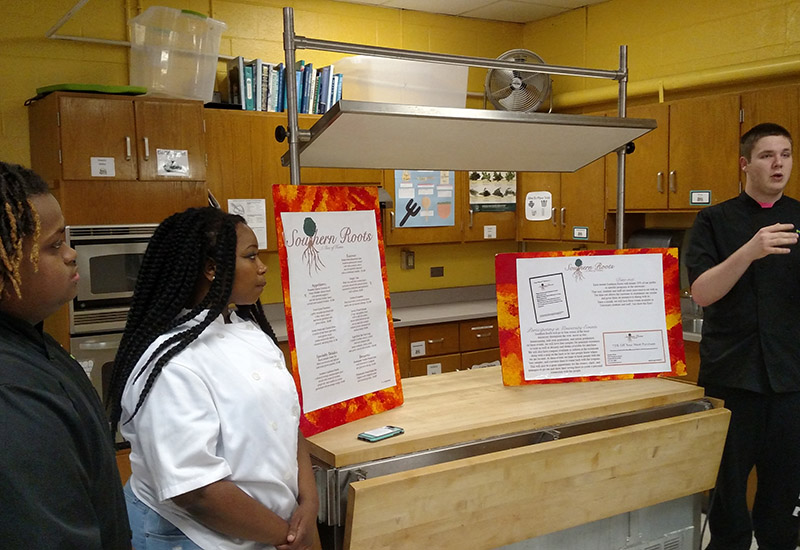 Planning Down to the Ink
With the nationwide competition, assessments by judges are very specific and can even throw curveballs into plans the team had been working on for months.
"Every time we come up with an answer, there's a new question that comes out of it," Dorsett said.
On Monday, April 24, 2017, the team worked on their idea and their presentation, with a trial run with Mandy Hines from the North Carolina Restaurant and Lodging Association and input from their teacher Chad Collins.
The process is rigorous, with the judges going through the details and structure of their business plan, from the layout to the price of food to the hours of operation, even down to the price of ink to print coupons.
While these students are competing in a different division than last year, Bryant said the experience of competing at the national level in culinary arts has helped them with preparedness.
"Last year was great and I'm going to remember it for the rest of my life," Bryant said.
And working for so long on planning out a restaurant has also affected the way these students see restaurants now.
"The thought-process when I'm in a restaurant has changed," Welch said. "Now I'll walk in and think, 'The bathroom's here, the dishwasher must be behind this wall because of the plumbing.' I just think about floor planning all the time."
For winning the North Carolina leg of the ProStart Invitational, the team won close to $1 million in scholarships to culinary schools around the United States.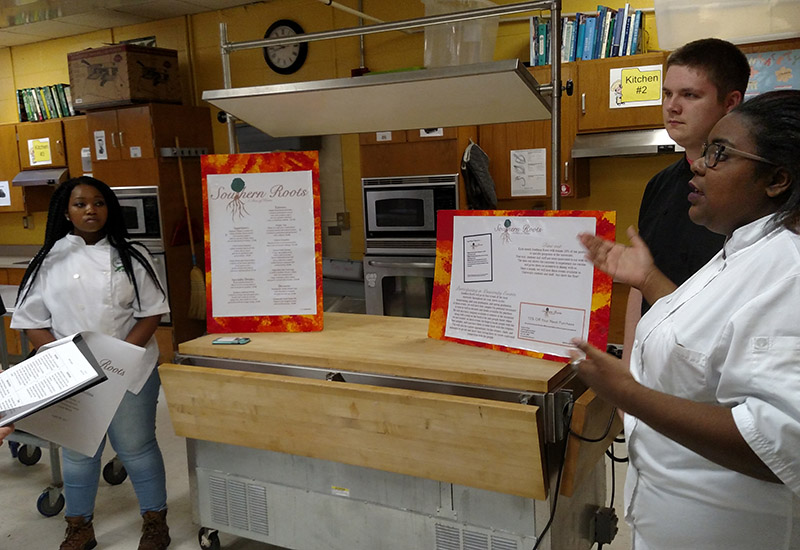 ---
Story and photos by Michael Papich.
https://carycitizenarchive.com/wp-content/uploads/2017/04/CaryHighFood2.jpg
550
800
Michael Papich
https://carycitizenarchive.com/wp-content/uploads/2020/03/cc-archive-logo-450-v3.png
Michael Papich
2017-04-25 13:01:33
2018-03-08 18:03:27
Cary High Representing North Carolina in National Restaurant Competition