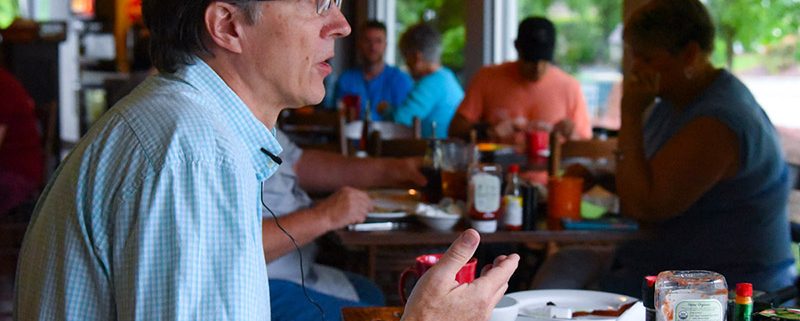 Cary, NC – In this second installment of History for Breakfast, we sat down with Cary historian Bob Myers at Famous Toastery to talk about historic buildings around Cary and the preservation efforts surrounding them.
You can also listen to our conversation on SoundCloud.
When Myers came to Cary, he wanted to utilize his existing interest in history to apply for advisory committees involving our town's history. While Myers was not selected, it educated him about other history efforts in Cary.
"Through the process, someone made me away of the Friends of the Page-Walker and what they did and it sounded interesting to me," Myers said.
While the Friends of the Page-Walker has a broad mission, as Myers described it, he decided to concentrate on historic preservation in particular.
To give an example of one historic preservation topic, Myers talked about the Ivey-Ellington House on West Chatham Street. Built around the same time as the Page-Walker Hotel, this was one of the first parcels of land bought by town founder Frank Page.
"It goes back to the history of the town and actually predates the town," Myers said. "It's one of the few original buildings left standing in Cary."
In addition to its history, the Ivey-Ellington House is also unique for its architectural design. It has a board-and-batten appearance mixed with a Gothic style, which makes it rare not only in Cary but in all of Wake County.
"People generally think it's a church. It piques people's interest naturally because of its unique architecture," Myers said.
The house is currently a hot topic because it is owned by the town and there has been talk of moving or reorienting the house to make room for new development downtown. Nothing has been decided on, or even whether the house will be moved at all, but Myers talked about the approach most historians take to preservation.
"Preservation 101: the first choice is always to leave a building on site. An important thing is not only the architectural features or the history of the building but also its context, its relation to the things around it," Myers said.
The second choice, as Myers put it, is to move a building somewhere nearby and in the same relationship to buildings and roads so that context is preserved.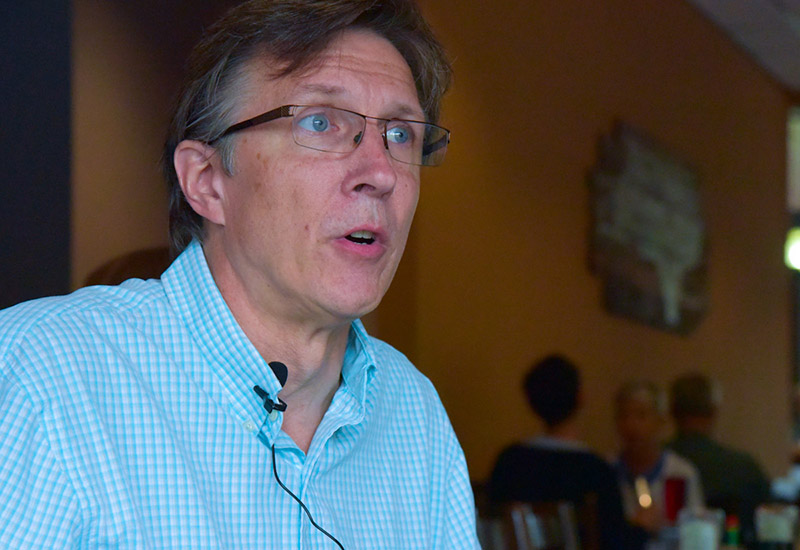 To give more examples of historic preservation in Cary, Myers cited the well-known Page-Walker Hotel, now the Arts & History Center, but also discussed some lesser-known locations. There is the Sears House, which was originally a farm house and is in an area of rapid development. The house has now been moved but Myers said it is now on Sears Farm Road near the property.
"It got to keep its historic context and has same relationship to road it's fronted on," he said. "It's a big win, even though it had to be moved. The developer, within his rights, could have had it torn down."
But Myers also described a property without many protections currently: the Nancy Jones House on Chapel Hill Road. It is the oldest house standing in Cary, build in the early 1800s, and Myers said it is the second most significant building in Cary after the Page-Walker.
"The house has not received a lot of care over the recent years. It needs work. Time will take its toll on a  building, especially a building that is over 200 years old," he said.
It is still a privately owned house, although it is now owned by the nearby Sree Venkateswara Hindu Mandir instead of the Jones family or other relatives. Myers said the previous and current owners all appreciate the house's history and want to see it preserved, though they do not all agree on the best way to do that.
The Nancy Jones House's current protections are only that it is listed on the national register of historic sites. Myers said that is a great honor but it does not offer as many protections as one might think.
"There aren't protections outside of federal programs like an interstate being put through or, oddly enough, a cell tower being placed near by, which requires FCC approval and is therefore a federal project," he said. "Outside of federal projects, the national register doesn't give a property any protections. Someone could come down and tear it down tomorrow."
Audio: Hear the Whole Conversation
Listen to our whole History for Breakfast conversation with Bob Myers:
Soundcloud: History for Breakfast
---
Story by Michael Papich. Photos by Hal Goodtree. The History for Breakfast series is sponsored by Famous Toastery in Waverly Place.
https://carycitizenarchive.com/wp-content/uploads/2017/05/HistoryBreakfast-May8-1.jpg
550
800
Michael Papich
https://carycitizenarchive.com/wp-content/uploads/2020/03/cc-archive-logo-450-v3.png
Michael Papich
2017-05-08 13:03:16
2020-03-07 17:47:38
History for Breakfast: Bob Myers