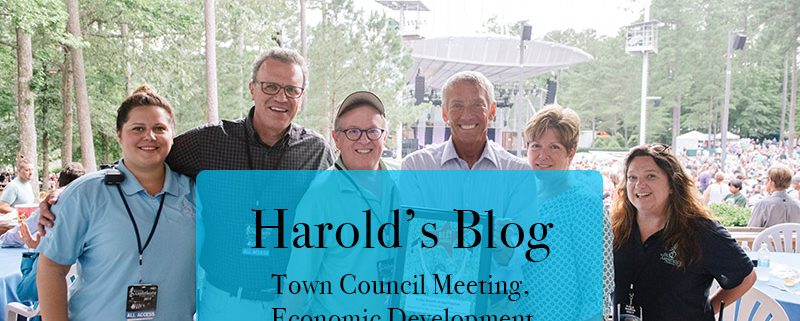 Cary, NC – This was tough week after spending a week at the beach with the family. It included three long nights.

Monday – Planning for the Week
Monday started with agenda calls to council members to hear of any concerns or questions they had with the agenda for Thursday's meeting. There were no questions. Later in the day I met with key staff to go over the agenda and that meeting only lasted a few minutes.
Later Monday I was joined by the Mayor Pro-Tem as we met with the town manager. We met for over an hour discussing several issues. Here are just a few of the issues:
Wegmans at Davis Drive and Airport Boulevard mixed use development will not be a rezoning. As a result it will be a staff reviewed proposal. To date there hasn't been a proposal submitted.
The Wegmans proposal on the state property has not been submitted. Based on information from staff they are working on potential office tenants for the office portion of the use.
CBL has submitted a proposal for an IKEA on the mall site. They plan to submit a proposal for the redevelopment of the remainder of the site in the near future. It may include some very interesting tenants.
MetLife will be submitting plans for a 3rd building in Weston.
The intersection improvements at Cary Parkway and High House were discussed. It will be a very painful experience for commuters in the area for a long time. The town is working on a communication plan for helping commuters to know what to expect daily.
Interest in downtown remains very strong. Parking in addition to the planned deck(s) may be required. We will be discussing in the near future.
The council/mayor's practice not to weigh in on partisan matters of the state and nation will be a topic of discussion at a future retreat. This is related to the email campaign against me to sign with mayors against Trump on the Paris Climate Agreement.
More than a dozen other items were discussed but I am not permitted at this time to reveal that information.
Tuesday – Cary Budget
Tuesday the council held a work session on the operating portion of the budget. Here are some notable items from that work session:
The fiscal year budget will include maintaining existing projects, people, and programs.
The budget also includes launching a community branding initiative, the Wake County Transit Plan, and expanding body camera usage.
Council priorities include addressing existing services and infrastructure, the opioid epidemic, the integration of west Cary, leveraging technology, maintaining and enhancing historic facilities, and future downtown improvements.
Open space options will be brought back for our next quarterly review of the budget.
The council is scheduled to vote on the budget at our June 22nd meeting.
Wednesday – Cary Economic Development and Paul Simon
Wednesday was a very busy and long day for me.
It started with a delightful breakfast that included the President of the MacGregor Rotary Club Shannon Reaves and radio show celebrity Pete D'Arruda. We had a wonderful discussion about all sorts of items including personal events in our lives. This breakfast was part of a fund raising prize that the Rotary auctioned off.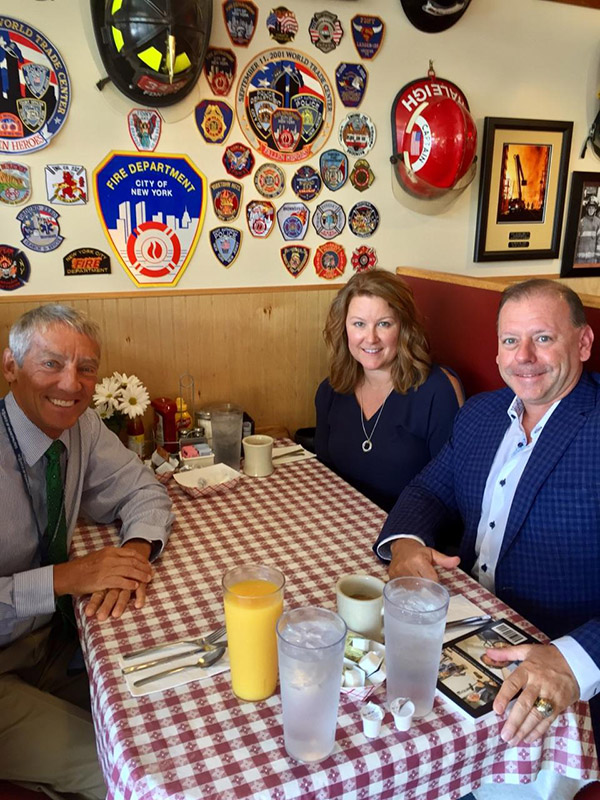 Later in the day I attended the Cary Economic Development meeting. Here are some of the takeaways from that meeting:
The town manager asked the committee for feedback on the branding initiative.
The chamber recently hosted company executives looking to open headquarters in Cary. This would add 1,100 jobs and have a $80 million investment.
The owners of MacGregor Village are working on plans for the redevelopment of that center. There will be a focus on more local shops and providing a place for people to hang out similar to Waverly Place.
IKEA announced their plans for a store on the Cary mall site with plans to open in the summer of 2020.
CBL plans to submit plans for the rest of the mall's redevelopment that will include premier retail, dining, entertainment, residential, grocery, office and green space.
MetLife has announced it will build a 3rd tower.
There has been strong office demand for downtown Cary. Also multi-family developers are interested in downtown Cary.
Recent Awards and Accolades include:

#6 City creating the most tech jobs – Forbes
Best new brewery in the nation (Bond Brothers) – USA Today
#21 Best places to live in the U.S. – Livability.com
#18 Best city to build a forever home – Goodcall
Best community investment award for Academy Street – Triangle CREW
#6 Best city for young professionals – Forbes
#10 Best big city for jobs – Forbes

Class A office vacancy is about 7.19% which is low.
Cary's unemployment rate is 3.8% compared to Wake County (4%), North Carolina (4.3%), and the U.S.(4.1%)
Wednesday night I attended the Paul Simon concert at the Booth Amphitheater. Upon arrival I posed with an award received by the town for having the best outdoor music venue in the region (Booth Amphitheater).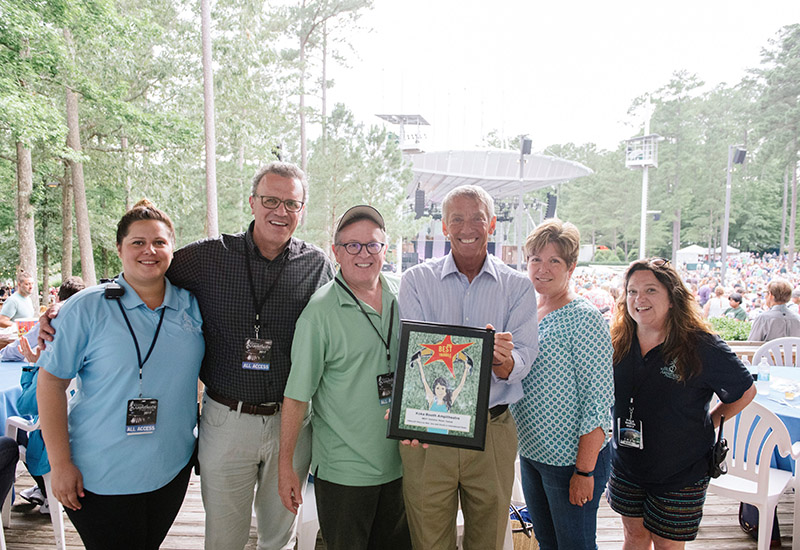 I was invited to attend the Paul Simon concert at the Booth Amphitheater by Paul Simon himself which was a first for me. My wife and I joined Raleigh Mayor McFarlane, her husband, and family members.
He and his 9 piece band played for two and a half hours non-stop to a packed house who loved it. All proceeds from this and 17 other shows will go to the Half-Earth Project, an initiative of noted scientist E.O. Wilson's Biodiversity Foundation. After the concert Mayor MacFarlane and I spoke to Paul Simon for about 15 minutes on several issues. He stated that he wanted to meet with us to hear what is going on in our towns. In our conversation with him he shared his beliefs that our nation currently has a lot of angry people which is being fed by the media. He stated that no matter what side you fall on with an issue it should never be driven by anger. WELL SAID! He also made several other notable statements such as Stephen Hawkins predicts the earth has about 100 years left while another notable scientist predicts the earth could become a paradise in 100 years. (I definitely hope the latter is true.) He was great to meet and talk with and I wish him the very best in his efforts to support the half-earth project.
Thursday – Town Council Meeting
Thursday the council held its first regularly scheduled council meeting of the month. It also included a quasi-judicial meeting which is normally held the first Thursday of the month. As a result we were there about five hours. On the agenda were four consent items, four public hearings, and one discussion items. There were dozens of people that spoke at the public hearings.
The public hearing on the Silverton PDD Amendment to put multi-family residential instead of office drew a lot of speakers. Most felt that office was a more appropriate use. The applicant argued that it would create less traffic. This will come back to council for a vote after a review and recommendation by our Planning and Zoning board.
The public hearing on the Urban Drive rezoning proposal to move the zoning from medium density to Town Center Mixed use drew a lot of criticism. A good portion of the complaints were not related to the proposal. Many complained of flooding even though their houses were in the flood plain (this was done over a half century ago before there were regulations against this). Others wanted to complain about a four story proposal currently under staff review which was not part of the proposal. Most of the complaints wanted denial of the proposal and the property to remain single family residential. This can be interpreted to be in conflict with the Cary Community Plan approved in January. The Cary Community plan was three years in the making and was created mostly by the citizens of Cary.
After our regularly scheduled items a quasi-judicial hearing was held to determine if parking reductions could be given to an apartment proposal in Hillstone at the Alston Town Center. There was a great deal of data presented and a lot of questions by council about the parking reduction and how the development would connect to surrounding developments. In the end the council approved the reduction but not with a unanimous vote.
The council held a quick closed session after the quasi-judicial hearing and then adjourned.
Friday – Mayors Meeting
Friday I participated in a meeting of legislative matters with the metro mayors. One interesting note from this meeting is that the metro mayors have created a pilot sister city, Kinston, to see if we can help close the urban/rural divide that creates issues with legislation. Other matters discussed in our legislative update included:
The budget – now behind closed doors mostly focusing on the small issues.
Redistricting – US Supreme court ruled districts invalid, Governor called a special session, and both the NC Senate and House rejected the idea of a special election as unconstitutional.
Billboards – bill has been mostly gutted but is still alive.
Elimination of Impact fees (fees charged to developers for the impact their projects have on the community) – they have decided to study this further. This is significant because if fees were eliminated then municipalities , it taxpayers, would be paying for infrastructure needs created by developers which basically subsidizes development.
Land Use Plan regulations – an attempt by the legislature to remove local regulations on land use
Many of the bills introduced and forwarded continue the assault on municipalities. In a time when residents are asking the town to do more in areas with controlling development and land use, the legislature is trying to remove most of our authority. I guess it is no secret who is supporting their campaigns.
Town Manager's Report
The town manager's report for this week included the following:
FY18 Budget

On Tuesday, Council held its second and final budget work session, which covered Council priorities that are addressed in the operating budget. The session also followed-up on remaining questions from the first work session and addressed issues raised by citizens about open space and a possible future park at the first budget public hearing.

On Thursday, Council held the second budget public hearing, at which the open space issue was raised again, and one citizen also expressed his willingness to pay higher taxes in order to provide more funding for capital projects. The Imagine Cary Plan Implementation Team will be developing options in the coming months for addressing open space issues and will report back to Council.

Adoption of the budget will be on the Council's June 22 agenda.

Rezoning Request Changes for Trimble Avenue

On Thursday, we learned from the applicant that based on feedback, Habitat Wake has amended its rezoning application to R-8 Condition Use. This would allow the applicant to maintain conditions requested by the community, such as a maximum of seven detached homes.

Economic Development Committee Update

At the Economic Development Committee's quarterly meeting, Kyle Greer noted that the source of new jobs is split relatively equally between companies coming into the area and companies started locally. This information provides assurance that we are on the right track with our economic development efforts and committing resources to both "economic gardening" and "economic hunting."

Town Staff Provide Utility Assistance to Neighbors

Staff from the Cary/Apex Water Treatment Facility provided laboratory assistance to Orange Water and Sewer Authority in the form of water testing using specialized equipment known as a Gas Chromatography Mass Spectrometer (GCMS). Cary's lab staff, Rachel Monschein and Erin Lee, have become experts in our region for conducting this type of testing using the specialized equipment. OWASA's laboratory supervisor, Katie Harrold, stated "We deeply appreciate the use of the Town of Cary's specialized equipment and resources."

Project PHOENIX Event at Chatham Forest Apartments

Last Saturday, Project PHOENIX partnered with Trinity Park Church to host a summer picnic for approximately 175 residents. They were able to enjoy hot dogs, ice cream, face painting, games and a "selfie station." Town staff was on hand to offer information about services and resources available to our citizens.

Downtown Park Shade

As you may have noticed, over Memorial Day weekend umbrellas were placed at the Downtown Park. This experiment resulted from a Council Initiated Item to provide shade for our citizens enjoying the park. We have heard positive feedback from citizens about the umbrellas being added. In addition to the immediate action of providing umbrellas, staff has also identified other temporary shade structures, such as tensile structures, that can be located in certain areas of the park. These longer term solutions will likely take a 3-4 month lead time.

Cary Parkway & High House Road Intersection Improvements

As was mentioned at the Council meeting, we would like to remind everyone who lives, works, or travels near the intersection that we'll be hosting an open house at the Senior Center this Tuesday night about our project to improve the intersection. The public can drop in anytime between 5 and 8 p.m. to learn what the plans are and what to expect during and after construction this fall.

Triangle Smart Cities Summit

On Tuesday, Council Member Lori Bush and Technology Services staff attended the Summit at the James B. Hunt Jr. Library at NC State University. This event brought together local city, industry, and academic leaders for an engaged discussion on how to make our region a smarter and more connected community.

As part of this event, Council Member Bush served on a panel discussion with local leaders that was moderated by Governor Martin O'Malley. This panel discussed how Triangle cities are approaching these initiatives.

Technology Services staff showcased Cary's Innovation Experience Center and Smart Cities Campus Vision during the afternoon poster hall session.

GoCary Services Safest in the State

At the NC Public Transportation Association Annual Conference, GoCary was recognized as having the safest services as a result of having the least amount of any preventable accidents in the last year. This is a testament to the strong partnership the Town has with our services contractor, MV Transportation. Our system design and safety feature requirements in vehicles and stops, as well as exceptional driver/operator training allows us to be an example to all our peers across the state for safety initiatives.

Safe Routes to School 

On Wednesday morning, students, parents, and staff from Northwoods Elementary School gathered with representatives from the Highway Safety Research Council, the John Rex Endowment, and the Town of Cary to hold a ribbon cutting to celebrate the completion of a Safe Routes to School project. Town staff assisted by providing design services for an enhanced pedestrian crossing and worked with our on-call contractors to construct the crossing which includes a new ADA accessible ramp, improved pavement markings, enhanced signage, and delineator posts.

Council Member Bush was in attendance for the ribbon-cutting and took the opportunity to respond to Commissioner Hutchinson's Million Step challenge on Twitter!

Recognitions

I'd like to recognize the work of our entire Budget staff – Karl Knapp, Stacey Teachey, Kathy Lleras, Hunter Frank and Katie Lumb – in all they do to facilitate our budget process, especially as it moves from an annual event to a quarterly process. The work they did to prepare for both work sessions was significant. At the same time, I'd like to recognize the first-time presenters who contributed to the work sessions: Brian Stark, Gregory Jenkins, Sam Trogdon, Rachel Baranski, Hunter Frank and Katie Lumb. Thank you for contributing to the team!

The Town of Cary was recognized this week by Indy Week through their annual Best in the Triangle readers' choice awards.

Koka Booth Amphitheatre received the Best Outdoor Music Venue award
The Amphitheatre was also recognized as one of three finalists in the Best Place to Hear Jazz category and the Best Place to Hear International or World Music category
The Cary Theater was recognized as one of three finalists in the Best Place to See an Indie Film category
Emails From Citizens
Emails from citizens this week included:
Complaints about the Silverton proposal.
Complaints about the Urban Drive proposal.
An email campaign for me to sign a letter against Trump's controversial climate decision.
Concerns about construction runoff Westpark pond.
Several requests to budget for various items.
The email campaign against me to sign a letter against Trump took a great deal of my time this week and hurt my productivity spending time to answer. My answers were like the following:
First response:

Thank you for contacting me. While I think the position taken by our president is ridiculous, it has been the practice of this council not to take public positions on partisan matters and instead focus on the business of the town.

Second response:

Thanks for contacting me again

It is important to understand that if I sign with the other mayors then I am taking a position that is viewed as partisan and not universally accepted by the entire council. Keep in mind that Cary's council is currently nonpartisan. IMHO, the last thing we need is to politicize the Cary council. Almost all of the mayors who signed (listed in the news article) have councils that are partisan. And of course the Governor is partisan.

Keep in mind that there are always two sides to an issue. How would you feel if I used my political position to represent Trump's position? While that would never happen I can assure you it would make people, including most council members angry. It would set precedence for the council addressing national partisan issues. And that would eventually destroy the council and for what? To make people feel better because I signed with other mayors. Is that action worth destroying the council? In my opinion no. Putting my name on a national partisan issue is not what is best for the town and the town's best interest is my main focus. While privately I criticize the president daily for doing dumb things I make sure that I am focused on doing what is best for Cary.

I hope this helps you understand my position better.
Next week's activities include the Cary High School and Green Hope High School Graduations, a meeting on stormwater, and several other meetings.
Get In Touch
Well, that is all for this week. My next post will be on Sunday, June 18th.  Although I have Facebook and Twitter accounts those are not the best means of communications with me. Please send all Town of Cary questions or comments to Harold.Weinbrecht@townofcary.org and email personal comments to augustanat@mindspring.com.
---
From the blog of Cary Mayor Harold Weinbrecht. Photos courtesy of Harold Weinbrecht.
https://carycitizenarchive.com/wp-content/uploads/2017/06/HaroldBlog-Jun12-Featured.jpg
550
800
Harold Weinbrecht
https://carycitizenarchive.com/wp-content/uploads/2020/03/cc-archive-logo-450-v3.png
Harold Weinbrecht
2017-06-12 09:25:38
2019-12-08 15:29:26
Harold's Blog: Town Council Meeting, Economic Development and More