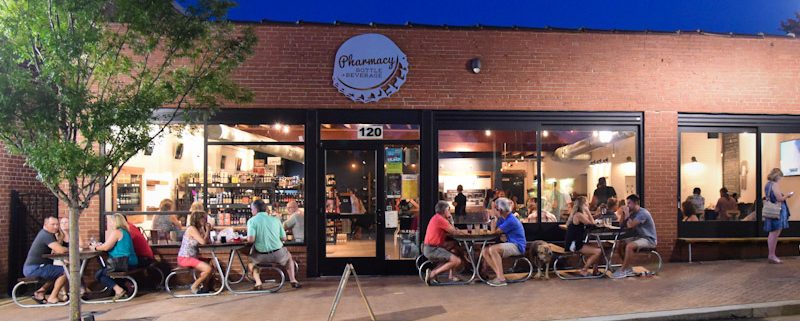 Cary, NC – With the passage of the Cary Community Plan, the gradual process to mold the town in the direction of Imagine Cary is just starting. And residents may be getting a glimpse of that in Downtown Cary.
Future of Downtown Cary
The Cary Community Plan was a nearly five year effort, involving Cary town staff, consultants such as Clarion Associates and input from Cary residents. Scott Ramage, principle planner for the Town of Cary, said the initial phase of the plan was to find issues and opportunities people broadly agreed on.
"We collected between 4,000 and 5,000 thoughts in Phase One and a lot of people wanted to express opinions on Downtown; their views, their hopes and dreams," Ramage said.
And in those opinions, Ramage said there was a wide divergence among residents.
"On one end, we had people who wanted Downtown Cary to stay the same and change and add absolutely nothing," Ramage said. "We also had people who wanted it all replaced with five and six floor buildings with much more intensity."
With the amount of feedback the team got on Downtown Cary, it was designated a "Special Planning Area" that got a deeper level of focus and attention in the Imagine Cary process. Included in the final plan for Downtown Cary is a division into five parts, each with their own distinct characteristics.
"It is not a uniform vision," Ramage said. "It breaks Downtown into chunks and finds its unique characteristics."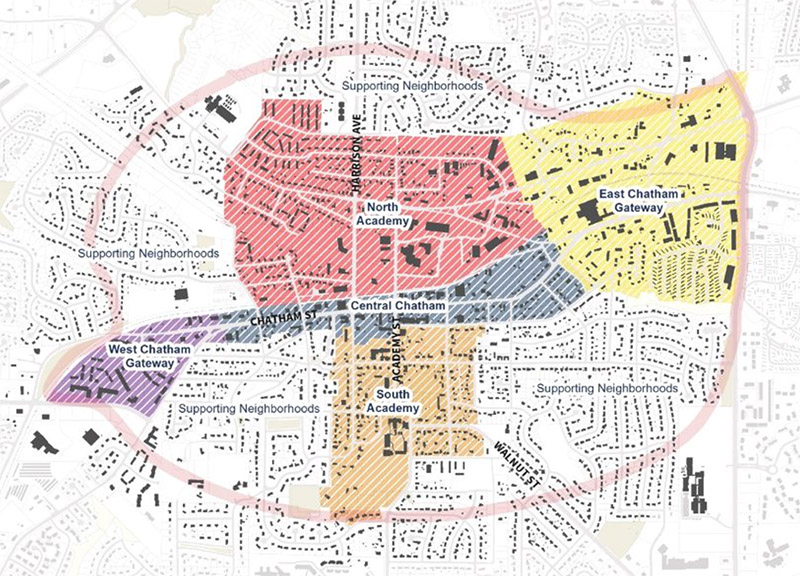 Included in that division is designating Central Chatham as Cary's "main street," with a mixed use corridor that turns into supporting neighborhoods, ranging from medium to high density, as well as live-work units.
But this vision sparked dissent at a recent Town Council meeting, with residents coming to speak out against a rezoning along Urban Drive, inside the Central Chatham area, to build townhomes. Speakers also expressed their frustration at an adjacent plan to build a four-story condominium, which would not need Council approval as it fits existing zoning.
"If the developer wants to build a condo building and ​if ​the Town approves it, then so be it. However, we want everything possible done to keep us from having to look at it and the parking lot," said Urban Drive resident Janet Couture.
In a letter to CaryCitizen, Couture expressed her opposition to both the coming condominium development and the requested rezoning for townhomes. Couture also asserted that without the townhomes, the condominiums would not be able to come in because it is too steep of a transition from single family homes to what the developer is planning.
"By constructing a three story, five unit town home building at 110 Urban, the required transition from four story (to three story) to ranches is accomplished," Couture said.
At the Thursday, June 8, 2017 Town Council meeting, 13 residents spoke out against the plan at the Public Hearing. Three residents spoke in favor of it, citing the need for more residential space to bring people to Downtown Cary and boost the local economy. The plan is also supported by the Heart of Cary Association.
Crafting the Community Plan
By Phase Two of the Imagine Cary process, Ramage said community members were asked specific questions to get their thoughts about how Cary could change. Included were: where do people want to live, where they want to work, where they want to shop and how Downtown Cary should grow, as well as other questions.
"At the end of Phase Two, there was a divergence of opinions on Downtown and housing," Ramage said.
Phase Two is dubbed "Community Choices" because this is where residents who came out worked with the difference of opinions and worked to come to a middle-ground consensus. In the discussion report from this process, that Central Chatham area of Downtown Cary would include and an "intermediate level of development intensity is characterized by buildings up to five stories depending on the location and context."
Ramage did not talk about any specific development plans in Downtown Cary, but when talking about the discussion process during Phase Two, he said there was a lot of input on residential space in Downtown Cary.
"A lot of people were saying they'd love to live downtown but they were frustrated there wasn't room," Ramage said.
Of the people saying they would like to live in Downtown Cary, Ramage said it was mostly "empty nesters," with some millennial-aged residents also saying they would like to move to this part of town as well.
"At community meetings, you usually get more people from the 40, 50 and older category so that bias is in there," Ramage said.
But in Couture's letter, she questions the size of the projects and why they are not closer to the Chatham/Academy intersection.
"Why ​does it have to be a condo building in the first place? Why ​not build small bungalows or one story cluster homes​ or nice brick town homes as the developer said in the first place​? ​They would fit just fine in our neighborhood," Couture said. "What about my neighborhood's desire to maintain the quiet enjoyment of our homes? Our neighborhood is truly under revitalization and the Town will benefit. We are a close community."
And at the Town Council meeting where the Urban Drive rezoning hearing took place, councilmembers said debates like this are only just beginning..
"The day is coming where we had better be prepared because this is going to be the type of discussions we're having," said Councilmember Jack Smith.
The Cary Community Plan's Public Hearing took place in Autumn 2016 and was adopted by Cary's Town Council in January 2017.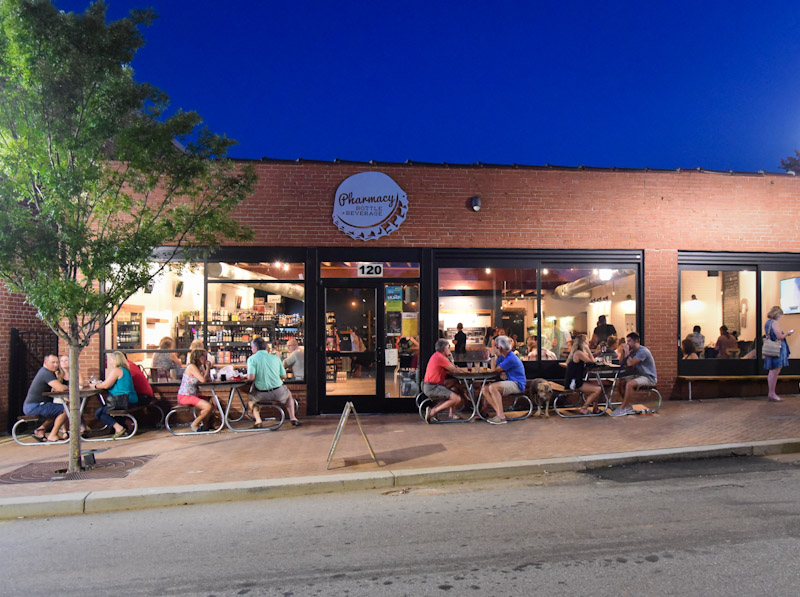 ---
Story by Michael Papich. Photos by Hal Goodtree, Google Maps and the Cary Community Plan.
https://carycitizenarchive.com/wp-content/uploads/2016/07/friday-night-downtown-cary-4613.jpg
597
800
Michael Papich
https://carycitizenarchive.com/wp-content/uploads/2020/03/cc-archive-logo-450-v3.png
Michael Papich
2017-06-29 11:16:36
2019-12-08 15:29:28
How Downtown Cary May Change