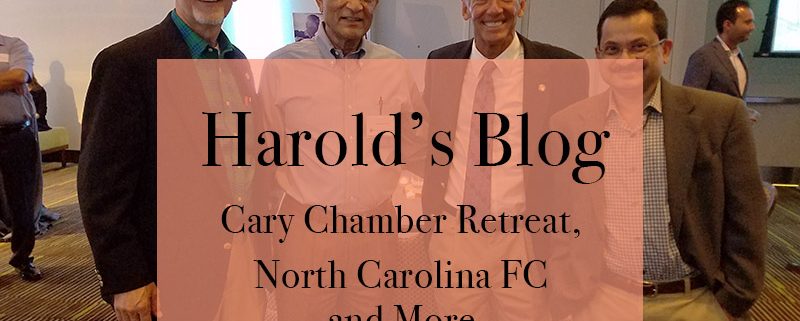 Cary, NC – This was a light week with the exception of attending the Cary Chamber's annual retreat.
Monday – Planning for the Week
Monday I met with the town manager for a little over an hour as our weekly one on one. Topics included Morrisville Joint Issue task force, personnel issues, and upcoming trips.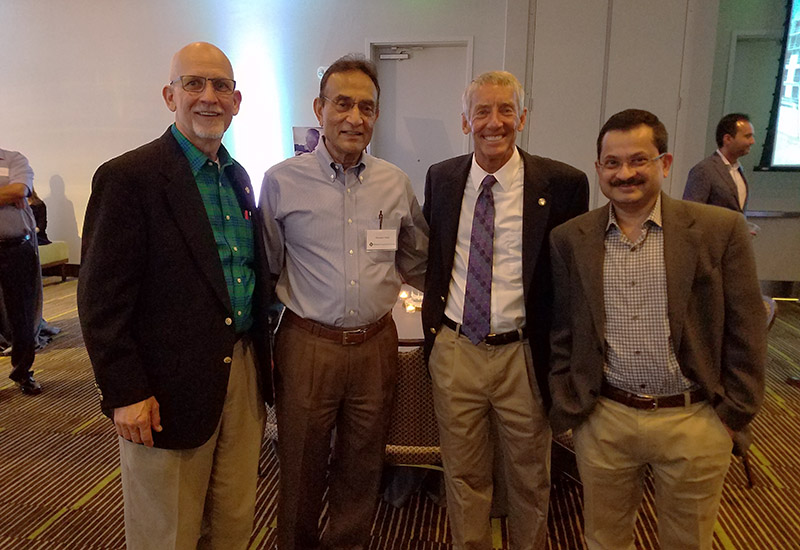 Tuesday – Homewood Suites Ceremony
Tuesday I had the honor of providing remarks at the celebration of the topping off of the new Homewood Suites hotel in Crossroads. This is the 3rd hotel in Crossroads for the Patels and they have all been very successful. Their success means we are attracting people to Cary so we certainly are wishing them the best. Also attending were Mayor Pro-Tem Yerha, council members Smith and George, Deputy Town Manager Overton, and Intergovernmental Relations Manager Hygh.
Thursday – Cary Chamber of Commerce Retreat
Thursday I talked with a reporter about the possibility of the NCFC (North Carolina Football Club) leaving Wake Med for a new stadium in Raleigh. It is important to understand that Cary has heavy demand for the park and stadium. We support NCFC and their successful transition into MLS. I believe we will have no problem filling the stadium. In addition to the NCAA and ACC soccer championships there is potential to expand into other sports such as lacrosse, rugby, ultimate Frisbee, etc. Currently 300,000 people vist the park each year and our seven fields are booked solid. So this looks like a potential win-win for everyone.
Later in the day I traveled to Wrightsville Beach for the annual Cary Chamber retreat. Our evening speaker was Steve Malik, owner of North Carolina FC, who I sat beside at dinner. Some of the information he provided in his presentation and I obtained in my conversation with him included:
He would like Wake Med to be the practice facility for North Carolina FC.
He doesn't know if the women's team will move to the new arena or not. It depends on the attendance.
He would like to make Wake Med the national training center for soccer and he has input and connections to help make that happen.
He is very excited about the renderings of the MLS stadium in Raleigh and has had them in his possession for quite some time which means this site was chosen several months ago.
He wants to continue a good relationship with Cary and we would like to do the same.
We were very appreciative that after such a busy week that Mr. Malik would come to the Cary Chamber retreat to address our business leaders and elected officials.
Friday – Chamber Retreat Presentations
Friday was a busy day at the Chamber retreat with several presentations. It started with Cary's town manager Sean Stegall. He made a lot of great points in his talk about where we are as a town and where we are going. One point worth repeating is that Cary's past growth rate has allowed Cary to finance great infrastructure and amenities with a low tax rate. In the future there will be tough decisions on how to maintain and increase levels of service without the revenue from so such much growth.
Next I joined council members Yerha, Robinson, Smith, and George in a little question and answer. There were questions about partisan politics and biggest obstacles we will have to overcome. That segment only lasted about 15 minutes.
The next session was on smart cities and smart businesses and was hosted by representatives from Duke Energy, Research Triangle Clean Tech Cluster, Trilliant Networks, and SAS. One of the interesting points made was that technology will allow individuals and cities to better maintain their resources in the future but privacy and security will remain a concern.
The following session was from the Assistant Wake County Manager and focused on the hotel occupancy and meal tax. Cary is a HUGE donor to this program which is mostly spent to fund the convention center (85%). What makes it worse is that even though we account for over 20% of the revenue, we don't have a voice in the decision making body. This remains a concern of many including me.
Wake County school board member Fletcher and a teacher from Athens Drive held the next session. They talked about how high school and college graduates are not prepared to meet the needs of businesses. Then they discussed a new way of teaching which includes more peer interaction and more discoveries. Basically, making the students use their brains and knowledge in different ways.
The last session before lunch was from Senator Barringer and Representative Adcock from the NC Legislature. Both of these individuals have at time gone against their parties to make votes in favor of what is best for Cary. Of course, we have a special place in our hearts for Adcock who use to be on the Cary town council. Both of these speakers summarized the good, bad, and ugly of the session and provided information on what to expect. The refreshing part is that even though they are in opposing political parties, they work together on bills for benefit Cary.
After lunch our downtown manager, Ted Boyd, gave a summary of what is happening as far as new businesses and opportunities in our downtown. Downtown continues to see redevelopment which I predict will accelerate in the next couple of years.
The next session focused on multimodal transportation and included the RTA Executive Director, the General Manager of GoTriangle, the Deputy Town Manager of Cary, and council member Robinson who moderated. Most of the focus of this conversation was on the Bus Rapid Transit which should be coming in the next couple of years.
The final session of the retreat was from Ted Abernathy who is the managing partner of Economic Leadership. His statistics and analysis is always amazing. One interesting point from this conversation is that he believes that rural areas will continue to decline and there really isn't much that can be done legislatively to change that. (He needs to give his presentation to the legislature who is constantly battling the urban-rural issue.)
This retreat was jammed packed with information and is always great for those who attend. I am glad I was able to take a day from my job at SAS to attend.
Town Manager's Report
The town manager's report for the week included:
Dr. Goodnight Visits Town Hall

On Tuesday, the Town had the honor of welcoming Dr. Goodnight to Town Hall campus. This was the first visit Dr. Goodnight has ever made to Town Hall and one of his few times to downtown Cary in recent years.

The visit began with a lunch which provided a relaxed atmosphere for us to get to know each other better. After lunch, Dr. Goodnight was particularly interested in seeing the Traffic Management Center. He spent time learning all we do to promote safety and efficiency on our streets. Next, Dr. Goodnight visited our 911 Communications Center where we talked about the integration of our traffic cameras with our 911 emergency operations. The last stop was in IT so Dr. Goodnight could learn about our efforts to make Town Hall a smart campus as well as updating him on some of our partnerships with SAS analytics.

We ended the visit by presenting Dr. Goodnight with a watercolor painting of Veterans Freedom Park, painted by JJ Jaing, who took first place in this year's Plein Air contest.

The significance of this visit cannot be understated as Dr. Goodnight is a hugely important figure in making Cary the place it is today.

Chamber Planning Conference

On Friday morning, I presented at the annual Cary Chamber Planning Conference. I talked about KPMG's annual survey of CEO's and how their findings relate to Cary in the areas of public trust, technology and talent. I also touched on our focus areas of 311, Imagine Cary Community Plan, quarterly budgeting, citizen participation and branding/reputation.

Dan Ault was also on hand to talk about Cary's smart cities efforts and Ted Boyd gave an update on our downtown.

Cary Locomotive 1871

Cary's locomotive, part of NCDOT's fleet, is maintained at Capital Yard Maintenance Facility in Raleigh. Town of Cary 1871 was rebuilt at the Altoona Works Norfolk Southern Railroad Locomotive Shop in Altoona, PA. The train is being tested for a period of 30 days on the Piedmont line (one round trip to Charlotte per day) before being officially accepted. The train is expected to be officially accepted into service on August 17.

GoCary Service Enhancements

As part of the Wake County Transit Plan, GoCary has proposed a few service changes to benefit our citizens, starting August 6, 2017. This is in concert with other transit providers in Wake County to ensure regional mobility for all. The proposed GoCary changes would extend services on Sunday (all Fixed Route and Door to Door) as well increase bus service every half hour all day (Monday-Saturday) on Routes 3, 4, 5, and 6. The extension of service operations and hours will allow citizens to access many types of services, including employment, church services, and community events. These services align with policies and action items associated with the Cary Community Plan.

Covered Courts at Cary Tennis

The first event under the new covered courts was held last weekend. Close to 600 junior players, as well as parents and coaches were able to enjoy the new courts. Play began Friday afternoon, followed by a player party Friday night!

Homewood Suites in Cary

Mayor Weinbrecht welcomed Homewood Suites to Cary at a Topping Off Celebration on Tuesday. Mayor Pro-tem Ed Yerha and Council Members Jack Smith and Ken George and staff members Russ Overton and Lana Hygh also attended. Mr. Patel, the owner, commented that it was great to build in a community where you could call and someone would answer and help.

Construction continues with a grand opening expected in spring 2018.

Hemlock Bluffs Awarded Grant

The NC Science Museum Grant Program, administered through the NC Museum of Natural Resources, recently awarded a grant of $19,945 to the Friends of Hemlock Bluffs. This grant will be used to integrate science and technology into the Stevens Nature Center's exhibit hall as part of the Friends' Exhibit Improvement Project. The grant is a two-year award totaling almost $40,000. With these funds, the Friends will collaborate with the Town to incorporate updated video playback equipment in the mini theater, as well as new videos that showcase the nature preserve and the natural resource efforts.

Legal Updates

The Town was named as a defendant in Estate of Paul Pham v Brown and TOC, a wrongful death negligence action that results from the tragic death of a young bicyclist who collided with Ms. Brown's automobile on Maple Avenue, a private street in Cary.  On Wednesday, after the Town filed a motion to dismiss the action against the Town based on sovereign or governmental immunity, the plaintiff dismissed the Town as a defendant. The dismissal is 'without prejudice' which means that the plaintiff has reserved his right to refile against the Town within the next year. Similarly, the tax collection action Chatham County v Nasim Nasseri et al has been dismissed as taxes have been paid.

Last Friday the Fourth Circuit Court of Appeals decided Lund v. Rowan County, a legislative prayer case. The Rowan County commissions rotated public meeting prayers amongst themselves, asking the public to rise and pray with the commissioners. The prayers offered were all Christian prayers. The Court found that the prayers 'veered from time to time into overt proselytization.' The Court disapproved the prayer practice, saying:  'We conclude that the Constitution does not allow what happened in Rowan County. The prayer practice served to identify the government with Christianity and risked conveying to citizens of minority faiths a message of exclusion. And because the commissioners were the exclusive prayer-givers, Rowan County's invocation practice falls well outside the more inclusive, minister-oriented practice of legislative prayer described in Town of Greece…'

MLS Team Site Bidding

As many of you know, NCFC (formerly RailHawks) submitted a bid for an expansion MLS team. On Wednesday, MLS executives came to the Triangle for a site visit. Ed Yerha, Doug McRainey, and William Davis attended the leadership breakfast. NCFC unveiled their plans for a 22,000 seat stadium and multi-use complex on the northern side of Downtown Raleigh (if awarded the bid). The plan and location received a positive reaction from MLS and the people attending the meetings. MLS will announce the first two cities by the end of 2017 as well as the timeline for future announcements.

WakeMed Soccer Park will still operate as a local and regional training and game facility for soccer, cross country and other sports as well as host major championships like NCAA, ACC, and High School State Championships. The park will still be the training facility for NCFC and if they do go MLS, staff will work to replace their games with other similar tier league teams/games.

NW Cary Parkway Update

Have you ever wondered why the concrete section of NW Cary Parkway was rough as you drove over it before the bridge? Contractors working on behalf of the Town of Cary removed the first panels of concrete Wednesday. This revealed the underlying problem: heavily saturated material was found underneath the concrete along the first 85 feet of roadway. This section of road was initially built by a developer. The wet, soft clay material was removed at a depth of 12 inches and replaced with an asphalt-based material. This provides the structural foundation needed to support the traffic loads of the roadway for years to come. So far, the remainder of the NW Cary Parkway sub-base has been in excellent shape. The contractor anticipates having the eastbound lanes finished by the end of July.

Boys of Summer Bring Home Gold

The 12 & Under and 14 & Under Youth Sports baseball all-star teams both won the SWAC State tournament last weekend. The 12 & Under team, competing in Siler City beat Onslow County, 13-9, in the championship game. In the 14 & Under bracket, hosted by Nash County, Cary won three consecutive games on Sunday, working its way through the losers bracket to beat Wake Forest, 5-1 and 14-0, to take the championship.

Cary Named Top 5 City for First-Time Home Buyers

In a study conducted by WalletHub, Cary was recognized as having a favorable housing market for first-time home buyers. The study took the pulse of real estate in 300 cities of varying sizes using 23 key metrics. The data set ranges from housing affordability to real-estate tax rate to property-crime rate.

Buying a First Home in Cary (1=Best; 150=Avg.):

58th– Housing Affordability
103rd– Real-Estate Tax Rate
16th– Cost of Living
121st– Median Home-Price Appreciation
29th– Foreclosure Rate
5th– Property-Crime Rate

Cary ranks No. 4 overall and No. 2 among midsize cities.

Recognitions

The level of planning, practice and execution that went into Dr. Goodnight's visit was remarkable. I'd like to recognize the efforts of Susan Moran, and the numerous people who assisted in the effort, for orchestrating the entire experience seamlessly.

Recently, one of our solid waste vehicles experienced a technical malfunction that resulted in trash being spilled all over Galsworthy Street. A crew was called out to clean up the mess, which they did impeccably. Thanks to the clean-up job of Malcolm Monk, Christopher Hendricks, and Aurley Citron, as well as their supervisors Bill Roy and Matt Wetherell for offering assistance in the effort.
Emails From Citizens
Emails from citizens this week included the following:
A complaint from a parent that their child was being bullied.
Questions about Louis Stephens Drive north of Morrisville Parkway.
Concerns about a rezoning request at White Oak.
Questions by a developer who wants to rezone property and restrict use of alcohol. (we do not have authority to do that)
Next week will be busy for me. Activities will include the Cary-Morrisville joint issues task force meeting, a work session on transportation strategies, the only regularly scheduled council meeting of July, and other meetings.
Get In Touch
Well, that is all for this week. My next post will be on Sunday, July 30th.  Although I have Facebook and Twitter accounts those are not the best means of communications with me. Please send all Town of Cary questions or comments to Harold.Weinbrecht@townofcary.org and email personal comments to augustanat@mindspring.com.
---
From the blog of Cary Mayor Harold Weinbrecht. Photo courtesy of Harold Weinbrecht.
https://carycitizenarchive.com/wp-content/uploads/2017/07/HaroldBlog-July24-Featured.jpg
550
800
Harold Weinbrecht
https://carycitizenarchive.com/wp-content/uploads/2020/03/cc-archive-logo-450-v3.png
Harold Weinbrecht
2017-07-24 10:20:37
2017-07-24 10:22:35
Harold's Blog: Cary Chamber Retreat, North Carolina FC and More