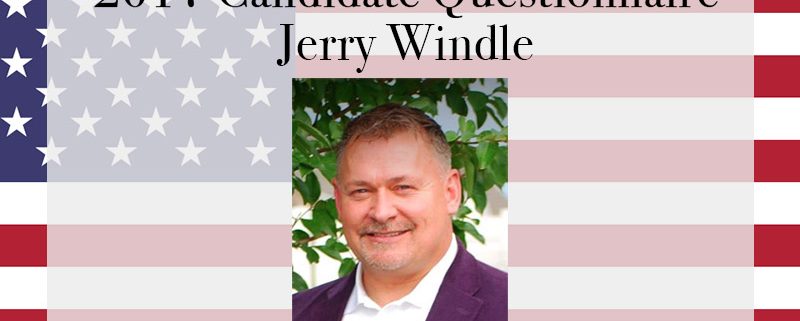 Morrisville, NC – This is an installment in our Candidate 2017 series, in which candidates get to respond in their own words to the same three questions.
We publish the responses in the order we receive them. This questionnaire is submitted Jerry Windle, running for the District 2 seat on the Morrisville Town Council.
Why are you running?
I am running for Morrisville Town Council because I want to be a representative voice and to serve the people of our town. I served as a logistics officer in the Unites States Navy for 11 years on active duty and 10 years in the reserve. I hold a degree in elementary education. I am keenly aware of the importance of personal and professional integrity and of working for our citizens. I am currently a senior leader at Duke University Health System and lead the system's Revenue Management Customer Service Organization. Service is at the core of my existence, and as such, I want to serve our community. I will engage with my constituents on subjects and issues brought before the council. I am not interested in dictatorial leadership nor personal desires. As leaders it is incumbent upon us to work for those whom have elected us to lead – the only way to accomplish this endeavor is to listen. Our community is an incredibly diverse and beautiful place. When my family chose Morrisville to call home, we did so because as we looked out across our community, we saw a patchwork quilt of not only ethnic diversity, but also diversity of education, backgrounds, histories, and families. We wanted to be a part of such a beautiful community.
I am running for Morrisville Town Council because as a former military officer, my personal integrity compels me to stand up and work on behalf of our citizens to develop strategies to minimize the traffic congestion in our neighborhoods. We have developed as a community but our infrastructure was outpaced by it. I want to work in concert with the DOT to strategize for our future. I want to work with industry leadership to evaluate the possibility of investing in electric or solar-driven people-mover monorails to assist in transporting employees to the various corporations throughout our community – similar endeavors have worked brilliantly in other communities. As we develop a town-center, I want to make sure we create a wonderful gathering place, but not make it unattractive because of impossible congestion.
I am running for Morrisville Town Council because as a person with a degree in education, I am heart-shocked that we do not have community public schools to meet the needs of our families. Children stand waiting for the bus at 6am — that is unacceptable to me. Our families should not have to make life-altering decisions about where to send their children to school in a town such as ours. We have the industry, we have the housing, we have the environment, but we oddly do not have the public schools.
What are your top three priorities and how will you accomplish them?
My top three priorities are growth and infrastructure; education; and our community greenspace/environment.
Growth and Infrastructure

Our community is a highly desirable place to call home – not only for residents, but also for business. It is important that we are thinking not only of the immediate gains of growth, but the long-term effects as well. Our community has grown very rapidly, yet we don't have the local public schools to support our families. Our roadways are congested, and, if we don't keep in check, the remaining 25% of Morrisville yet to be developed, we will find ourselves looking backward, trying to develop ways of solving even more traffic and congestion problems. I want to work together with our community and the town council to develop or redevelop Morrisville with our future in mind – not just our present.
Together, we can work with the DOT and advocate for the desires of our community with regard to appropriate roadway expansion. Together, we can engage local industry to evaluate the possibility of people mover monorails that have proven to be very successful in other towns and cities (with significant industry). Together we can plan for Morrisville's future while maintaining the small-town community that we all love.

Education

Building public schools should go hand-in-glove with the growth of a community. Morrisville, unfortunately, was allowed to grow ahead of itself. The consequence is elementary and middle school students having to sit on a bus for an hour or longer to get to school. As the candidate with a degree in education, I know how vital it is to our families to have a public school in relatively close proximity to our neighborhoods – schools create the very essence of community.
Together, we will be stalwart advocates for community public schools. As a town council, it should be a top priority to not allow development to outpace the infrastructure and needs of our families. From my home in Kitts Creek, I see children waiting for the bus at 6am – that is unacceptable to me. Children having to wake up at 5am to get ready for school just isn't right. I will be a voice for the families of Morrisville, and I will not waiver on this issue.

The Environment and our Greenspace

I believe I speak for the majority of residents in our community when I say we moved here in large part, because of the beauty of our natural spaces. Our township is a highly desirable place to call home. Together we will work with our neighboring communities to ensure we don't develop/re-develop to a point of harming our environment or eliminating our parks and greenspaces. I am a defender of the environment and will be a champion voice for our citizens to ensure Morrisville retains the charm and beauty we enjoy today. Having had conversations with many residents in our community over the past few weeks, I hear how concerned they are that leadership will allow development to take priority over community. I will fight for the residents of Morrisville to ensure the beauty of our community remains well into the future and for our children and their children to enjoy and protect.
Give us a brief bio and tell us about your relevant experience
I was born and raised in a small town in northern California. To help my parents financially, I joined the United States Navy at 17, immediately following my graduation from high school. After a year of enlisted service, I was selected to attend an Officer preparatory program and ultimately graduated from Oregon State University with a Bachelor of Science Degree in Elementary Education and a Commission as an Ensign in the Navy's Supply Corps. I served 11 years on active duty, during which I was awarded two Navy Achievement Medals and two Navy Commendation Medals. I served the remainder of my naval career as a reserve officer.
Following my active military service, I started a career in the Healthcare Industry. I have worked in the Pharmaceutical Industry, served as an executive consultant for a major firm, and today, I am a senior leader at Duke University Health System. I am committed to providing world-class care and service to our patients, their families, and our community.
My family chose to call Morrisville home because it is rich in cultural diversity, opportunity, and beauty. Andres and I have one son, Jordan. Jordan was born in Cambodia. He lived in an orphanage until I adopted him at the age of 18 months. Today, Jordan is a diver for Team USA. He is a six-time United States National Champion, has won numerous medals internationally, and has his eye set on competing at the Olympic Games in Tokyo in 2020. He graduated high school this year and earned a full athletic scholarship to the University of Texas at Austin.
Jordan and I penned a children's book, "An Orphan No More…the true story of a boy" with a foreword by Diving Legend, Greg Louganis.
It is in my nature to be in the service of others. I cherish the years I served as a leader in our military; I cherish the years I served as an educator; I cherish the years I have spent in service to patients from all over the world.  I will cherish the years I am fortunate to serve as a member of the town council for Morrisville and make a solemn commitment that I will serve the people of Morrisville, and will protect our community.
Website:  jerrywindle.com
Facebook:  https://www.facebook.com/Jerry4Morrisville/
Twitter: @jerrywindle3
---
Read more in the Candidate 2017 series.
https://carycitizenarchive.com/wp-content/uploads/2017/08/Questionnaire-Windle.jpg
550
800
Community Contributor
https://carycitizenarchive.com/wp-content/uploads/2020/03/cc-archive-logo-450-v3.png
Community Contributor
2017-08-08 13:05:19
2019-12-28 11:33:34
Candidate Questionnaire: Jerry Windle