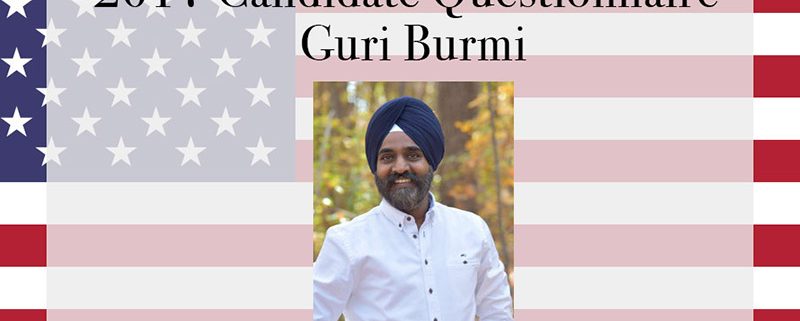 Morrisville, NC – This is an installment in our Candidate 2017 series, in which candidates get to respond in their own words to the same three questions.
We publish the responses in the order we receive them. This questionnaire is submitted by Guri Burmi, running for the District 2 seat on the Morrisville Town Council.
Why are you running?
I have seen a lot of progress in Morrisville happening in the past 4 years. I would like to see Morrisville continue on this path of progress and I believe I have the skill sets needed to help manage this growth and address some of the areas that need more attention.
What are your top three priorities and how will you accomplish them?
Schools:
With my previous experience of working with Wake County Schools, I will lobby the School District for more education options for the students living in Morrisville. With a population of over 27 thousand citizens, I think we would benefit from our own middle school and high school, and I will examine ways to bring this about.
Roads:
We need to work with NCDOT and organizations like CAMPO to get more funding for the roads in Morrisville in order to accommodate the growth that we are seeing. I will work with all of the pertinent agencies to create long-term solutions.
Smart Growth:
Morrisville is home to some of the most talented people and we need to leverage that by coming up with new ideas on how to address some of our challenges so that we do not slow down the pace of progress in our town.
Give us a brief bio and tell us about your relevant experience
I moved to US from India in 2001 to build a better life for my family and myself by following the American Dream. Since then I have worked hard to become a successful entrepreneur, husband, father and a respected member of the community.
The first thing you notice about me is my Turban that signifies my belief in "Sikh" religion, which also coincides with all things American, i.e. doing good deeds, liberty, peace, prosperity and happiness for all.
I have served as the VP of our community HOA since 2012 and have always been involved in community service as a way of giving back and making life better for everyone around me. I believe I can take this experience and apply it to the town level as well. We need to spend our tax dollars on things that really matter and negotiate hard with vendors in order to keep costs low. I have done it successfully in our sub-division and will do it for the town as well.
Website: www.guriburmi.com
---
Read more in the Candidate 2017 series.
https://carycitizenarchive.com/wp-content/uploads/2017/08/Questionnaire-Guri-Burmi.jpg
550
800
Community Contributor
https://carycitizenarchive.com/wp-content/uploads/2020/03/cc-archive-logo-450-v3.png
Community Contributor
2017-08-14 13:06:14
2017-09-11 10:41:50
Candidate Questionnaire: Guri Burmi