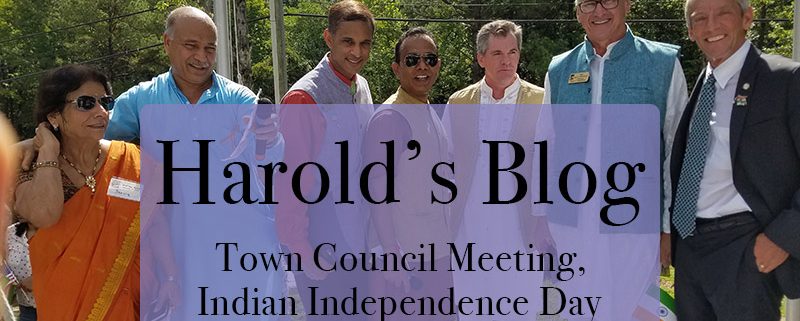 Cary, NC – This week's activities included a chamber event and a council meeting.
Monday – Agenda Planning
Monday I called council members to hear of concerns or questions about Thursday's agenda for the regularly scheduled council meeting. I was able to contact most of them and there were very few questions or concerns. The only issue seemed to be the CDBG (Community Development Block Grant) funding for Habitat. Later in the day I met with key staff members to go over the agenda. There was not much on the agenda so our meeting was short. I predicted our council meeting would last about an hour and a half.
Tuesday – Road Projects Taping
Tuesday I taped the next episode of Cary Matters with Don Frantz. Our topic was road projects and we did the taping in one take.
Wednesday – Cary Chamber of Commerce
Wednesday I joined all council members in the annual Cary Chamber Leadership dinner. Former Cary council members in attendance included Representative Gale Adcock and Wake County Commissioner Erv Portman. Others in attendance included Wake County School board members, Wake County Commissioners, and representatives from our congressional offices. Every year the chamber holds this event to thank its leaders at every level of government. I had the honor of speaking to the more than 100 people in attendance about the importance of partnerships at all levels of government. I believe Cary's success is largely dependent on the elected officials, town staff, the chamber, and business leaders working together toward a common goal of making Cary greater than it is today. Cary is blessed to have so many good leaders in our business community that are involved and engaged. My table included the next Chairman of the Cary Chamber, the General Manager of MetLife in Cary, the Senior Vice President of Wake Med in Cary, and a senior executive from AT&T. We had a great discussion that ranged from town projects to personal experiences. The event also had a surprise visitor, the future owner of the Carolina Hurricanes who pledged to move to this area. Thanks to the Cary Chamber for recognizing all our leaders.
Thursday – Town Council Meeting
Thursday the council held its first regularly scheduled meeting of the month. The agenda included one consent item, two public hearings, three discussion items, and a quasi-judicial hearing. Most of the speakers for the evening spoke at Public Speaks Out and were from the Scottish Hills neighborhood. Unfortunately, they made negative comments about the Habitat for Humanity organization that was recently rezoned for their neighborhood. They requested that CDBG (Community Development Block Grants) not be given to the Habitat organization and to be given to other organizations even though the apolitical staff process scored Habitat with the highest score. After much discussion, the council approved the staff recommended CDBG funding despite council member George's objections and criticism of Habitat.
Other decisions made at the meeting included the order to demolish a dilapidated structure on Marilyn Court, three new school speed zones, and modification requests from Cary Academy which were required for adding a new science building.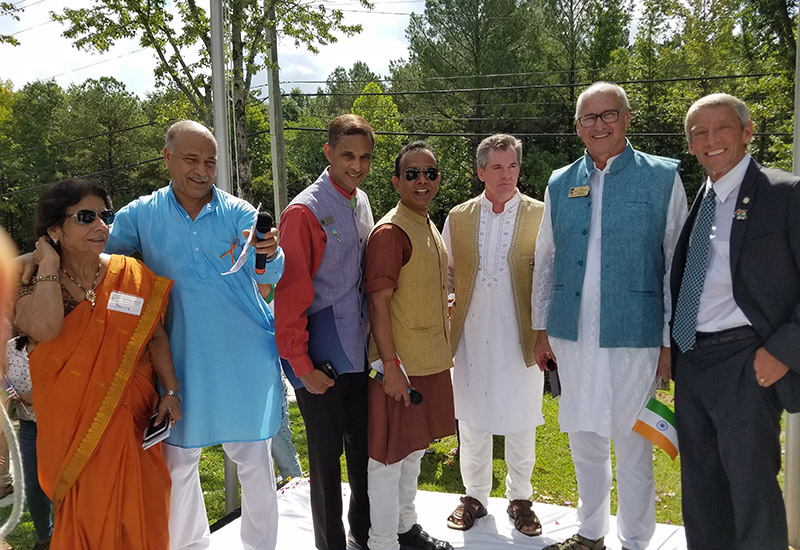 Saturday – India Independence Day
Saturday I had the honor and pleasure of being a part of India's Independence Day celebrations at the Hindu temple in Morrisville. I was joined by several dignitaries including the Governor, Secretary of State Marshall, Representative Adcock, Wake county commissioners, Mayor Pro-Tem Yerha, the Morrisville mayor and several Morrisville council members. First there was a small parade, followed by anthems for both countries, and then the raising of the American, India, and North Carolina flags. The crowd then headed to the fellowship hall to hear speeches and observe performances.
While I was at the India Independence Day celebration I was approached by a group called Skilled Immigrants in America. They wanted to make me and others aware that there are many highly skilled Indians (advanced degrees) that have been legally living and working in the US for over ten years. They are now stuck in a green card backlog with current wait times estimated between 40 and 70 years. At the same time wait time for applicants from other countries averages around a year. As a result they can't start a business or hire American workers, cannot freely invest in this country, and are limited in international travel. If they are laid off from their jobs they would have to sell all that they own and leave the country within 60 days. I promised I would mention their issue on this blog. It is a shame that our country has come to this. We probably need to change the Statue of Liberty quote of "Give me your tired, your poor, your huddled masses yearning to breathe free" to have a "Don't" at the beginning.
Town Manager's Report
The town manager's report this week included the following:
Pressure Zone Shift Completed

We have completed the second of a series of incremental pressure zone boundary shifts this week to restore central pressure to several communities in the vicinity of Davis Drive and High House Road. The pressure zone shifts, which provide an increase in pressure of approximately 40-psi, are part of a longer term plan for expanding the central pressure zone boundary to provide greater transmission capacity and redundancy within the pipeline network serving the central pressure zone. The first shift was initiated following a water main break at Waldo Rood Boulevard earlier this year. The pressure zone shifts are being implemented in stages to improve our ability to assist citizens with the pressure change. Additional incremental pressure zone shifts are planned next year and in subsequent years.

Pitching Ideas at the Hackathon

On Friday for two hours, hackers, pitchers and interested observers gathered at the Cary Arts Center to take ideas or problems and build solutions! Employees from all departments heard their colleagues pitch ideas and work through solutions with the help of teammates. Many of the pitches displayed a OneCary mindset that would benefit the entire organization. Thanks to The Garage Hackers for leading such an innovative and inspiring event.

NCDOT Stakeholder Advisory Committee Update

Last week Jerry Jensen attended a committee meeting with NCDOT to discuss planned improvements from I-440 from Wade Avenue in Raleigh to Walnut Street in Cary. This project is currently progressing through the Environmental Assessment Process. The basic concepts include widening the highway from four to six lanes, with major interchange improvements. In Cary, there are no changes to the planned interchanges at Walnut Street or the I-40/440/US-1/64. In Cary there should also be no right of way impacts planned and all road widening contained within the existing right of way.

Cary Ranked Top 10 Safest Place to Raise a Child

We're happy to report that SafeWise has released its updated 30 Safest Cities to Raise a Child for 2017 just in time for the school season. Cary ranked among the safest in the nation.

Coding and Viewing Party

Last weekend, 52 girls attended the Made with Code party hosted at The Cary Theater for a free coding event and viewing of the Oscar nominated film, Hidden Figures. This event was sponsored by Google and the National Foundation for Women Legislators with partnership from the Town of Cary. These viewing parties are held across the nation in an effort to encourage girls that are interested in coding and careers in STEM (Science, Technology, Engineering, Mathematics). Special thanks to Information Services for helping to make the event so successful.

City Hall Selfie Day 

Tuesday, August 15 is #CityHallSelfie Day across the country. This is a great opportunity to show the virtual world just how great it is to work in Cary where we're coming together to create the local government that doesn't exist.

Using personal social media accounts on Twitter and/or Facebook, tag your photo with #CaryNC and #CityHallSelfie. We'll be posting throughout the day on the Town's official accounts. In addition, there's a contest through www.ELGL.org to capture specific types of local government selfies.

Recognitions

The attached excerpt is from a book entitled Daring Greatly by Brene Brown. The particular passage touches on some of the themes we have been talking and thinking about as a group. Being open and vulnerable with one another will make us all stronger. Thanks to Dan Clinton for pointing this out.

And a shout out to Jeff Adkins for publishing in the trade magazine, NC Currents, about Cary's reclaimed program. The article touches on the Town's approach to customer service, operational challenges and planning for our future.
Emails From Citizens
Emails from citizens this week included the following:
Comments about the White Oak rezoning proposal
A complaint about a penalty being assessed for not paying a water bill
Complaints from Scottish Hills residents about proposed future funding of Habitat
A concern about the Piney Plains rezoning
Support for demolishing a dilapidated house on Marilyn Circle
A safety concern about construction on NW Cary Parkway
Next week's activities include meetings with architects and designers for phase two of the downtown park, a CAMPO (Capital Area Metropolitan Planning Organization) meeting, and a trip to Atlanta to observe development issues.
Get In Touch
Well, that is all for this week. My next post will be on Sunday, August 20th.  Although I have Facebook and Twitter accounts those are not the best means of communications with me. Please send all Town of Cary questions or comments to Harold.Weinbrecht@townofcary.org and email personal comments to augustanat@mindspring.com.
---
From the blog of Cary Mayor Harold Weinbrecht. Photos courtesy of Harold Weinbrecht.
https://carycitizenarchive.com/wp-content/uploads/2017/08/HaroldBlog-Aug14-Featured.jpg
550
800
Harold Weinbrecht
https://carycitizenarchive.com/wp-content/uploads/2020/03/cc-archive-logo-450-v3.png
Harold Weinbrecht
2017-08-14 10:20:33
2017-08-14 10:09:23
Harold's Blog: Town Council Meeting, Indian Independence Day and More