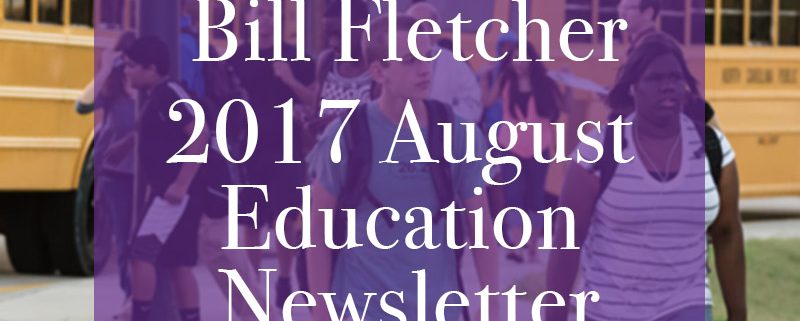 Cary, NC – Thoughts for August 2017 from Bill Fletcher, Member of the Wake County Board of Education.
Traditional Calendar Schools Open August 28. Teachers Report August 17
Another 120,000 students will experience their first day of the 2017-18 school year on Monday, August 28. Yellow buses will provide safe transportation to and from school for more than 80,000 students daily. Approximately 1,000 new teachers will join the Wake Teacher Corps to serve an expected 160,000+/- students. Excellent teaching with challenging curriculum begins immediately!
The 4Cs are Everywhere and in Everything!
Teaching students the "soft skills" has become integral to the classroom experience in Wake schools. Learning to collaborate, to think critically, to be creative in finding solutions to problems and communicating effectively with others is becoming "just how we do things here!"
"What Starts Here Changes Everything!"
How would you summarize the impact of our school system on the lives of our students and community? This new slogan does it well!
Budget Challenges Remain!
So how much money does it take to meet the needs of every child and produce competent, qualified graduates? The Board of Ed is reconciling a difference of $25 million between stated needs and available funding for 2017-2018. That plan included increased support for students with behavior challenges, expanded vocational programs (now called CTE-Career Technical Education), improving bus driver pay, addressing challenges for students with ACEs, etc. So what do our benchmark Districts budget?
| School System | 2013-14 Enrollment | Per Pupil Spending |
| --- | --- | --- |
| Montgomery Co, MD | 151,295 | $15,821 |
| Fairfax, VA | 182,417 | $13,994 |
| Philadelphia, PA | 137,674 | $10,352 |
| Gwinnett Co, GA | 169,150 | $9,270 |
| Duval Co, FL | 127,653 | $8,831 |
| Wake Co, NC | 153,534 | $7,810 |
Source: https://www.census.gov/govs/school (Most recent national data available)
Learn More about Adverse Childhood Experiences (ACEs)!
See the Resilience Movie! to better understand many of the challenges facing a significant portion of our student population. Free showings on the second Wednesday of the next six months – September thru February – at the IMAX theater at Marbles Kids Museum. Show times are 8:30 AM. Admission is FREE.
PSAT to be Offered in October
Several years ago the State changed the required college prep test from SAT to ACT. Consequently, most students take the pre-ACT. A few students also take the Pre-SAT at their own expense. This year, the PSAT will be offered on a Wednesday in October in Wake high schools. Interested students should coordinate with their school counselor.
Students Taking NC Math I in 8th Grade Can Skip 8th Grade EOG
Great news for students who until this year had to take both the end-of-course (EOC) for Math I and the 8th grade end-of grade (EOG) test. But expect to see a dramatic change in 8th grade EOG proficiency rates because the high-flying students no longer take the EOG test. The new proficiency numbers will expose an alarming number of under- performing students. Shortfall data always hurts – and then it informs. Time for middle schools to take some different approaches to math proficiency.
Factoid # 34
Wake elementary school principals are planning for the new state-mandated class sizes of 18- 16-17-17 students for K-1-2-3 classrooms respectively in 2018-19. After scrubbing enrollments against classrooms and planning to use strategies such as combo classes and converting specials to "Art on a Cart" and "Music on a Cart", Wake will still needs to find seats for several thousand more children by next August.
Parent chats (except on holidays)
1st Thursday – 1 PM
Cary Chamber, 315 N Academy St., Cary
3rd Monday – 11 AM
Caribou Coffee shop, 109 SW Maynard Rd., Cary
Bill Fletcher school info: BFletcher@wcpss.net || Voice Mail: 919-694-8843 || Mobile: 919-880-5301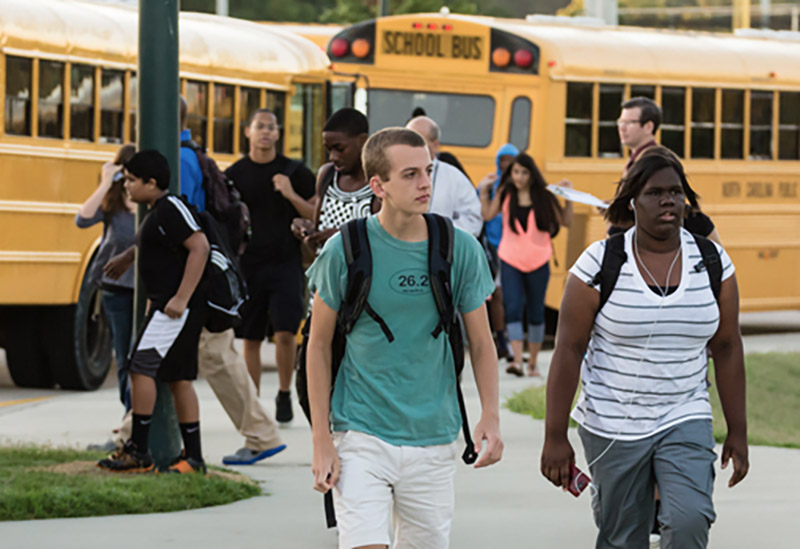 ---
Story by Bill Fletcher, Member Wake County Board of Education. Table courtesy of Bill Fletcher. Photo courtesy of Wake County Public School System. Content on CaryCitizen sponsored in part by LearningRX.
https://carycitizenarchive.com/wp-content/uploads/2017/08/BillFletcher-Aug2017-Featured.jpg
549
800
Bill Fletcher
https://carycitizenarchive.com/wp-content/uploads/2020/03/cc-archive-logo-450-v3.png
Bill Fletcher
2017-08-17 11:17:02
2017-08-17 11:17:02
Education: Bill Fletcher 2017 August Newsletter