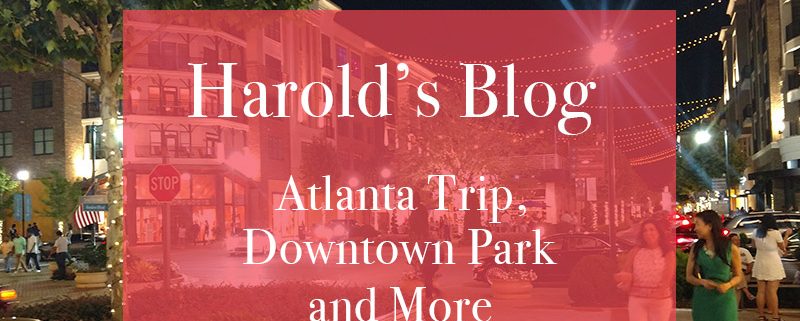 Cary, NC – This was a busy week with a trip to Atlanta being the highlight.
Monday – Downtown Park Design
Monday I met with the town manager for our one-on-one meeting to go over current issues. One topic we talked about at length was the violence going on in Charlottesville, Virginia. While I know bigotry, hatred, and ugliness exists everywhere I pray that it doesn't raise its ugly head here. Nevertheless, we continue to prepare in case it does.
Later Monday I joined staff members and some council members to meet the third of four consultant groups interested in designing the final phase of the downtown park. This group, like the others, had ties to North Carolina. They mostly asked questions and listened. The other consultants engaged more in conversation. It will be very interesting to see their upcoming proposal.
Wednesday – Transportation Plan
Wednesday I attended a meeting of the executive board for CAMPO (Capital Area Metropolitan Planning Organization). Our agenda had two public hearings and one discussion item. Our first public hearing was on fiscal year 2019 LAPP (Locally Administered Projects Program). The staff presented the percentage mix for modal investment in transportation. Projects will be submitted for consideration until the end of October. Our second public hearing was the SPOT 5.0 modal candidate project list that covers a decade. SPOT is the long term plan and usually is big projects such as the Harrison Avenue bridge over the railroad tracks. Some of the projects in the priority list moved from the last five years of the decade to the first five years because of NCDOT's commitment to spend down some of the two billion in reserves. Our discussion item was a review of the 2045 Metropolitan Transportation Plan. There were three scenarios presented: do nothing, do everything, or do something in the middle. Of course the doing nothing scenario creates a traffic nightmare and the do everything scenario is cost prohibitive so the committee approved the do something in the middle scenario. After informational items our meeting concluded after about one and a half hours.
Thursday – Downtown Park Planning
Thursday I once again joined staff members and some council members to meet the last of the four consultant groups interested in designing the final phase of the downtown park. This group, although based in Brooklyn, seemed to have a great understanding of what Cary was about and what we were looking for. My interactions with them were mostly answering questions. They seemed very interested in getting to know the back stories of why things were and what we were hoping for in the future.
Thursday night I caught a flight to Atlanta to see a project in Alpharetta similar to what is being proposed in our Eastern Gateway. I was joined by all council members but Smith.
Friday – Atlanta
Friday we met with Columbia Development and all of their partners in the Avalon project of Alpharetta to hear their thoughts of how they felt a similar project would work in Cary's Eastern Gateway. We spent the morning asking questions of developers, designers, architects, and city officials. In the afternoon we toured and explored Avalon to see some of its unique features. Some of the unique features I thought were interesting included:
The restaurants and bars in the center of the main street in addition to being on each side of the main street.
The multiple rooftop areas for the restaurants and bars.
The various unique "rooms" for seating and relaxing.
Tunnel like areas that led from the main street to parking which was another separate place to relax and enjoy.
It will be interesting to see if any of these features are offered at conditions to their forthcoming proposal.
Friday night the group visited the Battery where the new Atlanta Braves stadium is located. Since there was a game it atmosphere was more party oriented. But again that was a development with a mainstreet feel.
The trip was a success in the sense that you feel better about what they are planning to propose. That is, we have seen proof of what this team can build that is similar to what is being proposed.
Town Manager's Report
The town manager's report for this week included:
Wake Transit Implementation

Town staff attended Wake Transit's Implementation Stakeholder's Workshop on Wednesday at the Raleigh Convention Center. The workshop focused on public outreach and engagement. The main takeaway points were to establish a framework for the public engagement process as well as determine the way to reach target audiences: local workers, employers, elected officials, millennials, students, and senior citizens.

The second half of the workshop centered around Major Investment Studies (MIS) and Multi-Year Bus Service Implementation Plan (MYBSIP) for FY2018. The MIS will provide transit operating agencies a prescribed list of priorities for short and long-term service expansion opportunities. On the other hand, the MYBSIP will potentially allow GoCary to expand bus service in West Cary (between O'Kelly Chapel Road and Green Level Church Road through McCrimmon Parkway). Western Cary is a priority of Imagine Cary – along with the MYBSIP Plan for transit expansion, and the proposed plans will determine when to implement feasible service.

SHUNK USA Groundbreaking

Mayor Pro Tem Ed Yerha made comments at the groundbreaking for SHUNK USA's new 41,000 sq. ft. building expansion on Kitty Hawk Drive. The expansion will add manufacturing, office and training space. Council Member Ken George also attended along with Rep. Joe John and Morrisville Council Member Michael Schlink. After the groundbreaking, Milton Guerry, President of SHUNK USA, provided information about the products that SHUNK provides to manufacturers across the globe.

Shunk is an industry-leading clamping and gripping components manufacturer. At the Cary facility, they primarily manufacture gripping components – parts for machines (robots) that are used in all types of manufacturing.

Raleigh-Wake Home Builders Presentation

On Wednesday, I joined Scot Berry and Ken Hawley to present to the Raleigh-Wake Home Builders Association (HBA) Governmental Affairs Committee Meeting. I shared a bit on my career background, leadership philosophy and Cary's future development outlook as outlined in the Image Cary Community Plan. Scot spoke about the evolution of the Development Services Department and on-going initiatives to improve the effectiveness and efficiency of the development process in the Town of Cary. We discussed both short and longer term efforts, such as using technology to better track reviews, streamlining workflows, and developing a knowledge base. Ken gave an overview of FY17 Inspections & Permits numbers. During FY17 staff performed approximately 80,000 inspections (99.77% were completed on the day they were scheduled), and over 37,000 plan review steps (at a 94.1% timeliness rate). The HBA Committee asked several questions which resulted in a very productive dialog.

#CityHallSelfie Day

On August 15 the Town joined municipalities across the country in marking #CityHallSelfie Day, a day for municipal workers to snap a selfie while at work. Across Facebook and Twitter, we had a total of 19 selfies shared by Town employees, reaching over 21,700 social media users. I want to thank staff who joined in the fun, and show appreciation to Council member Lori Bush for participating, too. You can read more about the one-day event on ELGL's website.

Recognitions

Congratulations and recognition go to Town Attorney Chris Simpson for participating and graduating from UNC School of Government's Public Executive Leadership Academy (PELA). Chris attended PELA along with other senior management officials from cities across North Carolina. We look forward to learning more about her experience!
Emails from Citizens
Emails from citizens this week included:
A concern about safety with the Cary Parkway construction
A thank you for sidewalk construction on West Cornwall
Concerns about the White Oak rezoning proposal
A request to change traffic signal timing at High House and Lilly Ridge Road
A traffic concern on O'Kelly Chapel Road
A request for my opinion on what Cary will do with laws related to cannabis (our authority is from the legislature and we do not have authority to consider such a law)
A request for roads to be funded by CAMPO (Capital Area Metropolitan Planning Organization)
A request to approve the IKEA proposal for the mall site (I currently don't know of any opposition to this request)
A complaint about fiber installation digging up a yard
A complaint about the Cube Smart facility along Highway 55
Next week will be a busy week. Activities include a Mayors Association meeting, a work session on board appointments, a meet-and-greet with members from one of our sister cities, a regularly scheduled council meeting, many small meetings, and Lazy Daze.
Get In Touch
Well, that is all for this week. My next post will be on Sunday, August 27th.  Although I have Facebook and Twitter accounts those are not the best means of communications with me. Please send all Town of Cary questions or comments to Harold.Weinbrecht@townofcary.org and email personal comments to augustanat@mindspring.com.
---
From the blog of Cary Mayor Harold Weinbrecht. Photos courtesy of Harold Weinbrecht.
https://carycitizenarchive.com/wp-content/uploads/2017/08/HaroldBlog-Aug21-Featured.jpg
550
800
Harold Weinbrecht
https://carycitizenarchive.com/wp-content/uploads/2020/03/cc-archive-logo-450-v3.png
Harold Weinbrecht
2017-08-21 10:31:33
2017-08-21 09:42:10
Harold's Blog: Atlanta, Downtown Park and More