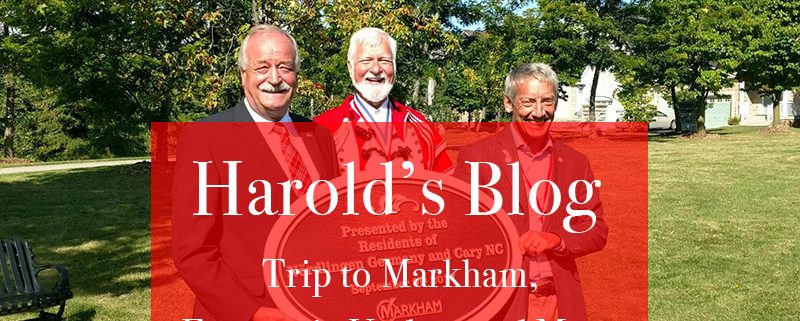 Cary, NC – This week was a holiday week including a trip to our sister city Markham, Canada.
Monday – Labor Day
Monday I enjoyed Labor Day like many Americans by laboring at my house doing yard work. I did take some time out to enjoy the day and rest.
Tuesday – Local Non-Profit
Tuesday I interviewed with a recruiter who is looking for fill the director position for Lifetime Experiences. Life Experiences is a nonprofit organization that blends education and training into a business it operates for adults with developmental disabilities, allowing them to function as independent, productive citizens. We are blessed to have such a great organization in our community. In my conversation with the recruiter I expressed a desire to get this organization more involved in the business community. The interview lasted about half an hour.
Wednesday – Cary's Economic Development
Wednesday I met with Cary's Economic Development Committee. Joining me from council were Jack Smith and Jennifer Robinson. Also attending were the town manager, public information officer, citizen representatives, the Chamber president, and the Vice President of Economic Development. First we talked about the town's branding initiative which is needed as we continue to recruit companies worldwide. From our Request for Qualifications we had 18 submissions. That will be narrowed down to hopefully 4 to 6 which the committee will review at our next meeting. Eventually we will make a recommendation to council who will choose the branding firm. The committee also went over the quarterly report. Here are some of the items in that report:
Hogana Environment Solutions is now headquartered in Cary. They are a Swedish company with 1,800 employees worldwide.
Highwoods Properties has opened a new building at CentreGreen with 250,000 office space in Weston.
The MidTown Square building next to Bond Brothers Brewery is now fully leased.
SAS has been in meetings to discuss possible ways we could partner with them and utilize their software to aid in economic development.
The town's tech services has been working to make the Town Hall Campus a "Smart Campus".
Awards in the last 3 months include: #8 easiest place to sell a home in North Carolina, #10 safest city to raise a child, #5 state for business, and #4 best city for first time buyers.
We are currently working on 10 active projects with the potential for 5,200 jobs and over $278 million in new investment.
Class A office vacancy has now dropped to 6.24% which is considered low.
The unemployment rate in Cary is 3.33% compared to Wake County at 3.6%, North Carolina at 4.5%, and the nation at 4.6%.
Our meeting concluded after about an hour.
Thursday – Trip to Markham
Thursday I was joined by the Mayor Pro-Tem, three council members, three staff members, and two members of the sister cities commission in a visit to our sister city Markham, Canada. The purpose of this trip was to observe their three day 150 year celebration and to visit and talk with several international businesses in the interest of economic development. Our Cary delegation was joined by a delegation from Nordlingen, Germany which is also a sister city of Markham. They were there to help celebrate Markham's 150.
Friday – Sister City
Friday started with a visit to Markham Convergence Center. This is an innovation center similar to ones we were familiar with except that it was sponsored and housed by IBM. According to the spokesperson IBM he believes that helping startups with providing space and software will result in positive returns in the future if these businesses are successful. That is, these new businesses are likely to use their software and be loyal to the IBM brand. That is an interesting concept that could be tried by companies like SAS.
Next we visited Huawei of Markham pronounced Wa Way. Huawei is a Chinese IT company which is one of the largest mobile providers in the world including software and hardware. There was a presentation made and then several demonstrations of how they will use their software and equipment in the 5G networks which is in the near future. It is my understanding that the information from their products is stored in their cloud. This means they have access to all the information from all their customers. This is a privacy concern in the United States and is the primary reason they have little presence in the United States. They have a huge presence in Europe in areas like Germany and of course in China.
For lunch we visited an historic area of Markham called Unionville. A large number of the buildings in this area were around 100 years old or older. We actually ate lunch in a repurposed building that was at one time a funeral home. Most of the businesses on the main street of Unionville were restaurants and bars. The reason given for that was that it was too difficult to keep retail viable in the area with such small buildings.
Later in the day we went to the new downtown center of Markham. This area was a mixed use made up of several high rises. The demand to live in this area created extremely high housing prices with condos going for over a million dollars. As Cary develops areas like the Eastern Gateway we must be careful not to create an environment that is unaffordable for most people.
In the evening the group joined the Mayor of Markham for dinner. The Mayor from Markham, Nordlingen, and I all gave remarks. After the dinner the group revisited Unionville to a celebration in an outdoor theater. This was part of their three days of celebration.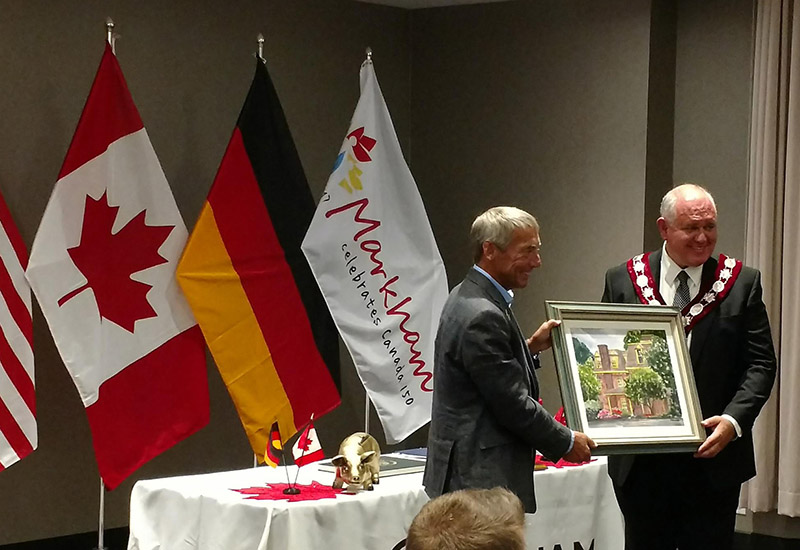 Saturday – Markham's History
Saturday began with a visit to Heritage Village of Markham. Markham puts a lot of value is their historic properties. So they decided to create a neighborhood made up of these properties. Structures of all ages and architectural styles were moved to this area, restored, and occupied. Signage was provided in little pocket parks for each street to give the history of each home. I thought this was an excellent idea that we should consider for Cary.
Later Saturday morning we visited Nordlingen Park named for the sister city from Germany with close ties. We posed for a picture with a plaque recognizing Cary and Nordlingen. I should note that Nordlingen and Markham have several citizens that have lived in both municipalities and have contributed to relationship. A tree was dedicated to commemorate the visit from the Nordlingen delegation.
For lunch the group visited a women's golf club. It is believed to be the only women's golf club in North America. Afterwards the group visited the Berczy Park for a dedication of a statue in honor of Berczy who is the founder of Markham.
Later the group attended a dinner at the hotel where we were staying. At this dinner all three mayors gave remarks and we exchanged gifts. Cary gave a painting of the Page Walker to Mayor Scarpitti of Markham, a glass bowl with the town seal to Mayor Faul of Nordlingen, and a print of Cary historic sites to our Town Crier Webster of Markham who is also the Cary town crier.
After dinner all delegations were invited to a concert at the civic center across the street. This was the second day of their celebrations.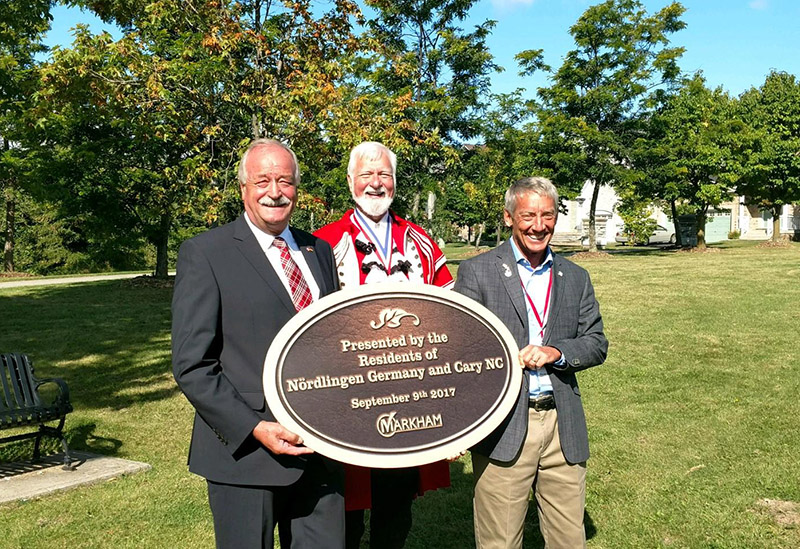 Sunday – End of Markham Trip
Sunday started with a visit to the Markham museum. The first floor of this museum was mostly dedicated to interactive exhibits. Next the group visited the classic car show in the Markham village. This is the part of Markham that was the original downtown of Markham and is filled with many historic structures.
The group then headed back to the area of the civic center to participate in their parade. I rode in a car while council members and staff carried an identification banner, a flag of Cary, and the United States flag. The parade ended at the civic center where I joined several other dignitaries from their Parliament as well as from their council. We then were led in a procession to the stage where several of the dignitaries gave speeches. After the speeches I excused myself and the Cary delegation left for the airport to catch our flight home.
This was a very informative trip for me with several thought provoking issues. For example, they had significant new development in two areas with mid-century homes in between. As these areas developed the mid-century homes couldn't afford to move. Once developed the demand became so great to live in the area that the mid-century homes values skyrocketed. I can see this potentially happening between downtown Cary and the Eastern Gateway.
Markham is twice the size of Cary. They have experienced and are experiencing issues related to development and growth that Cary could face as we grow in population. Like Cary they are focused on economic development, value their historic structures, and embrace their diversity. Their diversity is more profound than Cary's with most of their residents born in other parts of the world. With the values we both share Cary and Markham can learn from each other's experiences. We created strong relationships during this visit to Markham which could pay dividends in many ways especially in economic development. In addition, we were also able to create a good relationship with the Nordlingen delegation which I hope to explore further.
Town Manager's Report
The town manager's report this week included:
Hurricane Irma Preparations
Staff met Thursday and Friday to review the ever-changing Irma forecast and make preparations as necessary. By end of business today, we'll have finished checking and clearing large culverts and areas prone to flooding. We've also checked and cleared blockages from greenway bridges, and Town utility plants are ready to implement High Flow Management plans if needed. While the track seems to continue westward, we're following our inclement weather directives. We'll keep an eye on the forecast this weekend and scale our efforts as appropriate come Monday. At this time, programs and facilities are operating as regularly scheduled.
The forecast is clear this weekend; as we've prepared our Town facilities, I encourage you and yours to prepare your home and family as you see fit should heavy rain or high winds arrive early next week.
Branding Project Update
Following the August 31 deadline for submissions, we have received an amazing 18 responses to the Community Branding RFQ from seven states. This is an incredible response, much more than I expected. We are evaluating each based on the RFQ's technical requirements to determine whether any is non-responsive. Once the qualified pool is established, I will refer the top four to six firms to the Economic Development Committee for their evaluation and recommendation. As we did with the downtown park finalists, we will bring in the branding finalists to get to know Cary and meet the Town Council. This should occur after the first of the year.
Economic Development Committee Update
On Wednesday, the Committee received a development update from Kyle Greer at the Chamber. Some highlights to note include:
Since the beginning of 2017, nine projects have been won with a 1,600 new jobs and $176 million in new investment. The jobs and investment are divided relatively equally between new and existing companies.
Cary ED is currently working on ten active projects that account for over 52,00 new jobs and over $278 million in new investment
Class A vacancy rate in Cary is down to 6.24%
Cary's unemployment rate of 3.3% is lower than the national, state and county averages (4.6%, 4.5% and 3.6% respectively)
Trilliant Ribbon Cutting 
On Thursday, Council Members Robinson and Bush were joined by Town staff at Trilliant's ribbon cutting ceremony with Governor Cooper at their headquarters in Cary. As part of the ceremony, Trilliant showcased Cary's Simulated Smart City Lighting Pilot.
The Smart Citing Lighting Pilot will include replacing seven light fixtures on the utility poles in the courtyard area of Town Hall Campus. The light fixtures will be provided by Atlas lighting products and Trilliant will provide the Internet of Things (IoT) Sensors, base radio collector, network to cloud application, dashboard and installation/configuration of all components. This will allow us to test remote light control capabilities and use the data to balance sustainability efforts and public safety.
Recognitions
Recognition goes to our newest STAR Spot recipient, Katie Drye! Katie has consistently demonstrated technical expertise, persistence and adaptability in her work facilitating the rezoning process for our citizens.
Emails From Citizens
Emails from citizens this week included:
Concerns about stormwater issues in Williamsburg Commons
Several requests to pursue Amazon's second headquarters (we are already doing this)
A question about the use of drones in Cary
A request for information about Cary's hurricane shelter (we did not believe there was a need in Cary)
Several requests to attend events
Next week's activities will include The Cary Tennis Championships, a regularly scheduled council meeting, a ribbon cutting, remarks at a workshop, an opioid event, the Cary Chamber's banquet, Bond Brother's 5K fundraiser, and a Good Hope Farm event.
Get In Touch
Well, that is all for this week. My next post will be on Sunday, September 17th.  Although I have Facebook and Twitter accounts those are not the best means of communications with me. Please send all Town of Cary questions or comments to Harold.Weinbrecht@townofcary.org and email personal comments to augustanat@mindspring.com.
---
From the blog of Cary Mayor Harold Weinbrecht. Photos courtesy of Harold Weinbrecht.
https://carycitizenarchive.com/wp-content/uploads/2017/09/HaroldBlog-Sept11-Featured.jpg
549
800
Harold Weinbrecht
https://carycitizenarchive.com/wp-content/uploads/2020/03/cc-archive-logo-450-v3.png
Harold Weinbrecht
2017-09-11 10:30:44
2017-09-11 09:52:06
Harold's Blog: Trip to Markham, Economic Update and More