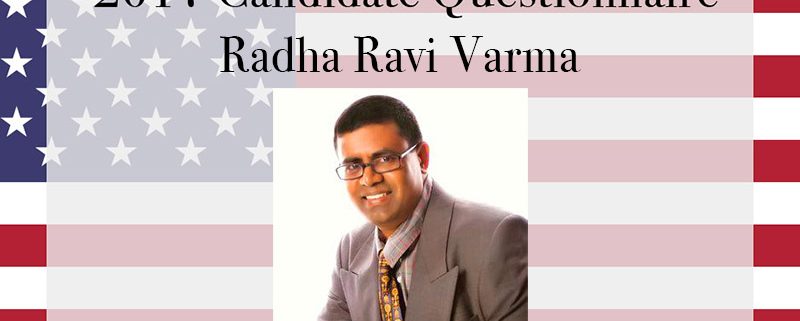 Cary, NC – This is an installment in our Candidate 2017 series, in which candidates get to respond in their own words to the same three questions.
We publish the responses in the order we receive them. This questionnaire is submitted by Radha Ravi Varma, running for District A on the Cary Town Council.
Why are you running?
I am running for Cary District A (West Cary) Council because I love my Town and would be honored and humbled to participate in its future. With your support, I promise to work diligently and intelligently to make Cary the best town to live in. It is well known that our town has numerous issues that influence its future and the quality of our lives. As a well-regarded community, we should openly discuss these issues, and construct the best solutions within our budget to turn Cary into a beacon of service and pride for other cities to emulate.
To Save Our Lives, Our Town, and Our Planet.
What are your top three priorities and how will you accomplish them?
With all your support, I propose to:
Completely eliminate home invasions and break-ins
Attain the highest level of safety where we live, work, play, and our children study
Protect surging property values by ending aggressive overdevelopment in West Cary
Completely ban new home development in West Cary until caps are removed from all schools
Ban plastic bags and other non-recyclable plastic items and adopt water free, fertilizer free organic lawns (around our homes, schools, offices, greenways, parks, and roadsides) to conserve water resources and preserve & protect our environment
Provide four lane access roads at all schools – West Cary has 3 high schools and the largest middle school in Wake County within a 5-mile radius. School transportation creates excessive noise and traffic around our homes which may degrade the quality of our lives, property values, and environment.
Make Cary once again the No. 1 place to live and work. According to Money magazine, Cary was the No. 1 place to live and work in 2004 but the same magazine dropped our city to No. 37 in 2016
Reduce the highway 540 toll and collect a fair fee on the entire 540 Loop
Save Our Lives, Our Town, and Our Planet!
Give us a brief bio and tell us about your relevant experience
I am an honest, trustworthy, open minded, nature lover, and easy-going person. I have a great love and respect for my family, my fellow families and the environment that we all share. Like many others who live in our Town, I also prefer a quiet and harmless environment in which to live and work.
I hold a Master's Degree in Power Systems Engineering and a Bachelor's Degree in Electrical and Electronics Engineering. I have worked as an educator, software engineer, and mentor, and currently working as software developer, real estate broker, and a real estate investor.
I moved to the USA 19 years ago and have lived and worked in California, Ohio, Massachusetts, Washington, and Oregon. I have been a frequent visitor to Cary since 1998 and finally moved here in 2013 to raise my children in this wonderful environment.
I have been married to my wonderful wife, Indradevi for 17 years. My wife is a pharmacist and she has been volunteering in a school since 2014. We have two wonderful daughters, Harini – a high school sophomore and Varshini – a third grader.
My hobbies include reading, handyman work, farming, gardening, oil-free cooking, and listening to and learning music.
Save Our Lives, Our Town, and Our Planet!
Website: http://radharavivarma.com/
---
Read more in the Candidate 2017 series.
https://carycitizenarchive.com/wp-content/uploads/2017/09/Questionnaire-Radha-Ravi-Varma.jpg
550
800
Community Contributor
https://carycitizenarchive.com/wp-content/uploads/2020/03/cc-archive-logo-450-v3.png
Community Contributor
2017-09-13 13:03:13
2019-12-08 15:29:47
Candidate Questionnaire: Radha Ravi Varma