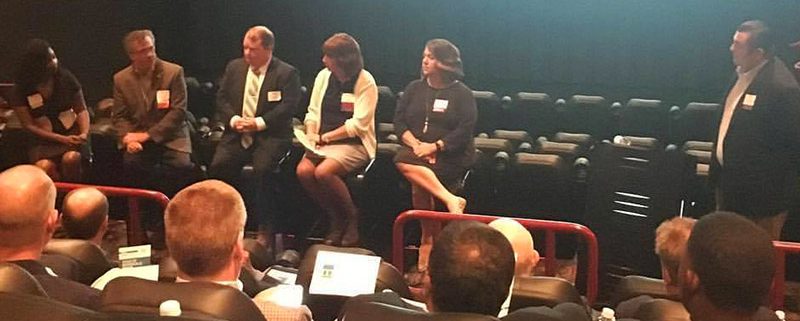 Cary, NC – Wake County now has more than one million people living here, and while that means economic opportunities, it also presents many challenges for limited land and resources. This year's State of Morrisville discussion centered on town and county officials talking about these challenges and potential solutions.
67 People Every Day
The 2017 State of Morrisville event, on Wednesday, September 13, started with the current data on Wake County's population growth. By 2054, the population is projected to reach two million, and that's if the rate of births and migration does not increase. Additionally, Wake County Commissioner Jessica Holmes, who represents Morrisville in District 3, said 67 new people are added to Wake County every day, a third of whom are born here.
"We're birthing a kindergarten class every day," Holmes said.
This poses challenges for the future of Morrisville, Cary and all of Wake County. As Holmes said, the space for a new kindergarten class cannot be built every day and available land is becoming harder to find and more expensive when it does turn up.
"If you have property you want to sell, you want the best bid," Holmes said.
Holmes said that a new state mandate to cap classroom size puts more pressure on the need for new schools. She added that more mobile classrooms would likely fill the need.
Another concern associated with large amounts of growth is housing. Holmes said the vacancy rate in Wake County is around 2 percent and landlords have more leverage to pick their tenants.
"The housing issue is not just a problem for people who make minimum wage now," Holmes said.
Housing is also a question Morrisville Planning Director Courtney Tanner said is part of the thought process with any new development.
"With any economic development, we have to ask where these people are going to live and how long is someone going to have to sit at a traffic light?" Tanner said.
With more people, said the panelists at the State of Morrisville, comes more of a traffic squeeze and improving roads can be a challenge on those hardest impacted roads.
"For Morrisville, heavy congestion roads are often state roads and historically it has been hard to get funding for those," said Benjamin Howell, Morrisville's long range planning manager. Howell also added that there are no county roads in Wake.
Possible Solutions
While the panel outlined challenges for Morrisville and Wake County at large, they also addressed some local solutions. Included in that are a number of transportation improvements.
Those included widening Morrisville-Carpenter Road and Aviation Parkway, the Wake Transit plan to expand bus routes and bus stops and the McCrimmon Parkway extension, which Morrisville Mayor Mark Stohlman said will be a four-lane road with a median, sidewalks and a bike lane.
There are also local development and transportation plans in the works in Morrisville. Tanner said new changes to development and building codes will be out in the next eight months.
"Our current code is written as if all land is green and easy to develop," Tanner said. "It's not."
Martha Paige, Morrisville's town manager, said that because Morrisville is landlocked, it will develop differently than other towns and cities, thus any plans need to take that into consideration.
Holmes said there are still other challenges, such as water usage and what to do with trash generated by new people. She said Wake County is working to foster partnerships with state or municipal agencies in order to share resources and come up with better solutions.
"No one can solve growth problems alone," Holmes said.
At the same time, Mayor Mark Stohlman said the political landscape can make work difficult but does not think that is the case for Morrisville.
"We're a local example of avoiding partisanship," Stohlman said.
---
Story by Michael Papich. Photos by Hal Goodtree, Lindsey Chester and Michael Papich. Community coverage sponsored in part by Waverly Place.
https://carycitizenarchive.com/wp-content/uploads/2017/09/StateofMorrisville1.jpg
550
800
Michael Papich
https://carycitizenarchive.com/wp-content/uploads/2020/03/cc-archive-logo-450-v3.png
Michael Papich
2017-09-14 15:54:59
2019-12-08 15:29:47
State of Morrisville Looks at Problems Associated with Fast Growth