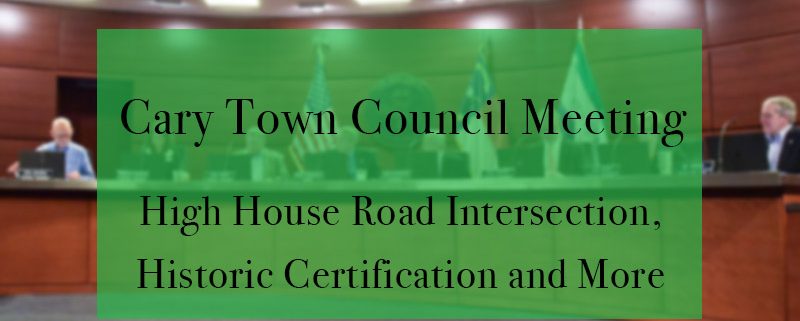 Cary, NC – The latest Cary Town Council regular meeting saw little discussion from residents as Town Council voted on a number of procedures related to road work and utilities in Cary, among other things.
High House Road and Cary Parkway Intersection
One of Cary's busiest intersections is at High House Road and Cary Parkway. While this plan has been in the works for many years now, Jerry Jensen, director of Transportation and Facilities in Cary, came before Town Council to say the project hit an obstacle.
When the town advertised the project to improve the intersection by adding more lanes and putting in aesthetic touches, they only received one bid and Jensen said it was nearly 50 percent more expensive than they estimated it should be. They have not been able to get other bids and Jensen asked Town Council to vote to reject the bids.
The reason the project got so few bids, Jensen said, is because it is a difficult project. The intersection gets nearly 55,000 vehicles passing through it each day, it is in a tight area and there are many utilities buried underneath. Also, the labor market for construction is currently shrinking and contractors are at capacity and do not need to pick up these difficult projects.
For now, town staff will continue to look at the project, change the construction schedule so it can be easier for contractors and they are in the process of relocating buried utilities. Town Council voted unanimously to reject the bids.
Historic Preservation Program
The Planning Department presented Town Council with an opportunity to get Cary Certified Local Government (CLG) status under the National Park Services' Federal Preservation Program. This application has already been approved by the North Carolina State Historic Preservation Office.
Only fifty towns and cities in North Carolina are currently given this CLG status.
Before the vote, Councilmember Ken George asked if this could potentially tie the council's hands for future projects. For example, if Cary Elementary had been designated as a landmark when Cary had the CLG status, he questioned whether it could have been turned into the current Cary Arts Center with the additions and renovations it has now.
Town staff said those changes could still have been possible, but added that this vote is just for the CLG status and decisions about what buildings become landmarks is still up to Town Council and they can make that decision on an individual basis. Town Council voted unanimously to endorse the terms of Cary's participation in the CLG program.
Other Discussion Items
Town Council also voted for four projects to be considered by CAMPO for funding in the fiscal year 2019 budget. These projects are to widen Reedy Creek road, work on Stage Three of the Higgins Greenway, set up a Connected Vehicle System which controls traffic signals and monitors roadway conditions and the construction of a Downtown Multimodal Center for buses and eventually rail transit. Town Council approved these items unanimously.
On the subject of roads, Town Council also voted to approve a bid award for road improvements aimed at reducing congestion. These would:
add two turn lanes to the Cary Parkway/Evans Road intersection and the Cary Parkway/Kildaire Farm Road intersection
add one turn lane to the Maynard Road/High House Road intersection
add one turn lane and reconstruct the turn radius on the High Meadow Drive/Cary Parkway intersection
Part of the funding, $1.8 million, would come from this month's bond sale. Town Council approved the bid unanimously and construction is set to start this Fall.
Finally, Town Council voted on the bid for constructing a new raw water transmission pipeline. This would be approximately six miles long, connecting to the Chatham County raw water line. Town staff said this would allow Cary to transfer additional water from Jordan Lake while also saving energy in transportation.
Councilmember-At-Large Lori Bush voiced concerns that this proposed line may be too close to the existing raw water lines.
"If you hit that, you're hitting all three," Bush said, citing a 2017 power outage in the Outer Banks when power lines that were close together were all hit.
Town staff said they felt the lines were far enough apart because one is buried and one is not, also saying the way the lines entered the water plant will assure resilience.
Town Council voted to approve the bid, around $15.4 million, unanimously.
Public Hearing
There was one Public Hearing to rezone land on Chapel Hill Road to Transitional Residential Conditional Use. The purpose is for semi-detatched and attached dwellings and would be 2.8 acres.
This project is near other ongoing developments and there were no speakers for the Public Hearing. It was then passed on to the Planning and Zoning Board for their recommendation.
Public Speaks Out
There were only two people at Public Speaks Out. One was a relatively new resident and small business owner who was having problems with a zoning violation and wanted to follow up with town staff about resolving it.
Another speaker was a representative of the League of Women Voters who was presenting a certificate of appreciation to Councilmembers Jennifer Robinson and Bush.
---
Story by Michael Papich. Photos by Hal Goodtree and Google Maps.
https://carycitizenarchive.com/wp-content/uploads/2017/09/TownCouncil-Sept15-Featured.jpg
483
800
Michael Papich
https://carycitizenarchive.com/wp-content/uploads/2020/03/cc-archive-logo-450-v3.png
Michael Papich
2017-09-15 10:22:37
2017-09-20 14:51:31
Cary Town Council: High House Road Intersection, Historic Certification and More