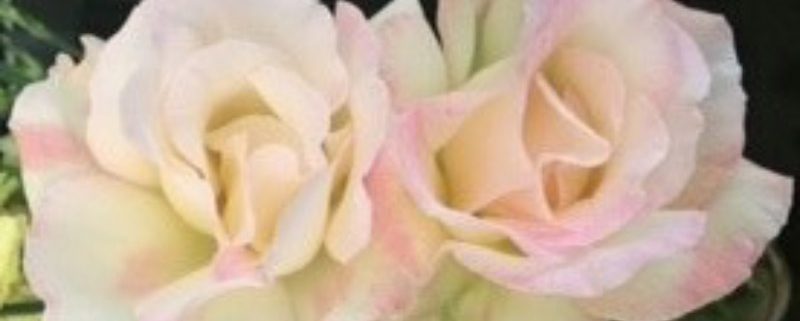 Cary, NC – Roses, everybody loves them. They are beautiful, smell wonderful and make great cut flowers for the house!  But they are difficult to grow and the options are dumbfounding. There is so much to discuss but I don't have that much space therefore I will just cover the basics and suggest you visit Clemson Cooperative Extension, for more details.
I do believe anyone can grow roses. You just have to adjust your expectations and know the rose you grow! With that being said, there are some basics that you cannot skimp on. To begin with you must have the following:
Six-to-eight hours of sun, morning sun being the most important
Good air circulation and space so roses do not touch
Rich, loose, well-drained soil
Fertilize after each bloom cycle
Lots of water on the roots not the leaves
Mulch
Since there are many varieties, I would suggest you do a bit of research to get the right plant that will meet your needs. For me, I love cut roses that have a nice fragrance. So I like to buy hybrid teas. They do not look as good in the garden but they create a wonderful bloom that I can take indoors and enjoy.
On the other hand, I avoid the Floribunda varieties, I have just found them too disease-prone. Instead, I use carpet roses. Knock Outs are very popular and I certainly have some but they need pruning and they do get diseases. I have had to remove a few due to the fungus Rose Rosette.
Fungal Diseases
And, that's the other problem with roses in that they need to be checked often for disease. Below are the common problems with roses which happen to everyone:
Black Spot
Powdery Mildew
Stem Canker
Botrytis Blight
Rust
Stem Canker & Die Back
To prevent fungal disease, try to plant disease resistant varieties. Then always keep good circulation, water deeply at the plant base and keep the plant beds clean.
Monitor your plants often to catch the problem early. Remove and destroy infected areas or plants to avoid spread. Treat with Neem to prevent.
Other Common Problems
Rose Rosette – Spread by mites and not curable. You need to remove the plant and treat other area roses with Bifenthrin.  All infected plants will die in three-to-four years. If you try to keep the plant, you are allowing the mites to spread to other plants.
Brown Galls – These are swellings on the stem or roots under the soil caused by bacteria. They disrupt the movement of water and nutrients to the plant, resulting in stunted growth. Remove plants once it is infected to prevent spread.
Rose Mosaic – Mosaic is a common virus found on many plants. It causes yellow wavy lines and ring spots on the leaves. It will spread to adjacent plants so removal is best to avoid further spread.
Botrytis Blight – This is a gray mold that is most active when temperatures are at 62-to-72 degrees Fahrenheit and moist.  To prevent keep good air circulation and clean the area around the flowers to avoid spread. Neem oil can help prevent the fungus.
Learn More
To get more information about your rose or any details on starting a new rose garden please call the NC Extension Master Gardener Program, Wake County, at 919 250-1084 or email us at mgardener@wakegov.com.
---
Story by Melody Hughes, Extension Master Gardener Volunteer-Wake County and North Carolina Cooperative Extension. Photos by Melody Hughes and Clemson Cooperative Extension. Gardening coverage on CaryCitizen is sponsored by Garden Supply Company on Old Apex Road in Cary.
https://carycitizenarchive.com/wp-content/uploads/2017/09/Gardening-Roses1.jpg
549
800
Melody Hughes
https://carycitizenarchive.com/wp-content/uploads/2020/03/cc-archive-logo-450-v3.png
Melody Hughes
2017-09-21 09:40:13
2019-12-08 15:29:42
Gardening: Growing Roses in the Triangle