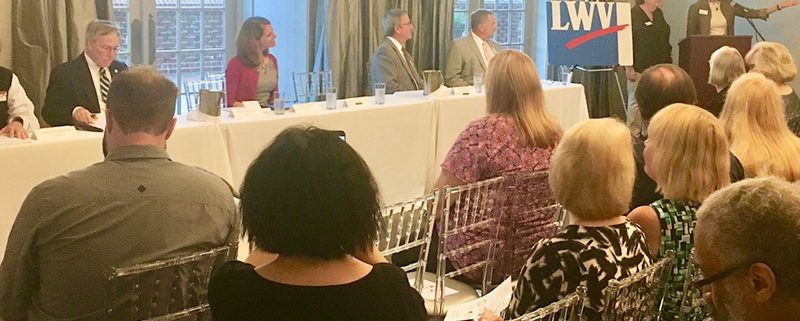 Cary, NC – With Election Day in three weeks, candidates for the Town Council races in Cary gathered to answer questions and discuss their positions on affordable housing, transit and partisan divide in North Carolina.
To see candidate questionnaires sent to CaryCitizen, look at our Candidate 2017 series.
Election Day for the Cary Town Council is on Tuesday, October 10, 2017, with early voting already open at the Wake County Board of Elections.
So in a partnership between WakeUp Wake County, the League of Women Voters of Wake County, the Heart of Cary Association, the Western Wake Alumnae chapter of the Delta Sigma Theta Sorority, Inc. and the Cary Woman's Club, candidates met at the Mayton Inn on Thursday, September 21, 2017 to give their thoughts on the issues from both the event organizers and audience members.
In this election, one At-Large council seat and the District A and C council seats are all up for election, with all the incumbents running for re-election. Not all of the candidates running were at the Thursday forum – At-Large candidate Jeff Alan de Deugd and the District A candidates Radha Ravi Varma and Majid Mohadjer were not present.
Candidate Introductions
To kick off the forum, all candidates gave an introduction to the crowd, some of whom for the first time.
Councilmember Jack Smith is the longest-serving councilmember in Cary currently and is running for re-election in District C with Ken Presting running against him. Smith cited his career and experience as a councilmember and his commitment to preserving Cary's small town feel, creating a reasonable budget and protecting the environment.
"Since my family came here in the 1980s, Cary is now one of the most desirable communities in the country," Smith said.
Presting talked about his experience volunteering to work with the Democratic Party since the Carter Administration and said while he is happy about the growth in Cary, particularly how it has incorporated green space, he does not think the expansion of open air parking spaces is a good thing.
"It's a bad use of land that could be used for open space or commercial space," Presting said.
Councilmember Jennifer Robinson is the second longest-serving councilmember and the representative for District A. She said she works to grapple with competing interests but has a priority for town quality, building a sense of community, having appropriate infrastructure and environmental protections. Robinson also said her long tenure on the Town Council gives her insight.
"Insight lets me envision opportunities and realistically predict obstacles," Robinson said.
Mayor Pro Tem Ed Yerha is the incumbent At-Large councilmember and is running for re-election with George McDowell running against him. He talked about his time on various Cary committees before joining the Cary Town Council in 2012 and listed his endorsements, including the endorsements of all current councilmembers.
"Since retirement, this is a full time job, as well as a hobby," Yerha said.
McDowell made clear his central issue of trees and the environment in Cary and talked about the air pollution levels in Cary, which he said are getting worse while citing current studies.
"For my issue, I am willing to go the distance," McDowell said.
Managing Cary's Growth
Half of the forum was devoted to the organizers' questions, with each question directed to a specific district or council seat.
At-Large Seat
On the At-Large side, the questions started by asking the candidates if they supported the Cary Community Plan's call for more density as well as increased walkability and transit. McDowell criticized the Cary Community Plan for underestimating how fast Cary's population will grow. McDowell said the plan says Cary will have 195,000 people by 2040 and but said current figures show it will surpass 200,000 in fewer than 10 years.
"You don't have to wait for the 2020 census to see that error," McDowell said.
Yerha said if people think the Cary Community Plan is perfect, they haven't read it closely enough. He said the plan addresses concerns with density and transit but said density has to fit in specific parts of Cary.
"We don't want to turn Cary into another Raleigh," Yerha said.
Yerha and McDowell were also asked about their ideas for growing affordable housing in Cary. McDowell talked about a Wake County study into affordable housing that is due in the coming weeks and said it will give us more information on what can be or should be done. But McDowell also said his policies will make property values go up and, in his own words, become less affordable.
"Cary will be a healthier and more beautiful town so property values will be go up because it will be more desirable," McDowell said.
Yerha also said he wants to look at the Wake County report but said in the past eight years, Cary has been "aggressive" in creating 900 new affordable housing units, which he said is a change for the town.
"Cary has been on the forefront of many things but affordable housing is not one of them," Yerha said.
District C Seat
For the District C candidates, both were asked about efforts to clean up Jordan Lake. Both Smith and Presting blamed opposition from the General Assembly for stopping Cary's progress at cleaning the lake and Presting urged individuals to lobby their representatives while towns and counties form compacts to lobby as well.
"It's opposition between the General Assembly and the will of the people to govern themselves," Presting said.
Smith said one comfort in the clean-up efforts of Jordan Lake is that Cary initiatives have kept it from being more polluted than it currently is and it can be cleaned up within our current financial means.
"But to fix this, in the next two years, we need you to go out and vote," Smith said, addressing the large crowd at this forum.
Smith and Presting were also asked two questions about transit: how can its usage be expanded and how much transit and walkability is realistic? Presting said the current expansion of bus stop locations is a good start but bus stops need to be at population and work centers, as well as apartment complexes and and there should be one in MacGregor Village to better serve seniors.
Smith said transit can be tied to Cary's planning. Smith said about how 80 percent of Cary is built out and much of what is already built out in Cary is aging, requiring infill and redevelopment.
"We have the opportunity that when we do redevelopments, we make them transit-friendly," Smith said.
Presting also proposed making public transit in Cary fare-free.
"Everyone on a bus is not in a car and that's good for all of us," Presting said.
Smith said problems with walkability stem from poor planning from earlier Town Councils and said current Mixed Use zonings not only need to live up to their promise but will become more dependent on mass transit in the future.
District A Seat
Robinson took questions about West Cary, where her district lies. With high home prices in West Cary, Robinson was asked if town land should be used to build affordable housing. Robinson said a lack of affordable housing is a large problem and Cary has been using CDBG funds to help this, particularly when it comes to home ownership and seniors.
"We banked land several years ago so we have the option to build affordable housing there but we will not have enough land for the need we have," Robinson said.
Part of the answer, Robinson said, is more transit so people can work and travel to Cary easily while living in more affordable areas.
Robinson was also asked about maintaining fiscal responsibility while investing in the parks system and park infrastructure. She said the 2007 recession reset the guides for revenue growth so the town has been gradually figuring out the best way to invest once again. As for parks, Robinson said a bond would likely need to be floated to not only get the funding but also to see if there is public interest in it, while also looking at new efficiencies in spending.
Robinson's final question from the organizers was about Cary's water supply. Robinson said the town's water quality is very high because of protections put in place and those protections are being investigated by the General Assembly. But how Cary uses water is best figured out through partnerships with other municipalities and governments, Robinson said.
"We are putting more water into the Haw River than we pull out," Robinson said.
Questions From Voters
When the audience portion of the event started up, many of the same kinds of questions were posed. Robinson was asked about transit, specifically in West Cary where the audience member said the community is underserved. Robinson said she wants to see a fixed route in West Cary, particularly going to the Carolina Preserve. Robinson also said when a bus rapid transit route is established, it will mean more economic growth along that path so that development needs to be managed.
The question was also given to the At-Large candidates. Yerha said he wants to see transit routes expanded to West Cary because that region needs more amenities and McDowell said any new developments need to ensure that they will have bus access.
All candidates were asked if they would raise taxes. McDowell was the only candidate to say no outright, with Yerha, Robinson and Smith saying if there were tax increases, it would likely come from a bond vote, with Smith adding that in the past 28 years, taxes have only gone up once and it was because voters asked for it. Presting said he would not support raising sales taxes but said he would be more open to property tax increases or particularly bonds, saying those are an investment and can be fiscally conservative.
The final questions all dealt with partisanship in North Carolina. At first, the question was posed to the District C candidates and both Smith and Presting showed how, despite being on different sides of the political spectrum, they agree on many things and can get along.
The question was expanded to the subject of redistricting and gerrymandering by another audience member. Smith called gerrymandering "a cancer that weakens the nation" and supports nonpartisan districting, as Cary has done. Presting agreed and said this was the issue that motivated him to get into politics. Presting said he reaches across the aisle and urged voters to talk to their representatives. Robinson also weighed in on this question and said she supports a nonpartisan commission to set voting districts in North Carolina.
Closing Statements
In the closing moments of the candidates forum, all five candidates present made their last statements to the gathered voters.
McDowell said he offers tours of how trees are being destroyed in Cary and said he wants the people who have endorsed Yerha to join him on these tours.
Yerha cited Cary's status as one of the best places to live nationwide and talked about his commitment to work on the Eastern Gateway project, help the aging population and maintain Cary's small town feel.
Robinson used her closing statement to lament the likely low voter turnout and said the community's strength depends on community interest, urging people to push their neighbors to get involved and vote.
Presting had a similar message and said gerrymandering, voter ID laws and voter apathy are putting people in danger of losing pieces of their right to vote. Presting also urged people to utilize voting by mail if that is convenient for them.
Smith said this election is about Cary's future and how the Cary Community Plan will be implemented, citing uncontrolled growth in the 1990s that threatened Cary. Smith also said he would push for stormwater protections as a consequence of climate change.
Cary's Election Day is on Tuesday, October 10, 2017.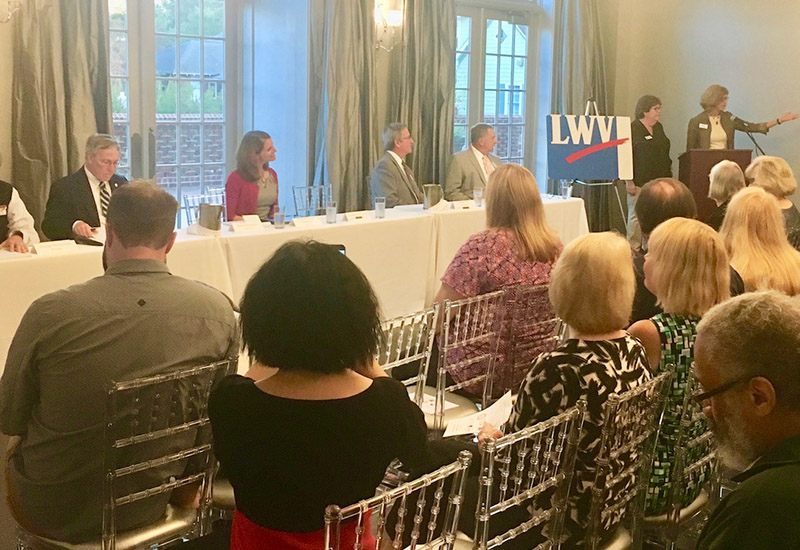 ---
Story by Michael Papich. Photos by Lindsey Chester.
https://carycitizenarchive.com/wp-content/uploads/2017/09/CandForum5.jpg
550
800
Michael Papich
https://carycitizenarchive.com/wp-content/uploads/2020/03/cc-archive-logo-450-v3.png
Michael Papich
2017-09-22 11:37:18
2017-09-22 11:37:18
Cary Candidates Discuss Growth and Transit in Civil Forum