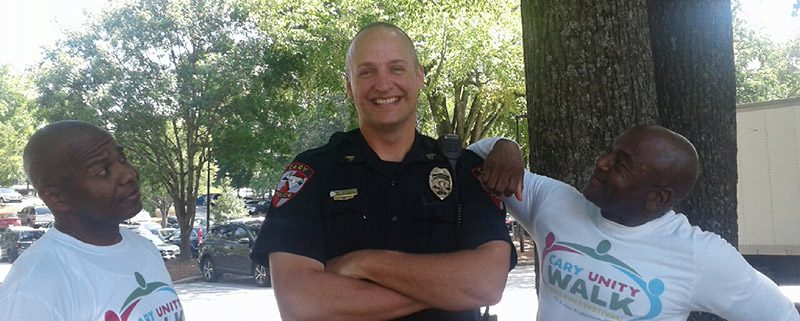 Cary, NC – Anger, frustration, some resentment, zero patience and a whole lot to say!! These are all of the ingredients I put into my little "attitude bowl" before I made my way down to the Cary Police Department almost two years ago.
I had quite a few questions, and not only did I want answers but I wanted to understand Ferguson, Missouri and so many of the other shootings that were happening. But it wasn't so much for me, but more so for my son Kassidy. As I watched the seams of our country unravel, I felt deep down in my heart that my son's future was in jeopardy.
Growing up, diversity was just a part of everyday life. And it helped to shape me into the man I am today. But!!! Little did I know, there was another black man, with his own "attitude bowl," on the other side of town, with the exact same ingredients in his bowl! At the time, we had no idea that either one of us even existed.
But how many of you know that the good Lord is about "TIMING?" With "attitude bowls" in hand, at two totally different times, we went down to the Cary Police Department, to spread around some ingredients! More than anything, we both wanted to do something to help the situation and make a difference.
So we got to the station, asked to see an officer to talk about the madness that had us so frustrated and what did we both get? We got the tallest, biggest, bald white guy in the building! Carrying a gun of course! The "attitude bowls" all of a sudden became small enough to fit in our pockets!!! He was a giant!! He was "THE JOLLY BLUE GIANT!" Officer Jeremy Burgin!!
The three of us have talked about this many times and the stories are almost identical! We both walked into that Station with frustrated hearts, and we both left that Station with a friend for life! His heart was bigger than he was!! You would never think a man that big could be so soft spoken, especially when dealing with us!! But he just had a way of putting you at peace with who he was as an officer, and more so as a man. You just couldn't help but love the guy!!!
God gives all of us gifts and talents of all kinds. But to have the gift of "self" is really something special! He never tried to calm us down or talk us out of how we were feeling. He just gave us "self:" 100 percent pure Jeremy. As the minutes went by, so went the badge, the uniform and the gun. All that was left was "self." It was an immediate bond that we established that day!
Eventually, I met my man Tru Pettigrew and the rest as they say is history!! There were three people that worked for almost 15 months to make the Cary Unity Walk a reality, and Jeremy Burgin was one of them. Because of the amount of shootings and sporadic police ambushes at the time, I could tell it was like the weight of the world was on his mind.
With three awesome boys, and a wonderful wife at home, there was no way to avoid the possibilities of what could happen. But in typical Jeremy fashion, he smiled, and gave "self."
Underneath the uniforms are human beings. Fathers, mothers, brothers, sisters and somebody's child. They're still human beings – human beings with a job that comes with a fifty-fifty chance of not making it home alive. And just like everybody else in the entire world, they're imperfect human beings. They hurt, they cry and they make mistakes, just like all of us.
Picking and choosing what forgiveness is going to be is not forgiveness at all. It's just a mind and a heart that's lost in emotions. A kind heart doesn't come with rules and stipulations. But I know now that it can absolutely come with a "JOLLY BLUE GIANT."
Jeremy and Tru, I love you both with all my heart. I so dearly love you guys.
---
Story and photos by Jimi Clemons.
https://carycitizenarchive.com/wp-content/uploads/2017/09/Samaritan-Sept22-2.jpg
450
800
Jimi Clemons
https://carycitizenarchive.com/wp-content/uploads/2020/03/cc-archive-logo-450-v3.png
Jimi Clemons
2017-09-22 10:22:24
2017-09-22 16:24:56
Samaritan's Corner: The Jolly Blue Giant