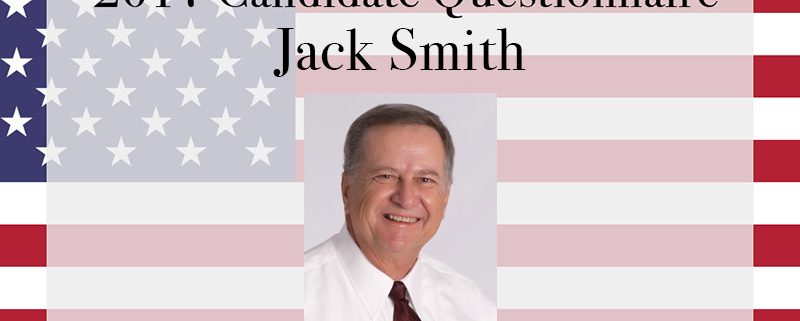 Cary, NC – This is an installment in our Candidate 2017 series, in which candidates get to respond in their own words to the same three questions.
We publish the responses in the order we receive them. This questionnaire is submitted by Jack Smith, running for running for District C on the Cary Town Council.
Why are you running?
I first ran for for this office because I felt the Council at that time was not addressing citizen concerns and they forgot who they worked for. That 'how things get done' was not transparent and the voice of citizens was muted. I wanted to change that and I did. We've grown from 20,000 to 160,000 and much has been accomplished since I joined the council. Though we've maintained our small town charm and appeal, remain the safest city in the country and most family friendly place to raise our children, there is much more to do. This election is about the future and I am up for the challenge of helping Cary grow better with age. Cary needs a citizen advocate with the experience, to protect the town's long term financial interests while simultaneously fighting for people and neighborhoods. I am that person and with your support I pledge to remain above political partisanship and dedicate my time to listening and addressing your concerns.
What are your top three priorities and how will you accomplish them?
I want to ensure our new Cary Community plan protects our neighborhoods from the impacts of infill development, that we redevelop wisely and continue to grow responsibly.
I want to implement sensible Stormwater management so our neighbor's runoff doesn't become our next flood or washout.
I want to shepherd change so Cary remains attractive to job creators and affordable for both job seekers and retirees.
There is no magic silver bullet to address the challenges that face Cary. What I have offer is 25+ year history of executive management, leadership and entrepreneurial experience with a focus on organizational effectiveness. My leadership style is focused on adaptability – its about being able to distinguish the essential from the expendable in order to craft the strategies and solutions best for Cary.
Give us a brief bio and tell us about your relevant experience
I was born in Germany, came to the US as an infant, grew up in Reading, PA and spent most of my adult years in and around Boston. I acquired my US Citizenship on June 3, 1968. Graduated from the University of Oklahoma, became a US Army officer and served as a Cavalry Troop Commander. I am the only veteran serving on Council. I moved to Cary in October 1986, and immediately fell in love with this diverse and welcoming community. I ran for Town Council to advocate for citizens.
As a life long Organizational Development professional, I've helped companies improve their productivity by identifying critically important priorities to address. To do this successfully requires good analytical and listening skills coupled with in-depth problem solving abilities – all excellent tools that have helped me as a Council member.
I have lived through many 'regime changes' and I am familiar and comfortable working in an environment of constant change. My 'MO' is listen first and keep an open mind. I work to earn the trust of others. I encourage dialogue and authentic behavior. I embrace evidence based diverse and divergent viewpoints before making major decisions. I'm very proud of being part of a Council team and having earned all their endorsements. AND I'm proud that all my endorsement cross party lines.
There's a reason local elections are non partisan – it keeps the rhetoric and irrelevant out of our decision making process. It forces us to work with all members of Council to seek common ground that's best for Cary.
A vote for me sends the message you want our Town Council to remain above partisanship and political bickering. To sum it up, I work for you! I am focused on keeping Cary clean and green, neighborhood-friendly, affordable, and well-planned.
Website: www.jacksmith.org
Facebook: jacksmith
Email: jack@jacksmith.org
Phone: (919) 749 -5046
---
Read more in the Candidate 2017 series.
https://carycitizenarchive.com/wp-content/uploads/2017/10/Smith-Questionnaire.jpg
550
800
Community Contributor
https://carycitizenarchive.com/wp-content/uploads/2020/03/cc-archive-logo-450-v3.png
Community Contributor
2017-10-09 13:02:25
2017-10-09 11:22:34
Candidate Questionnaire: Jack Smith