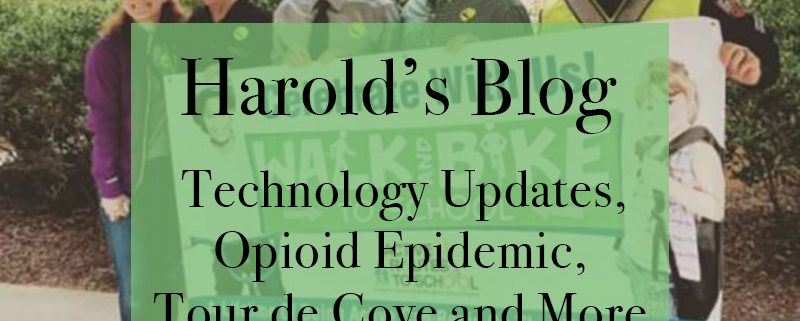 Cary, NC – This was another busy week for me.
Monday – Cary's Bonds
Monday I signed Cary General Obligation bonds. The bonds I signed were bonds sold as part of the 2012 bond referendum and bonds that have been refinanced. The refinancing saved Cary over a million dollars. In total I signed about fifty-nine million dollars in bonds. The bond signing process includes signatures from the finance officer, the mayor, and the town clerk who also certifies the signatures are legitimate. The bonds themselves are on paper similar to a check. In addition, the bonds come with an information packet to the purchaser from the town which also has to be signed by the mayor, town clerk, and the town manager to attest that what is said is true. The entire signing process took about fifteen minutes.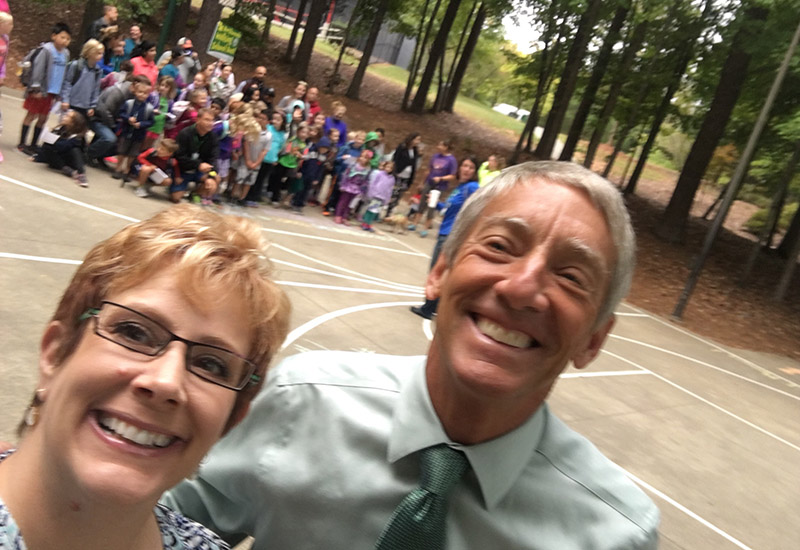 Wednesday – Walk to School and Puerto Rico
Wednesday started with not one but two "Walk to School" day events. First I met the students and administration from Cary Elementary at the downtown fountain. I was joined by Mayor Pro-Tem Yerha and council member Frantz. There were over 100 participating in the walk that went from the downtown fountain across Dry Avenue to the front door of Cary Elementary.
Next I went to Godbold Park where I was joined by council member Bush and Mayor Pro-Tem Yerha in their "Walk to School" event. There were between 50 and 100 in attendance but their walk was much longer at over two miles. And for the parents and others that had to return to their cars at Godbold Park the walk was over four miles. Since I had to go to work I only was able to walk a little over a mile. Good for the rest of them though!
Wednesday evening my wife and I headed to Ruckus in the Arboretum for a fundraising event benefiting those in Puerto Rico suffering from the devastation created by Hurricane Maria. I talked with the volunteers and the owner of that Ruckus about the event and supporting the effort to help those in living in devastation. If you would like to help with a donation please contact NC4PR. They not only have direct access to Puerto Rico but have people on the ground in Puerto Rico to distribute the items.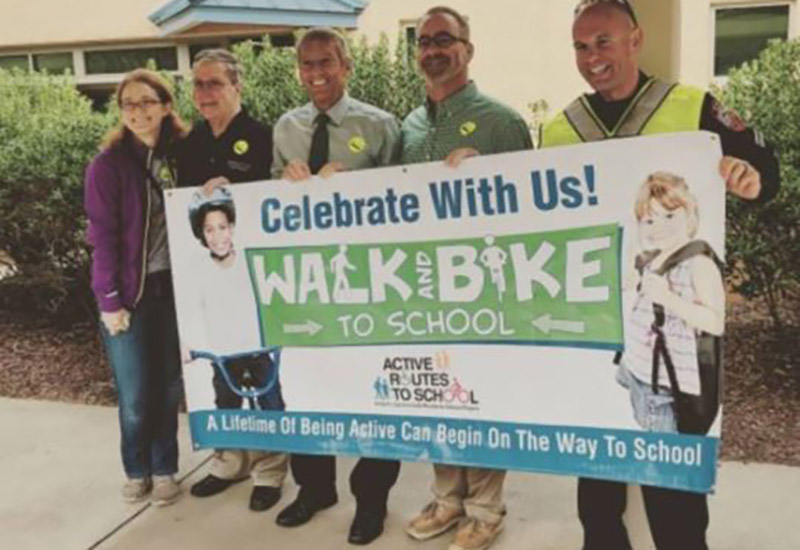 Thursday – Heart of Cary Association
Thursday morning I spoke to the Heart of Cary Association at the Matthews House in Cary. I talked for about twenty minutes and then answered questions for about ten minutes. My talk included the opioid epidemic, downtown updates, the CBL development at the mall, the Columbia development across from the mall, competition between CBL and Columbia, property values between downtown and the Eastern Gateway, rebranding Cary, and technology. Unfortunately I didn't get the opportunity to finish my talk on technology. Here are some points of interest from my notes on technology:
Smart Cities – The Simulated Smart Campus is like a sandbox that lets us "try before we buy." It's a way for the town to trial a number of different IoT (Internet of Things) technologies by a number of different companies – so that we can choose what will work best in Cary.  The Technologies range from ways to improve parking accessibility, to having Smart Lighting (to improve our energy use and improve safety), to using technology to count people at events, so we can ensure we have the right services for trash, public safety, and more.

What Works Cities – This program is a real coup for the Town. With the Bloomberg Philanthropies support we will be able to create a strong plan for a single citizen contact center – think 311, to support our citizen services in the most efficient way possible. The grant also helps us to create an Open Data policy with our Citizens' involvement.

Waze: The Town shares road closure data with Waze, one of the popular navigation apps out there.  This is a great way for folks to not get caught surprised with a road is closed – as the app will re-direct you, proactively, around known closures.

Amazon Alexa: This is one of the truly innovative activities out there by the Town of Cary.  So many folks have these devices – and the goal is to provide information to our citizens where they are.  The Beta testing of a Town of Cary skill that can do the following:
Find Open Gym or Open Studio times today or on given date.

Find next open studio date

Find who my council member is based on my home address.

Tell me who is the Mayor and on the Town Council.

Find nearby parks based on home address

Tell me when my Trash/Recycling day is

Tell me when I can water my yard

Let the town know if we Missed Trash/Recycling

Schedule a leaf, oil or cardboard collection

Find upcoming Events in Cary

Find the status of a field for sporting events based on location

Get the town hall hours.
Thanks to the Heart of Cary for inviting me to speak.
Thursday evening the council held a quasi-judicial hearing for one item. The First United Methodist Church asked that the council approve a special use and development plan to construct a 17,500-square foot addition to an existing church for additional classroom space and a multipurpose room associated with its youth ministry. The expansion footprint would be between the existing building and Walker Street and would preserve the log cabin that has been on site since the 1930s. The council deliberation was very limited and the request was approved unanimously.
Friday – Opioid Epidemic and Oktoberfest
Friday I met with two people from MIT that are partnering with us to write a proposal for the Bloomberg Philanthropies Mayors Challenge grant program on the opioid epidemic. If we are successful and get a grant then we would be able to use that money to gather a tremendous amount of data. Why is that important? In tackling an issue you must first identify the problem and then gather data before creating solutions. I believe we can be a leader in the region, if not the country, in providing solutions to the opioid epidemic. We'll keep our fingers crossed.
Friday night I had the honor of joining Mayor Olive from Apex in tapping the keg for the 4th Triangle Oktoberfest which was held in Cary. This was a fundraising event focused on great beer and family fun to support the Leukemia and Lymphoma Society. There was live entertainment from Peak City Sound and The Polka Brothers, Wiener Dog Races, traditional Bavarian food and fare, entertaining events, contests and, of course, plenty of local and authentic German beer! To fully appreciate the event I was wearing authentic lederhosen and had the pleasure of dancing the polka with my wife and both daughters. I also made sure to eat bratwurst and drink a German beer. What a fun time.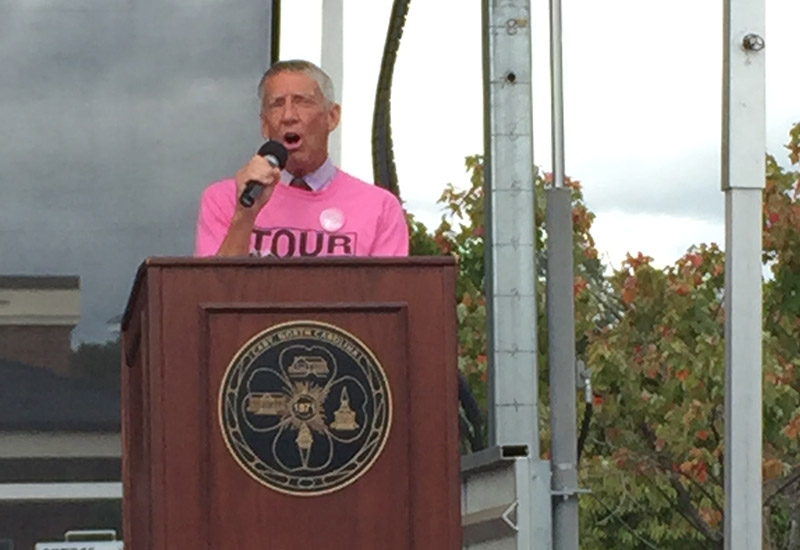 Saturday – Tour de Cove
Saturday I had the honor of speaking at the Tour De Cove event. Lori Cove is Cary's transportation director who was struck in a hit-and-run collision with a car while riding her bike last October 17 and suffered devastating injuries. This event's goal was to raise $50,000 to help cover costs for the long-term nursing facility where Cove is being treated. Here is an excerpt from the remarks I made:
… The strength of a community is tested in its darkest hour. And on October 17—almost a year ago today— our community was tested. Joined with friends, Lori was doing something that many of us get to do daily in this great town: enjoying our network of streets by way of bike. The difference is that this group of cyclists happened to be at the wrong place at the wrong time, forever changing their lives in a matter of minutes. As we all know, Lori suffered devastating injuries despite doing everything right: she was riding in a group, wearing a helmet, going with the flow of traffic. Since that tragic moment, she has refused to give up, and based on today's crowd, clearly our community will not either.

Lori is a very special member of our Town of Cary family. In the ten years I've been blessed to work with Lori, I have found her to be one of the most tenacious, life-loving people I have ever met.

[I inserted a personal story here]

She is a superstar, and she's made a tremendous impact to our transportation network. She's also made a huge impact to all who have had the pleasure to know her: she's a compassionate, caring individual, always with a smile on her face. She represents everything that is great about Cary in her attitude, work ethic, and approach. I would ask that each of you join me in channeling some of Lori's strength and sending it back to her. On her path to recovery, she needs her biggest champions cheering her on now more than ever.

As evidence in today's turnout, we know our citizens care about others in their community, and that's one of the many reasons why I'm proud to call Cary home. I challenge you all to continue making your caring as apparent as it is right now. Check in on your neighbor. Say hello to each other when passing on greenways. Hug your child a few seconds longer. Smile. Call a friend or family member instead of sending a text. With a seemingly endless supply of tragedy in the news, we need each other and these small acts of care now more than ever. …
The event was a huge success with over 700 participants in the ride and over a 1000 people attending. Estimates had the fundraising at over $100,000. Thanks so much to everyone who help make this possible.
Saturday afternoon I had the joy and privilege to be a part of the celebration of Swift Creek Elementary's anniversary. I gave a brief welcome but the star of the celebration was the school chorus which sang several songs, one of which they wrote. In addition, the school unveiled a new mascot. This is believed to be the location of one of the oldest schools in the region. Their oldest gym building was built in 1956.
Town Manager's Report
The town manager's report for the week included the following:
A Ride For Lori

We're expecting a big day for Lori with approximately 500 riders and 300 walkers preregistered to participate. The event is at Inside-Out Sports (2002 Grisdale Lane, Cary) from 8 a.m.-3 p.m., with Mayor Weinbrecht speaking during a ceremony at 12:30 p.m. In addition, there is a silent auction that includes weekend giveaways, sporting event tickets, golf and spa certificates, plus Cary PD will host a bike rodeo for children to brush up on their bike safety skills and have their helmet checked for proper fit and wear.

It is truly amazing to see Lori's work family come together in support of this day, which would not have been possible without the tireless effort and dedication from Scott Hecht. Please, don your favorite pink clothing on Saturday and come out to support Lori!

Solid Waste Rebalancing

Last Friday, 27,000 letters were mailed to households that will be affected by the upcoming November solid waste reroute. This reroute is necessary as we realign our collection routes in order to continue our reliable and exemplary level of service. Public Works received about 100 calls this week, primarily regarding clarification of blue and yellow recycling cycles. This represents less than .05% of the total homes that received letters. Homeowners will receive another notification in about 10 days with their annual mailer, as well as a cart hanger the week before collections are scheduled to change. You can learn more about the rebalancing efforts in this month's edition of Bud TV, just one of the many ways we are communicating the change to our citizens between now and November.

Cary Showcased at Smart Cities Week

Council Members Robinson and George along with Terry Yates attended the Smart Cities Week Conference in Washington DC. This event brought together international, state and local government officials, industry, and academic leaders for an engaged discussion on identifying tough urban challenges and using smart infrastructure and applications to solve them.

As part of this event, Council Member Robinson and Terry participated on a panel titled, "The Next Generation of Small and Smart Cities." The panel provided attendees with best practice examples around smart city deployments for small and medium sized cities.

Plumtree Elevated Water Tank Repainting Project Schedule

We received bids this summer on the Plumtree Elevated Water Tank Coatings improvement project. Constructed in 2001, the 141-foot tank holds 1 million gallons of drinking water and continues to operate with the original coating. Painting activities are expected to begin this winter and last for about three months. The tank color will match the other elevated water storage tanks in town (Hidden Lake Blue). The timing of this project is very important as it allows the surface of the tank to be cleaned and a new overcoat applied, without having to remove all existing coatings. The new protective coating will continue to protect the tank from corrosion for the next 15 to 20 years.

Citizens and businesses will be notified of the project prior to the tank being enclosed in a cloth shroud. Planned outreach includes letters to citizens in the immediate area and a community meeting in November at Fire Station #6, which is adjacent to the tank.

Research Network for Water Management Infrastructure

The Town of Cary and City of Raleigh recently partnered to kick-off a grant-funded project led by four NC universities.  The goal of this project, "Smart Management of Water Resources and Infrastructure with the Internet of Things (IoT)," is to create a new research coordination network and establish North Carolina as a hub for research activities in water smart cities. Research activities will explore the use of the IoT and smart water meters for improving municipal management of water resources and infrastructure. Research will develop a socio-technical model and a cyber-physical model, which will be used to engage utilities and create collaborative relationships with an industry partner and an IoT non-profit organization. These activities will build the foundation for follow-on proposals that will be submitted to the National Science Foundation. The Town was represented by Gregory Jenkins II (Finance) and Sarah Braman (Water Resources).

PD Assists with International Walk to School Day

Lots of little feet were out and about early Wednesday morning to mark International Walk to School Day. In Cary, ten schools hosted walks. The Mayor and Council Members Frantz and Yerha walked to Cary Elementary and Council Member Bush walked with students to Northwoods Elementary. I want to thank the dozens of officers who ensured our youth arrived safely to school and the staff who were asked to supply materials like bike maps, bus schedules and water bottles to round out these walks in an effort to showcase all we do as an organization to support safe multi-modal transportation.

October is Cyber Security Awareness Month

At Thursday's Council meeting, Council Member Bush declared October Cybersecurity Awareness Month. To raise awareness, the Town will execute a social media campaign throughout the month focusing on different aspects of online security, such as tips for staying cyber healthy. In November, we intend to continue the conversation with citizens as we see an uptick in online shopping for the holidays.

Online Safety Training

Human Resources has started an online on-demand safety training program by partnering with Training Network, a North Carolina company. This new online offering allows supervisors to easily provide relevant training to their employees, enabling them to have discussions about safety issues they may encounter during their job and the precautions to take both at work and home. Providing this safety training in a new format allows us to think about more uses in the future.
Emails from Citizens
In emails this week it was reported that Cary is once again one of the safest, if not the safest, towns in the United States. The data, based on last year's crime statistics, showed a decrease in property crime. But the news wasn't all good because it showed an increase in violent crime.
Emails from citizens this week included:
Concerns about the White Oak Church proposal
Questions about rail crossings in downtown
A concern that a retirement community expansion is being held up by the town (this is a typical excuse used some developers – that it is the town's fault for their delays which is 99% not the case)
An email campaign to lobby council to vote for IKEA (totally unnecessary since there is no opposition to IKEA and filling up council member's mailboxes is a poor strategy)
A concern about school reassignment (not a function of Cary but a function of the Wake County School Board)
A request for a plastic bag ban (don't think we have authority for this)
Concerns about a proposed development at Cary Parkway and Evans
Concerns that Morrisville will connect town hall drive to Crabtree Crossing (this is a consultant recommendation not a Morrisville council recommendation)
Next week's activities include several meetings, a Cary Matters taping, the SAS Championships, meeting a delegation of sister city County Meath in Ireland, a regularly scheduled council meeting, a Joint MPO Executive Committee meeting, and Diwali.
Get in Touch
Well, that is all for this week. My next post will be on Sunday, October 15th.  Although I have Facebook and Twitter accounts those are not the best means of communications with me. Please send all Town of Cary questions or comments to Harold.Weinbrecht@townofcary.org and email personal comments to augustanat@mindspring.com.
---
From the blog of Cary Mayor Harold Weinbrecht. Photos courtesy of Harold Weinbrecht.
https://carycitizenarchive.com/wp-content/uploads/2017/10/HaroldBlog-Oct9-Featured.jpg
550
800
Harold Weinbrecht
https://carycitizenarchive.com/wp-content/uploads/2020/03/cc-archive-logo-450-v3.png
Harold Weinbrecht
2017-10-09 11:32:39
2017-10-09 11:34:42
Harold's Blog: Technology Updates, Opioid Epidemic, Tour de Cove and More