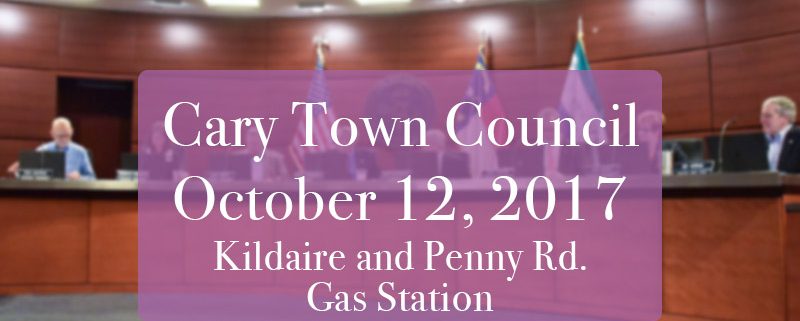 Cary, NC – There was only one main agenda item at the most recent Cary Town Council meeting but it saw a lot of input from local residents as developers proposed expanding on an existing gas station at the corner of Kildaire Farm and Penny Road.
Councilmember At-Large Lori Bush was not present at this meeting.
Kildaire Farm and Penny Road Project
The main topic at this Thursday, October 12, 2017 Town Council meeting was a rezoning to expand one piece of a General Commercial zone to a 3.3 acre General Commercial Conditional Use zone. The conditions limit the use to a filling station and a convenience store, updating an existing gas station there that was built more than 30 years ago.
Conditions would restrict any drive-thrus or car washes, have a maximum of 10 pumps or 20 filling locations, ensure the canopy would be no closer than 150 feet from the intersection and would limit the size of the convenience store to 5,500 square feet, which is still more than double the size of the convenience store there now. Because of town rules related to this property's location, the applicants are not required to put in buffers but those are still included.
The lawyer for the project talked about various meetings they have had with the neighborhood and said many of these conditions are meant to address those. Additionally, the lawyer said they are planning to work with engineers to include features into this property that will reduce stormwater runoff by 25 percent.
Five residents spoke out against this project. Among concerns were increased traffic – speakers did not feel the traffic studies factored in the nearby schools. Also, these speakers were worried about proposed road dividers that would make traffic more difficult around that area.
Other concerns were that, with the preponderance of gas stations and markets in the area, the station and convenience store would be underutilized. This would either lead to its degradation or, as one resident who identified himself as a Professor Emeritus of Property Development Investment and Management said, it would lead to "undesirable and nefarious activities." Related to this, one resident requested a wall or fence between the property and the neighborhood.
Another resident talked extensively about past stormwater problems and requested Town of Cary engineers work with the developers to cut down on runoff.
As Town Council gave their thoughts, many appreciated the conditions put in place by the applicants but still had some concerns. For example, Councilmember Don Frantz wondered if the proposed buffers should be even larger. Also, the residents' fears about crime or trespassing signaled a harmonious use to Councilmember Jennifer Robinson.
"Anytime someone says they want a wall around a development, that makes you nervous," Robinson said.
But as for the overall proposal, Cary Mayor Harold Weinbrecht said he needed to be convinced of its efficacy, primarily its size.
"I need a compelling reason for the scope of this project," Weinbrecht said. "I do not see it right now."
The proposal will go to the Planning and Zoning Board for their recommendation.
Awards and Recognitions
As the Kildaire Farm and Penny Road project was the only major agenda item and there was no one at Public Speaks Out, the only other items of note at the meeting were the recognitions at the start.
Town Manager Sean Stegall said the North Carolina Planning Association awarded the Imagine Cary plan its Marvin Collins 2017 Outstanding Planning Award at their conference earlier this year. Also, Stegall said Cary is involved in efforts to bring Amazon to the Triangle as the company is looking for its next headquarters.
The meeting also had a proclamation for this year's Cary Band Day, which will take place on Saturday, November 4, 2017. Representatives from the Cary High School marching band were recognized.
---
Story by Michael Papich. Photos by Hal Goodtree and Google Maps.
https://carycitizenarchive.com/wp-content/uploads/2017/10/TownCouncil-Oct13-Featured.jpg
483
800
Michael Papich
https://carycitizenarchive.com/wp-content/uploads/2020/03/cc-archive-logo-450-v3.png
Michael Papich
2017-10-13 13:04:06
2017-10-13 10:44:17
Cary Town Council: Kildaire and Penny Rd. Gas Station