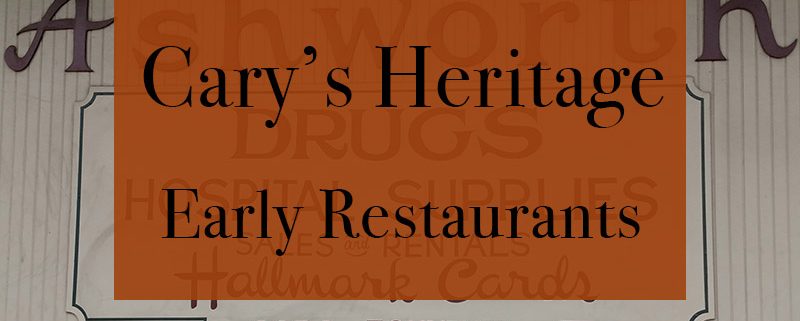 Cary, NC – In Cary's early days, Chatham Street was also U.S. 1 and 64, plus U.S.70 and 54 also went through Cary. For a sleepy little town, there was traffic going through from New York to Florida. Even so, there were few restaurants or places to get food. Here are a few memories.
Bill Rogers
My daddy opened Rogers Restaurant in 1954 on East Chatham Street. He moved it several times, until he bought the building that previously had a restaurant called the Rendezvous. When he fixed it up, it could accommodate sixty people in the dining room, plus it had a private dining room for group meetings. We only had two restaurants in Cary then. The other was Johnson's BBQ. Then my wife Barbara and I bought it from him in 1966.
At opening, our lunch specials were $1.00 and our sausage or ham biscuits were $0.15. Ours was even thought of as a nice place to have a wedding rehearsal dinner or reception. It was also a place for politicians to gather. Jim Hunt had political events there. It was the place to get coffee and biscuits, meet friends and discuss business. We closed in 1991. It was hard work, long hours, but I enjoyed the personal part of it, doing things for people. They were our family, our friends.
Doris Denning 
As you headed toward Raleigh on Chatham Street, there was Proeschers Restaurant, known for their steaks. People would come up from all around to eat at Proeschers.
It was the place to go until it closed. We also owned the Grocery Boy chain of convenience stores and sold to-go food.
The Seegers
Marie Seeger
There was a great little place near the high school where we would go for lunch that was owned by Sudy and Willie, so we called it the S & W. They made the most wonderful hot dogs and hamburgers in town. They had four booths in there. Also, there were a few service stations that sold gas and food.
Fred Seeger
When I was a kid, on our way home from a swimming hole outside of town we would stop at the Ramkat Trading Post where we could get us a Moon Pie and a Pepsi.
Wayne and Jean Mitchell
Our drugstore, Mitchells Drugs, was right on Chatham Street, which was also U.S. Highway 1 and U.S. 64. We sold sandwiches, ice cream, sodas and candy to people who were driving through town, from New York to Florida and stopped for gas at the Cricket Station across the street.
They liked to stop in Cary because they could get both gas and food at the same time. Our drugstore closed in 1993.
Ralph Ashworth
Ashworth Drugstore is right in the center of town, and before us, it was Adams Drugs with a lunch counter. Ashworth's lunch counter became well known for our hot dogs, and other good food.
We've been doing business in Cary since 1957 and are still going strong.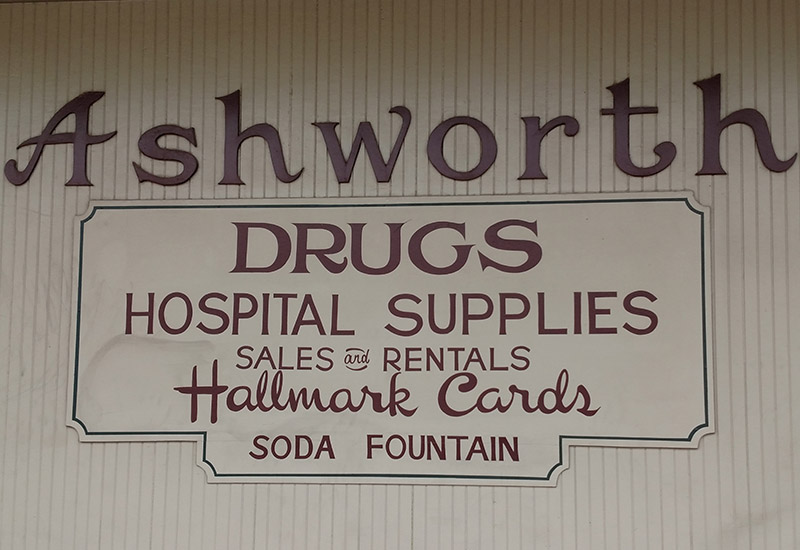 ---
Story by Peggy Van Scoyoc. Much of Cary's Heritage is taken from her book, "Just a Horse-Stopping Place, an Oral History of Cary, North Carolina," published in August, 2006. The book is a collection of oral history interviews conducted between local citizens and Friends of the Page-Walker Hotel. The rest comes from later oral history interviews with local citizens. Photos by Michael Papich.
https://carycitizenarchive.com/wp-content/uploads/2017/10/CaryHeritage-Restaurant-Featured.jpg
550
800
Peggy Van Scoyoc
https://carycitizenarchive.com/wp-content/uploads/2020/03/cc-archive-logo-450-v3.png
Peggy Van Scoyoc
2017-10-17 13:02:59
2017-10-17 13:02:59
Cary's Heritage: Early Restaurants