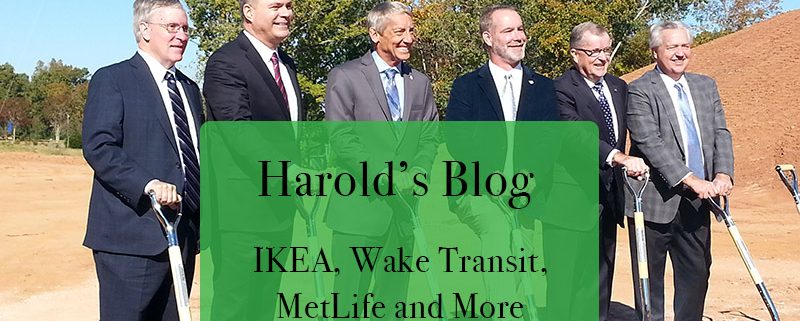 Cary, NC – This week was another busy week with two significant events, the approval of IKEA and the groundbreaking of the third MetLife tower.
Monday – Preparing for the Week
Monday I attempted to contact all council members to hear of any questions or concerns about Thursday's regularly scheduled council meeting. I was able to contact council members Yerha, Bush, and Frantz. Most of the comments were on the proposed Singh rezoning at Evans and Cary Parkway. Later in the day I met with key staff to review the agenda items. We believed at the time that the biggest discussion would be on the Singh rezoning.
Wednesday – CAMPO Meeting and Transit Plan
Wednesday I attended a meeting of the CAMPO (Capital Area Metropolitan Planning Organization) executive board. This is the decision making body for state and federal funds related to roads/highways, transit, rail, pedestrian/bike, etc. This meeting included two public hearings and five discussion items.
One public hearing had about a dozen speakers led by Raleigh's council member Cox. They wanted the funding for the widening from Falls of the Neuse from Durant to I540 to be removed from the transportation project list mostly because of how it would impact their neighborhood. Raleigh approved a list of projects including this project in 2013 and it is on the Raleigh transportation plan and the CAMPO transportation plan. The project is now a CAMPO and NCDOT project and that is the reason the speakers were speaking to the board members. The board decided to continue with the project but there were two dissenting votes.
Under discussion the executive board heard from the turnpike authority about their efforts to combine the next two pieces of I540 together to help get them built sooner. Like the last section through Cary, these sections will also be toll roads.
The board also heard of federal legislation to rescind $800 million of unallocated funding for projects. Cary currently has one of those projects, at the MacArthur section of the White Oak Greenway. According to staff this section was waiting on approval from NC Rail. That has now been approved so allocation should of those funds should be very soon.
The 2045 Metropolitan Transportation Plan update was also reviewed by the executive board. The update included a BRT (Bus Rapid Transit) from Harrison Avenue to Kildaire Farm to Regency. The Morrisville mayor asked that a Crabtree Crossing project be removed from the plan. This is the Church Street section and not the Town Hall Drive section that would connect to Cary. That section will be voted on by the Morrisville council in January.
The last bit of news from the CAMPO meeting was that Bret Martin has left the CAMPO staff to become the Cary transit project leader. Welcome Bret!
The CAMPO meeting concluded after two hours.
Thursday – Town Council Meeting
Thursday the council held its last regularly scheduled meeting of the month. The agenda included 5 consent items, 3 public hearings, 9 discussion items, and a closed session.
Most of the public comments were during the public hearing for the Lewey Drive rezoning. The proposal, if approved, would allow 64 townhomes on about 8 acres between Highway 55 and the Brookstone neighborhood. Speakers complained that the proposal was too dense and would create more traffic through their neighborhood. Council forwarded this to the Planning and Zoning board for their review and recommendation. Council will make a decision on this at a later date.
The first discussion item was the IKEA proposal at the mall. The media and many residents were very excited about this. It was a no-brainer when you think about the current state of the mall. Although IKEA is good for Cary,  I am more excited about the eventual mixed use at the mall and across Cary Town Boulevard. I am not thrilled about non-masonry blue and yellow large building but at least it is not visible from Walnut Street or Cary Town Boulevard. IKEA showed that they are already trying to be a good corporate citizen by making concessions after they knew they had the votes for approval. Good for them!
The next discussion item was for multi-family on Piney Plains near Tryon Road. I believe this area of town is inundated with multi-family and retail. Multi-family was the last thing I really wanted to see. Having said that, the proposal had conditions to ensure it was high end proposal. Hopefully that will set a precedent for quality development for future projects on that road. In addition, staff and council agreed to study the Piney Plains corridor as a special plan which could possibly include a median. If the median comes to fruition it will change the character of that corridor in a positive way.
Our last big discussion item was the Singh proposal at two corners of Cary Parkway and Evans Road. The southeast corner of the proposal was acceptable to council, staff, and the Planning and Zoning board who unanimously recommended denial. The discussion on the northwest corner focused on whether or not it should be saved for office when the proposal was multi-family. The Planning and Zoning board listed that as their main reason for recommending denial. The majority of the council believed that the best office you could get there would be 2 to 3 story medical office type buildings. And since this property has been sitting idle for decades the likelihood of that happening was slim especially since it was bordered by a church and industrial uses. So the decision boiled down to whether or not to keep waiting for office or to allow the proposal to move ahead. It should be pointed out that the multi-family project will be high end with garages, a large club house, a salt water pool, as well as many other amenities. After hearing the Planning and Zoning board recommendation, and staff recommendation (which they said they could have gone either way), the council eventually approved the proposal with a 5 – 2 vote.
After a close session the council meeting ended after a little over two hours.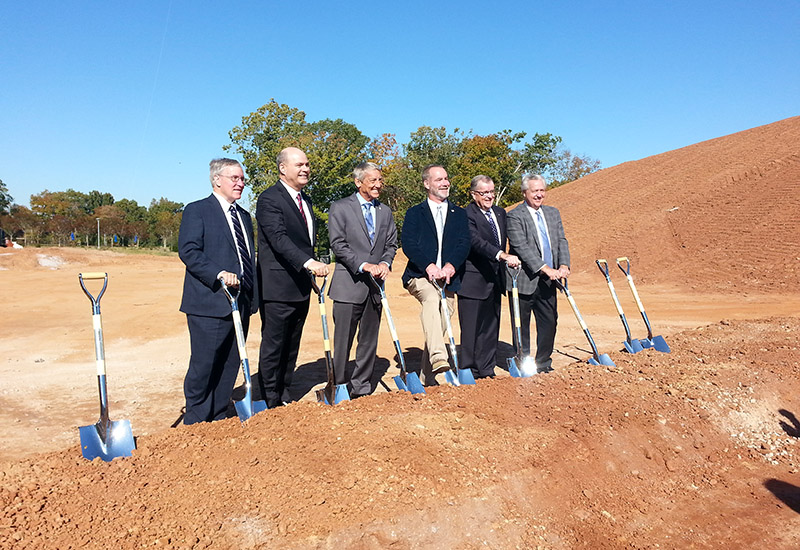 Friday – MetLife Building and Cary Band Day
Friday I had the privilege of attending the groundbreaking for the third MetLife tower in the Weston office park in Cary. In 2015 MetLife opened their first two towers for their technology hub. Over 1,500 highly skilled jobs were created in that initial expansion. The new building will bring an additional 500 jobs to Cary. This huge expansion announcement drew big names to the ceremony including the Governor, both Senators, members of congress, state senators and representatives, and local leaders not to mention the top leaders of MetLife and Highwoods properties. In the speech from the MetLife leaders they said it was a no-brainer to expand in Cary. Keep in mind that this is 50% more than they originally said they would do.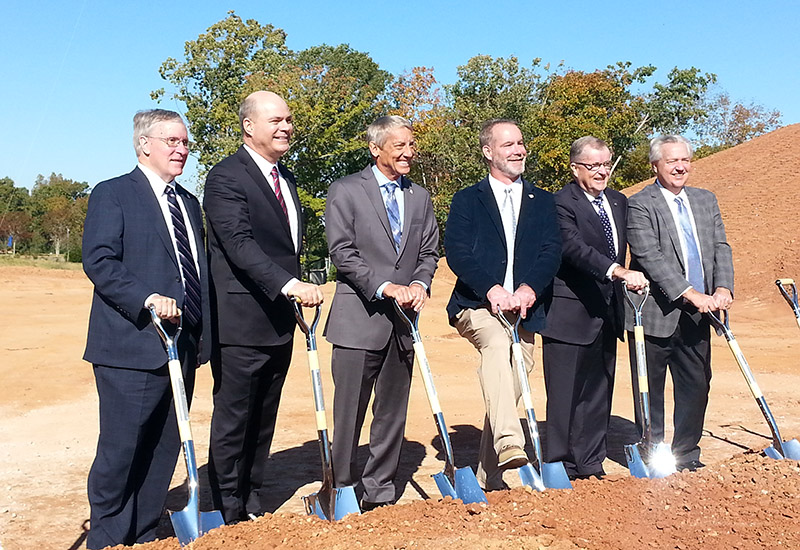 This says a great deal about Cary and its business environment. It is my hope that other corporations will take note and consider relocating here. After hearing speeches from the aforementioned VIPs the crowd of about a couple hundred people went outside for the ceremonial shoveling of the dirt. There were several pictures with various groups at the groundbreaking shovel area including the Cary delegation made up of me, Mayor Pro-Tem Yerha, council member Frantz, Chamber President Johnson, and others. What a great event for Cary!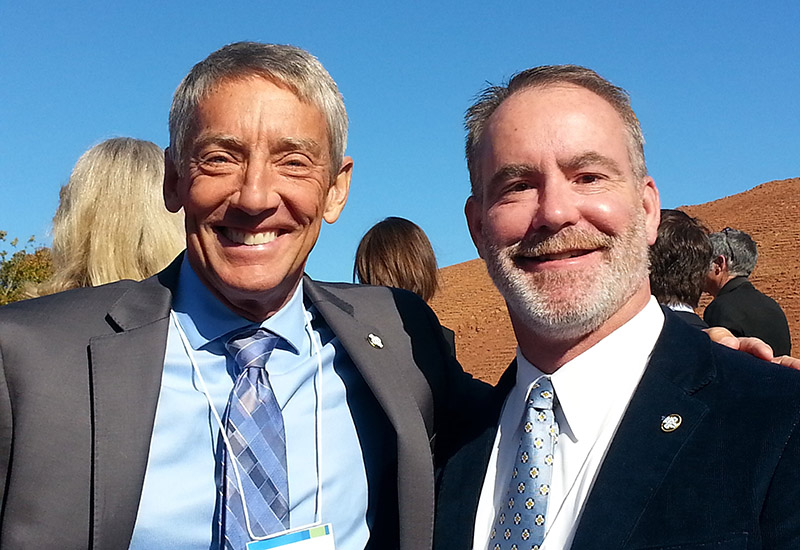 Friday night I had the joy of attending the 30th anniversary concert by the Cary Town Band at the Cary Arts Center in front of a capacity crowd. This 50 member band plays at Lazy Daze, the 4th of July, and other celebrations. They put on a performance with a theme of scary music and were joined by dancers from Graceful Expressions Dance Education for two numbers. It was a wonderful show. It should be noted that the Cary Town Band relies on donations. If you would like to help the Cary Town Band or find out more about them see http://www.carytownband.org.
Saturday – Triangle Aquatic Center
Saturday I had the honor of participating in the 10th anniversary celebration of TAC (Triangle Aquatic Center). TAC is one of the, if not the largest, private aquatic centers in the country. The emcee for this event was Steve Daniels from WTVD. I spoke as well as Wake County Commissioner Portman, Cary Chamber President Johnson, and of course Michael Curran. In Mr. Curran's remarks he talked about the 3 stage expansion. The last stage of that expansion and will more than double the water. It was a great event and I am excited about the announced expansion.
Town Manager's Report
The town manager's report for this week included the following:
 2017 ICMA Highlights

For the first time, we hosted an essay contest for staff to attend ICMA. We received a lot of great responses. Jeremy Burgin (Police) and Brandon Roberson (Public Works) were selected and joined myself and Council member Jennifer Robinson in San Antonio to experience it all firsthand. For staff at Town Hall Campus, we livestreamed the conference for the second year in a row. I want to thank to Carla Witherington and Dale Naleway for coordinating.

While at ICMA, I participated in a panel alongside Denise Foreman, Assistant to the Wake County Manager, on Monday. The topic, "The Data Driven Manager," focused on the role of data analytics and how it can improve a community; it was led by Council member Jennifer Robinson.

MetLife's Third Building Groundbreaking

Lana Hygh, Mayor Harold Weinbrecht, Council members Don Frantz and Ed Yerha along with the Chamber's Howard Johnson and Kyle Greer attended the groundbreaking ceremony this morning for the third MetLife building. Senators Richard Burr and Thom Tillis, Congressmen David Price and George Holding, and Governor Roy Cooper attended and made remarks. The new building is scheduled to open in 2019.

Steven Kandarian, president, chairman, and chief executive officer of MetLife stated that the company would be investing heavily in technology and was delighted to expand its presence in NC. Ed Fritsch of Highwoods Properties, Inc. stated that in projects of this magnitude, "…every community claims partnership; the Town of Cary delivers."

CAMPO Executive Board Meeting

CAMPO met on October 25. Public hearings were held on the following agenda items:

FY2016-25 TIP Amendment #7 (approved)
FY2018-27 TIP (approved)

The Board also received information on several agenda items, including Complete 540, the proposed Federal Rescission Legislation, Wake Transit Plan Implementation Update and Cost Share Agreement for Commuter Rail Study, and the 2045 Metropolitan Transportation Plan.

VIP Event at Green Hope HS

Our Police and Fire departments participated in a VIP event at Green Hope High School on Tuesday. The goal of the event is to showcase just how fatal distracted driving can be. First responders and parents of those killed in distracted driving crashes shared their experiences, and the day-long event concluded with a very dramatic and realistic simulation of a fatal crash so students could see how emergency responders work through the scene in real-life situations. About 725 GHHS students were in attendance. Other participating agencies included the NC Highway Patrol and NC Wildlife Commission. This program is funded in part by the Governor's Highway Safety Program.

Affordable Housing at RRAR Diversity Committee Luncheon

On October 12, Council member Ken George joined Raleigh Council member Cory Branch and Durham Mayor Pro Tem Cora Cole-McFadden at the Raleigh Regional Association of Realtors' Diversity Committee's monthly Lunch & Learn. The topic was "Helping People Live Where they Work" and was livestreamed via Facebook on the RRAR's account.

CPD's International Training Having Big Impact

The efforts by one of our own resulted in sweeping arrests in Brazil. Kevin West of our Police Department traveled several times to Brazil over the last year to train officers as part of his volunteer work with the Child Rescue Coalition. That training culminated last Friday, when over 1,100 officers executed over 100 search warrants in 24 of 26 Brazilian states. Well over 100 people were arrested, and the operation made news worldwide. This is such important work, and I am humbled by the passion Kevin has for his work. We are so fortunate to have him representing Cary.

Recognitions

Chief Tony Godwin appeared in a Facebook Live video on CALEA's social media account speaking on the topic, "Are Local Barbershops Key to Community Engagement?" He did a great job highlighting our Building Bridges efforts and sharing what is working in Cary. The discussion was part of the International Association of Chiefs of Police Conference in Philadelphia.

I'm sad to report ISAB citizen volunteer Terri Udoh, also a graduate of the Town's School of Government, passed this week.
Emails from Citizens
Emails from citizens this week included:
Comments for and against the Singh rezoning at Cary Parkway and Evans.
Criticism of the decision at Cary Parkway and Evans: "decision makes Cary less great", "terrible decision against unanimous advice", "you've harmed my neighborhood. There is no excuse for this" (Council members spent a LOT of time considering this project over years and years. I honestly believe this is the best use of the land. The only other interest was a grocery store – like we need more of those. I would invite critics to watch our discussion and read all the staff reports)
Criticism that we need more senior softball league games
Criticism that we are destroying the American Tobacco Trail (Actually we are providing a pedestrian tunnel and think the American Tobacco Trail is a huge asset)
A request for an outdoor skating rink
A complaint about Cary's ghost walk
A question about the future widening of Holly Springs Road (it is a state road and it is my understanding is there is no funding in the next several years)
Comments for and against IKEA
A request to investigate driver-less buses.
Next week's activities will include several meetings with citizens and special interests, a regularly scheduled council meeting, and the 59th Cary Band Day.
Get In Touch
Well, that is all for this week. My next post will be on Sunday, November 5th. Although I have Facebook and Twitter accounts those are not the best means of communications with me. Please send all Town of Cary questions or comments to Harold.Weinbrecht@townofcary.org and email personal comments to augustanat@mindspring.com.
---
From the blog of Cary Mayor Harold Weinbrecht. Photos courtesy of Harold Weinbrecht.
https://carycitizenarchive.com/wp-content/uploads/2017/10/HaroldBlog-Oct30-Featured.jpg
550
800
Harold Weinbrecht
https://carycitizenarchive.com/wp-content/uploads/2020/03/cc-archive-logo-450-v3.png
Harold Weinbrecht
2017-10-30 10:29:35
2017-10-30 10:30:47
Harold's Blog: IKEA, Wake Transit, MetLife and More