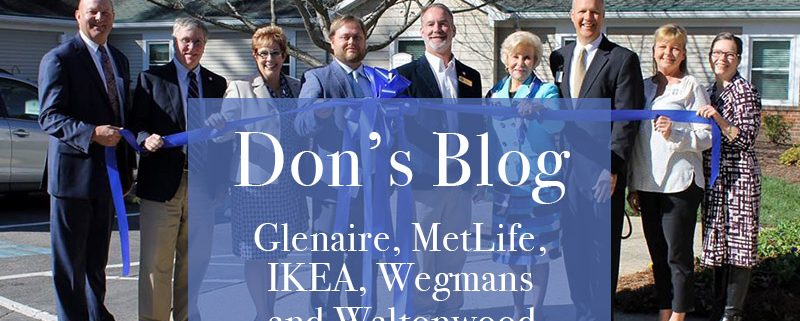 Glenaire Ribbon Cutting
Cary, NC – I was honored to attend Glenaire's ribbon cutting ceremony for their new health care center and take a tour of the new facility with council members Bush and Yerha.
Glenaire is one of the first retirement communities in North Carolina to transform its health center away from the traditional healthcare layout, into a home model. Now, residents needing skilled nursing care will have the privacy and normalcy of a real home. The expansion allowed for 4 "households" to be created in the assisted living and skilled nursing wings of the main building. Each household houses approximately 20 residents. This model allows for more individualized care between nurse and resident.
We can't thank all the fine folks at Glenaire enough for all that they do to provide high quality senior services in our community.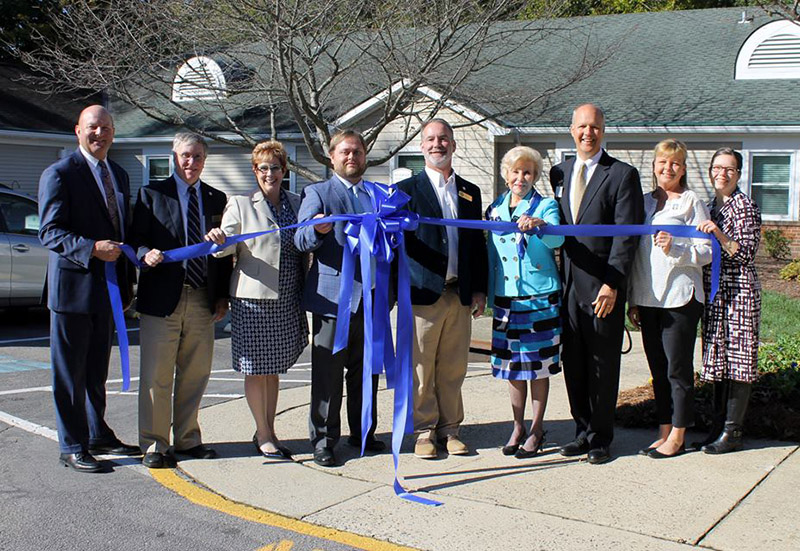 MetLife Groundbreaking
Mayor Weinbrecht, Council member Yerha and I joined a number of elected officials and business and community leaders to break ground on MetLife's 3rd building in Cary. The new building will be approximately 240,000 sq ft and bring an estimated 700 jobs to Cary.
Governor Roy Cooper, Senators Tillis and Burr, Congressmen Price and Holding and representatives from MetLife and Highwoods Properties all addressed the large crowd. My favorite remarks however came from Ed Fritsch of Highwoods Properties who stated that in projects of this magnitude, "…every community claims partnership; the Town of Cary delivers." Yes we do. Cary rocks! : – )
IKEA
So, yeah, in case you haven't heard, at our most recent council meeting we unanimously approved the IKEA rezoning and associated preliminary development plan ; – ) Construction will begin once building permits are approved and is expected to be completed in 2020.
Redevelopment plans are also in the works for the remainder of the Cary Town Center Mall site and are currently going through the development review process and should come to council for public hearing soon so stay tuned.
The Fenton mixed use rezoning on the state property across the street from Cary Town Center that includes the Wegmans project is on our council agenda for public hearing this Thursday. You can view the staff report for that project here.
Waltonwood Rezoning
Also at our council meeting we considered and ultimately approved a request to change permitted uses in the Silverton Planned Development District on the properties below from commercial and office to allow for a senior life care facility and residential.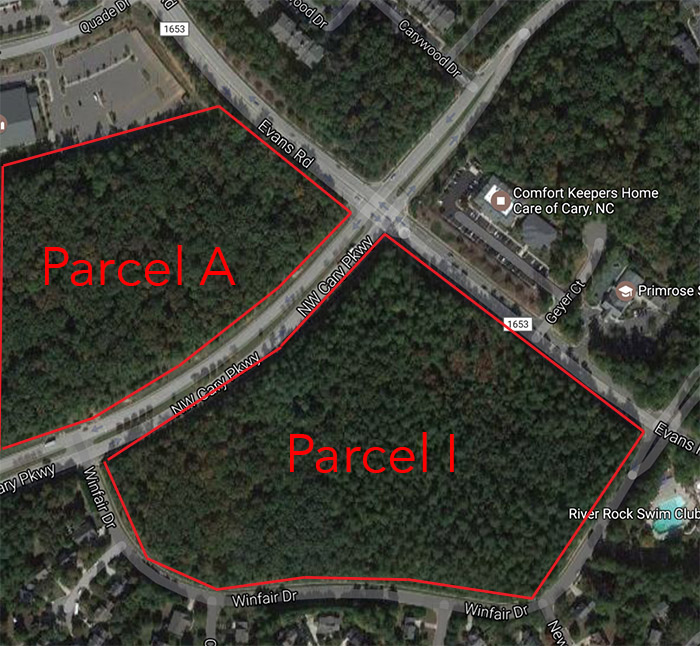 This was a unique request in that both quadrants were combined into one rezoning and not considered separately. The reason for this was the applicant's intent to create an upscale "intergenerational community" that would allow seniors and their families to be in close proximity to each other as well as provide easier, hassle free living for empty nesters looking to downsize and young professionals.
The senior living facility and age-targeted townhomes would be located on the southern property with townhomes and multi-family on the northern property.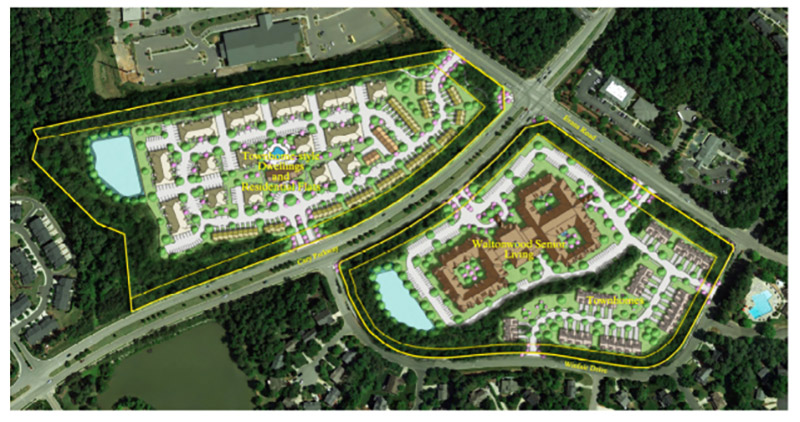 I really liked the senior living component for a number of reasons. First of all, it meets a desperate need in our community for additional senior housing and services. Believe it or not, Cary is the second oldest city in North Carolina and we aren't getting any younger. The median age for Cary residents has climbed to 40 years old and 10+% of our population is already age 65 or older. Cary is such an awesome place to live that nobody wants to leave 😉 and they shouldn't have to because they can't find a place that meets their needs. Waiting lists for many Cary assisted living facilities range anywhere from 3-10 years.
Secondly, the majority of area residents that I heard from to include folks who had opposed previous proposals – especially those living along or near Winfair Drive – expressed their support for the project as it would be less impactful to their neighborhood than a commercial development would. Assisted living facilities are very low traffic generators, quiet and safe.
The multi-family component on the northern quadrant however is what made this case somewhat challenging as we had planned for office development on that site.
The reality however is that the site has been on the market as office for decades with no one expressing any interest. It is not a desirable location for class A office development nor do our economic development folks consider this a priority office site. While it could possibly develop as neighborhood/medical/dental office sometime in the future, the existing office quadrant on the other side of Evans Road (where the Dental Society and Primrose are located) that still has land available for office has not experienced any additional demand for space.
The proposed multi-family development is a product fairly unique to our region. It is comprised of stacked ranch and townhome residences with direct entry garages and architectural design elements that exceed Cary's strict standards. The applicant voluntarily added a number of conditions to the rezoning to ensure that the high-quality project they promise is what actually gets built. Notable conditions include direct entry garages, architectural elements, first floor master bedrooms on many of the units, 50% masonry construction and a gathering space/clubhouse and pool. They will also construct a greenway on the northern and eastern part of the site.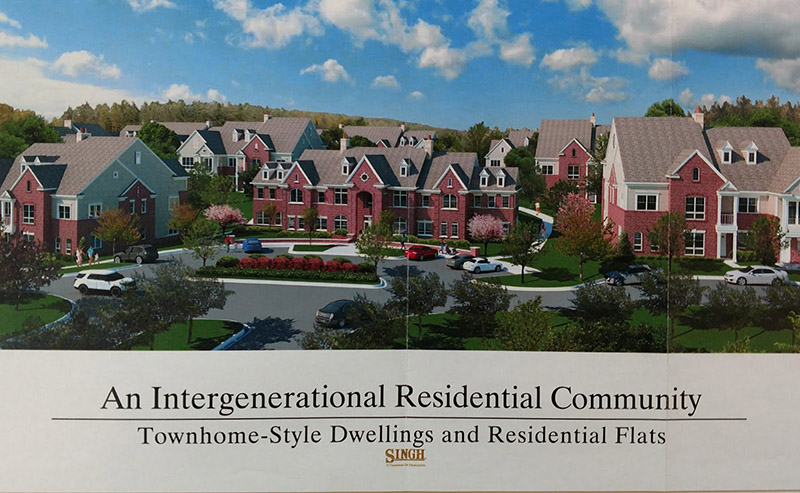 The applicant has also committed to pay for a traffic signal at Winfair and Cary Parkway if warranted. A traffic study will be done one year after the last certificate of occupancy is issued and if it is determined that a signal is warranted, it will be installed. The developer is also making a number of area traffic improvements and the town will be installing dual turning lanes at Cary Parkway and Evans and a right turn lane on southbound Evans Road soon.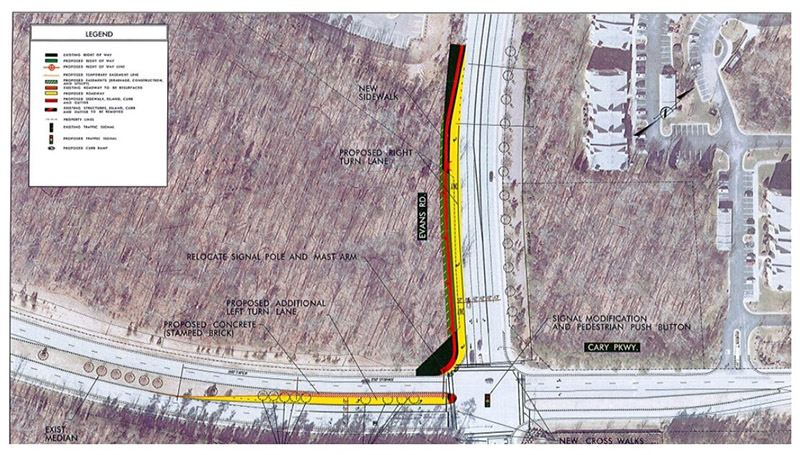 Our town staff and planning board ultimately recommended denial primarily due to concerns regarding the loss of a potential office site, although staff did identify a number of positives with the project and stated that "they could go either way". While we always value the advice of our staff and advisory boards, sometimes we simply disagree with their recommendation(s). This isn't the first time we voted differently than what was recommended and it surely won't be the last.
The council takes seriously the request to rezone a potential office site to residential. Any proposal to do so must make a compelling case why. Taken as a whole and considering the majority support of area residents, the reality of market forces, conditions offered by the applicant that ensures a high quality product and development trends, the majority of council believed this proposal made a compelling case and was approved by a vote of 5-2.
Well that's all for now. As always, thanks for reading!
---
From the blog of Cary Councilmember Don Frantz. Photos courtesy of Don Frantz.
https://carycitizenarchive.com/wp-content/uploads/2017/11/DonBlog-Nov1-Featured.jpg
551
800
Don Frantz
https://carycitizenarchive.com/wp-content/uploads/2020/03/cc-archive-logo-450-v3.png
Don Frantz
2017-11-02 10:21:57
2019-12-08 15:29:54
Don's Blog: Glenaire, MetLife, IKEA, Wegmans, Waltonwood