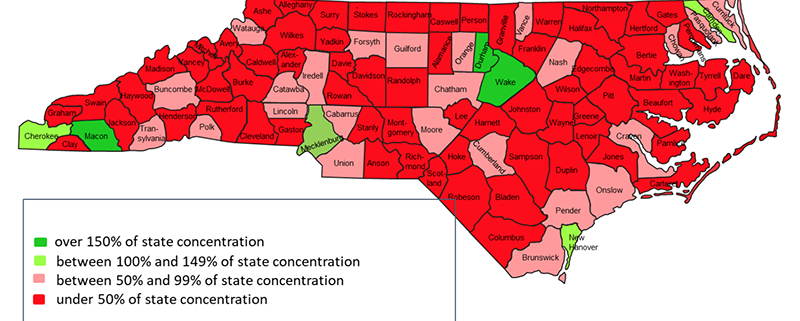 Cary, NC – For the past ten years, Ted Abernathy has addressed the Cary Chamber of Commerce about the state and town's economic forecast. With all the change that took place in the past decade, this talk highlighted how much a town can change in a short amount of time as Abernathy looked into the future of the economy.
Good and Bad News
Abernathy, the managing partner of consulting firm Economic Leadership LLC, spoke at the Cary Chamber of Commerce on Wednesday, November 1, 2017 to go over the data of wage and job growth in the United States, North Carolina and Cary.
On a broad scale, both Cary and North Carolina are doing well. Cary had 4.8 percent growth last year, Wake County is seeing nearly double the amount of growth in every economic sector as North Carolina is as a whole and wages are growing faster in the state than they are nationwide. Also, Cary-Raleigh's GDP growth was 21 percent over the past year.
But hidden among those figures are data points that have Abernathy more cautious. While Cary's growth is high, nationwide growth is slowing down. Also, this is the first time in eight years that we've seen job loss nationally, although Abernathy attributed that to the recent hurricanes.
While North Carolina and Wake County are seeing growth in a variety of sectors, construction growth is actually decreasing in North Carolina, while it is increasing nationwide. Similarly, growth in manufacturing has gotten flat.
"That's not good for places with manufacturing and Wake County is one of those," Abernathy said.
Still, in just Wake County, manufacturing job growth was 30 percent over the past year.
Looking at wages growing in North Carolina, that is due to both low unemployment here as well as "the types of jobs" coming in as Abernathy said. But looking at earning growth in the United States as a whole, Cary-Raleigh are near the bottom of major metropolitan areas. Asheville is the only North Carolina city to break the top 100 nationwide when it comes to earning growth.
But one of the largest problems when looking at the data is where jobs are going. The job sector that has seen the most growth is business and professional services, or "white collar" jobs as Abernathy called them. Few counties have a high concentration of these fields, due largely to the proximity to large airports.
"When people talk about North Carolina not growing evenly, they're talking about job sectors," Abernathy said.
Wake County is one of these counties with a concentration of "white collar" jobs and while that is good news for the county and for Cary, it speaks to the larger urban/rural divide in the state. Last year, 66 percent of job growth in North Carolina was in six counties.
"Wealth and jobs tend to concentrate," Abernathy said. "Fewer and fewer jobs go anywhere but metros now."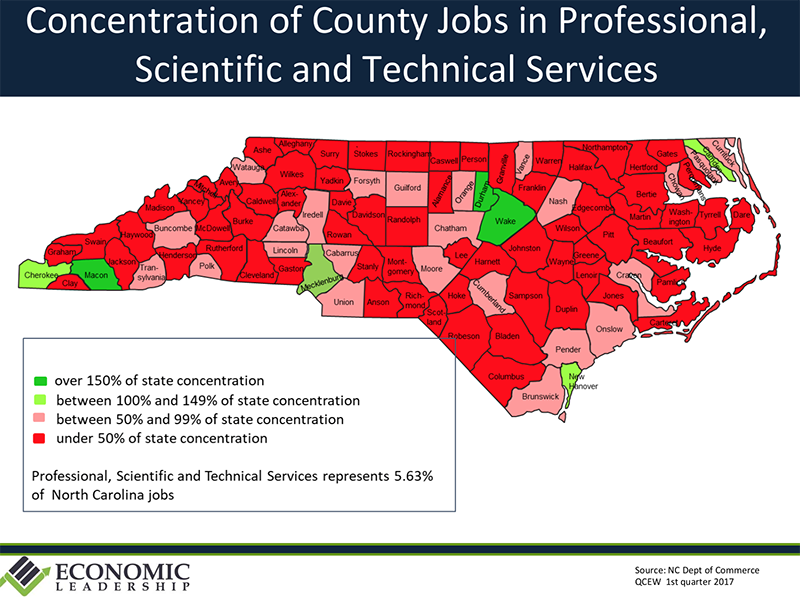 Looking To the Future
Abernathy said the economic climate in Cary is healthy but it is not "destined to be the way we are forever."
In the long-term, Abernathy looked at trends in job concentration and where those jobs are going. Data shows the concentration of job growth getting closer and closer to only metro areas, with large swaths of the United States seeing declining growth. North Carolina as a whole is doing better than the Midwest in particular for now but Abernathy said this trend will be exacerbated in coming years.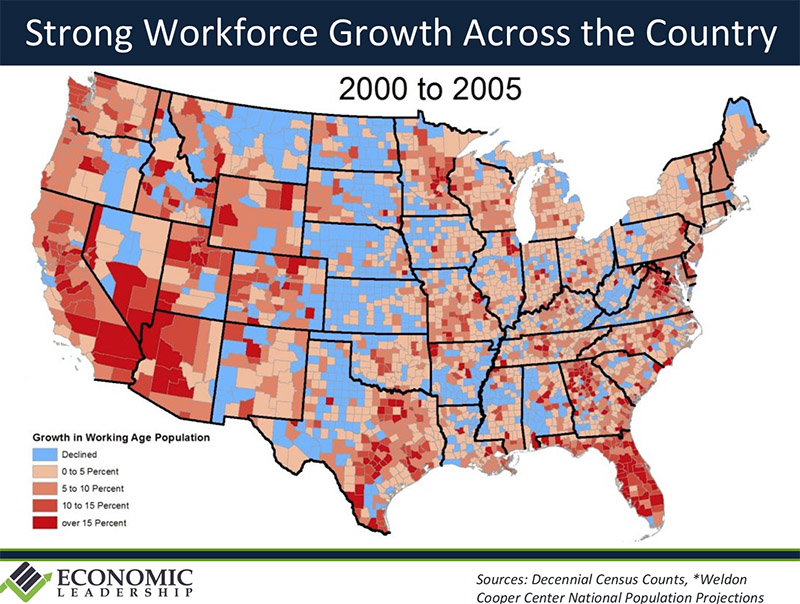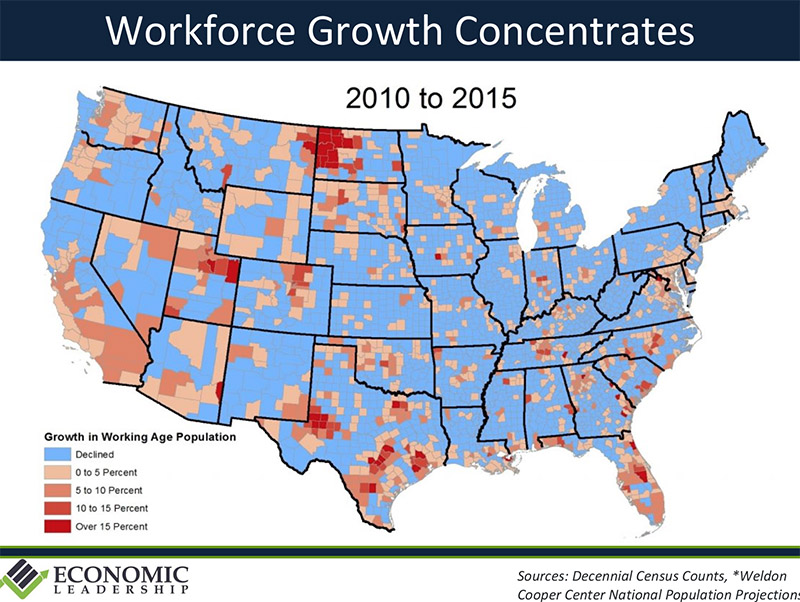 More and more jobs also will require graduate degrees, with the job premiums for bachelor degrees flattening out and the jobs for people with only a high school education or less drying up.
A large reason for these jobs with low levels of formal education required shrinking is because of automation. Abernathy showed examples of automation replacing not just manufacturing but health care and warehouse jobs as well.
"The projections are all job growth is in white collar jobs," he said.
Technology will become an increasing part of daily life and the workplace, Abernathy said, not just with automation but also with more use of the Internet. There are two obstacles to this: connectivity speed and cyber security. Abernathy said one of those is an easier fix than the other.
"Problems with cyber security are going to get worse before they get better," he said. "We'll likely see several major companies blow up before then."
In the short term, Abernathy said the consumer index is at its highest level and personal consumption is on track to surpass personal income and savings.
"This will be a good Christmas but there will probably be more austerity next year as shoppers tighten their belts," he said.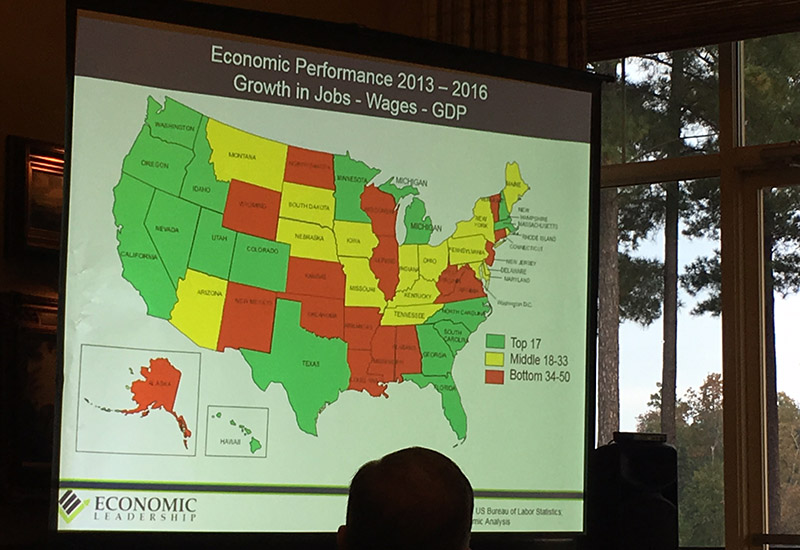 Other changes to the economy Abernathy talked about will depend on the actions of Congress and the Trump Administration. If some form of tax reform is put through, Abernathy said that could create a short-term boost. What happens with immigration will also have a significant impact on the economy, with Abernathy comparing the United States and its population currently to Japan.
"Without immigration, the U.S. workforce is shrinking," he said. "More people are moving back to Latin American than to here."
For Cary specifically, Abernathy surveyed the audience for their predictions for Cary's future. Some of the changes people predicted was increased traffic but potentially more mass transit, an aging population, fewer single-family homes and general pressure for redevelopment, a more robust downtown region and more ethnic diversity.
Abernathy finished up the presentation by predicting that there will be some form of recession in the end of 2018, though he did not suggest it would be as catastrophic as the one in 2009. But he did say that Cary is in a unique economic position.
"How do you want to be self-determined?" he said. "Not a lot of places have that option."
---
Story by Michael Papich. Photos by Lindsey Chester.
https://carycitizenarchive.com/wp-content/uploads/2017/11/Screen-Shot-2017-11-02-at-9.47.16-AM.png
599
800
Michael Papich
https://carycitizenarchive.com/wp-content/uploads/2020/03/cc-archive-logo-450-v3.png
Michael Papich
2017-11-02 13:03:49
2017-11-02 10:03:41
Economic Talk Looks at NC's Future Challenges, Cary's Opportunities