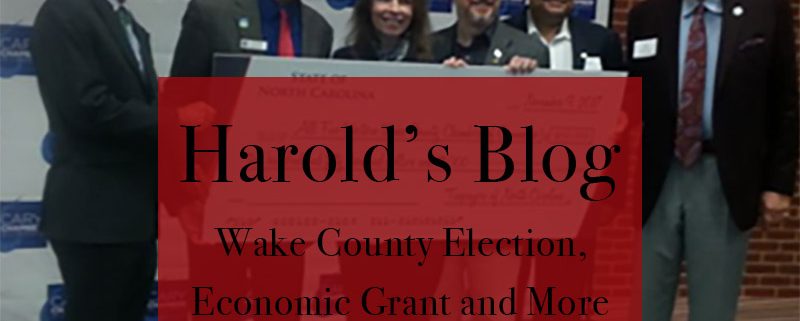 Cary, NC – This was a big week for me as I walked my youngest daughter down the aisle.
Monday – Development Plans
Monday I met with Council members Frantz and Bush, the town manager, deputy town managers, and other staff to talk about development in downtown Cary. Years ago Cary approved the Town Center Plan and this year we approved the Cary Community Plan. Both of these plans called for more density in the downtown area. We now have a lot of interest from developers to implement portions of the plan. That was what we spent the meeting discussing.
Tuesday – Wake County Elections
Tuesday I attended the funeral for Zebulon Mayor Matheny's wife who recently passed away. She was a very accomplished lady and practiced psychology in Zebulon and Morrisville. My prayers and thoughts continue to be with Mayor Matheny and his family.
Later Tuesday I attended a special meeting of the Economic Development Committee on branding. Cary staff had narrowed the consultant candidates down from 18 to 4. The committee will now review the initial proposals from the final 4 and meet in December to discuss and hopefully come up with a recommendation for the council. For me one of the ultimate goals of this process is to make "Cary" recognizable throughout the United States without the words "town" or "North Carolina". If we continue to be an excellent community and are successful branding we should be able to continue to recruit major corporations from all over the world to locate in Cary.
Tuesday night elections were held in several Wake County municipalities. Raleigh, Fuquay, Wake Forest, Holly Springs, and others re-elected their mayors. Morrisville elected a new mayor. The Apex, Holly Springs, and Morrisville councils have several new people. It is interesting that Apex and Holly Springs now have new majorities based on what some believe is a backlash from rapid growth. This is exactly what Cary went through in 1999. I offered congratulations, help, and advice to my neighboring elected officials who were interested.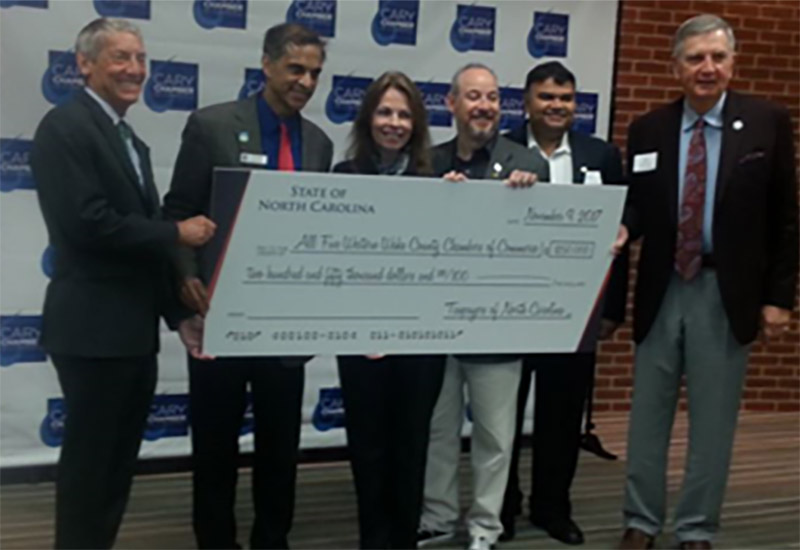 Thursday – Economic Grant
Thursday I had the honor and privilege of being a part of a ceremony to receive a $250,000 grant from the state for the benefit of Western Wake Chambers of Commerce. This money was budgeted in the last legislative session thanks to Senator Barringer. Some examples of how the money could be used included:
Development of a youth leadership program in partnership with local public and private high schools.
Establishment of a young professional's network, particularly to work with youth in developing a stronger work ethic and private sector experiences.
Facilitate honor a teacher awards.
Organization or expansion of member driven Day of Service.
Growth of local leadership and Entrepreneurship programs to develop area through leaders.
Cary's portion of these funds was $130,000 based on population. Upon completion of this fiscal year each organization must provide a detailed analysis including how funds have been allocated and how these funds specifically impacted each Chamber's program of work for the benefit of youth in our communities. Other municipalities involved included Apex, Holly Springs, Morrisville, and Fuquay Varina. Mayors from Apex and Fuquay Varina were also at this event as well as council members from Morrisville, and chamber members from each municipality.
Friday – Cary/Morrisville Meeting
Friday I had the pleasure of talking with Mayor-Elect TJ Cawley from Morrisville. I shared information about experiences I had when I first became mayor and processes I/we put in place so that the council could function in the most efficient and fair way with a goal of being transparent and communicating with our citizens. It was my impression that Mr. Cawley is very interested in making his council and town better through transparency and process. I hope he succeeds and wish him the best.
Most of Friday and Saturday was spent in events for my youngest daughter's wedding. It was a great time and I wish the best for my daughter and my new son in-law who now embark on the greatest journey of their lives.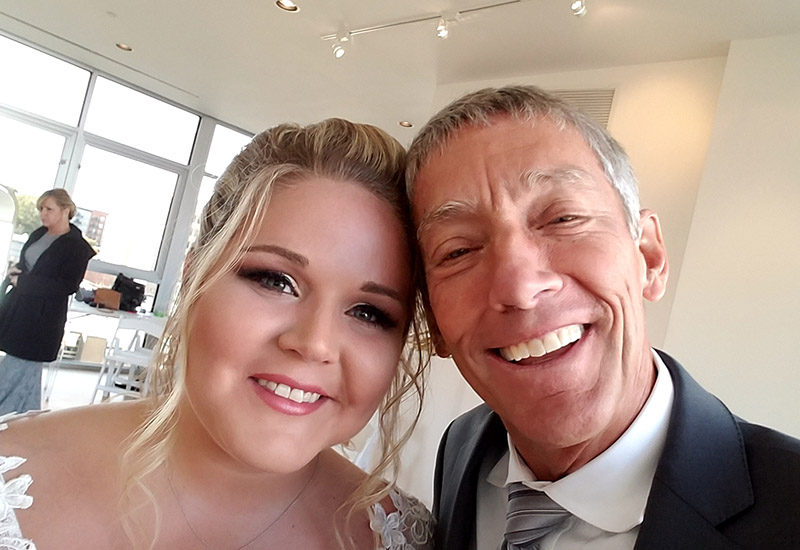 Town Manager's Report
The town manager's report for this week included:
Previewing Next Week

On Tuesday, we will gather for our first quarterly meeting under our new way of approaching the budget process. The meeting will begin at 3 p.m. and will be hosted at SAS. For those attending, a parking pass has been added to your calendar entry. We are excited to provide an update of our financial position and have a conversation about Council priorities.

And on Thursday, we will all be back at Town Hall for the Hometown Spirit Award Reception, followed by a Council meeting.

Employee of the Year Reception

On Wednesday, staff gathered at the Cary Arts Center for the new and improved Employee of the Year reception. New this year, we had a catered reception, service award booths, and a photo booth among with props, not to mention the many presents for those employees celebrating their 5, 10, 15, 20, 25, and 30 years with the Town.

In addition, our Employee of the Year nominees were recognized by our Town management and their fellow employees. We look forward to recognizing all our employees again on Wednesday, December 6 for the luncheon. We would like to thank Mayor Pro Tem Ed Yerha, and Council Members Frantz and George for attending the party.

Fenton Website & Contact Update

At the Council meeting last Thursday, Council requested that staff set-up a process that would make citizen engagement in the Fenton rezoning process as easy as possible. To that end, we have created a webpage that has all the relevant information related to Fenton, including naming Rob Wilson as the primary point of contact for all citizen inquiries.

Speaking at The Cary Rotary

On Tuesday, I had the pleasure of visiting and speaking with the Cary Rotary Club. I was in awe of the group, in particular how impactful they have been on creating the Cary we know today. Their service to the history of Cary is significant and all the more reason our work of keeping Cary great is so important.

Phase I – 311 Space Construction

You may notice space changes the next time you're at Town Hall. As we embark on our unprecedented journey to create the local government that doesn't exist, creating a central hub for citizen engagement, a 311 Center, is necessary to serve as the backbone to this endeavor. With Town Hall closing on Friday, we are seizing an opportunity to construct this space. Located on the first floor across from the Development Services citizen counter, the space will house about a dozen employees. The few employees who currently work in that space will continue to do so for now, and all operations otherwise across Town will continue per usual come Monday.

In conjunction with construction, the work team leading the creation of Cary's 311 Center has started engaging our current customer service staff at Public Works and Town Hall to share their invaluable perspective. With no true blue prints to follow, what will drive the creation of this space is the employees who choose to share their vision and dedicate themselves to making it a reality. This is an important milestone and I look forward to this first step in creating a single source of truth for both citizens and employees.

Chambers to Develop Workforce Readiness Programs

Mayor Weinbrecht joined Sen. Tamara Barringer, municipal elected officials from western Wake County and representatives from the western Wake County Chambers of Commerce for a check presentation. The General Assembly appropriated $250,000 to the chambers to develop a program for schools focusing on workforce readiness and entrepreneurship that uses experiential, hands-on learning.

Alston Ridge Groundbreaking

This morning, Mayor Pro Tem Yerha and Council Member George joined county commissioners and Wake County school board representatives at the groundbreaking of Alston Ridge Middle School.

Cary Staff in the News

Reid Serozi took to LinkedIn to talk about how the smart city movement has been focused on core infrastructure like broadband and sensors, but the conversation is beginning to shift to an even more important element – people. You can read about "The Rise of Citizen-Centered Government" here.

And last month, I was interviewed by GovLoop about HR challenges and current workforce issues. I was able to speak about my approach that above all else, everything we do is a human endeavor, as well as the belief that our current employees have untapped resources that can be leveraged for future opportunities. You can read the full GovLoop report here.

Presentation at Fonville Morisey

As a follow-up to the Cary Realtor Tour the Town hosted, I was invited to speak to a Fonville Morisey Team in Raleigh. I presented on the development and redevelopment opportunities in Eastern Cary Gateway (Fenton and Cary Town Mall) and also shared about the revitalization efforts and successes in Downtown. Approximately 30 realtors were in attendance.

NCDOT Project Updates

US-64 Improvements from Laura Duncan Rd. to US-1

US-64 is a critical corridor for both transportation and economic development for our region, with the project limits spanning both Cary and Apex town limits. NCDOT is partnering with Cary to address congestion, access and safety concerns while improving mobility and aesthetics along the corridor. The corridor experiences double the state average crash rate, significant regional traffic and afternoon peak hours from 2-6 p.m. Traffic studies indicate that grade separations/interchanges are needed at both Laura Duncan and Lake Pine intersections. Anticipated next steps include:

NCDOT project website launched November 2017
Engaging with focus groups November – March 2018
Public Meetings conducted Spring 2018
Right of way acquisition beginning in 2020
Anticipated construction beginning in 2022

1-440 Improvements from I-40 to Wade Avenue

This section of the beltline is located in Raleigh city limits and does not meet current design standards. The proposed improvements include widening approximately six miles of I-440 from two to three lanes in each direction while improving the interchanges with Jones Franklin Road, Western Blvd, Hillsborough Street and Wade Avenue. Additional improvements include eliminating bottlenecks at both ends of the project, improving site distance, widening shoulders and medians, increased acceleration and deceleration lanes, median barrier with plantings and improved bike/pedestrian access. Anticipated next steps include:

Complete environmental document in early 2018
Begin Right of Way and Construction in July 2018

Monthly Utility Report

According to the November Utility Report, our wastewater treatment facilities are continuing to operate well and meet their targets for nutrient removal. Staff are advancing a number of important offseason maintenance activities, as well as completing this year's freeze protection planning and procedures. There is additional data provided including benchmarking information of our utility rate and Jordan Lake water level data.

Staff Engages Ashley Downs HOA

Ashley Downs Home Owners Association invited staff to come to their annual HOA meeting on Monday night. Cassie Schumacher-Georgopoulos, and Scot Berry from Development Services discussed various private developments around their community, including vacant land around the I 540 interchange, and how the Imagine Cary, and specifically the destination center designation in the growth frame work map would help guide future development.  In addition we gave a brief overview of the Green Level West Road widening that the Town is working on. There were about 20 homeowners in attendance, and we shared various ways they can stay involved in what's happening around their community.

Median Plantings Underway

This week, staff completed median plantings at Ten Ten Road, West Lake Road and Yates Store Road. Below is a below/after photo example of Yates Store Road.

GoCary Food Drive 

November 13-17, GoCary will be hosting a week-long food drive to benefit our community. As part of GoCary' s fifth annual food drive, passengers who bring canned or non-perishable food items to any fixed-route GoCary bus can ride for free all day on November 15. All items collected will be donated to Cary's Dorcas Ministries Food Pantry to meet the high demand of food assistance during the holiday season.

Citizens can also drop off donated food in bins located in the Town Hall lobby, Police Department lobby and Public Works lobby. The goal is to collect over 1,500 pounds of non-perishable food items.

Recognitions

A huge hand of applause goes to all the staff involved in throwing the Employee of the Year Reception (aka party!). Thanks to the entire HR team, the Cary Arts Center staff, PRCR graphic design guru's, Amina Shah for her new ideas, and the Public Works Special Events Crew. In particular, thanks go to Kim Berthiaume and Karen Spurlin for orchestrating the party!
Emails from Staff
Emails this week included notification that Cary has the Top-Rated Amtrak station in the country.
Staff sent out a press release announcing that Cary is one of eleven cities in the U.S. that will receive part of one million dollars to fund environmental efforts. The program is supported by five investor foundations: The JPB Foundation, The Kendeda Fund, The New York Community Trust, The Summit Foundation, and Surdna Foundation. This grant cycle also includes $127,500 awarded to three green stormwater infrastructure projects, designed to advance water-related sustainability goals, made possible by the support of the Pisces Foundation, the Fred A. and Barbara M. Erb Family Foundation, and the Turner Foundation.
Emails from Citizens
Emails from citizens this week included:
A request to change school schedules (School schedules are a function of the Wake County Public School System).
A complaint that Cary is discriminatory. (I disagree. We are a welcoming, diverse community)
A concern about the Fenton development.
A concern that an individual has a Morrisville address but couldn't vote in their election. (Addresses are a reflection of the post office that delivers your mail. There are Cary citizens with Morrisville, Raleigh, Apex, etc addresses)
Next week will be very busy for me and includes a mini council-staff retreat, a speaking engagement at Glenaire, a meeting of the Capital Area Metropolitan Planning Organization's executive board, a graduation ceremony for the Citizen Police Academy, a reception for the Hometown Spirit Award, a regularly scheduled council meeting, a tree lighting ceremony at Waverly Place, and a tree lighting ceremony at Parkside Commons.
Get In Touch
Well, that is all for this week. My next post will be on Sunday, November 19th.  Although I have Facebook and Twitter accounts those are not the best means of communications with me. Please send all Town of Cary questions or comments to Harold.Weinbrecht@townofcary.org and email personal comments to augustanat@mindspring.com.
---
From the blog of Cary Mayor Harold Weinbrecht. Photos courtesy of Harold Weinbrecht.
https://carycitizenarchive.com/wp-content/uploads/2017/11/HaroldBlog-Nov13-2.jpg
550
800
Harold Weinbrecht
https://carycitizenarchive.com/wp-content/uploads/2020/03/cc-archive-logo-450-v3.png
Harold Weinbrecht
2017-11-13 10:28:40
2017-11-13 10:28:40
Harold's Blog: Wake County Election, Economic Grant and More