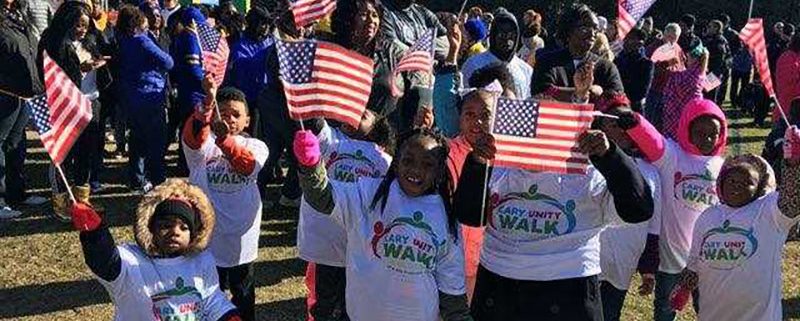 Cary, NC – Welcome to Samaritan's Corner. Let's Talk!
Kassidy: Daddy, when you die and go to Heaven to be with Jesus, am I supposed to take over the Unity Walk?
Me: Do you feel like the Lord is calling you to do that?
Kassidy: Yes I do.
Me: Then you do it son.
This is a conversation that I had with my six-year-old son Kassidy. I was caught off guard when he hit me with that first question, I mean he's six years old for goodness' sake. But at the same time, I was so proud of him. That boy just knows how to touch his Daddy's soft spot!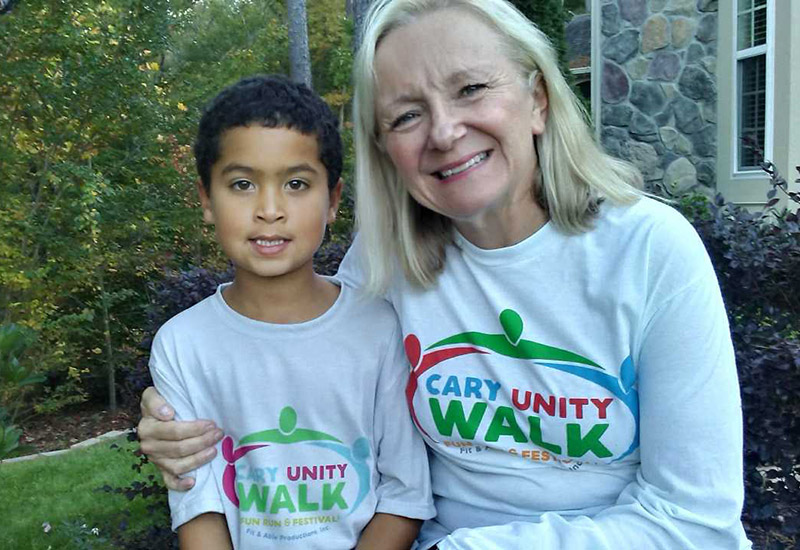 Months ago during our planning, my partner Alisa said, "Jimi, this Unity Walk is going to feel completely different," and she was right!! I'm so grateful for all that we as a community overcame last year! In spite of the neverending turmoil, we gathered together and beat the odds!! They said it couldn't be done, some said it shouldn't be done, but God said it will be done and it was! But this year's event felt different! I fell in love with this one!!
It was like we had all come back to celebrate last year's victory! WakeMed Soccer Park may not have been a perfect place on Saturday, November 11, 2017, but it absolutely was the most peaceful place. There was a beautiful, peaceful feeling floating in the cold air!! The atmosphere just screamed fun and excitement!!! There were so many wonderful things going on! We watched an officer get promoted, we all sang Amazing Grace and don't even get me started about the flyover!!! #UNITYWINGS!
But for me personally, this year it was the children that took the event to the next level! We raised money to sponsor 20 children from Durham to come and celebrate with us!! I remember one of the girls getting off of the bus when it arrived chanting, "Unity!" I knew right then and there that I was blessed yet again with a miracle from the Lord!! What Alisa had said months before was playing itself out right in front of me!! These sweet children rolled in from Durham, stood alongside of everybody else and became exactly what God intended them to become. They were "Unified" in peace with all of God's children that were there!
The confederate statues, the political parties, the social economic status and most importantly the color of skin carried no weight at all!! On that day, on the cold corner of Chatham and Academy Street, and at the WakeMed Soccer Park, we were all there to do the one thing that's no longer being done in our country! We simply gave others our time.
It's the greatest gift that's no longer given because being busy has made it an inconvenience. "TIME!" We're losing each other in the commotion, and our children are paying the price. I watched all of the children run and play for hours, non-stop, and they did it with no hesitation. They didn't use their "time" to second-guess whether they should trust another child because their skin color was diffrent! Color didn't matter, "time" did! They freely gave it with no rules or regulations and it worked every time!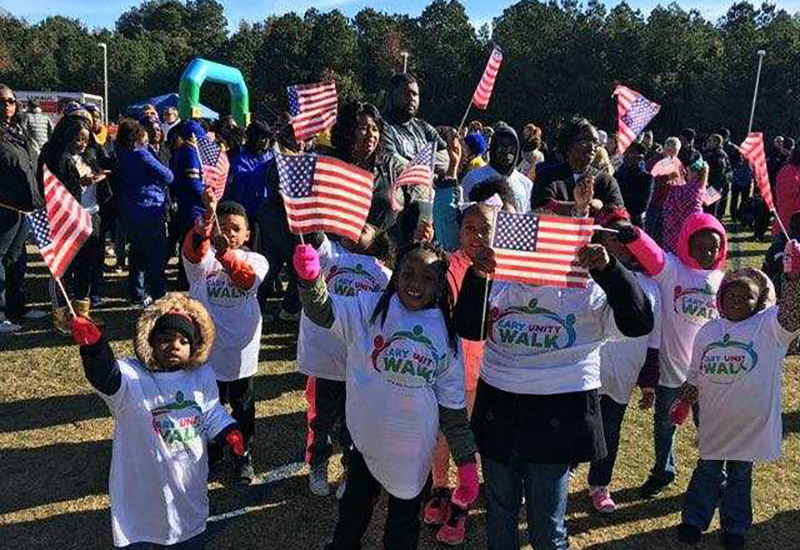 When the Lord blesses us with children, He hands them down from Heaven as a blank canvas! There are no marks, no messes, no blemishes and no boundaries. And what do we do? We pull out our toxic adult paint brushes and paint an even more toxic version of ourselves to punish society. Psalms 22:6 – "Direct your children onto the right path, and when they are older, they will not leave it." (NLT)
What path are we putting our children on? What's under their feet? A foundation of grace and mercy, or sinking sand? A heart to receive and accept others, or to fear them? Have we set them on the path the leads to nowhere? What do our children think about other children that don't look like them? Have we taught them to look "down" or "at" others? What life lessons are we laying out for their futures? In the process of giving them a better life, are we breaking the free spirit of love that they were born with?
Our little family members from Durham had a blast, not a hard time adjusting! Kids don't have to work on that when it comes  to other kids because there's no fear. And if there is, it's because we painted it in. Unfortunately, living eliminates the privilege of our children having a pristine blank canvas. Not because of life itself, but because of the life we live in front of them. Everything from marital problems, financial problems, abuse we've suffered as children ourselves, politics and the deception of stereotypes. They're punished by our paint brushes. If we didn't like some of the things we endured as children, why in the world do we continue to unfairly heap them on the next generation? Why do we make it hard for them to love other people? We get so freaked out about how the world will ruin our children and never even see that it's our parental paint brushes that are reaking havoc.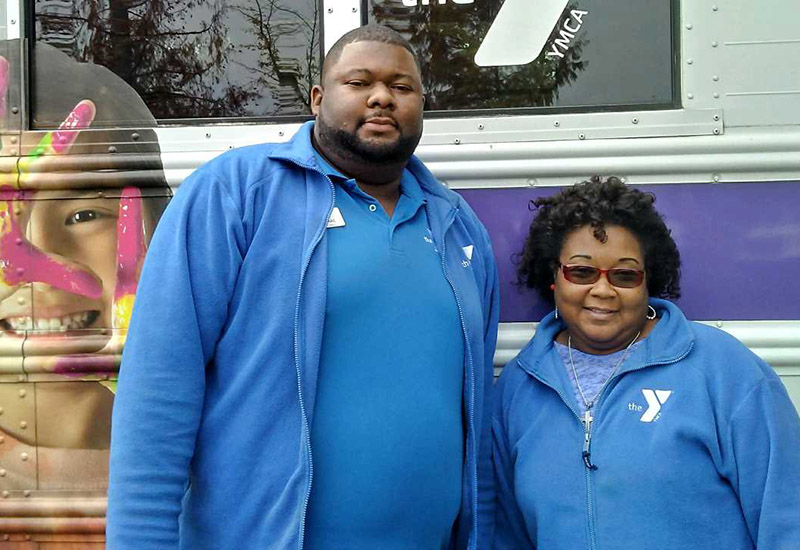 We have to inform them on certain things, and I totally agree with that. But we shouldn't make them afraid of everything. Teaching fear of another color isn't parenting, it's just parents painting. Romans 12:18 – Do all that "you can" to live in peace with everyone.
Let's put away the brushes and let them be kids.
I want to give a very special shout out of appreciation to James Isaac, Latonya Gilbert, Cameron Green, Katina Reid, Mike Walker, Ethel Sherry, Danielle Howard, John Collins and the Taylor YMCA for all of your hard work!! It was because of all of you that we were able to fellowship with these sweet children and watch peace prove itself to be superior to fear once again!
To the giving hearts of Linda Trevor and her Remax/United team, Steve Gillooly and his Gillooly Property Group team, Megan Williams of Rodan & Fields, Stephanie Cave Moore and Family, Audra Stafford DeYoung, Jennifer Pittman, John & Margret Adams and my dear friend Tony Gilliam! To all of you I say thank you for your donations! You'll never know the depth of the impact your giving had on all of our lives!
From me, Alisa and the Fit & Able family! Thanks!!
---
Story and photos by Jimi Clemons.
https://carycitizenarchive.com/wp-content/uploads/2017/11/Samaritan-Nov15-3.jpg
550
800
Jimi Clemons
https://carycitizenarchive.com/wp-content/uploads/2020/03/cc-archive-logo-450-v3.png
Jimi Clemons
2017-11-15 10:35:29
2017-11-15 10:35:29
Samaritan's Corner: #SPEECHLESSDAD