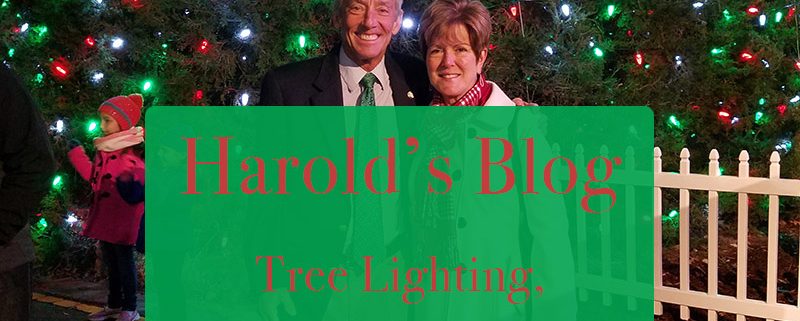 Cary, NC – This week was a light week due since it was the week after Thanksgiving.
Monday – North Carolina FC
Monday I met with town management staff to talk about the upcoming work sessions on the Columbia development off Cary Town Boulevard. We are all in agreement that we must take our time in reviewing this proposal and that it may result in more than one work session. The Columbia development, if approved, will likely be the defining project of this council and the town manager.
Later Monday I joined several key management staff in a meeting with North Carolina FC owner Steve Malik. He gave us an update on what is going on with his proposal. In addition, he stated that he didn't believe he would get a franchise in this round. That was confirmed later in the week when Raleigh didn't make the top four. He did state that he believed he was in a strong position to get a franchise in the next round. He is currently working on details of his proposal with state and local agencies.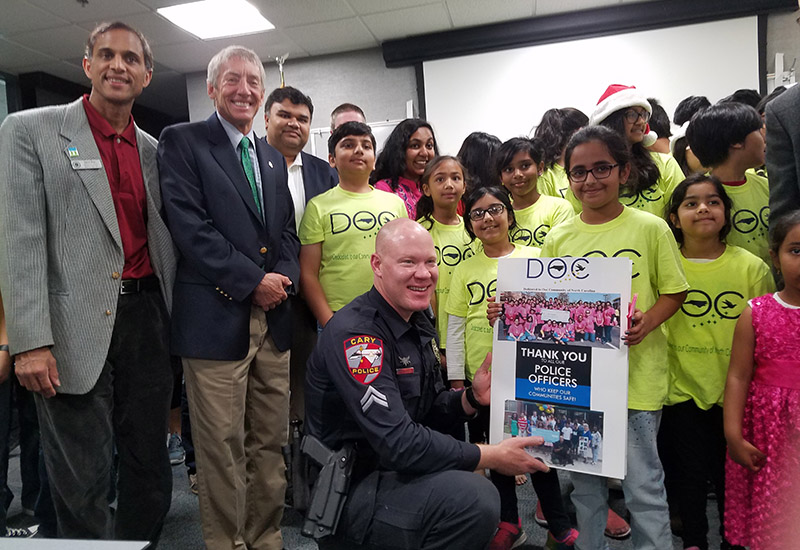 Saturday – Cary Tree Lighting Ceremony
Saturday I attended a musical luncheon for the Cary and Morrisville police which was hosted by the Dedicated to Our Communities organization. This organization is run by about 75 youth interested in giving back to our community. I provided a few remarks along with Mayor-Elect Cawley of Morrisville. Then we took a few pictures before entertainment began. What a great event and organization!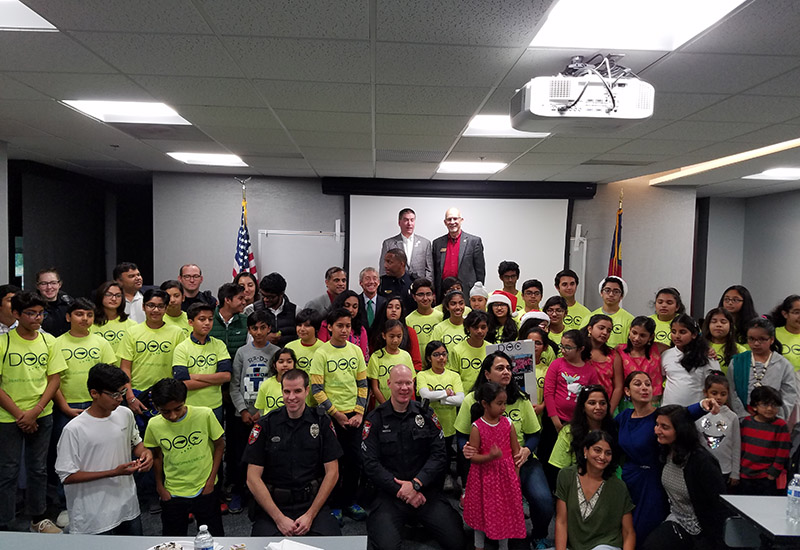 Saturday night I had the joy of attending the 34th annual Cary Christmas tree lighting ceremony. After several amazing acts I introduced the council and our tree lighter for this year Ralph Ashworth. He was joined by his two great-grandsons and they flipped the switch after a countdown from 10. Then everyone was invited inside town hall for homemade smores. YUM! What a great time.
Emails from Staff
Emails this week included Cary getting named #6 in Top 10 Cities in US for best quality of life. See http://americancityandcounty.com/bonus-content/10-us-cities-offering-best-quality-ife?PK=UM_ACCBQL1117&utm_rid=CPEQW000008751025&utm_campaign=11750&utm_medium=email&elq2=7b786d8cb8854a6e87f7e168c829d60d#slide-4-field_images-80321 for more information.
We also received notification from Safehome that Cary is the #2 safest city in the US with populations over 150,000. The criteria they used was the FBI's latest report of how many and what types of crimes occurred in each city over a single year, the city's crime trends, the number of law enforcement officers compared to the population, and demographic metrics that are correlated to crime have a small impact on Safety Score. These include metrics such as population density, population trends, unemployment rate, median income, education level, etc. To see the complete list of cities go to https://www.safehome.org/safest-cities/.
We also received email notification this week that Boston-based CTI Towers has announced that it is moving its corporate headquarters to Cary and plans to hire 25 employees starting in early 2018. CTI is one of the biggest privately-held tower companies in the country and will move into the Highwoods-owned 5000 CentreGreen Way building in February 2018.
Staff also notified council and the public that the inside lane in each direction of Walnut Street between Piney Plains Road and Buck Jones Road, as well as the inside left turn lane from westbound Buck Jones onto southbound Walnut will be closed 8:30 a.m. to 4:30 p.m. from December 4th to December 8th .
Town Manager's Report
The town manager's report for this week included:
Regional Transportation Conference in Richmond

Council Member Ken George, Russ Overton, Danna Widmar, Jerry Jensen and Kelly Blazey attended the Regional Transportation Alliance (RTA) conference in Richmond on Wednesday where they toured an in-progress BRT project, discussed multi-modal connectivity and learned about urban redevelopment in a capital city.

Connected Vehicles Project 

Town staff along with NCDOT and their contractor, Aegis, has made significant progress towards the installation of a Connected Vehicle (CV) system on NC 55. With input and oversight from both NCDOT and Cary, Aegis has installed a mock CV network at NCDOT's Garner Campus and has provided an informational display system to be placed in test vehicles that prove SPaT (Signal Phasing and Timing) information to the driver. With the installation of the full CV system along NC 55 scheduled for December, the success of the mock network shows that we are one step closer to the first CV network installation in North Carolina.

This project is being performed as a part of the SPaT challenge, an industry driven event that challenges every state in the country to install Connected Vehicle technology. Cary was chosen based on our comprehensive network architecture, working relationship with NCDOT and Aegis, as well as our staff resources and abilities.

Continuous Wastewater Service Provided After Pipe Damaged

On Tuesday, a contractor working in an Apex development near White Oak Creek struck one of our 30″ force mains for the West Cary pump station. The contractor, working on behalf of Cary, was installing a boardwalk on a portion of the White Oak Greenway project that connects to Cary's greenway system. The strike put a hole in the pipe, but because of our quick and effective response, staff was able to manage the event by diverting ongoing wastewater flows to a second pipeline. The spill area was quickly contained onsite and pumped into a nearby sewer system.

Cary staff has been onsite all week, diverting flow to a second pipe, cutting out the damaged section, and installing a new section of the pipe. The entire event was managed to provide continuous wastewater service, while ensuring the spill was quickly and effectively addressed.

Easier Process for Adopting Rezoning and LDO Amendments

The process for adopting rezoning ordinances and LDO amendments is now a little bit easier!  The legislature recently amended the statute regarding the statements of consistency and reasonableness that must be adopted by Council with each rezoning or LDO amendment. Instead of our current practice of (1) voting on the rezoning or amendment; and then (2) voting on a consistency and reasonableness statement, you will now only have to vote one time!  One motion will both approve or deny the requested rezoning or LDO amendment, and adopt the required statement regarding consistency with the Imagine Cary Community Plan and the reasonableness of the request.

Legacy Gift Donation Installed

A memorial bench was donated through the Town's Legacy Gift Program and recently installed along White Oak Greenway. This bench was donated in memory of Viviane Tsuchiya by her husband Ken Tsuchiya. This bench replaces a much older bench and is now ADA accessible.

Harnessing Sewer Science in Fight Against Opioids

An article published in SmartCitiesDive featured the Town's continued efforts combatting the opioid epidemic with input from Deputy Town Manager Mike Bajorek. This article talked about the Town's experimental approach of using drug-detecting robots within the sewer system. It provides detail about Cary's innovative approach of monitoring sewage for illicit drug abuse as well as the partnerships we're developing as part of this pilot.

First Responders Breakfast

On Wednesday, the Cary Chamber held its first annual First Responders Breakfast at the Prestonwood Country Club. Brigadier General Anthony "Tony" Tata delivered the keynote address. Mayor Pro Tem Yerha and Council Member Robinson attended the event along with several town staff members.

OneCary Approach to Re-Inspections

In keeping with "One Cary," the Fire Department and Inspection and Permits are teaming up to address re-inspections. Effective December 1st, the Fire Department will assist I&P by conducting building re-inspections to ensure issues identified in the mandated inspection have been corrected. This is a great example of finding capacity in unexpected places as well as increasing job diversity for some of our employees.

Median Plantings Continue 

This week, Town crews continued to plant the medians of O'Kelly Chapel Road and Green Level Church Road.

Academy Street Improvement Projects Receives Award

On November 16 the Town and consultant Clark Nexsen of Raleigh received an "Honors Engineering Excellence Award in the Transportation Category" (EEA) for the Academy Street Improvements Project from the American Council of Engineering Companies (ACEC) of North Carolina.

This project was chosen by an independent panel of judges in the engineering industry that are members of ACEC. Since 1969, North Carolina engineering firms have entered their most innovative projects and studies in the program.

Joint Meeting of Capital Area MPO & Durham-Chapel Hill MPO

The Executive Boards of Capital Area MPO and Durham-Chapel Hill-Carrboro MPO held a joint meet on Thursday. Here are a few highlights from the meeting including the 2045 Metropolitan Transportation Plan (MTP) Update from both MPOs. CAMPO's DRAFT 2045 MTP is currently open for public comment until December 13, 2017. The MTP is the long-range plan for transportation improvements across the region. It will include roadway, transit, rail, bicycle, pedestrian, and other transportation projects to be implemented through the year 2045. Cary staff has reviewed the Draft 2045 MTP and provided comments to CAMPO.

Strategic Transportation Investments Update including regional STI goals, funding picture over time, schedule.  One item that will be discussed at the next joint Executive Board meeting (tentatively May 30, 2018) will be the assignment of regional points for SPOT 5.0 projects.

Regional Intelligent Transportation Systems (ITS) Study beginning after New Year. Last plan is 10 years old. In need of major update in particular with Connected Vehicles and Autonomous Vehicles on the horizon.

Cary Top 10 City for Best Quality of Life

NerdWallet analyzed 177 U.S. cities with over 150,000 people using data from the U.S. Census Bureau American Community Survey to determine which cities offer the best quality of life. Cary ranked #6 on the list.

Recognitions

I'd like to recognize Precious Seabrooks for volunteering her time, expertise and skill to the UNC School of Government training to state representatives on risk management. It's a great example of The Cary Way.

I also wanted to share an email I received from one of our citizens that captures how amazing our employees are:

"Just wanted to give a shout out to Cary FD along with Cary PD. We had an accident today with kids on the bus, never what you want. BUT, the response was just great. Efficient, professional, and yet very personal and caring. Attached is a picture of the Fire Department on our bus chatting with the kids. Just wanted to give thanks for the town and all the things you all do so well for all of us. Thanks!"

Kudos to Joy and Shane at The Cary Theater for helping to make a memory even more special for one of our employees. Matt Wetherell crafted a unique engagement in downtown Cary that incorporated The Cary Theater as the scene of the event! Congratulations to Matt!
Emails from Citizens
Emails from citizens this week included:
A complaint about funding for Dreamfest.
A complaint about odors on Green Level Church Road.
A complaint about the Goddard School project.
Next week will be very busy. Activities include a meeting with the town manager, an organizational meeting to swear in recently re-elected council members, a work session on the Columbia development, a reception for the outgoing VP of Economic development, the Cary Employee luncheon, an Economic Development meeting, the police department CAP team banquet, a quasi-judicial meeting with four items and the Cary Christmas parade.
Get In Touch
Well, that is all for this week. My next post will be on Sunday, December 10th.  Although I have Facebook and Twitter accounts those are not the best means of communications with me. Please send all Town of Cary questions or comments to Harold.Weinbrecht@townofcary.org and email personal comments to augustanat@mindspring.com.
---
From the blog of Cary Mayor Harold Weinbrecht. Photos courtesy of Harold Weinbrecht.
https://carycitizenarchive.com/wp-content/uploads/2017/12/HaroldBlog-Dec4-Featured.jpg
550
800
Harold Weinbrecht
https://carycitizenarchive.com/wp-content/uploads/2020/03/cc-archive-logo-450-v3.png
Harold Weinbrecht
2017-12-04 10:30:20
2017-12-04 10:14:29
Harold's Blog: Tree Lighting, North Carolina FC News and More