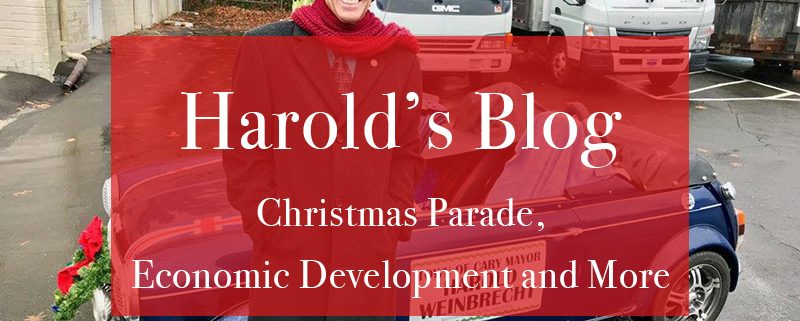 Cary, NC – This was a busy week with several long nights.
Monday – Preparing for the Week
Monday I met with the town manager and several key staff members as part of my weekly one-on-one. We talked about the upcoming work session on the Columbia development. In addition, we talked about council relationships.
Tuesday – Columbia Development and School of Government
Tuesday I attended a reception held in honor of our three re-elected council members Robinson, Smith, and Yerha. I was able to meet and talk with family members and friends. The council meeting that followed was an organizational meeting with the purpose of swearing in the council members and making appointments. Lori Bush was unanimously elected as Mayor Pro-Tem and I think she will do a great job. Ed Yerha was the outgoing Mayor Pro-Tem and did an amazing job representing the town in several areas in meetings I could not attend. Thanks to Ed for being such a great ambassador for Cary.
Tuesday night the council held a work session on the Columbia Development proposal. The purpose was to address issues brought up by council members and the public including phasing, institutional use, the amount of office, aesthetics, connectivity, bike/ped facilities, traffic, and transit. Staff pointed out that there were currently 100 zoning conditions in the proposal. It should be pointed out that council decides the zoning (type of use) and not site specific issues. So zoning conditions are very important in helping guarantee certain things are the way they are proposed
Next we heard from David Owens from the UNC School of Government on developer agreements. He talked for about twenty minutes on the pros and cons of using developer agreements. While the council has used developer agreements in the past this one is different in that one of the zoning conditions states that there will be a developer agreement. This is important because if the rezoning is approved with all the conditions, it will still require the town and the developer to agree on a developer agreement before construction can begin. In addition, zoning conditions are limited but developer agreements can include specific details not allowed in zoning conditions.
At this work session the only decision made by the council was to give staff the authority to start negotiations on a developer agreement while the rezoning proposal goes through the zoning process. The negotiations will allow staff and the developer to specifically address the issues mentioned previously.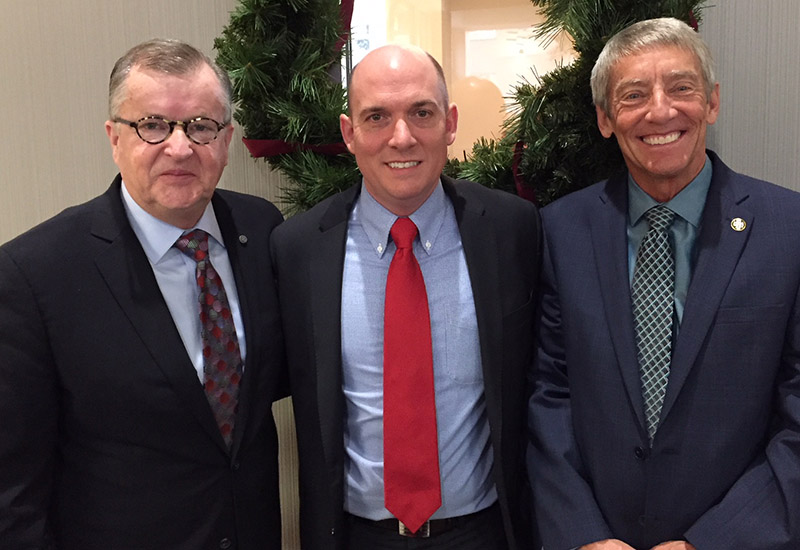 Wednesday – Economic Development Meeting
Wednesday was a busy day that started early in the morning with a reception for outgoing Vice President of Economic Development Kyle Greer. Since 2014 Kyle has done an amazing job bringing major corporations to Cary, helping local businesses expand, and bringing business into our downtown. The reception was well attended with over a hundred people. I made remarks including a proclamation. Several others made remarks as well. Kyle will be running a commercial real estate business in Cary and I wish him the very best.
Later in the day I attended the holiday luncheon for town employees. I joined the entire council in greeting and shaking hands with over 600 employees while the management staff served the employees. The men and women that work at the Town of Cary are an amazing talented group. They are the major reason Cary is as great as it is. We are all so very blessed that they are here in Cary. After shaking hands I made a few remarks including thanking them on behalf of all 161,000 citizens of Cary.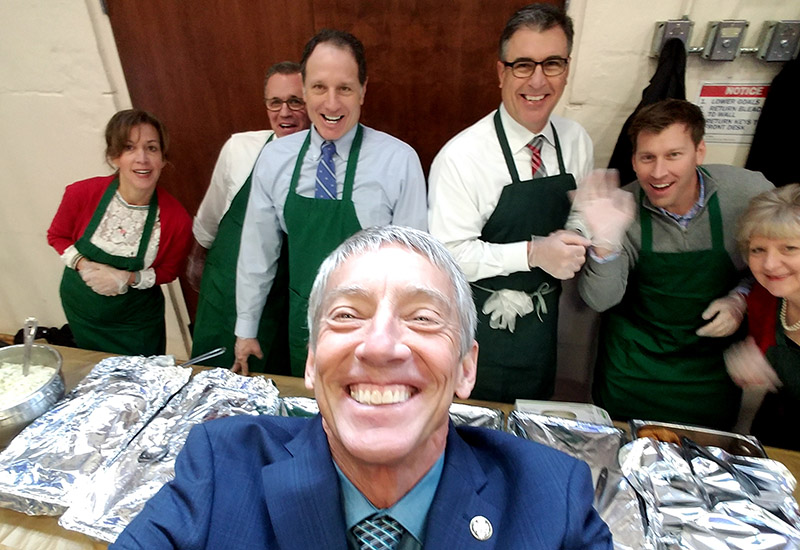 Wednesday evening I participated in a meeting of the Economic Development Committee. This committee is made up of the mayor, two Cary Town Council members, the Cary town manager, the Cary Chamber's executive director, the chair of the Cary Chamber's board of directors and three citizens. The purpose of this meeting was to evaluate the final four branding consultant firms and narrow it down to the final two. After much discussion it was decided that the final two were Bigfish and Northstar which are both outstanding firms. Representatives of these two firms will be brought in to talk with Economic Development Committee members and council members before a final selection is made.
The final part of our Economic Development committee meeting was the Quarterly Report. Here are some notes from that report:
Spectrum Properties has broken ground in Regency for Class A office space which is much needed in Cary.
Financial Risk Group has begun construction in downtown in the old House of Lights building.
Chatham Walk has submitted plans for 33 new condos on East Chatham Street at Urban Drive.
We are actively pursuing 10 active projects with a potential of 3,312 new jobs and over $240 million in investment.
Class A office space vacancy rate has increased to 8.29% due to the new Center Green Building.
As of the September/October time frame the unemployment rate in Cary was 3.2%, Wake County was 3.4%, North Carolina was 4.1%, and the United States was 3.9%.
For the year 1600 jobs were added with $176 million in investment.
Wednesday night I joined council member Smith for the CAP (Citizens Assisting Police) annual banquet. This is a banquet put on by the police department to thank all the many hours of service provided by the CAP team members. CAP Team members provide a valuable service to the community by donating thousands of volunteer hours per year; providing assistance at public events, child safety seat installations, performing clerical duties and service center staffing, and promoting Community Watch programs. We are so blessed to live in a community where so many want to help our town and our police department. Bless them all for their service to our community!
Thursday – Quasi-Judicial Meeting
Thursday was a scheduled quasi-judicial meeting for four hearings. Earlier in the day two of the four hearings were resolved by staff and were removed from the agenda. In attendance for the meeting were several scouts which I talked with prior to the meeting. The first quasi-judicial hearing was a request to add 101 parking spaces to an existing office parking lot at Regency Lakeview. Staff pointed out that granting this request would not only ease their parking issues but allow for future business expansion. Staff also noted that more and more businesses are requesting more parking and as a result staff will review our requirements. The council voted unanimously to grant this request.
The second request was from Peak Engineering and Design, PLLC who intend to change an existing house at the corner of Chatham Street and South Dixon Avenue to a commercial use. They requested a modification to reduce the parking to four spaces instead of the six parking spaces required by the LDO, and modifications to eliminate the requirement to dedicate any required public right-of-way on South Dixon Avenue and West Chatham Street. Council had no problem with the parking reduction and elimination of right-of-way on West Chatham Street. However, granting the request to eliminate the right-of-way on South Dixon Avenue generated discussion among the council. In the end the council denied that request to eliminate the right-of-way dedication by a 4 to 3 vote. Most of those voting to deny noted that it would not impact the applicant's project, cost them very little if any money, and it would save the taxpayers money in the future if the town built a sidewalk or widened the road since it would already have the property. Those in opposition thought that right-of-way dedication would come when the property is redeveloped.
After a short closed session the meeting adjourned with a total meeting time of about an hour.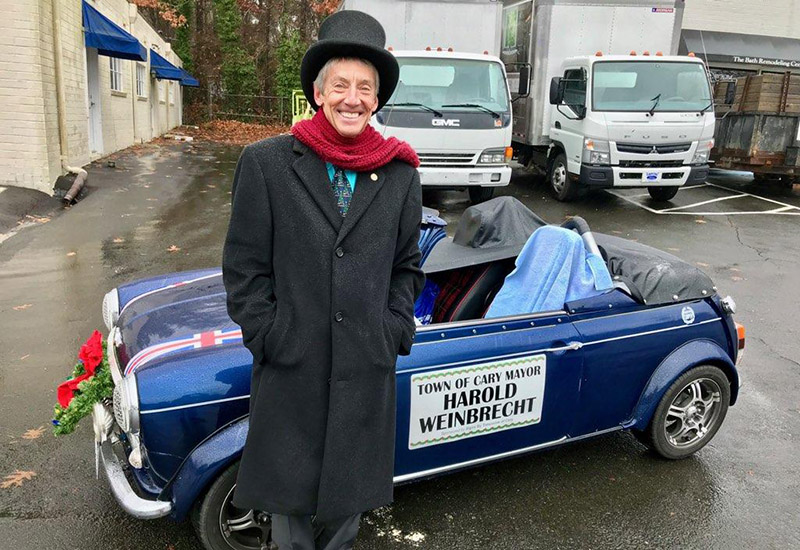 Saturday – Christmas Parade
Saturday I joined the rest of the council members in the annual Jaycee Christmas parade. The weather was about 33 degrees with a drizzle of rain, sleet, and snow. Before the parade I took a selfie with a staff replica of the town's downtown fountain. For the parade I rode in a small MG driven by Steve Zaytoun.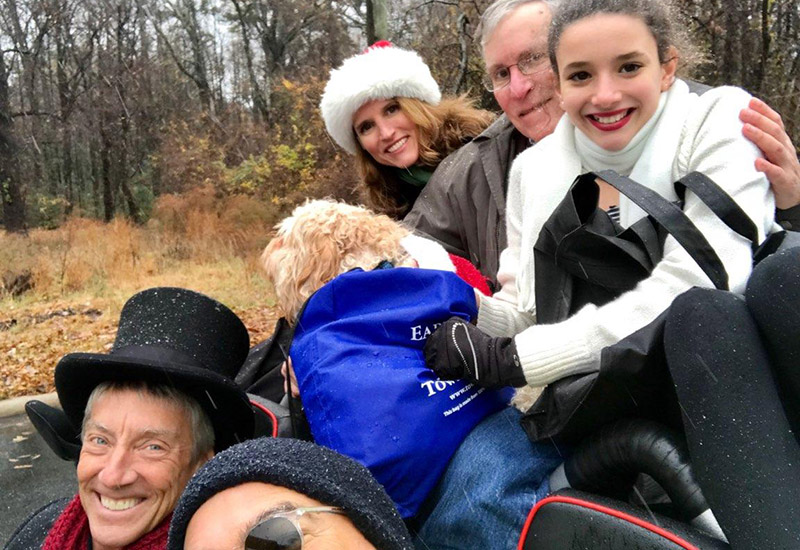 Along with me in that small car were council member Yerha, council member Robinson, and her daughter. We had a great time wishing everyone a Merry Christmas and throwing out candy. While the parade attendance wasn't as big due to the weather it was still well attended.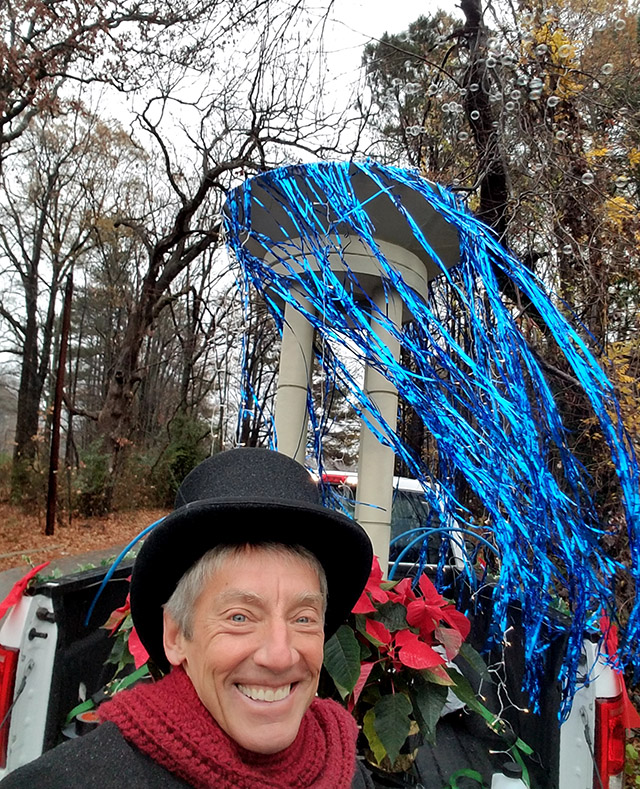 Town Manager's Report
The town manager's report for this week included:
Employee of the Year Luncheon

More than 600 attended the new and improved Employee Recognition Luncheon on Wednesday. Colleagues were joined by Council Members as well as retirees for a "green" luncheon. All of the food, utensils and napkins were compostable. Amidst many fun and games, the Town unveiled our two Employee of the Year winners – Mary Beerman and Charles Massey. Congratulations to Mary and Charles for their dedication and extra effort on behalf of the Town and our citizens! And I'd like to thank everyone in HR (and Amina Shah) for their tireless work preparing for such a great event. Your effort didn't go unnoticed!

Preparing for Potential Wintry Mix

Public Works prepared for a wintry mix for Friday and into Saturday. They had eight spreaders mounted with Snow Fighters on-site throughout the night. They closely monitored the street and bridge temperatures. Facilities staff ensured that all facilities were safe and accessible on Saturday and Sunday morning. In addition to all of the preparation activities by Public Works, our Fire and Police Departments prepared for additional service calls if the need arose.

TJCOG Staff Presentation

On Monday, I presented at a TJCOG staff meeting. Executive Director, Lee Worsley, asked that I talk to his staff about what's happening in the Cary community as well as internally in our organization. There was a great discussion about the important role that the TJCOG plays when it comes to regional partnerships and facilitation.

Cary Named "Rising Star"

Cary was named a "Rising Star" by SmartCities DIVE. The article notes that Cary is "climbing the smart 'city' ranks quickly – and is nipping at the heels of the countries' hottest metropolitan areas from coast to coast." Dan Ault and Council Member Robinson were quoted in the article.

Finalist Firms Selected for Branding Process

On Wednesday evening at the Economic Development Committee I facilitated a ranking process of the potential branding firms for Cary. Ultimately, the board was unanimous in selecting BigFish and NorthStar as our top two firms moving forward. The board was also unanimous in the process moving forward. Both firms – BigFish and NorthStar – will be invited to Cary early next year for in-person presentations, tours, and meet-and-greets. Each firm will be paid $10,000 as a sign of our commitment to this project and to provide seed money to complete a task/deliverable associated with the project.

Electric Vehicle Charging Station Ribbon Cutting

On Monday, a ribbon cutting ceremony was held to commemorate the Town's newest electric vehicle charging station installed near the Bond Park Boat House. This station, provided by a $10,000 Duke Energy grant is the 4th public electric vehicle charging station location on Town property. Attendees included Council Members Bush, George, and Yerha. Also attending were Chamber of Commerce staff Howard Johnson, Kyle Greer, and Allison Wrenn. Comments from Council Member Bush and Duke Energy Government and Community Relations District Manager, Marty Clayton, pointed out the important and long-standing relationship with the utility that enables economic development, innovation, and environmental improvement initiatives. One example is the Town being among the first municipalities in the state to convert to all-LED streetlights.

AAA Utility Bond Ratings Confirmed

We're very pleased to announce that the Town has received AAA ratings from all three rating agencies for the revenue bond refinancing sale scheduled for the morning of December 14. One of the comments in the Standard and Poors rating report acknowledges the work of staff. One characteristic was reported as: "Strong" Operational Management Assessment, which, in our opinion, implies overall alignment among the system's operational characteristics and that its management strategies are sufficient and well embedded as well as very comprehensive." The rating agency press releases are available online.

"A Festive Fountain" Float for Christmas Parade

For the Christmas Parade on Saturday, staff has created a replica of the Downtown Fountain that will include wintry/holiday-themed colors and decorations. Everyone is encouraged to come out to downtown Cary tomorrow to see the completed masterpiece in action!

Louis Stephens Dr. Extension Update

A public meeting for Louis Stephens Dr Extension was held on Thursday. NCDOT proposes to to build a 2-lane road extending Louis Stephens Dr from O'Kelly Chapel Rd in RTP to Poplar Pike Ln in Morrisville. Developers are anticipated to build the ultimate 4-lane cross-section as the remaining greenfield land is developed. NCDOT's design builds half of the future 4-lane divided road, the 2 northbound lanes, to be utilized as the interim 2 lane roadway. This cross-section includes two 12′ travel lanes, one 4′ bike lane in the northbound direction, and a 5′ sidewalk on the east side of the road. NCDOT was open to striping the road to two 14′ travel lanes if that was preferred over the one 4′ bike lane.

NCDOT is open to receiving comments in January 2018. Comments may be submitted to the project manager, Roger Kluckman, at rkluckman@ncdot.gov or (919)220-4717. Project Schedule: ROW Acquisition Spring FY 2018; Begin Construction Spring FY 2019.

Recognitions

I'd like to recognize everyone who helped prepare for the Fenton work session on Tuesday evening. The time and extra-effort put forward to crafting the presentation and preparing behind the scenes was remarkable. Special thanks goes to: Rob Wilson, Mary Beerman, Russ Overton, Scot Berry, Kelly Blazey, Juliet Andes, Ken Dunn, Jerry Jensen and Priyatham Konda.
Emails From Staff
Emails this week included notification that Cary received another great award in the SmartCities arena. Cary received the Dive award for a "Rising Star". These awards recognize the industry's top disruptors and innovators that are transforming the urban landscapes and shaping the future. Mentioned in the article is both the Cary Community plan as well as Cary's Smart Cities initiatives.
Emails From Citizens
Emails from citizens this week included:
A compliment about new plantings in the median.
Complaints about the potential Crabtree Crossing connection in Morrisville (this is a Morrisville council decision. I have expressed my concern and dissatisfaction to the Mayor, Mayor-elect, and council members).
A complaint about the Waldo Rood and Davis Drive intersection dangers.
A question about me meeting with some Holly Springs council members and calling their mayor.
Next week's activities include a regularly scheduled council meeting, several meetings, and the Wreaths Across America ceremony.
Get In Touch
Well, that is all for this week. My next post will be on Sunday, December 17th.  Although I have Facebook and Twitter accounts those are not the best means of communications with me. Please send all Town of Cary questions or comments to Harold.Weinbrecht@townofcary.org and email personal comments to augustanat@mindspring.com.
---
From the blog of Cary Mayor Harold Weinbrecht. Photos courtesy of Harold Weinbrecht.
https://carycitizenarchive.com/wp-content/uploads/2017/12/HaroldBlog-Dec11-Featured.jpg
550
800
Harold Weinbrecht
https://carycitizenarchive.com/wp-content/uploads/2020/03/cc-archive-logo-450-v3.png
Harold Weinbrecht
2017-12-11 09:27:01
2017-12-11 09:27:01
Harold's Blog: Christmas Parade, Economic Development and More