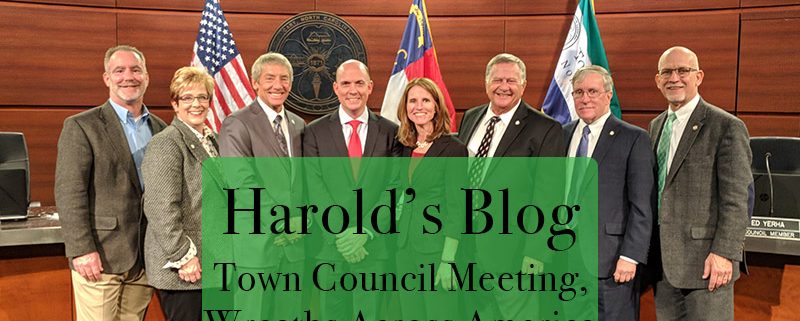 Cary, NC – This was typical week for a week that included a council meeting.
Monday – Planning for the Week
Monday I attempted to contact all council members for questions or concerns about items on the Thursday council meeting agenda. I was able to contact all but one and there were very few questions. Most of the questions were clarification on the consent agenda items such as operational policy updates on parks and recreation and the Panther Creek Greenway rebid. Later in the day I met with key staff members and went over the agenda items.
Later Monday Mayor Pro-Tem Bush and I met with the town manager for my weekly one-on-one. Items included information about downtown contractor interests, the council staff retreat in February, and the Columbia development. We talked a little over an hour.
Tuesday – North Carolina Senate
Tuesday I met with a candidate for a North Carolina Senate seat. He was interested in learning about issues in Cary. Our meeting lasted about half an hour. My personal practice is that I am open to meeting anyone but will rarely endorse unless they are longtime friends like NC Representative Gale Adcock.
Wednesday – Transit in Cary
Wednesday I attended a meeting of the CAMPO (Capital Area Metropolitan Planning Organization) Executive board. There were two public hearings and four discussion items. There were several speakers for the second public hearing on the 2045 Metropolitan Transportation Plan Update. A couple of interesting things on that plan include:
Cary and Morrisville are on record opposing the Crabtree Crossing connection.
There is a preferred BRT (Bus Rapid Transit) route in the Kildaire Farm Road and Harrison Avenue corridor.
Under discussion the delegation from Cary (me and a staff member) were opposed to the motion to approve the Wake Transit Implementation Update because of ambiguities in several processes. The CAMPO staff agreed to come back to the board with information on these concerns. As a result of that commitment the motion was passed. Our meeting concluded after an hour and a half.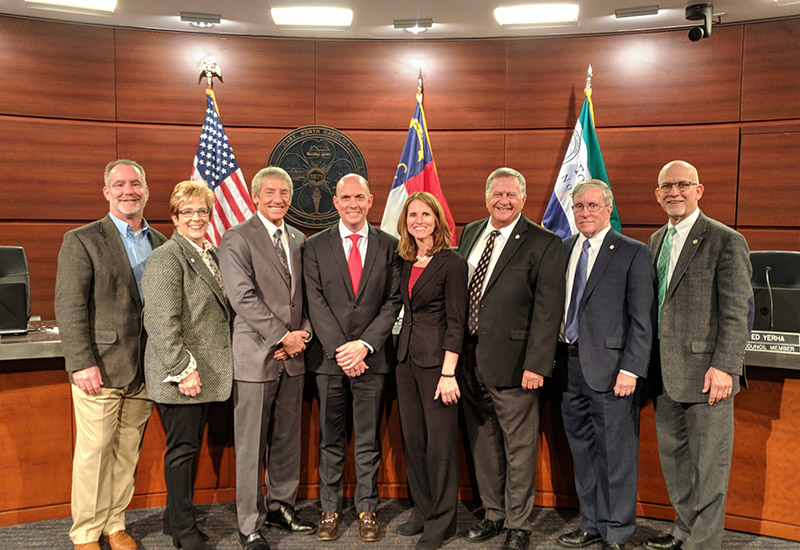 Thursday – Cary Town Council
Thursday the council held its last regularly scheduled meeting of the year. Before the meeting started the council took a picture with the outgoing Vice President of Economic Development, Kyle Greer. This was his last council meeting in that position.
The beginning of the meeting included recognition of Employees of the Year Mary Beerman (a Cary native) and Charles Massey. Two of the best employees out of the greatest staff in the state, by far.
Next we heard from our Director of Finance and the auditor, from Cherry Bekaert LLP, that Cary's finances are excellent. In fact, the finances and the process were so good that there were no comments from the auditor which is unheard of. Thanks to all the great men and women of our Finance Department that make sure our finances remain as strong as they can be.
The rest of the agenda included 11 consent items, 4 public hearings, and 4 discussion items. The public hearing that drew over a dozen speakers and had many more in attendance was the Weldon Ridge proposal for a rezoning. The rezoning included a school which the residents feared would cause traffic, parking, and other issues. This proposal will now go to the Planning and Zoning Board for their review and recommendation before returning to council for a decision.
Under the discussion items the council approved a ten year lease to Chef Michael Chuong and his team, which makes up VVVC, Incorporated. Chef Chuong served as the Executive Chef for Prestonwood Country Club, opened and operated the popular An restaurant for six years, and then opened his own restaurant, Elements, in 2012 in Chapel Hill.
The council also approved the sidewalk project list that included funding for:
Tryon Road within the looped street section of Ashville Avenue
Ederlee Drive sidewalk projects from Regency Parkway to Penny Road
NW Maynard Road sidewalk design and easement acquisition project from Old Apex Road to the existing sidewalk west of Castalia Drive
When asked staff pointed out that requests have exceeded our ability to provide sidewalks. Council asked staff to investigate increasing sidewalk funding.
The intersection improvement project at Morrisville Parkway and Carpenter Upchurch Road was also approved. The project removes the existing concrete islands that restrict turning movements, installs a new traffic signal with pedestrian amenities, and adds new railroad signal that is coordinated with the new traffic signal. It is anticipated construction of this project will begin winter 2018.
Lastly the council approved Land Development Ordinance (LDO) amendments included changes pertaining to commercial parking maximums, telecommunication facilities, and two minor and technical amendments.
After a short closed session we adjourned with a total meeting time over three and a half hours.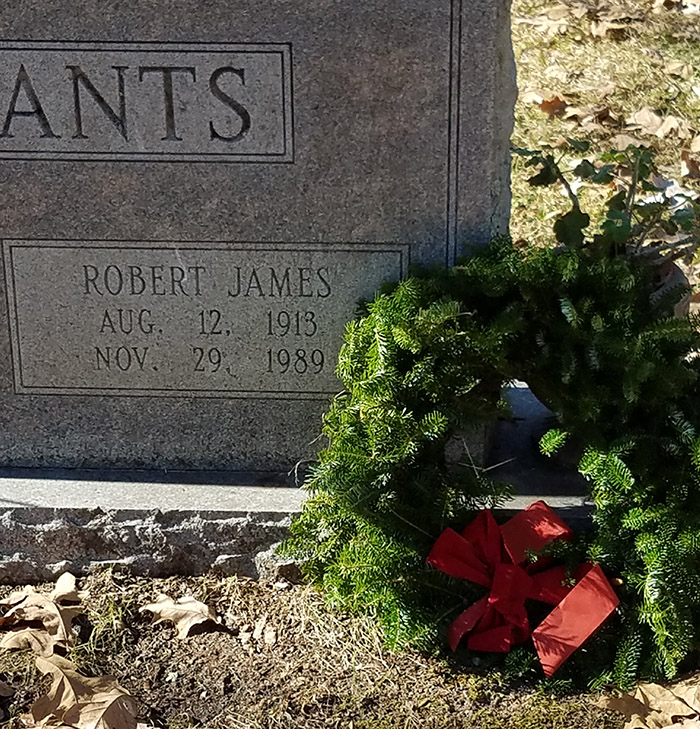 Saturday – Wreaths Across America
Saturday I participated in the Wreaths Across America ceremony at Hillcrest Cemetery. This program is a national program held each December to pay tribute to our fallen service members and those that are currently serving. I, along with others, gave brief remarks. Here is an excerpt from my remarks:
"…Although I did not serve in our armed forces, I along with so many in our community benefit each day from the sacrifices they made for us. For that, please accept my heartfelt gratitude on behalf of all those who aren't here with us today.

The national website for this wreath laying initiative lists Hillcrest Cemetery along with the likes of Arlington National Cemetery and rightfully so. Veterans represent close to 8 percent of our region's total population. And it is important to remember our veterans during this time of year, a time that evokes such strong emotions for many of us.

Today, let's remember the true meaning of those stars and stripes; the idea of democracy, and uniting with citizens to fight for a better future for us all.

This holiday season is a time of celebration but it is also a time of prayer and reflection. Please continue to remember our fallen service members and the military personnel who continue to serve this day.

Thank you, Merry Christmas, and may God Bless America."
On the Wreaths Across America website it says "A person dies twice: once when they take their final breath, and later, the last time their name is spoken." So part of this ceremony is to lay a wreath at the grave of the veteran and say his name out loud and give thanks. I laid a wreath on the grave of Robert Pleasants who was a World War II veteran.
Town Manager's Report
The town manager's report for this week included:
Stormwater Working Group Meets with Stakeholders

After the topic was addressed at the November Quarterly meeting, Town staff and a group of downtown stakeholders met at the Cary Arts Center for a discussion on stormwater in the downtown on Tuesday. The community stakeholder group consisted of:

Downtown residents Ken and Peggy Taylor, Scott de Deugd, David Shouse and Tim Devinney
Downtown resident and retired NC State professor, Tim Luckadoo
Developer Jordan Gussenhoven
Professional engineer, Sam Ravenel
NC State professor, Dr. Bill Hunt

The focus was to listen to the stakeholder group's perception of the stormwater issues in downtown. Key issues that emerged were:

Identify ways to engage with the community to raise the awareness of stormwater.
Explore opportunities to take advantage of new technologies, such as sensors, to enhance our understanding and alerting capabilities.
Look for opportunities to beautify the downtown through stormwater management.
Increase the awareness and understanding of stormwater regulations to make sure they are promoting the right types of behaviors.

The next meeting is scheduled for January 9, 2018. At this meeting, staff will further engage with stakeholders on the topics that were identified in the first meeting and will provide additional context around each topic. The stakeholder group will continue to explore topics and help prioritize potential solutions. The final meeting is scheduled for January 24, which will allow staff to engage with the stakeholder group in preparation for the second quarter update and the Council retreat.

Artist Selections for Western Cary Parks

The Public Art Advisory Board has selected two artists to join the design team to provide integrated art for the two new parks in western Cary – one in the vicinity of McCrimmon Parkway and the other near Carpenter Fire Station Road. Eric Beerbower and Mary Carter Taub were recommended by the artist selection panel that included representatives from the neighborhoods near the parks, the PRCR Advisory Board, the landscape architect and Town staff. The artists will join in the master-planning phase now to make best use of their artistic perspectives for integrating art into the parks.

Salesforce Training Underway

Salesforce training is going strong all week at the Operations Center. On Monday, our meter technicians will begin using Salesforce in the fields, as well as construction crews and the mason crews which will be phased in beginning next week. Kudos to the entire team who have worked tirelessly for months to make this happen. I know this is only the beginning and there are many great things still to come along our Salesforce journey!

Successful Bond Sale

The Town held a successful bond sale on Wednesday, resulting in over $8.6 million in savings to the utility fund. The sale refinanced over $92 million of utility revenue bonds. The sale occurred a day earlier than planned to take advantage of lower rates in a rising rate environment as well as interest from potential investors to buy early. Due to Cary's excellent AAA rating, there was demand for the bonds even though the municipal market broke the record for the amount of bonds to be sold this week. Orders of over $373 million were received for $92 million of bonds that were offered, which included 35 institutional investor orders.

Due to the high demand for the bonds, after the ordering period closed, JP Morgan was able to adjust the pricing on the bonds which saved the Town an additional $200,000. The Town received excellent service from the entire financing team which allowed the Town to execute a refinancing in a very short period of time. It's also noteworthy that the Council's quick action at the Quarter 1 meeting in November allowed the Town to be nimble and react to the financial conditions.

GRCVB Window Display

As you may know, the Greater Raleigh CVB is conducting a Destination Strategic Plan Study to define the future story of Wake County. In support of this study, a display case at the Raleigh Convention Center was assigned to each municipality in Wake County as an opportunity to showcase what makes it unique and different. Titled "Cary: A Global Community," our display highlights Cary's Sister Cities program as well as our defining cultural arts events. Bold image and mixed media complete the display, including a real lantern from our Chinese Lantern Festival and a replica of the Sister Cities sign on Town Hall Campus. The exhibit is on display for the next 12 months. A note of thanks to staff from Parks, Recreation & Cultural Resources, the Clerk's Office and Public Information, who co-created the display.

NC Recreation & Parks Annual Conference

At the NC Recreation & Parks Association's annual conference in Greensboro this past week, PRCR had three employees present educational sessions at the conference including Keith Jenkins who presented on Changes and Trends in Youth Soccer and Andrew Marsden and Julie Collins presented on Developing Successful Family Events. In addition, the Town received the Arts and Humanities Award which recognized the success of the NC Chinese Lantern Festival at Koka Booth Amphitheater. Lastly, Mary Henderson, the Town's PRCR Director from 1995-2015, was inducted into the NCRPA Hall of Fame for her contribution to the field of parks and recreation in the state of North Carolina.

Recognitions

Each year the local chapter of the American Society for Industrial Security (ASIS) sponsors a Law Enforcement Appreciation Banquet. This banquet provides an opportunity to enhance public-private partnerships and to recognize law enforcement officers who have made outstanding contributions to both their department and their community.

On December 11, 2017, Officer Artie O'Brien was recognized as the 2017 winner of the ASIS International Legion of Excellence award. Artie was presented with this award at the annual banquet held at the PNC arena. Artie consistently demonstrates "The Cary Way" in everything he does and this award highlighted the amazing work he did to help our military veterans during the Second Annual VFW Veteran's Experience Action Center held in Cary this past September. Congratulations, Artie!

We'd also like to recognize Detective Kevin West who was recently named a "Hometown Hero" by the NC Automobile Dealers Association. Kevin has trained numerous police in other countries, including Mexico, Brazil, Ecuador and Australia. During his training in Brazil, Kevin trained the police agencies in the area of Internet Crimes Against Children. That training enabled Brazilian police officials to conduct a nationwide sweep. Over 1,100 officers participated, resulting in 120 search warrants being executed throughout the country and 108 arrests to date. This is just one example of the exemplary work Kevin performs every day, not only here in Cary, but literally worldwide. Thank you Kevin!
Emails From Citizens
Emails from citizens this week included:
Concerns about the Crabtree Crossing extension (a Morrisville decision).
Questions about our council liaison appointment process.
A question about the future Wegmans.
A request for a port-a-potty in the downtown park (Um… NO!).
Comments about a future Louis Stephens Drive extension.
Comments about a street light repair at Davis Drive and Lake Grove.
Comments against the Weldon Ridge rezoning proposal.
A request for a green arrow signal near Bond Park.
A request to sign a Mayors list to endorse a carbon neutral goal within the next decades (while this is certainly a goal it is our practice not to engage in matters that can be viewed as political. Like the Climate change mayor signing initiative, this would be viewed by some as political.)
The next two weeks will be very slow due to the approaching holidays. My activities include a meeting with staff and the Mayors Association holiday dinner.
Get In Touch
Well, that is all for this week. My next post will be on Sunday, December 24th.  Although I have Facebook and Twitter accounts those are not the best means of communications with me. Please send all Town of Cary questions or comments to Harold.Weinbrecht@townofcary.org and email personal comments to augustanat@mindspring.com.
---
From the blog of Cary Mayor Harold Weinbrecht. Photos courtesy of Harold Weinbrecht.
https://carycitizenarchive.com/wp-content/uploads/2017/12/HaroldBlog-Dec18-Featured.jpg
550
800
Harold Weinbrecht
https://carycitizenarchive.com/wp-content/uploads/2020/03/cc-archive-logo-450-v3.png
Harold Weinbrecht
2017-12-18 10:25:12
2017-12-18 09:44:40
Harold's Blog: Town Council Meeting, Wreaths Across America and More