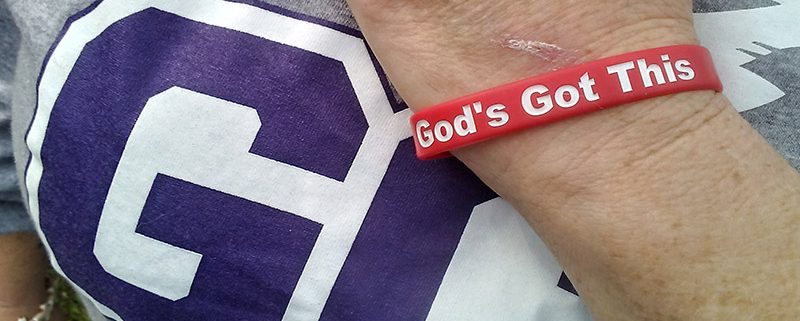 Cary, NC – Welcome To Samaritan's Corner. Let's Talk!
Ecclesiastes 1:18 – With much wisdom comes "great grief." Ecclesiastes is my favorite book in the entire Bible and this is probably my favorite scripture. Seeing "great grief" in this scripture, for many years, always made me think about overwhelming pain and suffering. 
Over the years as I've studied Ecclesiastes, I understand that it means many different things, depending on the season I'm in at the time. The most resent revelation of this scripture was given to me through this young lady you see here, Mrs. Lisa Lynch Lupian. See the red bracelet she's wearing, "God's Got This?"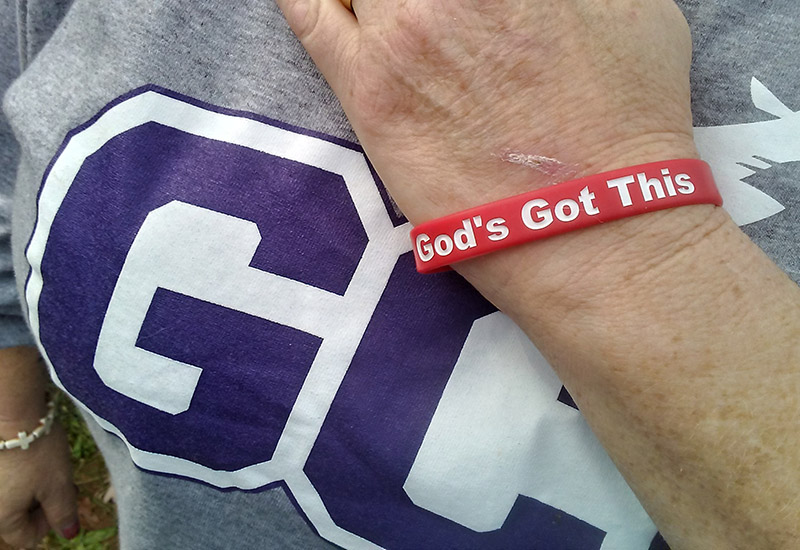 On Thursday, May 4, 2017, Lisa made sure that God really had it when Lisa's husband, Bam Lupian, was diagnosed with stage IV pancreatic cancer. And in July of 2017, at the age of 54, at 11:50 PM, Bam died. When we lose someone we love, especially in such a short time like this, it seems like all we feel is "great grief."
And let's be honest, there's some bitterness and anger at God mixed in there as well. "Why me?" "What did I do wrong?" These are just some of the many question people we ask when we experience the loss of a loved one, but not Lisa!
Lisa went to the foot of the cross with a heart full of "Great Grief!" HALLELUJAH!!!! I love this beautiful story!! Not only did she go to the foot of the cross with "Great Grief," she went with voices of destruction and demise. Lisa is a "DELIVERED" alcoholic. Not recovering, but "DELIVERED" alcoholic!! I say that because after drinking away friends, a job she loved and getting a DUI, Lisa hit "Rock Bottom" and I want to explain what "Rock Bottom" is.
When you hear "Rock Bottom," you visualize this dingy, demonic piece of real estate in hell where they serve a super-sized dose of reality, but it's not. "Rock bottom" is the moment the most destructive thing in your life comes face to face with the Holiest interaction you've ever experienced. There's nothing evil at all about having an encounter with blood of Jesus that "SAVES," "DELIVERS" and "RESTORES" the human soul!! HALLELUJAH!!
And that was Lisa's "Rock Bottom!" After her own failed attempts at getting sober, she realized that she was broken beyond what any human repair and it saved her life. How do you know if you're broken? If you feel like picking up a phone and calling someone who is a source of help, that's not broken. Broken is when you know that no one person, no amount of money and no high can stop the landslide you're on that's headed for destruction. That's brokenness. The very moment you realize that it's you and God. Lisa fell to her knees, with tears in her eyes, and asked. "Jesus, will you please take this disease away before it kills me?" "Whom the Son sets free is free indeed!" LISA WAS DELIVERED INSTANTLY!
No alcoholics anonymous, no rehab, "NO MORE!" After 12 years of drinking, Lisa was free. She dedicated her life to the Lord and received Jesus as her Lord and Savior! The voices never went away, but the power they have over her did! And just as life was being repaired in 2015, 2017 shows up with a mighty unexpected blow. Pancreatic cancer. And with this cancer, the old familiar voices of the drink began to speak! Bam was admitted to the Cancer Treatment Center to get help but help never happened. Bam had two strokes while he was there, preventing the doctors from doing what "desperately" needed to be done.
Once again, Lisa found herself at the foot of the cross with a list of questions. God doesn't count how many times we return to the foot of the cross and we shouldn't either. We should just count ourselves blessed to have a cross to run back to. And God knows who to send and when to send them to the cross to help us. For Lisa, it was her friend Molly Reese. Molly reminded Lisa of something she had said at the beginning of this journey which was, "Lord, if all of this is happening so that my husband can eventually know you as his Lord and Savior, then I'm all in for the ride."
"Great Grief!"
"If all of this is happening so that I can stay sober, then I'm all in for the ride."
"Great Grief."
Molly, you'll never know the impact that reminded had on your friend, God bless you! After talking with Lisa to prepare this article, I learned about "Great Grief." Lisa said the voices faided, the weight of sadness went away, Bam accepted Jesus as his Savior before he died and she was left in perfect peace when it was all over! I'll never look at the word "Grief" the same again!
Genesis 50:20 – "What the devil meant for bad, God has turned around for good. He brought me to this position so I could save the lives of many people." And that's what Lisa has been called to do! At 50 years young, Lisa is now enrolled at Grand Canyon Christian University, where she is perusing a BS and Masters in substance abuse, with an emphasis on addiction. God has blessed her with two very special people that are counselors at the University: Roberto Corral and Heather Lynn. These sweet souls have become accountability partners and friends for Lisa.
God said, "I will supply all of your needs." For Lisa, God has truly supplied a "super circle" of supportive people. Amalia, Jessie, Joelle, K.M. and her amazing granddaughter Sophia!
There are three stages of life. We're either going into a trial, walking through a trial or coming out of a trial. Regardless of where you may be in your trial, don't let allow yourself to get stuck there. Progress only moves in one direction and that's FORWARD! No matter what, keep moving FORWARD! Great things are ahead!!
Lisa, thank you so very much for opening your heart to me for this article! Believe me when I tell you, this article is going to impact lives that are struggling with addiction and lives that are not. Death is final, but Salvation is eternal. Our souls will live on and so will the wonderful memories of Bam Lupien. Stay strong and stay at the foot of the cross! I hear that there's "Great Grief" there.
---
Story and photos by Jimi Clemons.
https://carycitizenarchive.com/wp-content/uploads/2017/12/Samaritan-Dec19-3.jpg
550
800
Jimi Clemons
https://carycitizenarchive.com/wp-content/uploads/2020/03/cc-archive-logo-450-v3.png
Jimi Clemons
2017-12-19 10:37:49
2017-12-19 14:25:27
Samaritan's Corner: God's Got This Because I Don't